We could not quite put our finger on Chattanooga. We didn't really know what to expect but I think we were prepared to see more Wranglers and cowboy boots than we did. Chattanooga is actually super urban (don't get me wrong, you drive 5 minutes outside the city and you find yourself in the middle of a scene from Honey Boo Boo). But downtown Chattanooga is a sprawling city most notably defined by the "North End" and "Southside", the best areas on each side of the massive Tennessee River. The gist I got is that it's definitely an outdoorsy town with a large rock-climbing/mountain-biking/kayaking community. It is also undergoing serious urban revitalization with most of their older buildings being flipped into trendy bars and cool businesses like Crash Pad – a downtown hostel that serves as a "base camp" and community hub for outdoor adventurers.
We ended up checking out an even mix of tourist traps and local watering holes. I should mention that I'm a huge sucker for tourist traps… so I don't necessarily use this term negatively.
We found ourselves at a brand new place, Clyde's on Main, in the Southside our first night. It's an old Auto Shop turned bar & grill with an awesome atmosphere. They had PBR on tap which made it an immediate win for Josh. They have pool tables, shuffle board, darts, a beer garden, and a ton of super cheap beer options. It seemed like it definitely catered to the UTC college crowd…but it was a Tuesday night so we could still hang.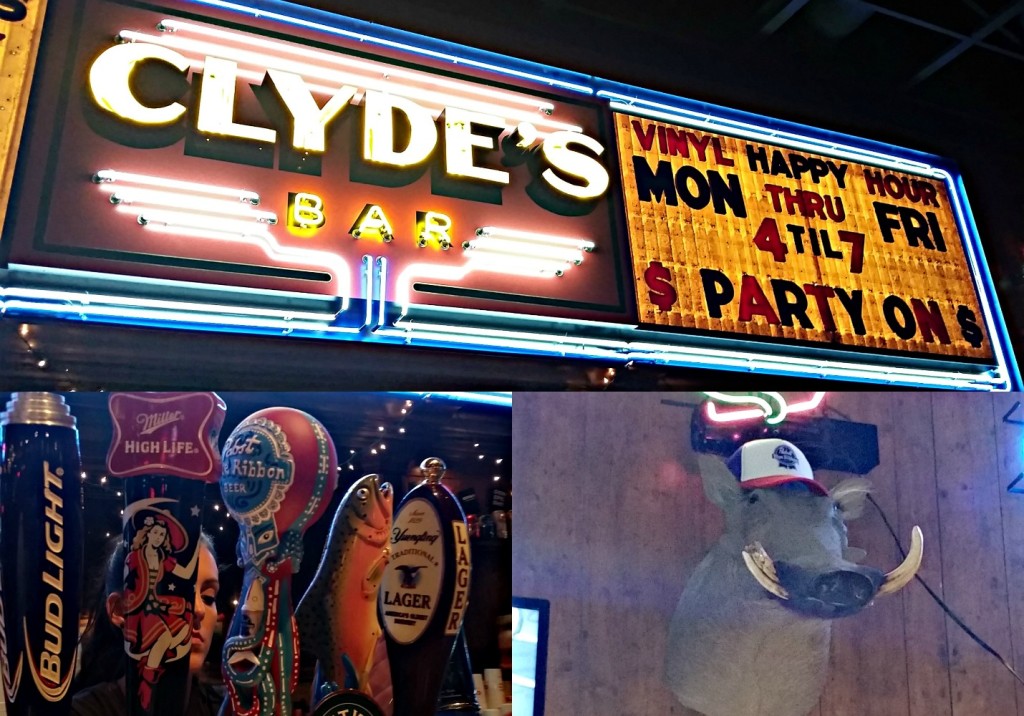 Our bartender gave us some awesome suggestions – one of which was Flying Squirrel Bar, for an extensive craft beer selection. (I like to think this is because we look so sophisticated that she figured we needed to be at a more classy establishment.) Being the nerdy Richmonder that I am, I insisted that we go solely because of the name. It turns out the place is owned by two climbers who opened the aforementioned Crash Pad. Both Crash Pad and Flying Squirrel are very cool examples of sustainable/modern architecture. The next two nights we strayed from the trendy-and-new and checked out the Pickle Barrel and The Hair of the Dog Pub – both apparently Chattanooga staples. We ended up sitting next to the same old chain-smoker at both bars. He politely pretended to remember us the second night when we said hello and struck up similar conversation about the town and our trip. Later the bartender informed us that he's the owner of the Pickle Barrel and a local legend. We felt way cooler than we probably should have with this knowledge.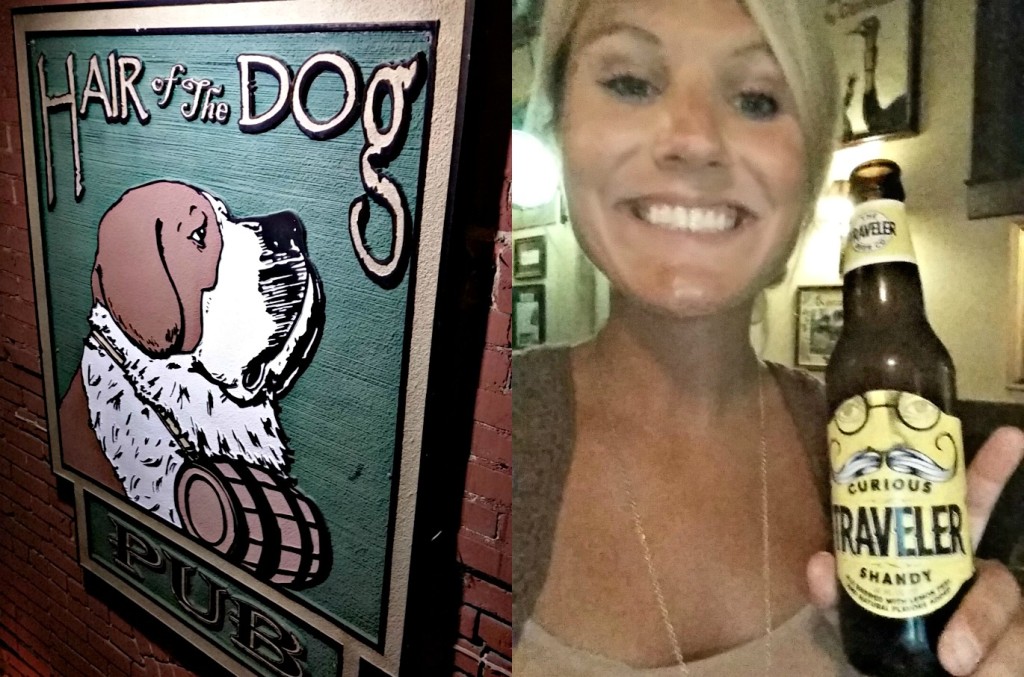 Another staple of Chattanooga is Rock City. This was not at all what I thought it would be. It is more of an attraction than a hike through nature. There are some less-than-authentic surroundings: creepy music, gnomes, cheesy signs directing you to different areas ("Goblin's Cave" & "Rainbow Bridge"), and other "enchanted forest" type additions.  But all of this is amidst pretty unreal natural rock formations. And once you get to the top, no one can deny how beautiful Lover's Leap is. If you can handle some Yogi Bear Cave type trails (yup, that was a Kings Dominion reference), you won't be disappointed by the peak. The 7-state-wide panoramic view at the top is well worth the weird garden gnomes staring at you on the walk up. From here you can see TN, VA, SC, NC, KY, GA & AL – six out of the seven of which we had just driven through – making it an even more surreal view considering the hours we had clocked on the road.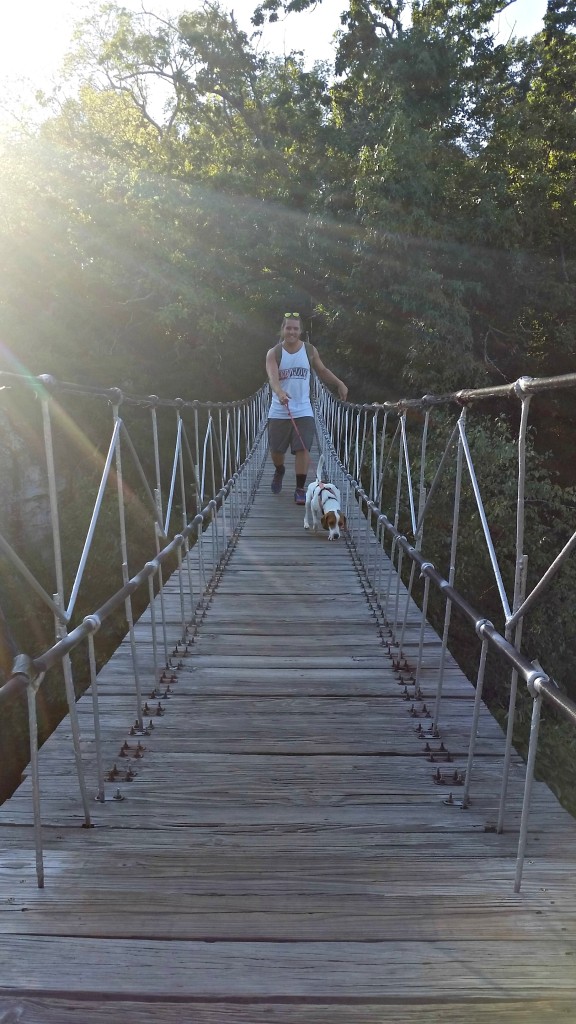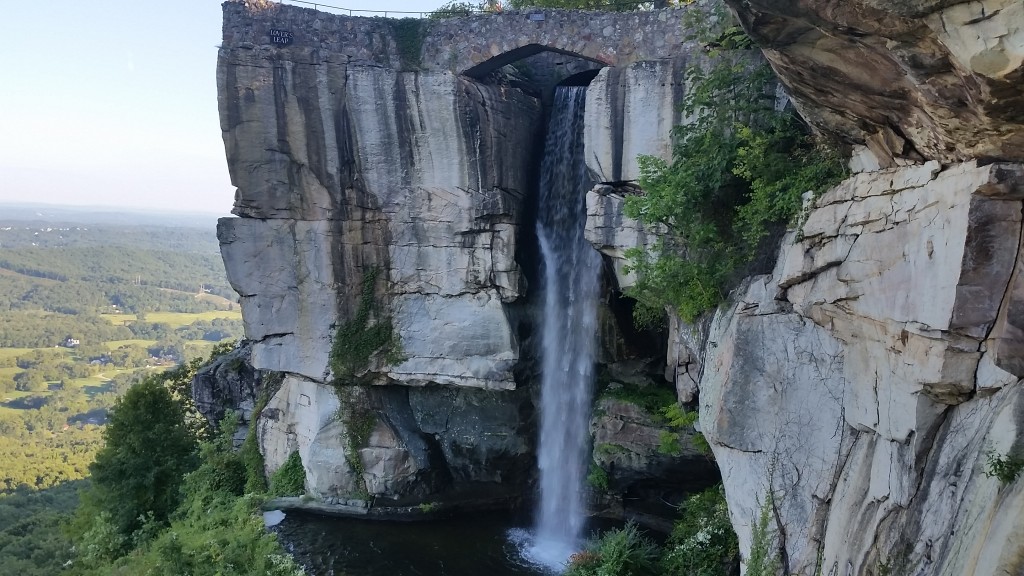 Ruby Falls competes with Rock City in terms of commercial cheesiness. There is a tour guide that tells you horrible jokes and there is mystical background music playing. But in the end, it's all worth it – the falls are breathtaking. In the span of about an hour and a half, an elevator takes you over 1,000 feet below the surface where you walk through caves and into an opening for the dramatic reveal of a 145 ft underground waterfall flowing into a freezing pool. If it's a beautiful day, it might be a shame to head underground for that long. In our case, it was extremely hot so it was a nice break. Apparently on Friday nights they have a few lantern-lit tours. I think without the Disney World-esque lighting, it would be much more interesting/eerie to walk through.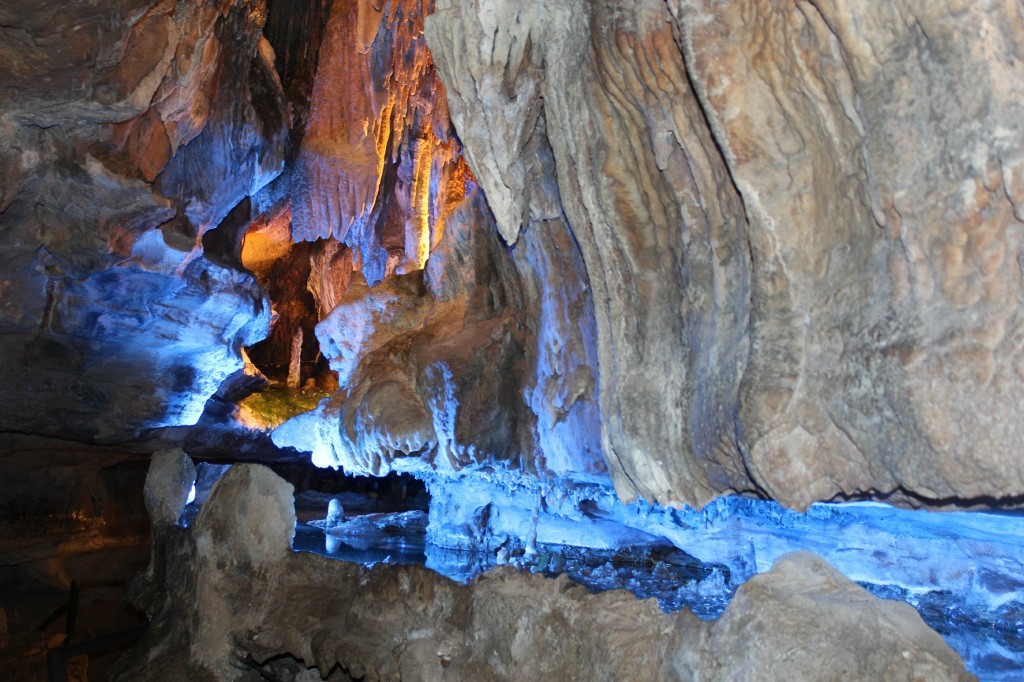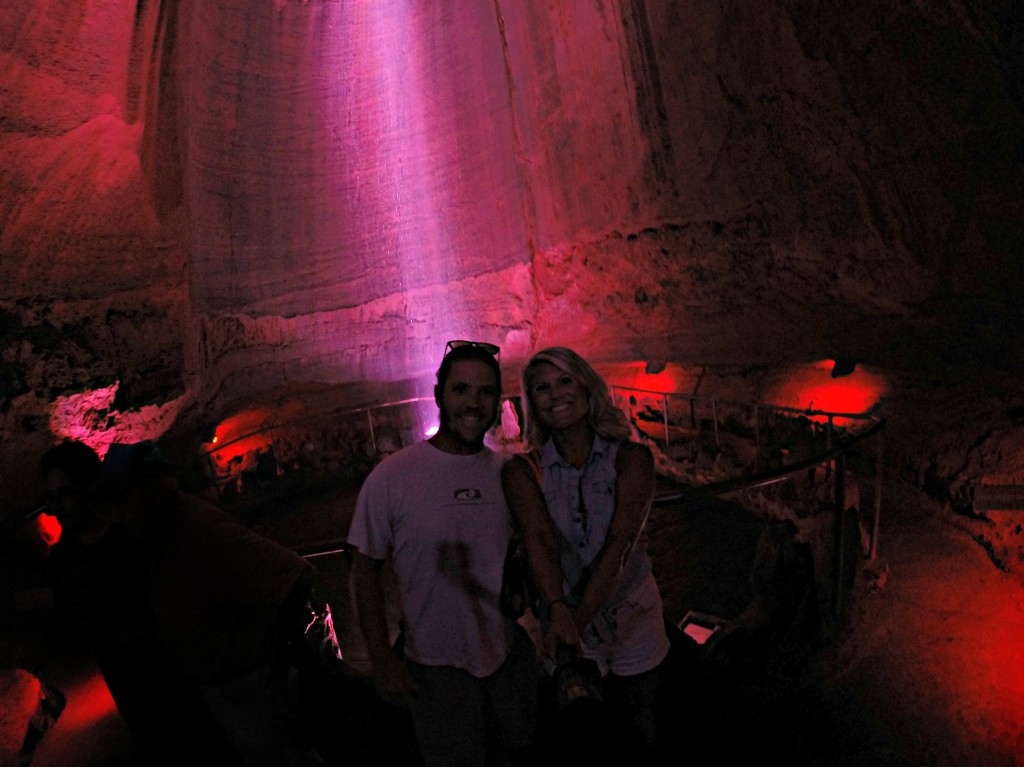 As suggested by one of our tourguides bartenders, we went to Sunset Point on Lookout Mountain. This little-known lookout proves that the best things in life are free (Rock City, Ruby Falls, and the Incline Railway cost us about $100 total). It took us some wrong-turns to find it, but once we got there we were lucky enough to not only witness a stunning mountain sunset but see some extreme, palm-sweat-inducing, rock climbing as well.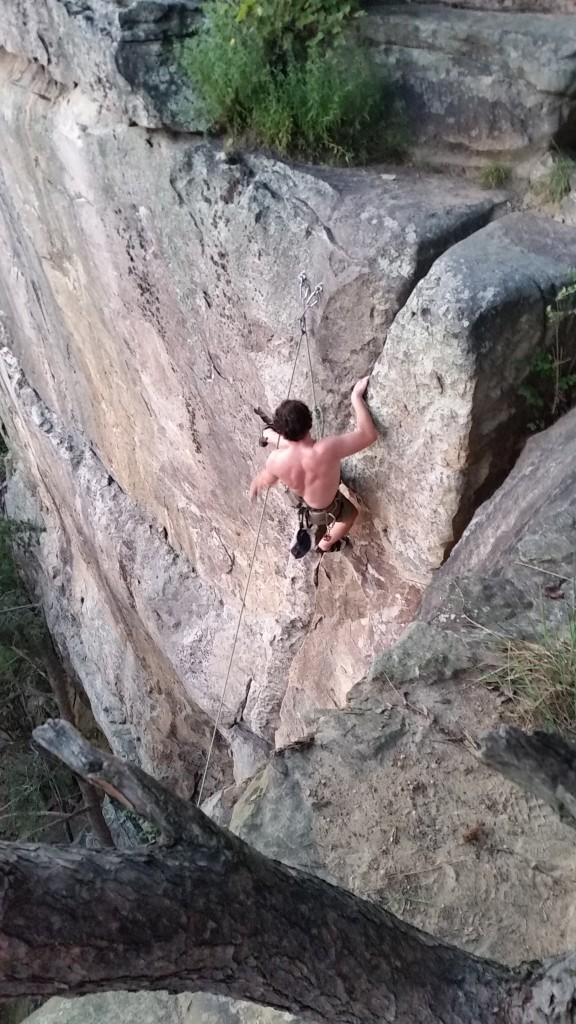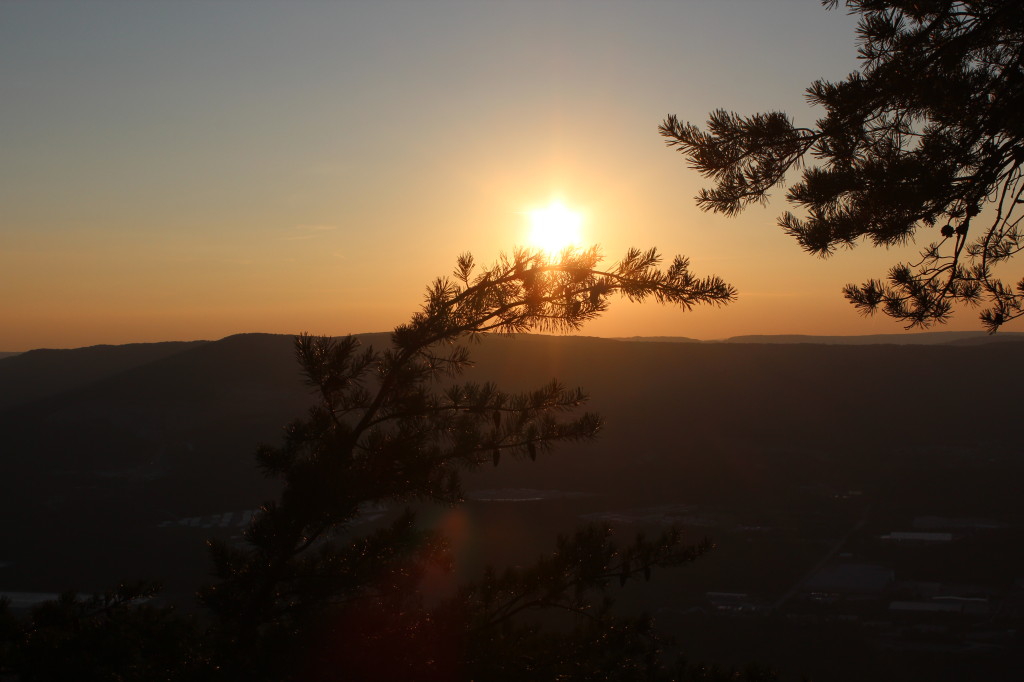 Walking across Walnut Street Bridge was another highlight for us. This huge pedestrian bridge connects the two sides of town and gives you a postcard-like view of the city, river, and mountains. Supposedly its one of the longest pedestrian bridges ever built. Once on the north shore, there is Coolidge Park and a bunch of shops, coffee joints, and restaurants along Frazier Ave.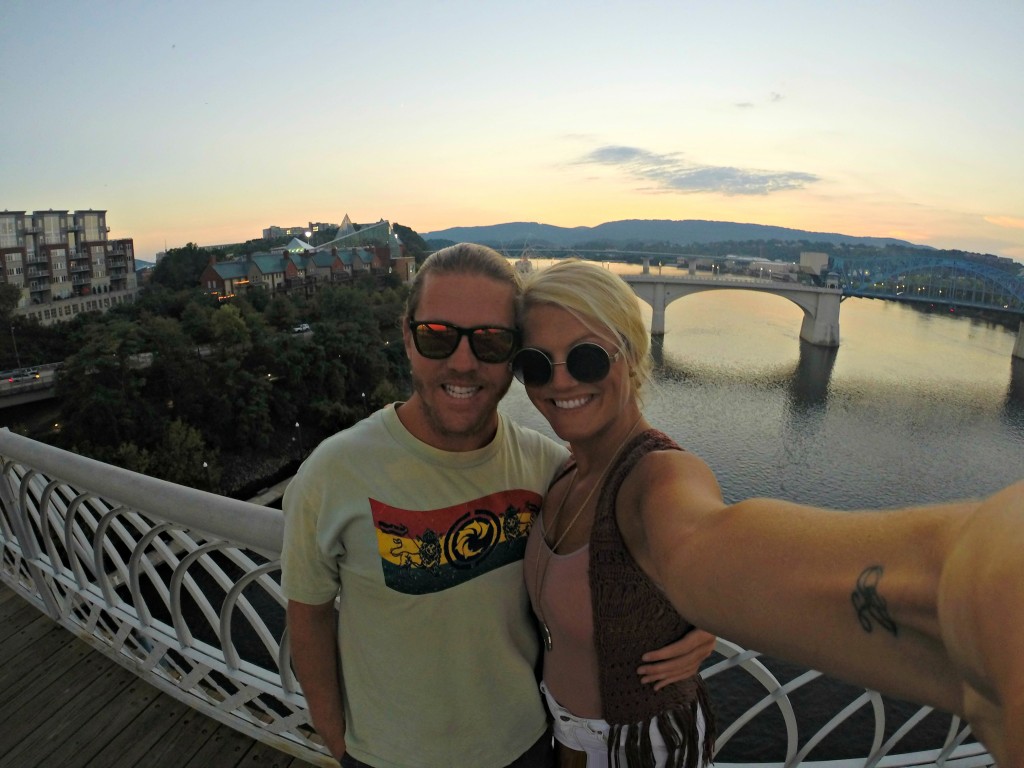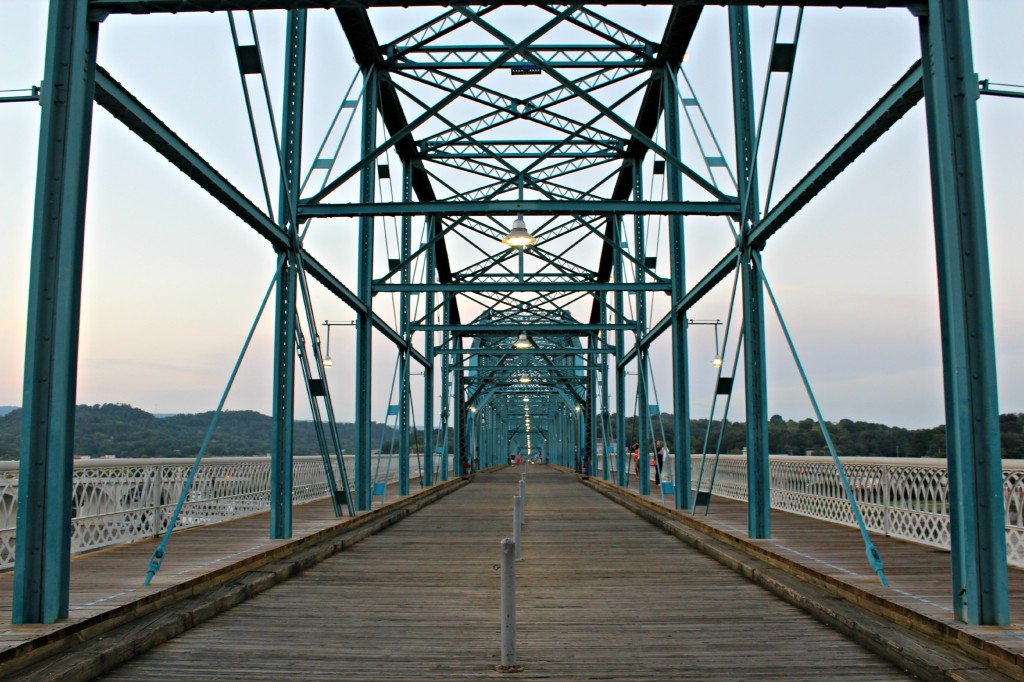 Chattanooga Adventures in a nutshell: 

ChattanoogaAdventuresCompilation from Aimee Long on Vimeo.
Parts of this leg of the trip worth noting:
We slept in our first Wal-Mart parking lot! We left Charleston late on Monday and by mid-night it was time to pull off. Josh chose Augusta, GA to pull into. The Masters are there so it has to be safe, right? It turns out, Wal-Mart parking lots are surprisingly peaceful. For those who aren't familiar, every Wal-Mart allows overnight parking. It's part of their social responsibility – they would rather have you pull over than continue on with the dreaded sleep-driving. It's best to make it somewhat discreet (ie: don't open up your slide-outs, let out the awning, and pull out your chairs and start grilling.)
We took the the back roads home to our RV park one day in Chatanooga. Word of advice – Don't take the back roads home in Southern Tennessee. Small town America ain't pretty. We ended up witnessing two Meth Tweekers in a pretty intense domestic dispute on the side of the street. Granted the meth did a good job of stripping them of most of their body mass, the guy did manage to throw the girl into a fence. Being the good samaritan that I am, I called the cops in hopes of maybe saving her from getting curb stomped? We didn't stick around to witness the outcome…so this story has no ending. Sorry.
The people you meet on a trip like this make every penny you spend on gas, every mile tracked on the odometer, and all the time logged in the right lane worth it. The characters we have met so far are worthy of their very own blog post (in the works). One night we posted up at Brewhaus, in the north end of Chattanooga overlooking the Tennessee River, and struck up conversation. The man next to Josh turned out to be an archaeologist working for the US National Park Service in the Virgin Islands. Here we were, sitting next to this modern day Caribbean Indiana Jones in his TN hometown for the week, getting his annual check-up and visiting family. Needless to say he was a wealth of knowledge about all of the National Parks we're heading towards, having worked for a ton of them over the past 30 years. We were glad we sat down at those particular bar stools because we gained valuable insight.
 We had to order a WiFi signal booster in order to get faster internet in more remote areas. Seeing as we don't have an address, we had it shipped to our friends' house in Nashville. Thanks Markie & Liz! (Yet again we "Cousin Eddie'd" in the driveway.) They took us to an awesome place in East Nashville called The Pharmacy where we had coma-inducing burgers and an array of brews in a backyard/garden setting with string lights, open-air bars, and picnic tables. The perfect Friday and start to Labor Day weekend.
This was our last taste of the south-east! We officially crossed over the Mississippi River after this stop. All-in-all Chattanooga is a very cool town! If we're ever in this part of the States again, we will definitely be checking out the Great Smoky Mountains more extensively and, word has it, we need to visit Cades Cove.
Chattanooga through our Lens: