Grand Teton National Park: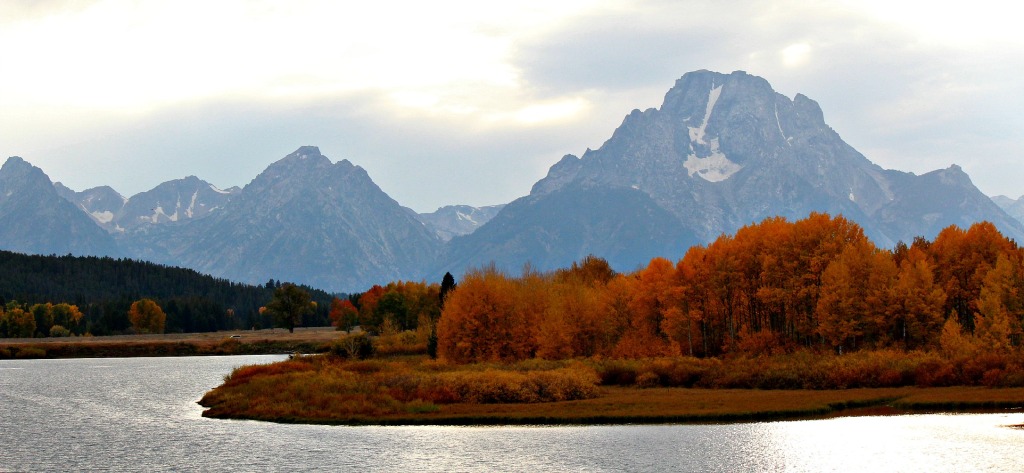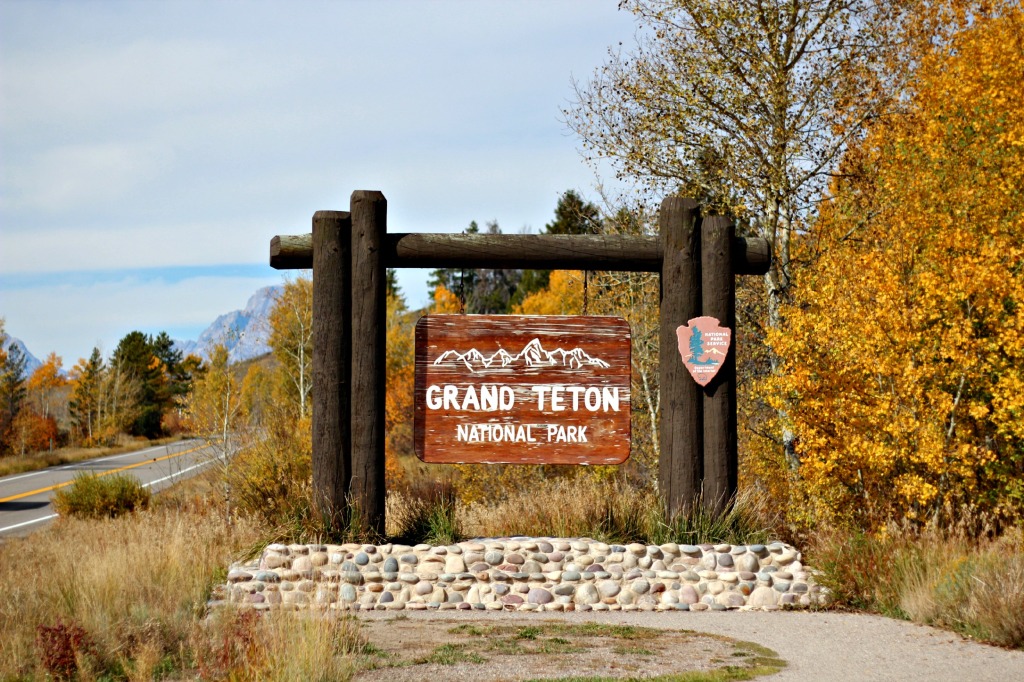 We got into our campground around 10PM on a Saturday. It was nothing but darkness and a thick blanket of stars. We fumbled our way around in the dark trying to get set up not knowing which way was was north or south. The lady that took our reservation by phone said there were "great views!" (all of them say that). This particular lady, however, was not lying. We pulled up the blinds in the morning to an incomprehensible view. In that moment, lying in bed, looking out the window above our pillows, we felt pretty lucky. The foreground was vibrant red, orange, and yellow foliage gleaming in the morning sun on a backdrop of the tallest and most beautiful mountain-scape I'd ever witnessed. Hello Tetons in September!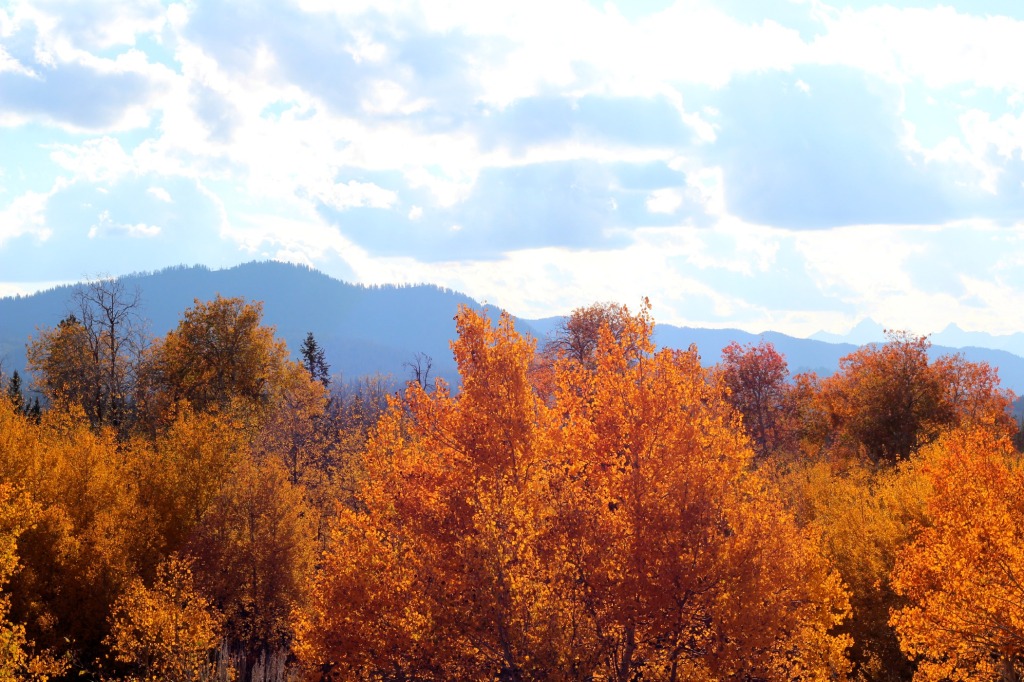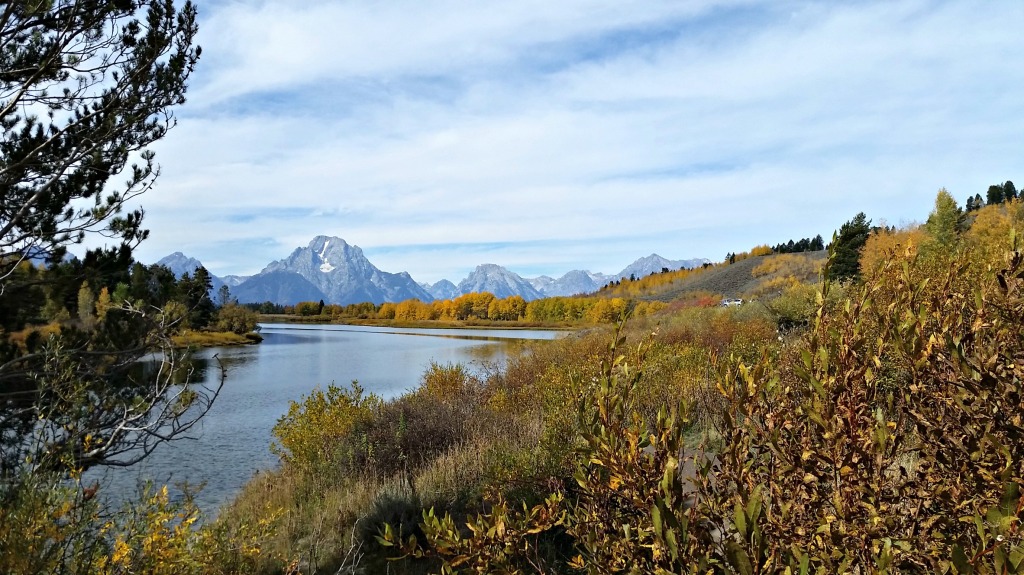 Anytime we get a campground that has a lot of land, a fire pit, and is somewhat in the wilderness we're happy about it. Grand Teton RV Campground is just that – with a horse ranch across the street, a creek running through it, and spectacular views of the Tetons from every site.
It was gorgeous even after a rainstorm: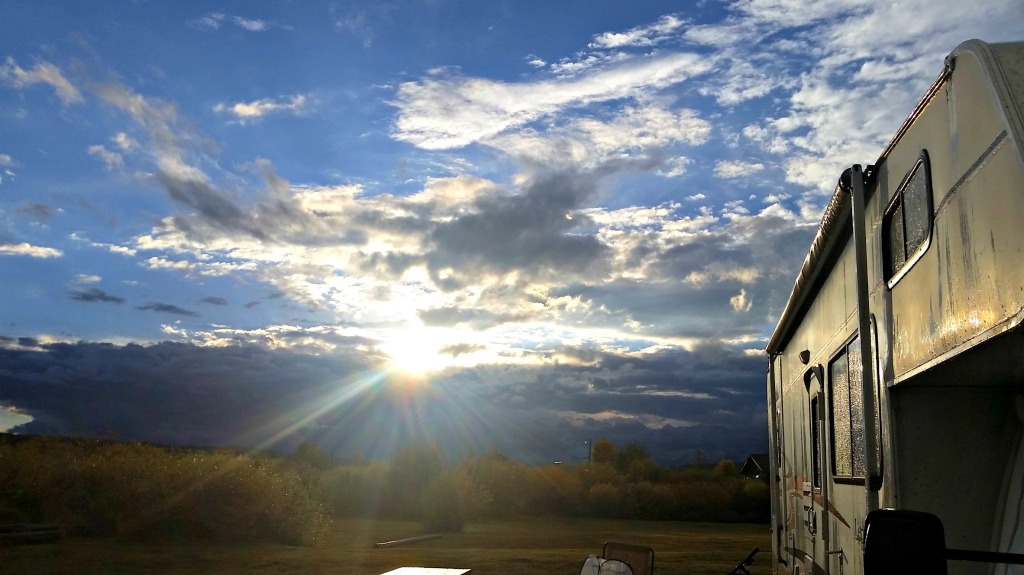 Delicious Autumn! My soul is wedded to it, and if I was a bird I would fly about the world seeking the successive Autumns. -George Eliot
The Leaves! Yet again, in our rookie RVing, play-it-by-ear traveling, and never-ending luck – we stumbled into Grand Teton National Park at it's most beautiful point in the year. The colorful leaves against the mountains were picturesque to say the least. I've ruined myself because now I can't imagine going during any other season without being somewhat let down.
From hiking, to kayaking, to off-roading and biking…we definitely made the most our time in the Tetons. On our first day, we took the Jenny Lake boat shuttle across the lake and over to some of the most beautiful hiking I've witnessed to date. We hiked up past the falls to Inspiration Point and then into Cascade Canyon. Once you push past all the people, the views of Jenny Lake at Inspiration Point are vast. Then once you trek past that peak and into Cascade Canyon, the crowds thin dramatically.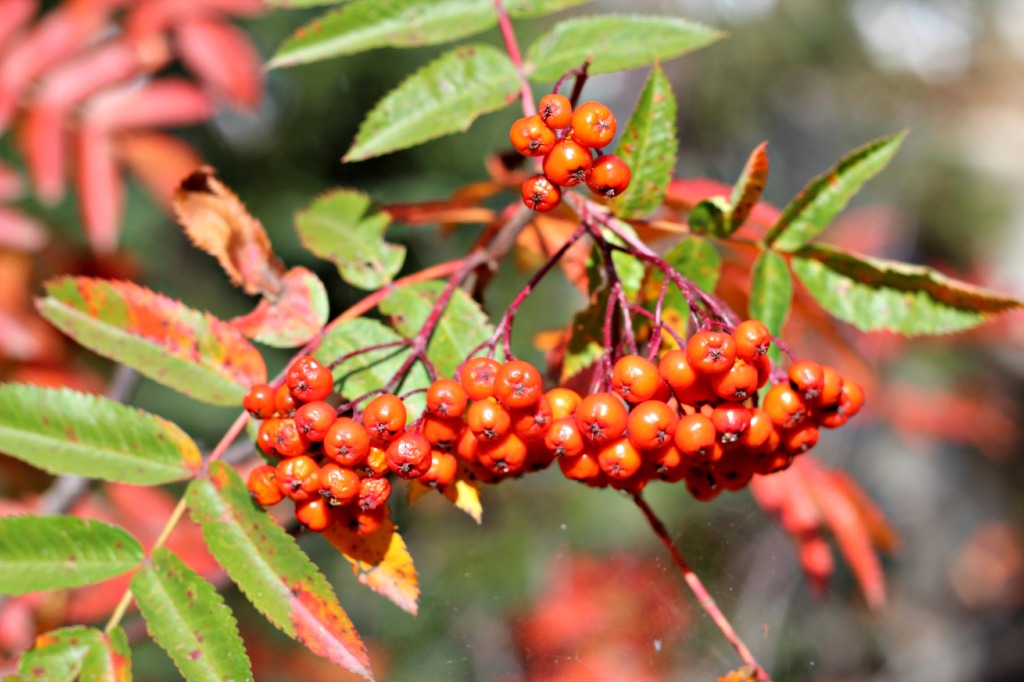 We were going to turn around a few miles into the canyon to make the hike back (knowing we might miss the last boat shuttle and have to hike around the lake to get back). We ended up hearing from a few hikers coming from the opposite direction that there was a family of moose near a particular bank up the trail. That settled it, we were definitely going to miss the boat and wouldn't turn around until we finally met a moose. Tragically, in Yellowstone the growing wolf population has scared off most of the moose so we didn't see any and I was grief-stricken! Cascade Canyon made everything right again:
Hiking the extra 2 miles to see them was so worth it. They gave us the "courtesy stare" a few times, meaning…okay, enough – get out of my area. So we got our adrenaline rush, snapped our photos and turned back onto the trail to head back.
It's funny because each time we visit a new place we start to get a little jaded. When we first got to The Black Hills, we were overwhelmed by the beauty of the West. Then there was Montana, Yellowstone, and then the Tetons…each one trumping the other. I find myself saying "Wow, this is the most beautiful place I've ever been" every time we go somewhere new. The same goes for the animals we're set on seeing. We were so bummed in The Badlands when we didn't see any bison. Then we saw 800 of them in Custer, then thousands in Yellowstone. By the end of our week in Yellowstone, seeing a bison was like seeing a squirrel, no biggie. In Yellowstone, we were bummed that we didn't see any moose, then in the Tetons we were less than 20 feet from them.
The next day we took the Jeep out to get a little mud on the tires. An employee we met at a saloon the night before mapped out a couple scenic back-road drives for us. People are SO excited to be helpful and informative to people traveling through and I love it. We ended up taking Sandy the Jeep on about 20 miles of dirt road in back country Wyoming. As the cherry on top, one of the dirt roads ended at a ranch in Buffalo Valley for sunset, awesome views, and even more awesome specialty cocktails.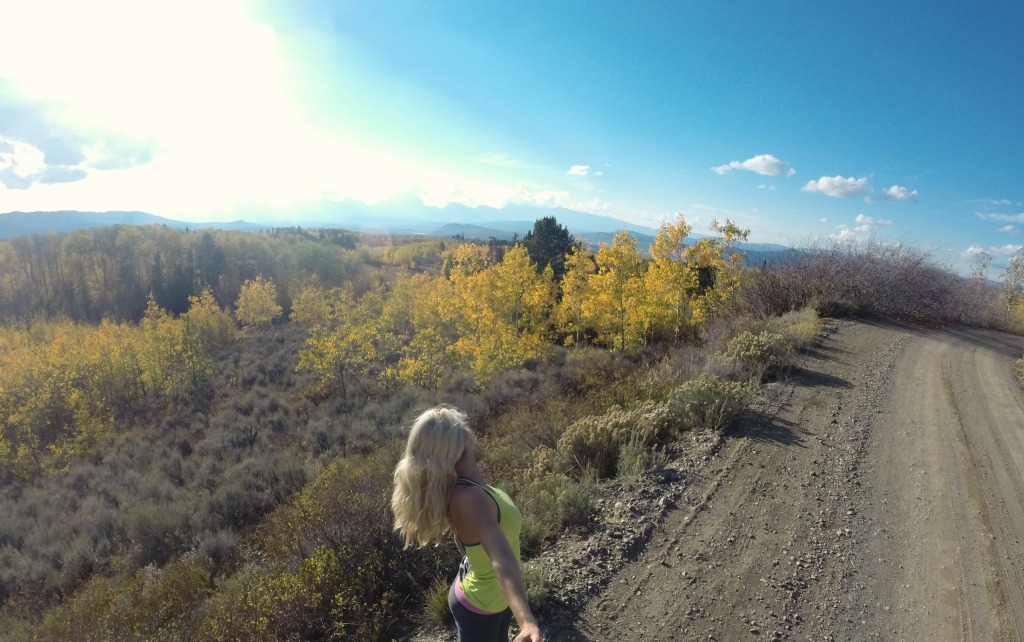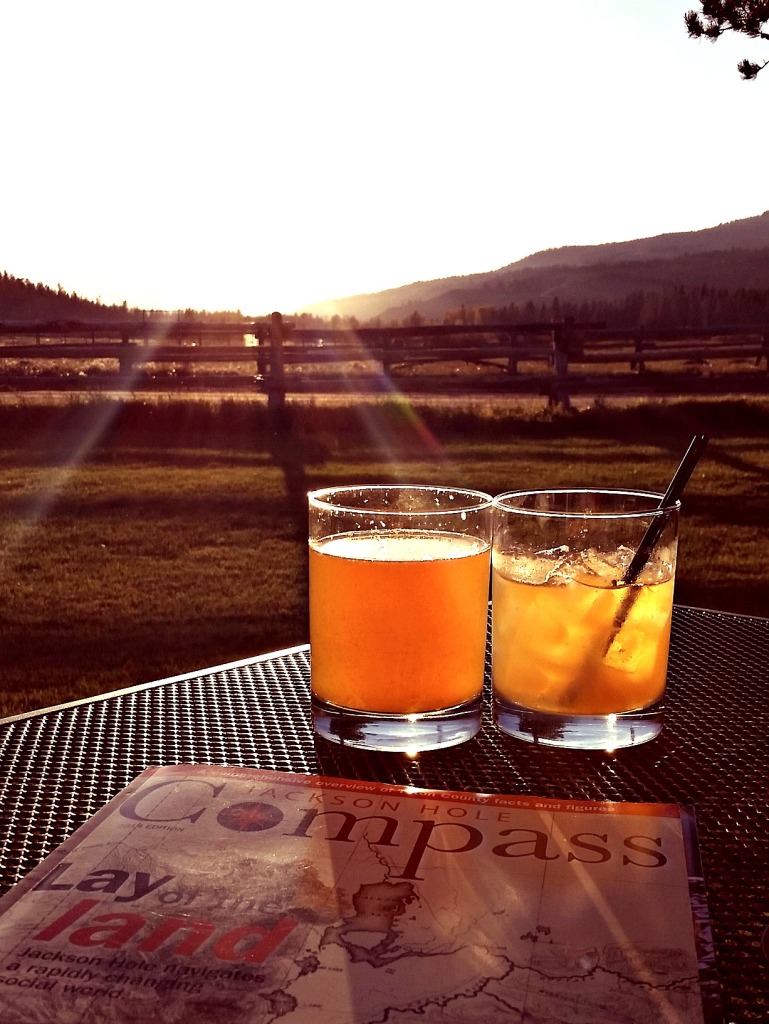 The next day I took my bike out for a spin. There is a beautiful new bike trail spanning 7 miles between Jenny Lake and the Moose Junction entrance to the National Park. The entire time, an unobstructed view of the Tetons are in your peripheral. I'm sure I had a shit-eating grin on my face the entire bike ride – it was too beautiful not to.
That night we went to the historical Jackson Lake Lodge for some drinks, but more importantly for the views of the entire mountain range from our table. Jackson Lake Lodge is home to two restaurants with floor-to-ceiling windows overlooking a huge field, a portion of the lake, and all 9 peaks. We sat outside at the Blue Heron Lounge, watched the sunset, and made some entertaining friends.
The Tetons are even more staggering by water. We took a kayak out out to the Colter Bay Village Marina and paddled out to a few peninsulas, caught the sunset, and casually paddled up to a Grizzly Bear on a bank…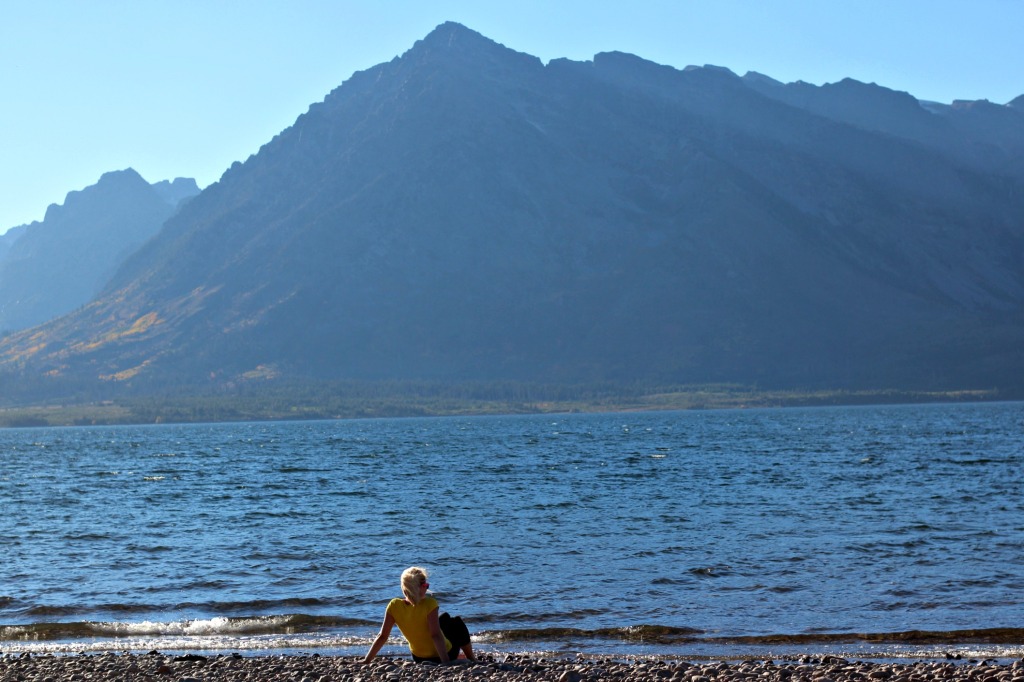 Being that it's Fall, the bears are pretty ruthless right now. They are trying to beef up to hibernate and are no holds barred. Since we got to the Tetons, everyone has been on high alert. Just 5 days before we arrived a bear researcher was mauled and found 97% devoured 2 days later (Damn). I'm glad I got to see my first Grizzly. But needless to say, I'm glad I saw it from water and not face-to-face on a trail.
The next morning we woke up before sunrise to catch the sun slowly pulling the night down off the mountains from the kayak. Sunset on the water is beautiful, painting the peaks pink and orange as it sets behind them. But sunrise is even better. The entire face of each mountainside was being illuminated as we paddled out.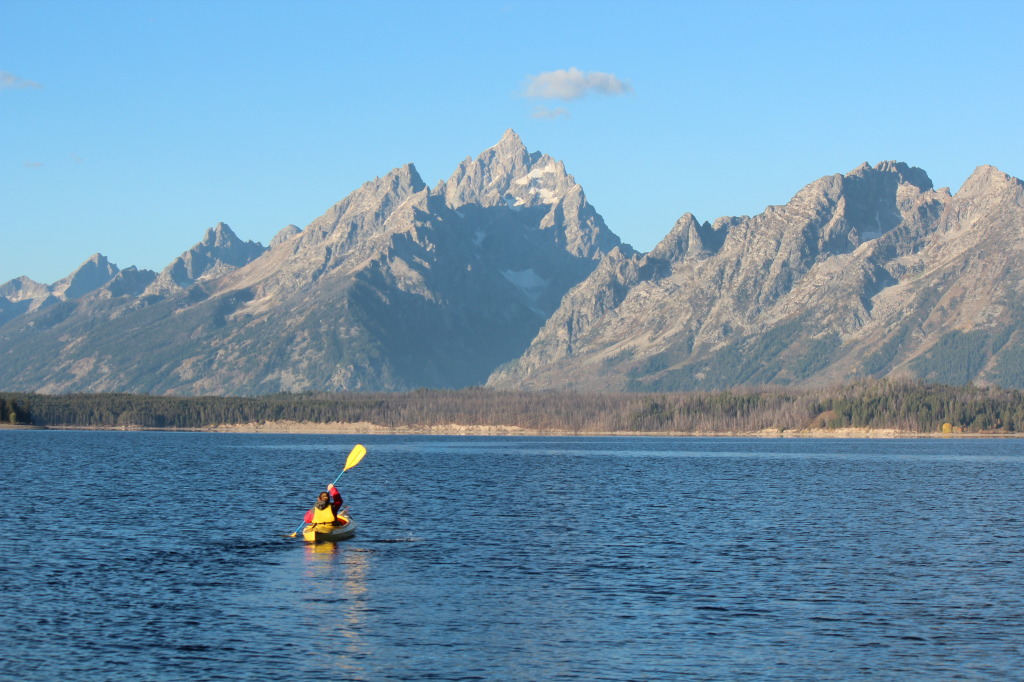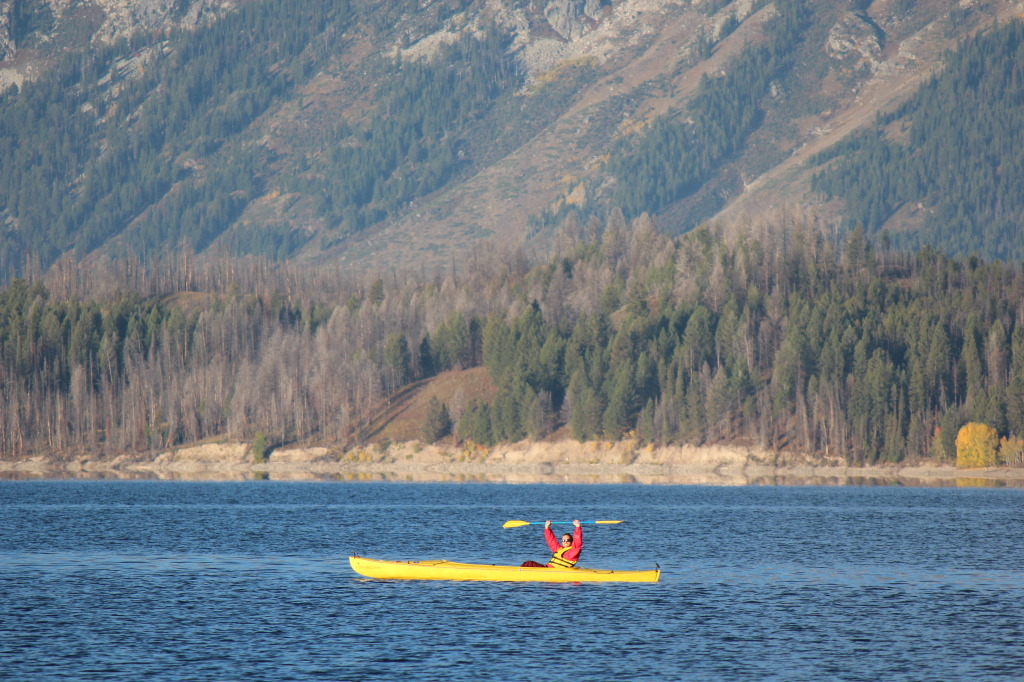 Jackson Hole: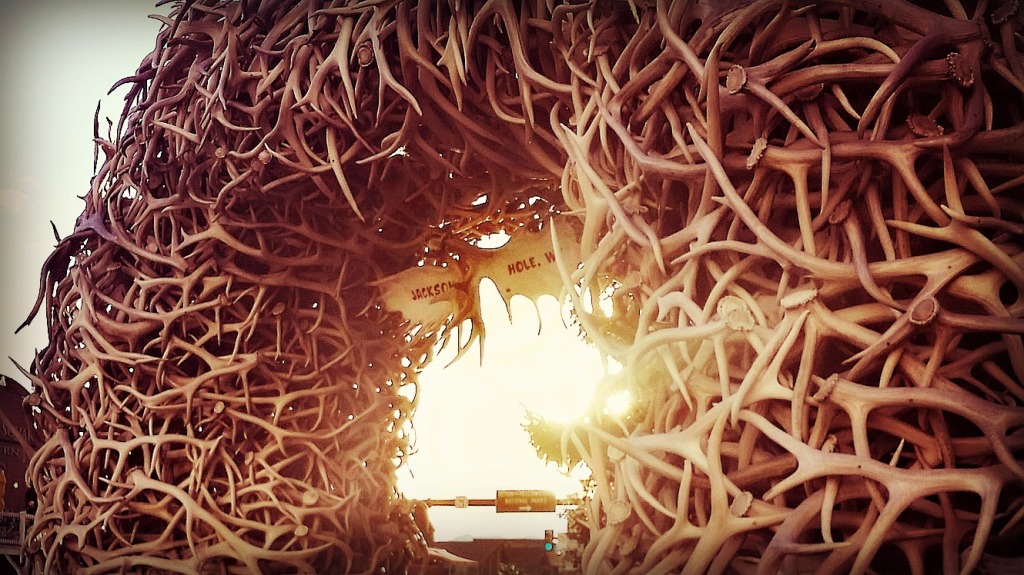 Before the 30 minute drive down to Jackson Hole, we grabbed lunch on a rooftop deck with this view (and I took my 99 thousandth photo of the mountain range):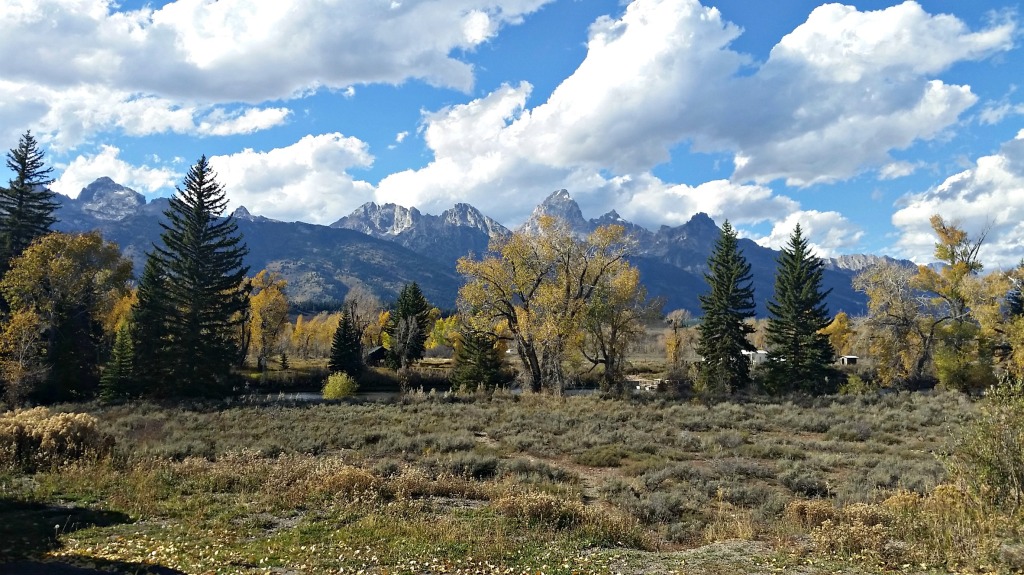 It didn't take but 10 minutes for us to fall in love with Jackson Hole. "Jackson Hole" refers to the entire valley (including the Town of Jackson, Teton Village, Wilson, Moose, Moran Junction, Kelly, and Hoback) which is surrounded by Yellowstone National Park on the north, the Tetons on the west, the Gros Ventre Mountain Range on the east, and the Wyoming Range on the south. You've got everyone from 60-year old dread-heads who have been there since the 80's… to rich kids from the east coast who came to work in T-shirt shops after college and be ski bums.
Our first stop was Snake River Brewery – "Put our river through your liver!"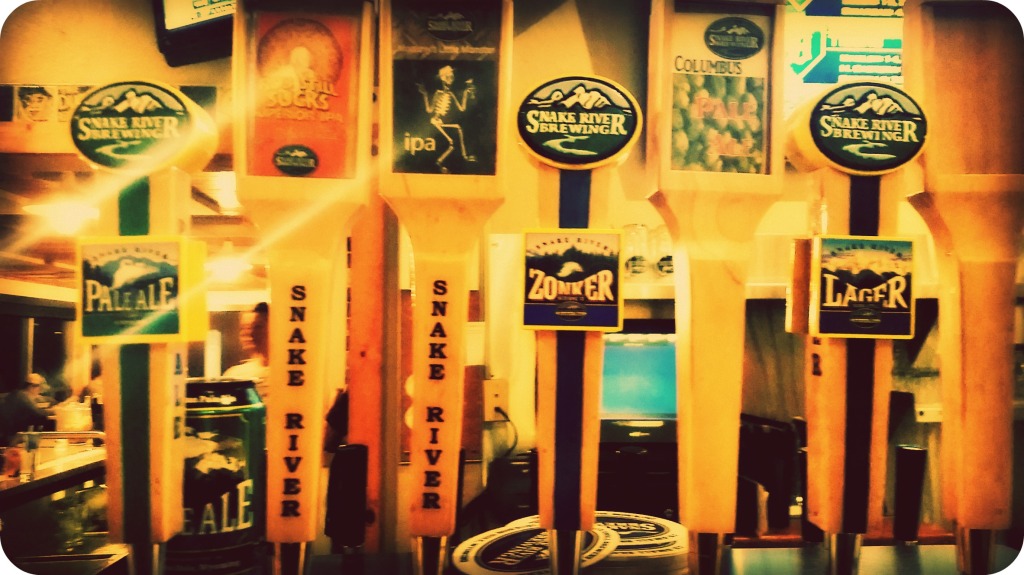 Then (because you can't go to Jackson Hole without making this stop) we saddled up at The Million Dollar Cowboy Bar.
The next night we classed it up a bit and went to Snake River Grill for a drink and an appetizer.
Then, for the main event, we had dinner at The Gun Barrel – Steak & Game House. This place is pretty much PETA's nightmare. It's a huge log cabin that used to be the Wyoming Wildlife Museum & Taxidermy. It houses a huge collection of game trophies as well as Hank William's buffalo coat that was worn on his Lone Wolf album. They're known for their game fare, so in this next installment of "Aimee-who-is-not-a-big meat-eater-eats-wild-game-that-is-barely-cooked" I had elk medallions. They were pan seared with mushrooms, green onions, and sundried tomatoes in a red wine demi-glaze sauce. Josh had mesquite grilled elk chops.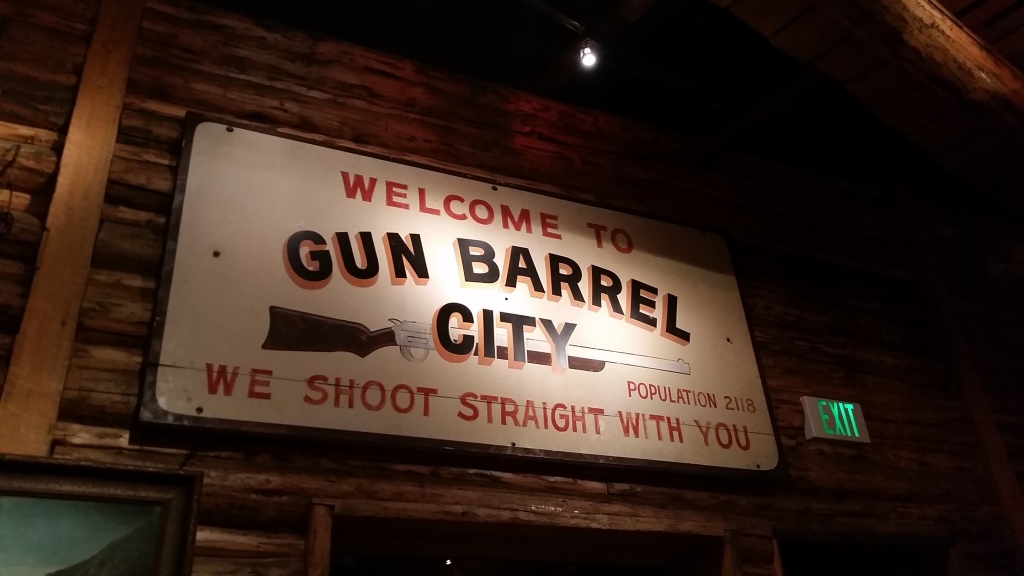 Unfortunately the first 4 days  in Jackson Hole were a never-ending downpour. I'm talking, rain that didn't stop for 96 consecutive hours. Imagine 2 humans and two hyperactive dogs confined to a 32 foot dwelling… and you've just imagined the worst case of cabin fever in recent medical history. So we did as much shopping and exploring around the Jackson Hole Town Square as we could:
Moo's Gourmet Ice Cream is the pride of Jackson Hole so we had to try some:

We drove through a portion of the National Elk Refuge despite the rain. It was actually very scenic with the fog rolling over the mountains at dusk:
It FINALLY stopped raining! We busted out of that RV like bats out of hell on Wednesday. All four of us were losing it. We took the Jackson Hole Tram 4,139 vertical feet up from the base of Teton Village to the top of Rendezvous Peak. This 15 minute ride began in sunny 45 degree weather and ended in a 25 degree blizzard. It was a crazy experience. We glided right through a wall of snow and into a completely different world. When we got off the tram, we layered up and walked over to the "Top of the World" to get blasted in the face by ice and wind. Then we walked over to Corbet's Cabin to thaw out and drink Irish Coffees.
We ended up staying an extra day since it finally stopped raining. I hiked a local trail in the town of Jackson – up the back of the local ski mountain (or as they call it the "Town Hill"). I took it up to Josie's Ridge and then further up to the peak of Snow King. FINALLY, I was able to bring Chuey with me on a hike. Dog-friendly hikes are non-existent in National Parks so we've had to leave them at home a ton. I reached an elevation of right around 7,800 feet and I was huffing on the way up. I'm fairly certain there was a point where I may have been crying. Snot was flying everywhere, my lungs were collapsing…it was a hot mess. Chuey, however, trotted along just fine…
Tetons & Jackson Hole Compilation:
GrandTetonsJacksonHole from Aimee Long on Vimeo. Tunage: The Mountain Wins Again – Blues Traveler