More Denver
I love Denver…what an excellent city. I always knew I was supposed to like Denver, because it's the cool thing to do. But I never really knew. It's the only city that's smack dab in the middle of the country where I could absolutely, positively live. It's like a big-city-breath-of-fresh-air in the midst of a whole 'lotta mid-west nothingness. Don't get me wrong – I'm perfectly content in a town with more horses than people. But sometimes it's a relief to get back into a pulsing city that makes you feel small again. After almost a month in Denver, it felt like home. It only felt good to leave because I'm an absolute lunatic and get antsy whenever we've been in one place for more than 4 days (always planning the next adventure…can't just relax and stay awhile).
In this second installment of "Denver is the Best" we checked out the riverfront neighborhood (mostly to feed our infatuation with everything beat and everything Jack Kerouac. See: My Brother's Bar – seriously click that link). The riverfront neighborhood is also home to the most obnoxiously huge REI known to man. It was so unnecessarily large that I think I bought a pack of snowboarding socks out of sheer fear. I don't even know if I have them, I probably left them on the register.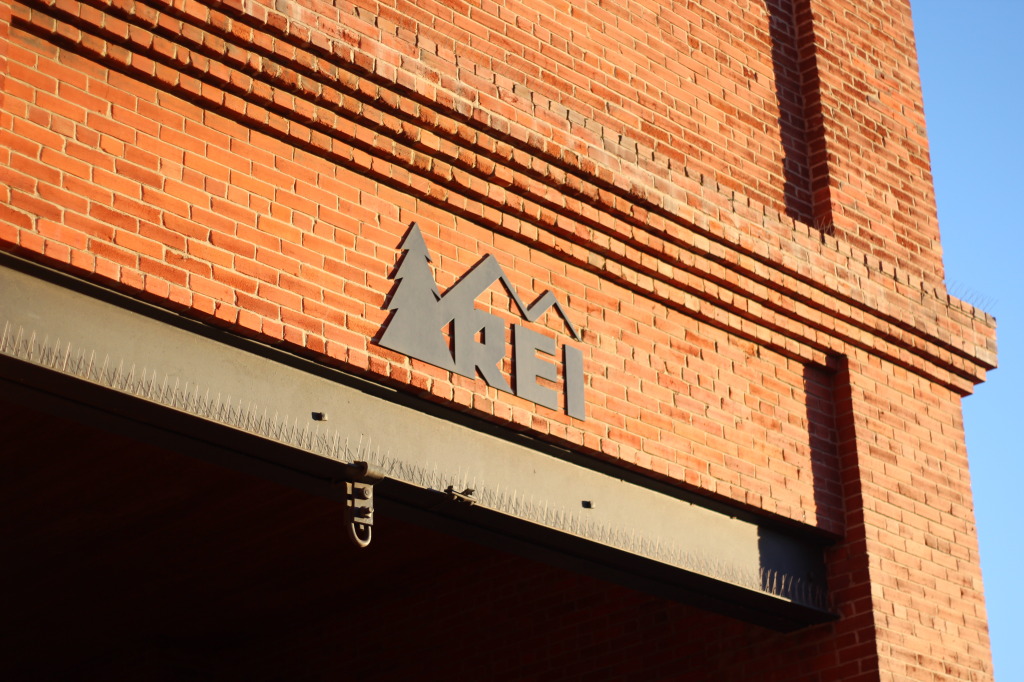 We really got to know the Ogden Theater area after an hour of trying to scalp tickets for Greensky Bluegrass (worth it). Don't underestimate a sell-out in Denver, some of the venues are smaller than you think.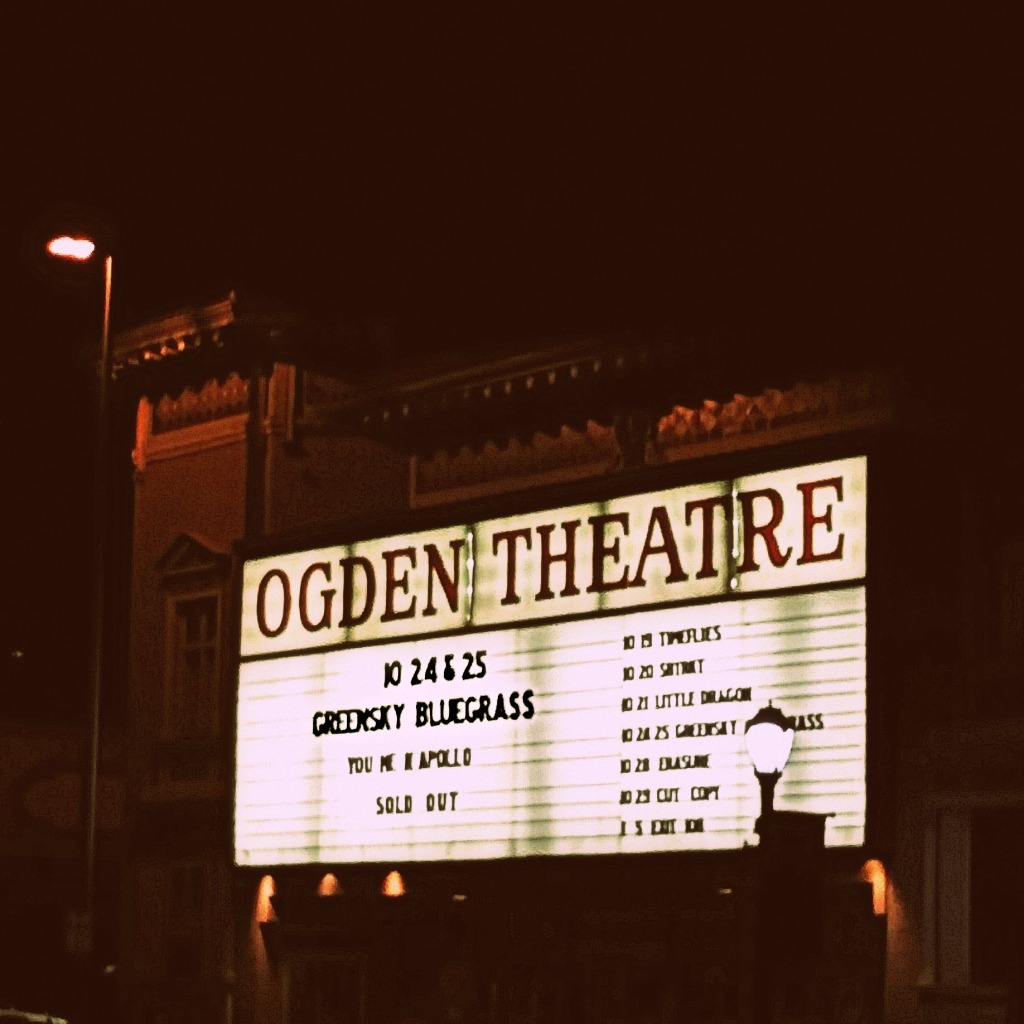 We had brunch at a quirky spot called Mercury Cafe . The food is grown at a local farm and is ah-ma-zing. The service is "eh" and the atmosphere is… interesting. There might be a guy offering to sell you a $5 caricature of yourself at the next booth…just keep eating that locally grown goodness.
Then we walked a couple blocks over to The Great Divide to indulge in some Yeti. Their brewery is small and cozy. To Josh's enjoyment, they loaded us up with "I Believe" stickers. (I'm convinced this entire road trip has just turned into Josh's opportunity to find Bigfoot and prove to the world he's been right all along.)
Then we went to the BEST establishment in Denver: 1UP. 1Up is an underground arcade/bar. First of all they serve 40's. Second of all, they have classic skee ball. Third of all they have all of the classic video games you can possibly imagine. I came to during a rousing Tekken combat while holding a Mickey's 40 in my hand and realized I was in heaven.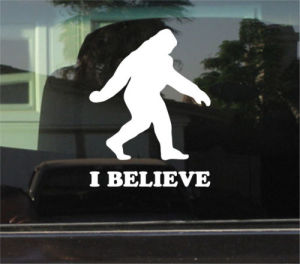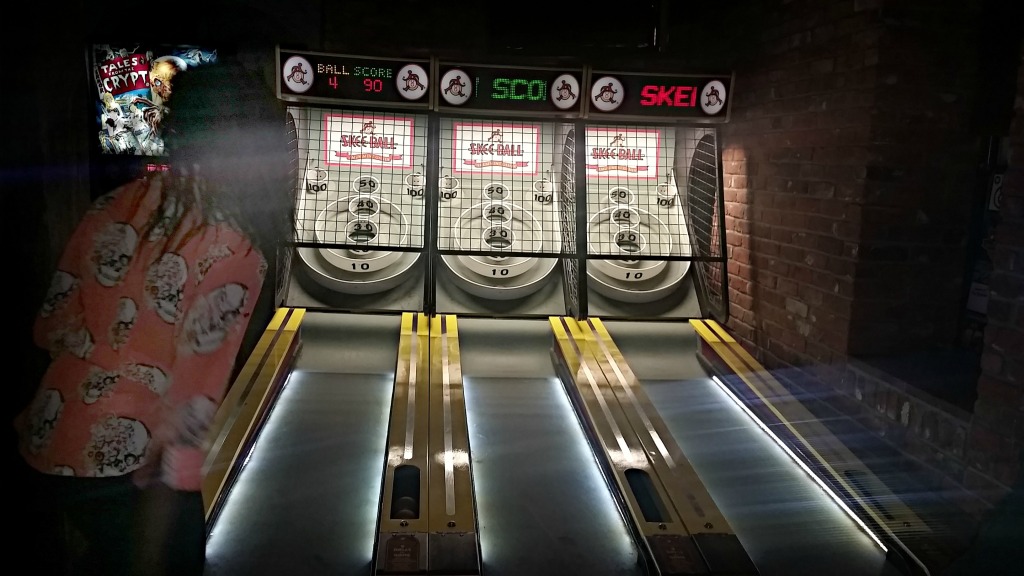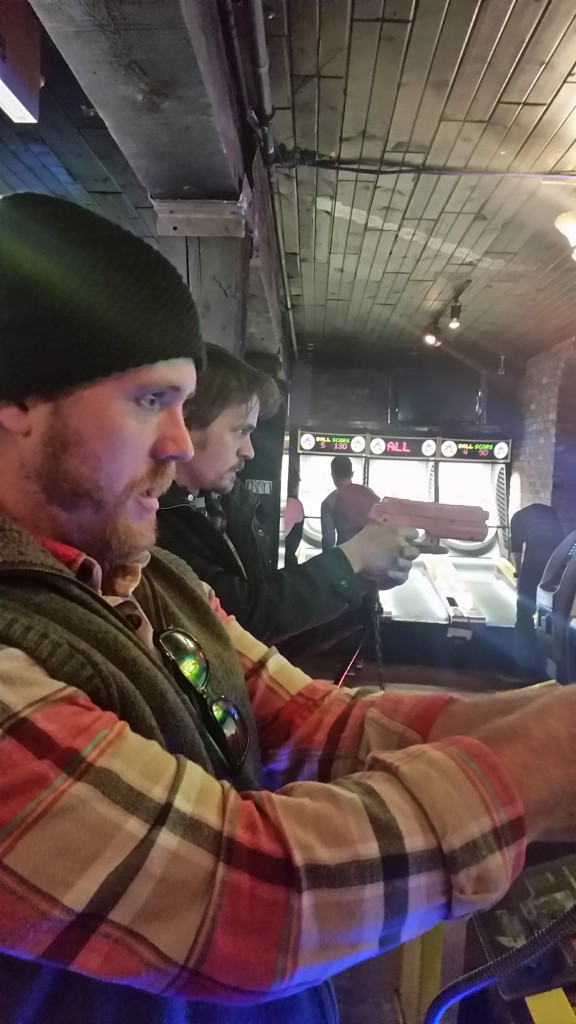 We also checked out Broadway. Broadway is a cool/relaxed area of town with speakeasies and most importantly- a super rad adult Chuck E Cheese, more commonly known as Punch Bowl Social. Punch Bowl was entirely too fun. For someone that gets better at anything competitive after a few drinks, it was heaven. They are even kind enough to make the bowling shoes velcro so if you happen to be more focused on the drinks you're being served than your bowling game, no worries….easy outro. We spent Halloween around Broadway as well, starting off at The Living Room and then next door to Bar Standard. I wouldn't have wanted to spend my favorite holiday in any other city!
The Flatirons
We went back to lovely Boulder to do some hiking. We started at Chautauqua Park and entered the trail through a green meadow, then up through a notch between the First and Second Flatirons and on over to the Third to explore the most prominent features of Boulder's landscape. As we were coming back through the meadow after the hike we were able to catch the fluffiest, most sugary cotton-candy sunset pillowing behind the rock formations. Then, just to ensure we experienced it all, we drove up Flagstaff Mountain and caught the very last glimmer of sunlight over the twinkling city-lights of Boulder at the Sunrise Ampitheater.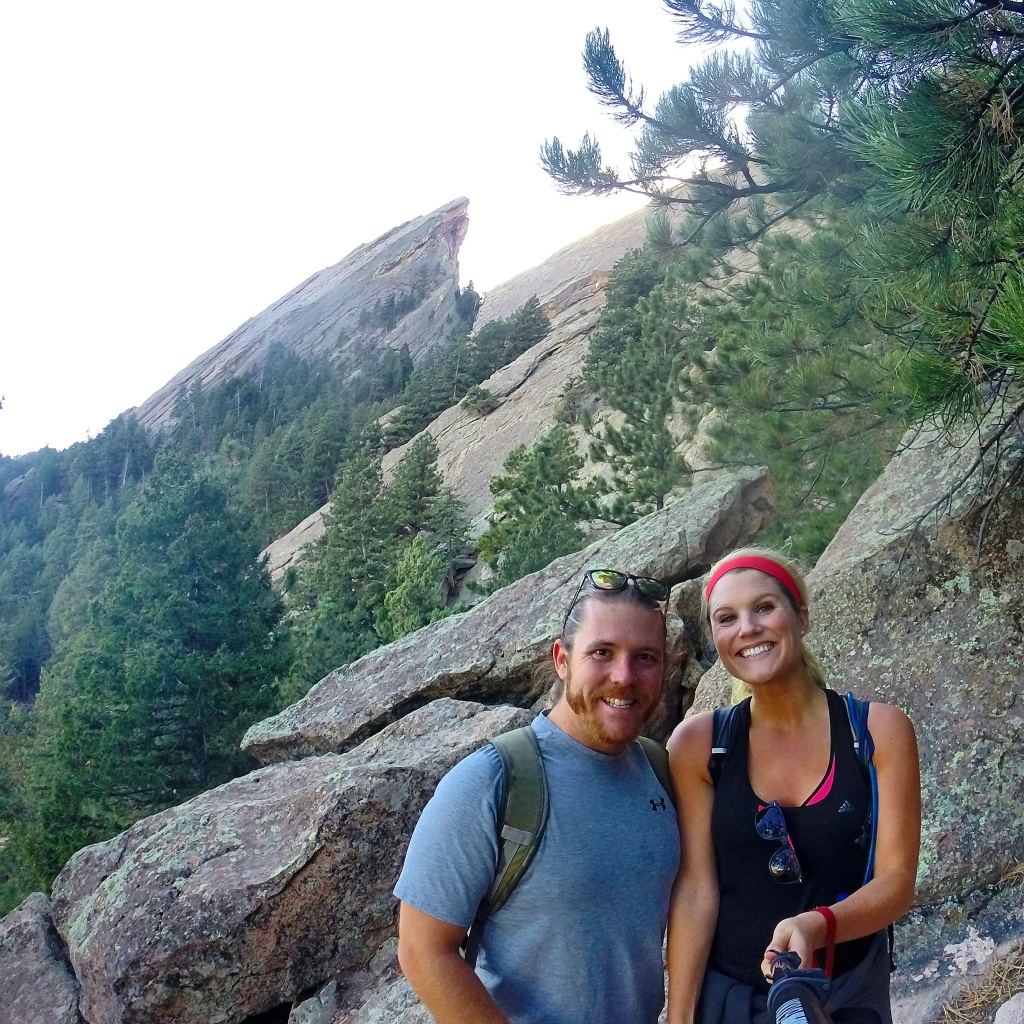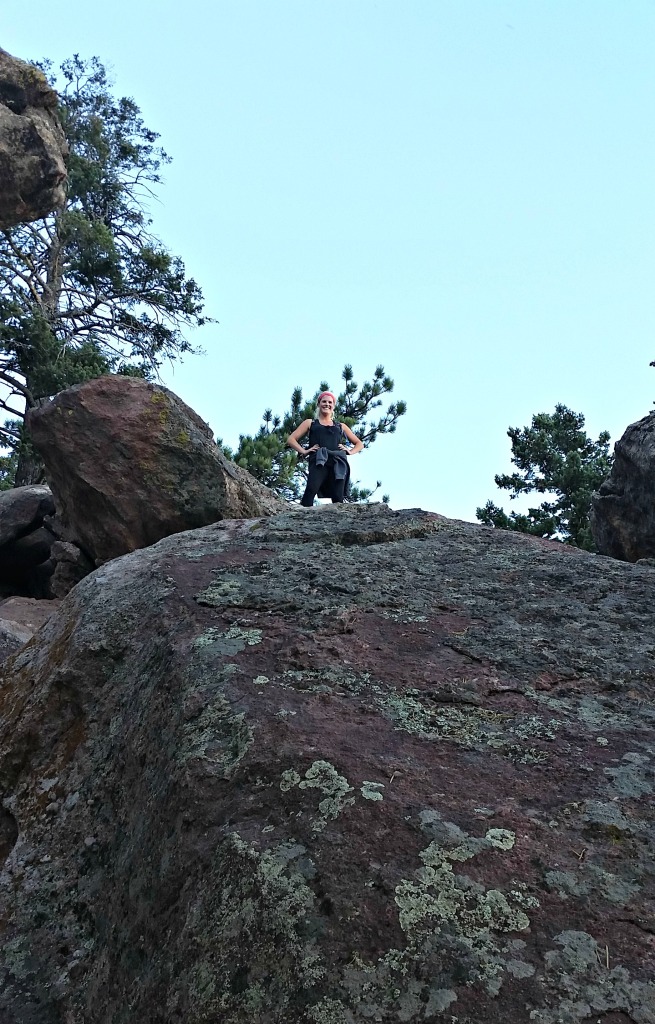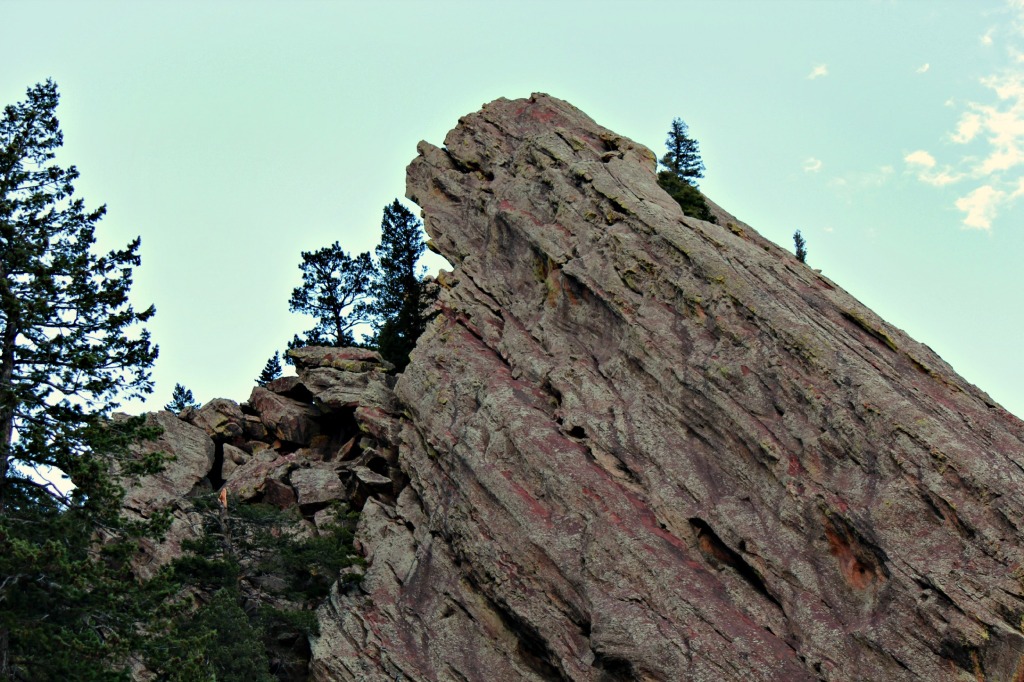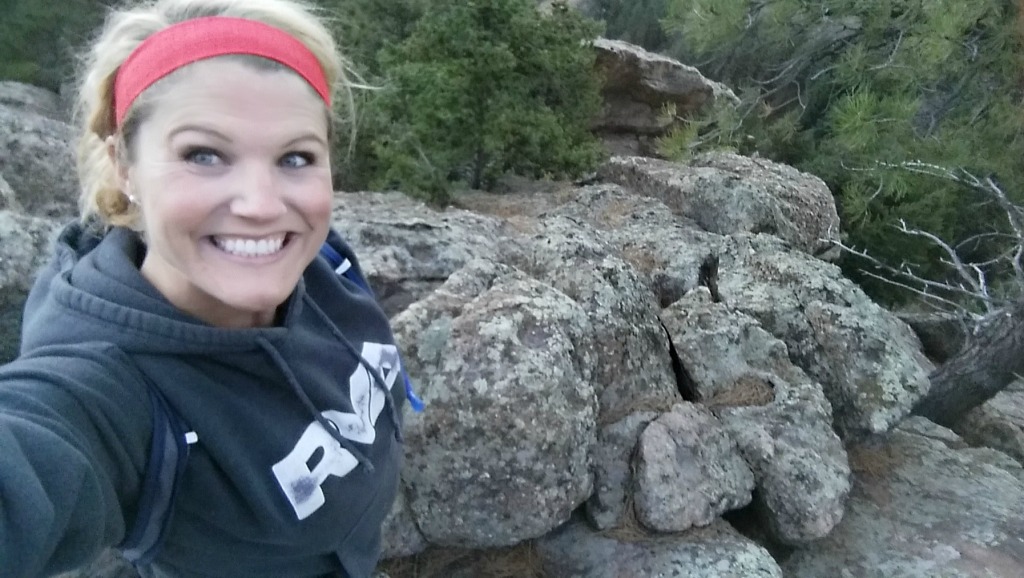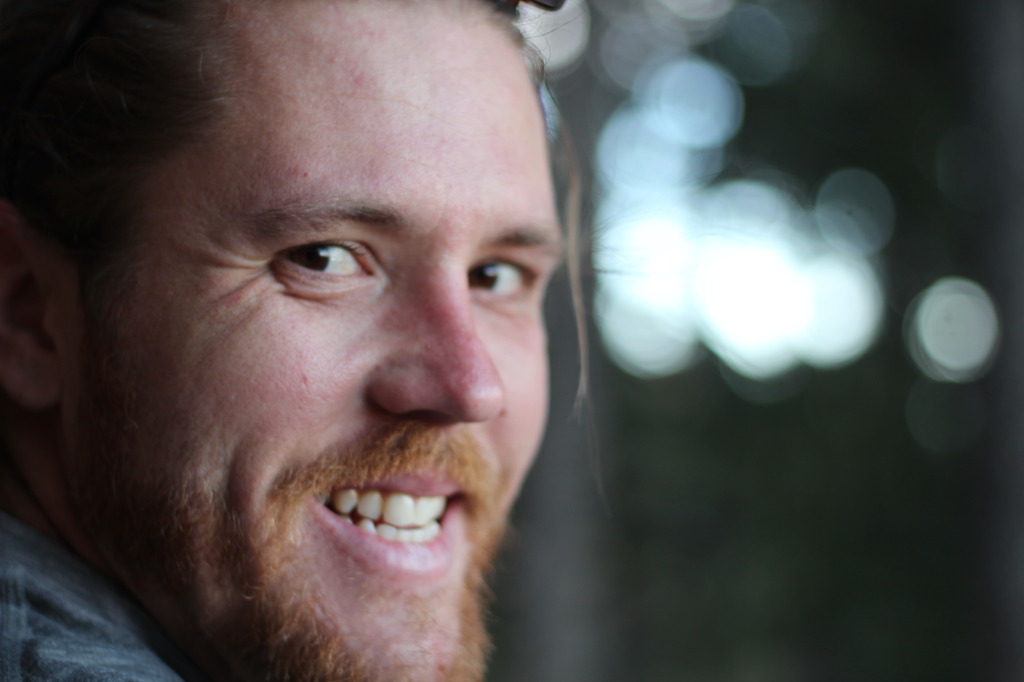 Denver Botanic Gardens
Oh Dale, you've done it again. I snagged tickets to Chihuly Nights at Denver Botanic Gardens the very last night we were in town. It was sold out for most of the month and I'm so glad we were able to make it. Having seen the Chihuly exhibit at the VA Museum of Fine Arts we knew what we were in for. It was definitely a more dream-like experience seeing one of his garden exhibits, however. Chihuly and his team do such an awesome job of finding the perfect place within a garden to strategically display each piece of work. They take everything from the obvious (like shadows on a wall and reflections on a lake) to much tinier aspects into consideration. We got our first taste of "Colorado cold" this night as well.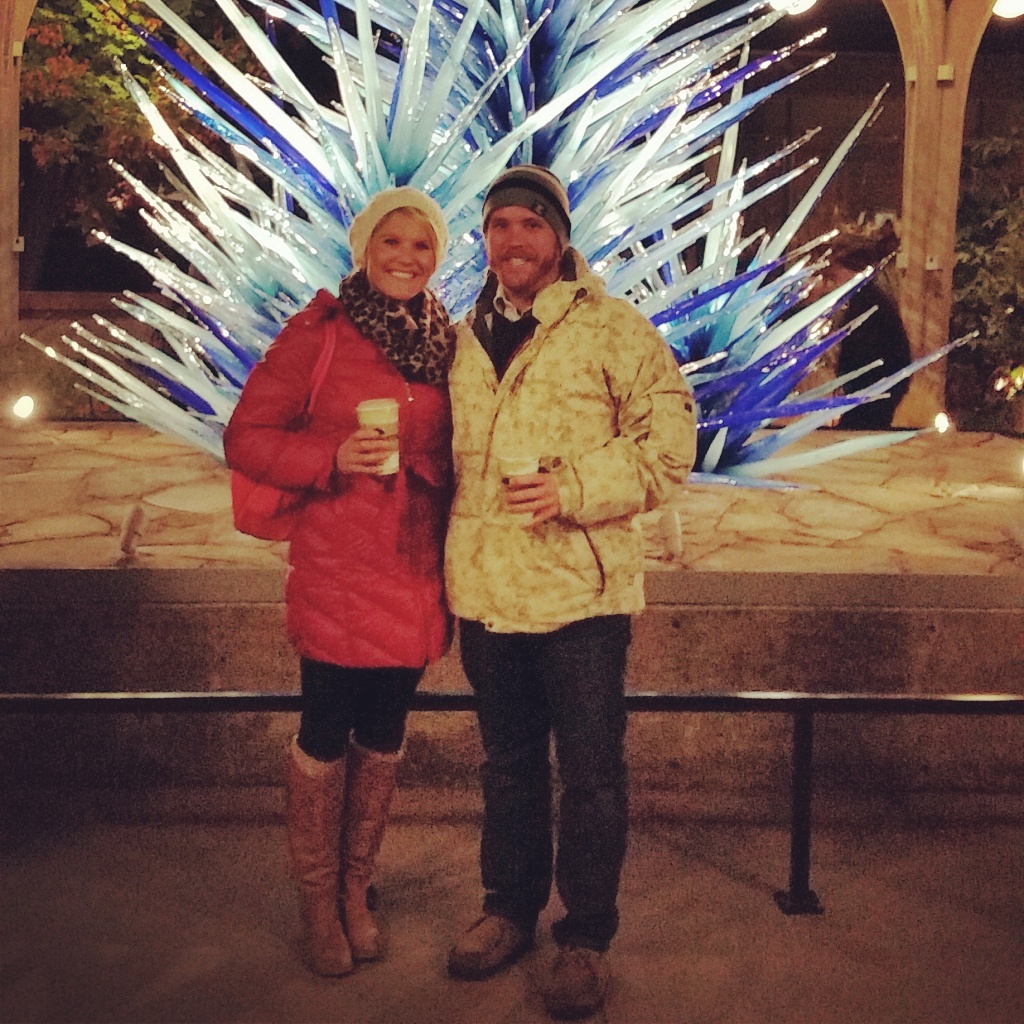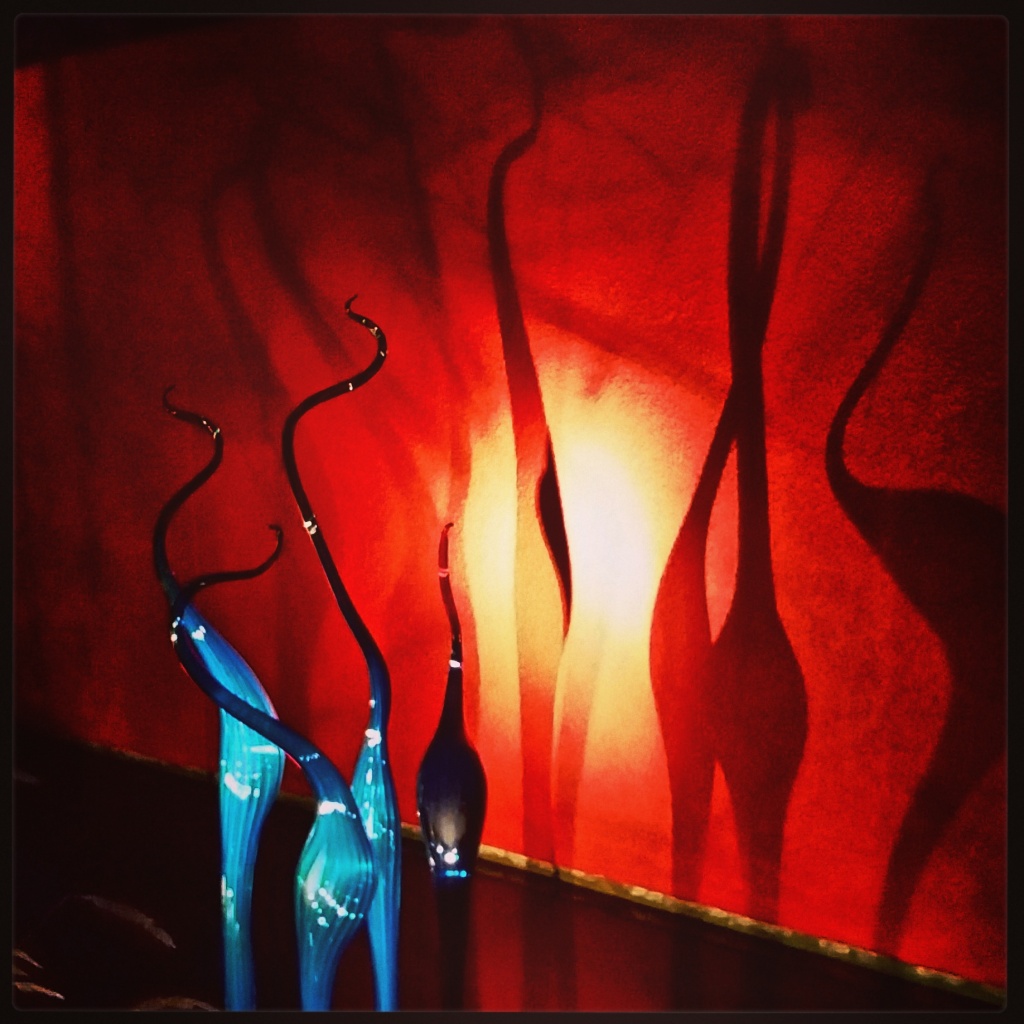 Colorado Springs
Colorado Springs was a quick 60-mile drive southward from Denver. It's situated near the base of one of the most famous American mountains, Pikes Peak. The small towns outside of Colorado Springs are more noteworthy than actual downtown Colorado Springs. Downtown Colorado Springs is mostly strip clubs, drunk Army guys and even drunker Airforce Academy students. If you know me, you know that being surrounded by barbed wire tattoos and high-and-tights is my worst nightmare. But then you go to little outskirt towns like Manitou Springs and you realize why you're there.
I was hell-bent on climbing the Manitou Incline for both the lung-collapsing workout and just do say I've done it. However, it was closed for repairs. Next time! Next on the To-Do List was to summit Pikes Peak.
Pikes Peak
"O beautiful for spacious skies,
For amber waves of grain,
For purple mountain majesties
Above the fruited plain"
No, we did not hike a 14er. (Maybe next year, I'm having a tough time with the altitude – hoping to finally get fully acclimated soon.) We took the easy way out and rode Cog Railway up.  We thought this would be more of a mountain shuttle but you actually have assigned seats like a train. The ride up was an hour – I had no idea it would be such a production. Word to the wise – try to get seats on the left side (your left if you're facing up the mountain) of the train for better views. Also try and get seats facing the front so that you're not leaning forward on a 25% grade the entire way up and then down. We thought we were being chumps by taking the train and not hiking but 2 things happened that made us feel like our excursion was more badass: 1) A girl passed out because of the altitude 2) Our train broke down and we had to cross tracks mid-mountain and hop on a new one. (I'm just trying to make myself feel better). But really – an elevation of 14,110 is no joke. You could clearly see the curvature of the earth. I got winded just trying to buy a postcard in the gift shop. The view atop Pikes Peak was the  inspiration for the lyrics in "America the Beautiful" and you can see why.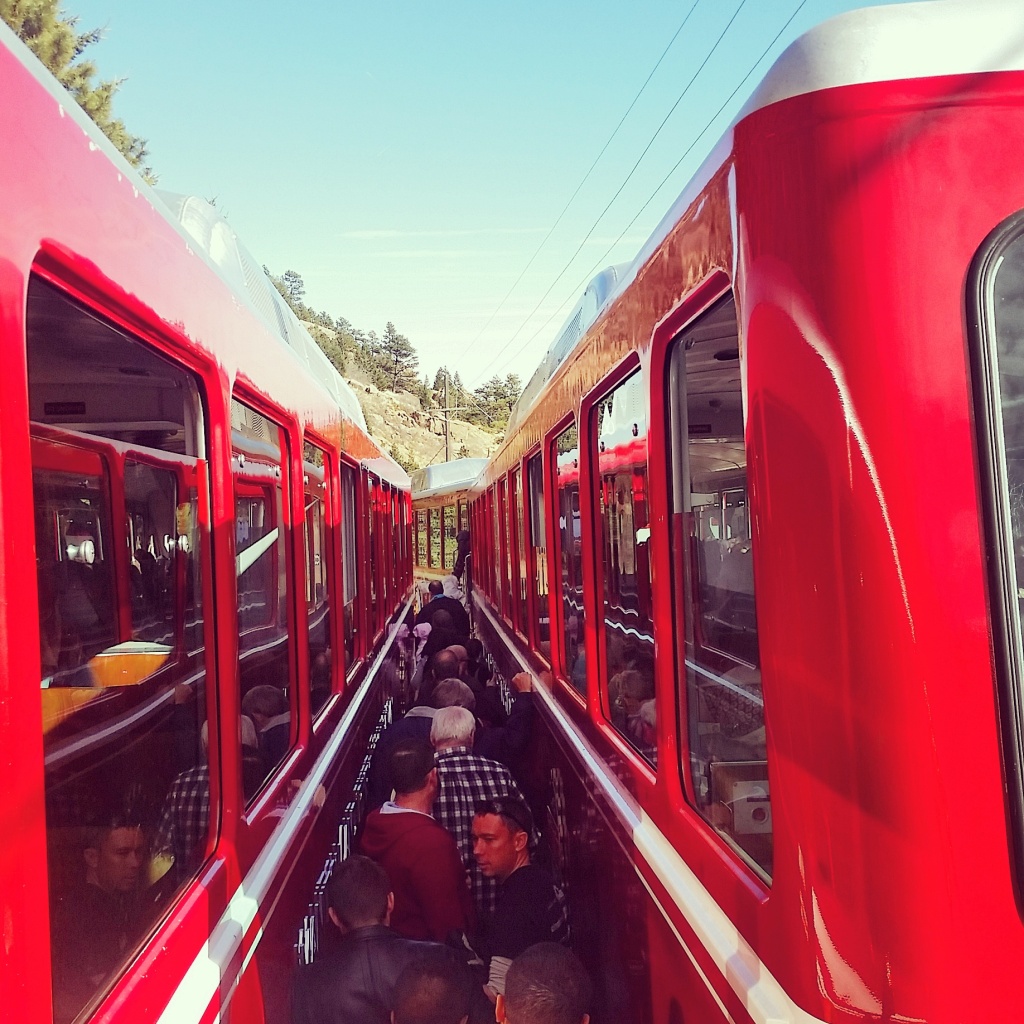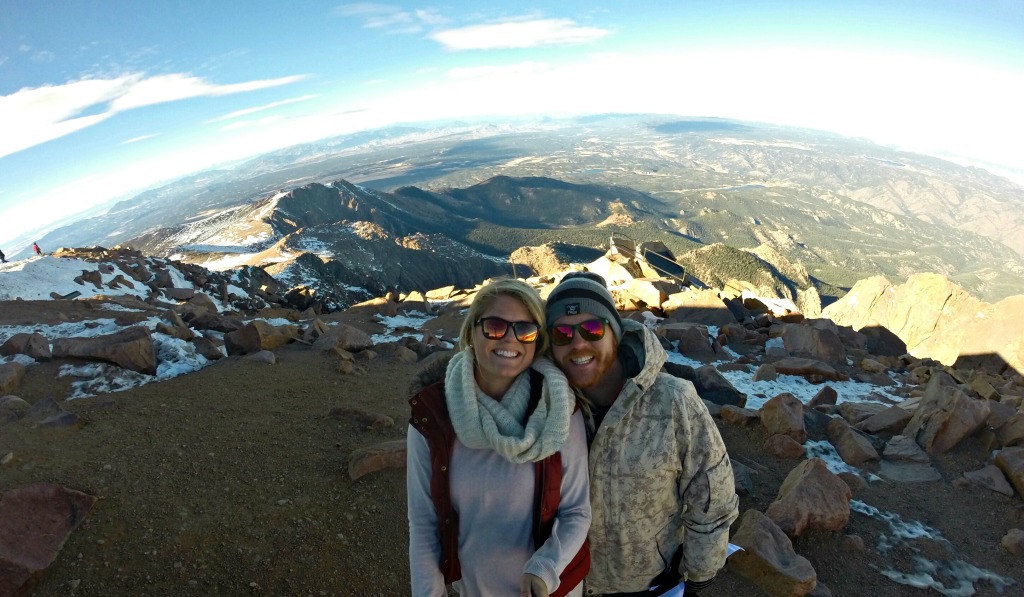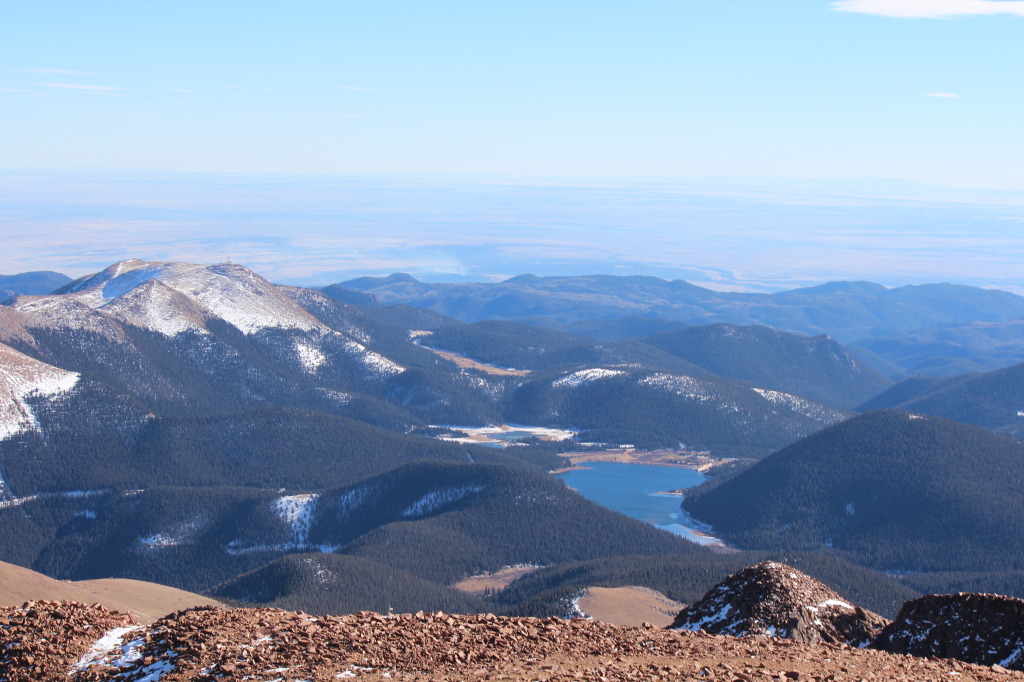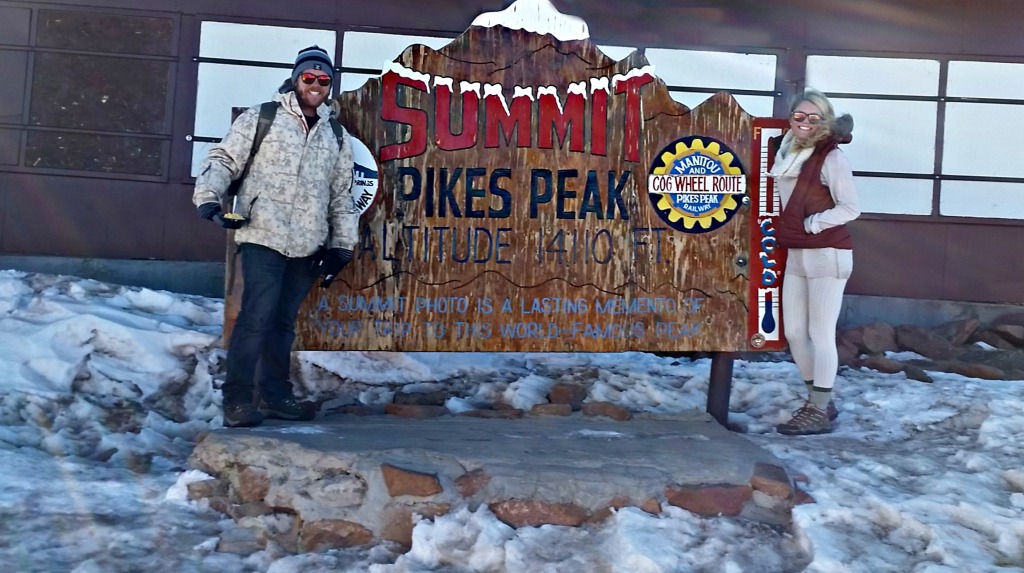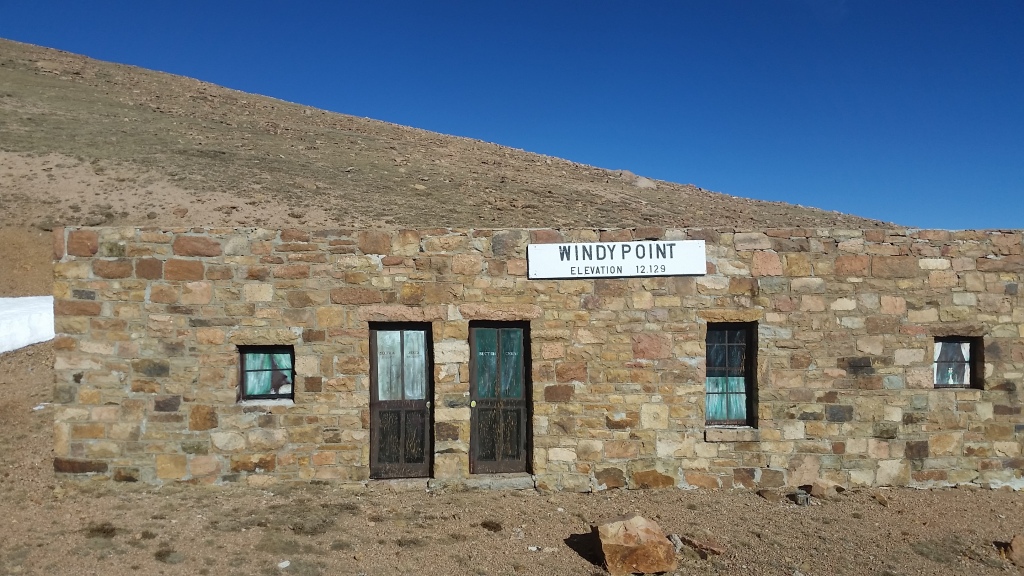 Garden of the Gods
If you only have one day in Colorado Springs, this is where you should spend it. It was almost Badlands-esque. The park was about 5 minutes from our RV park but you can't see the formations until you get there. It was like they just popped up out of nowhere which was pretty surreal. We hiked roughly 6 miles around the park and stopped at most of the famous formations. Then we walked through the inner loop to check out the most-accessed rocks (very crowded – the outskirts were better).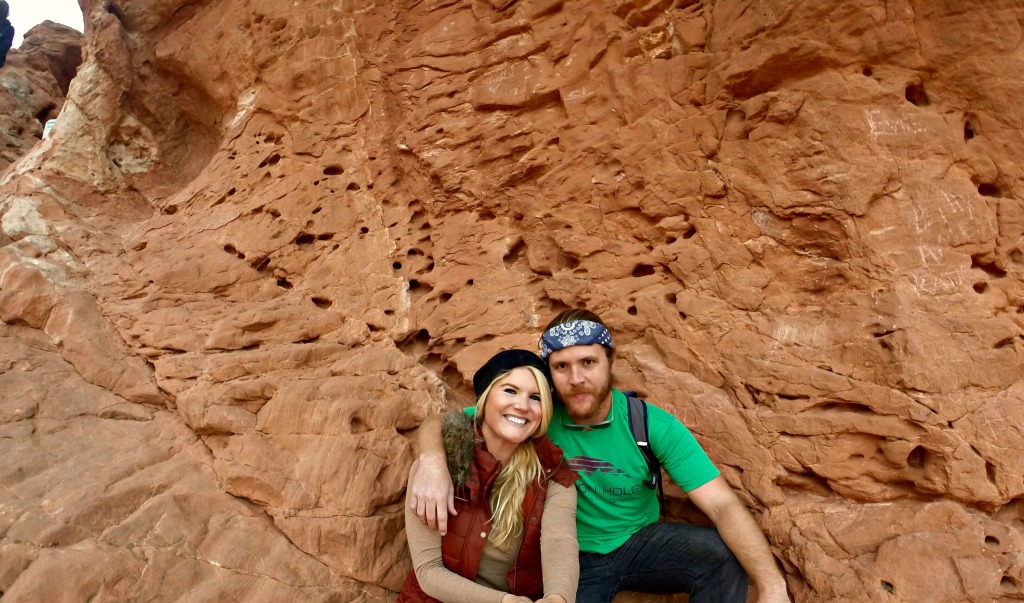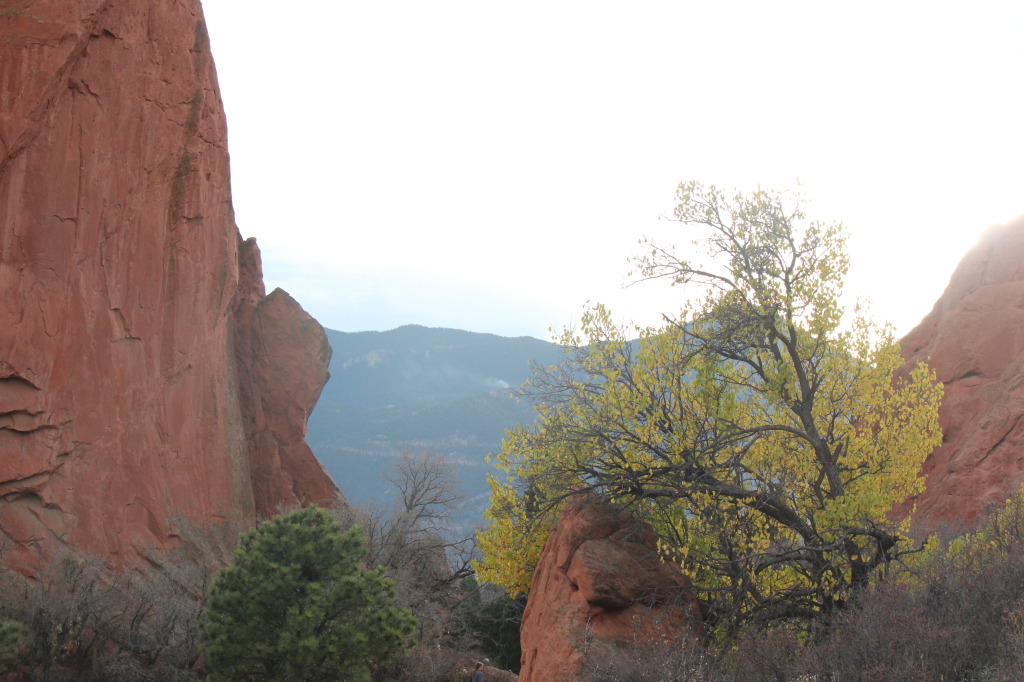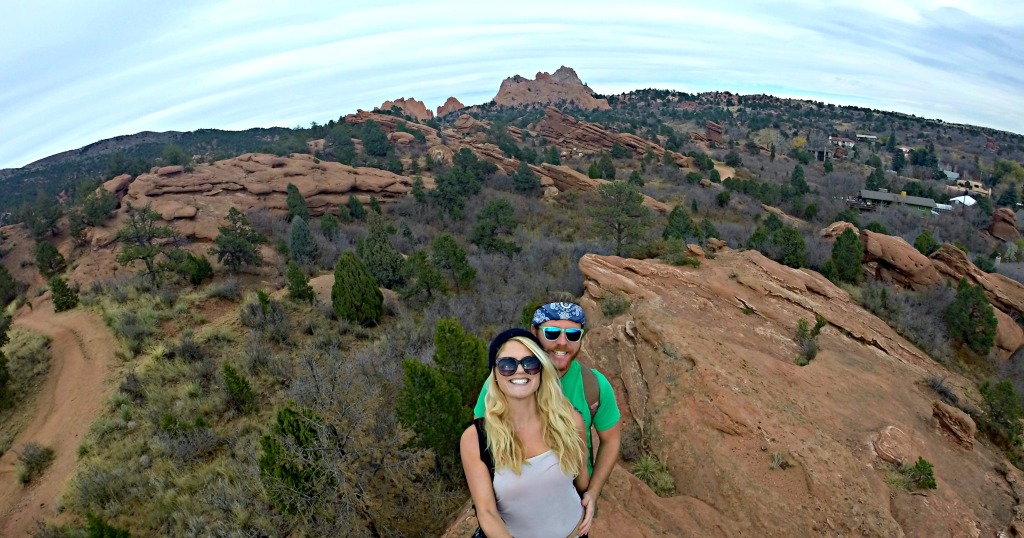 Our RV Park in Colorado Springs was nothing to brag about. We were pretty certain 95% of the RV's were there full time and probably about 65% of them were meth labs. One perk, however, was a 10 acre dog park within 5 minutes of us. It was heaven for the dogs. The dog owners in that town are super lucky to have Bear Creek Dog Park. Another perk was our spot within the sketchy RV park… we were right on top of a bluff overlooking the city with unobstructed views: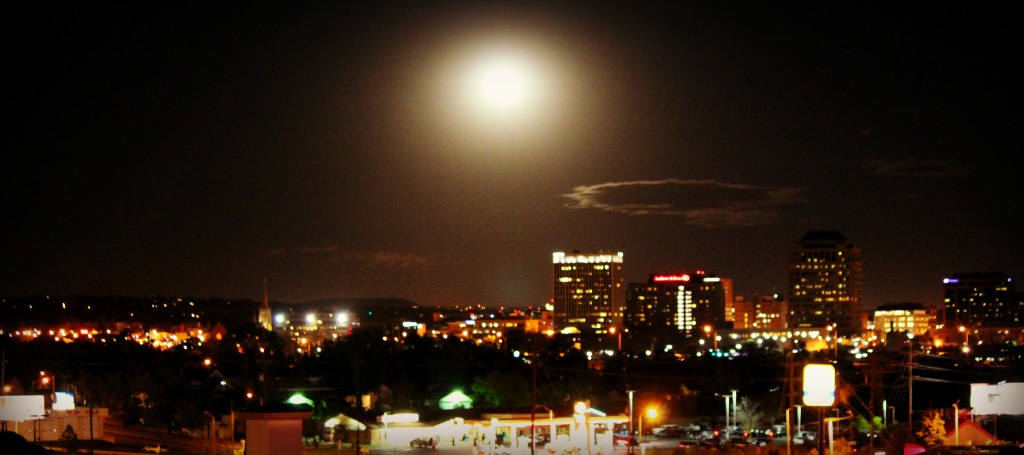 The Broadmoor
The history of The Broadmoor is pretty spectacular and so is the whole setup. If being called "Ma'am" or "Sir" makes you uncomfortable…don't go here. We weren't looking for anything too classy so we went to The Golden Bee – The Broadmoor's English pub. This place is a Broadmoor tradition with yards of beer and a live pianist. Usually English food is pretty piss-poor but we both loved everything they put in front of us. When you leave your clothes are littered with "flying bees" that the waitstaff throws at you while taking your order.
A few days later we got hit with high winds and snow. Naturally I insisted we go back to take photos of the Broadmoor grounds with snow falling.
Manitou Springs
Manitou Springs is a perfect, small, quirky, hippie town at the foot of Pikes Peak. Downtown is lined with one-story, adjoining, small shops, restaurants, and pubs. It has natural mineral springs and live musicians on every corner. If you're ever there, go to Manitou Brewing Co. for beer and a meal. Their food is uncharacteristically delicious for a brewery. You should also stop at a cute little shop called La Henna Boheme to get henna and pick out a spirit animal. The sidewalks have a few natural springs that you can fill water bottles with, or just actually dunk your head into (like we saw some street-person do). The water is apparently chalk full of lithium and helps to ease depression. Even if that's a tall-tale, the water still comes from deep within the ground and is probably very cold and very good for you.
On our last night in town we checked out The Airplane Restaurant. It was a snowy Monday night so it was pretty empty and depressing but cool nonetheless. We ate in a fully intact Boeing KC-97 tanker that was built in 1953. The wait-staff wears flight-attendant outfits and say things like "enjoy your flight!" as they seat you.
The next morning the snow and wind gusts came with force. Our entire 32-foot home was shaking uncontrollably on top of our bluff. We made our exit knowing it was only going to get worse. Luckily for us – west of CO Springs wasn't getting dumped on, so our drive was clear. The Rockies were in front of us the entire trip just beckoning us to hurry it up and start our powdery winter in Breck…
Breckenridge
"Children of winter never grow old." 
We're home! Breck is a certified Hoo-ville. We immediately realized why it is considered one of the most picturesque winter towns in the world. We have been super giddy ever since arriving. Our RV park is an actual resort with hottubs, a gym, an indoor pool, etc. (A far cry from our meth lab community). We are one of only about 10 RV's in the resort. Most of the RV spots have been turned into adorable log chalets. The beauty of our little neighborhood blows my mind every morning. We're backed up to a creek, snow-capped mountains, and snow covered pines. We had 4 feet of snow dumped on us within the first 2 days, making for an excellent opening weekend. The snow is so high that the dogs have to jump or burrow tunnels to get through it (sounds horrible but they love it). We have a bus that picks up every 15 minutes at the entrance of our neighborhood and drops us 5 minutes down the road at the gondola for a short cruise up the mountain to the slopes. It's almost too convenient.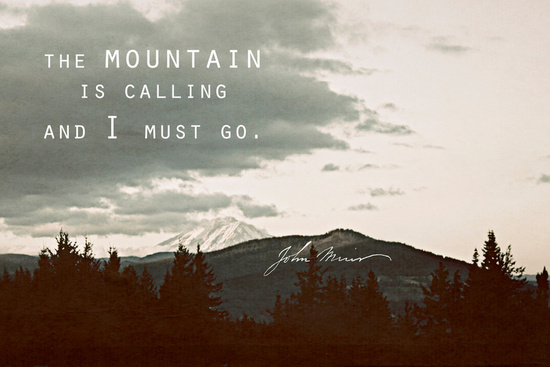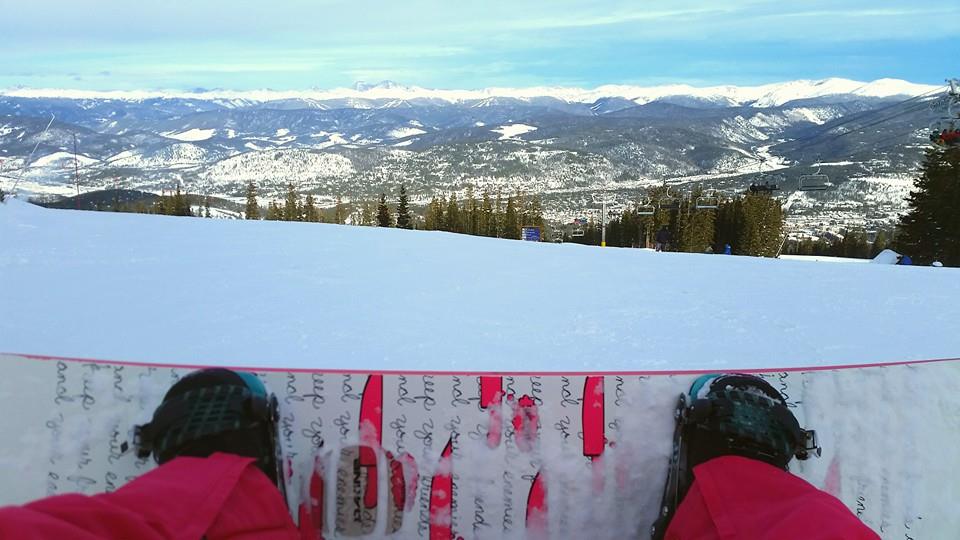 I'm fully aware that the previous paragraph was one long humble-brag. Which was partially because we are so #blessed and partially because we're set up and ready for visitors! 😉 The bunk suite of Lady Luck (we'll call it the penthouse) is prepped and ready to be slept in.