People are constantly asking how we live in this…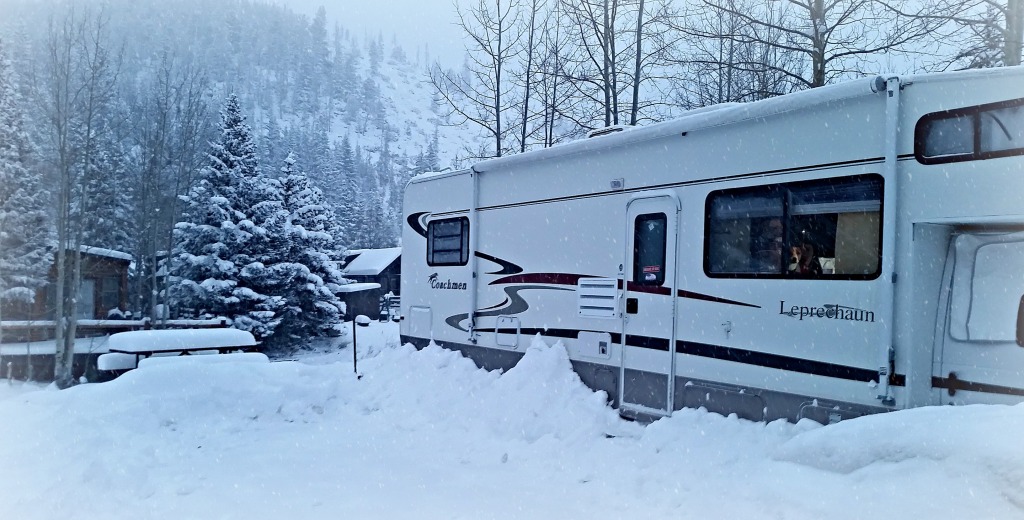 So I will finally address some of the more consistent questions we get asked.
(For those of you who are only here for the photos, fear not, just scroll down.)
---
FAQ:
Q:   How do you shower?
A:   We actually don't shower. I haven't had a shower since August. 
Q:   Don't you freeze in that thing? 
A:   The RV is snug, cozy, and warm. It did take a few small steps to make it nice and toasty though. RV's are not built for cold weather and are pretty paper thin compared to insulated homes. But when in doubt, build an igloo. Josh shoveled snow up around the entire RV as a make-shift skirt (rather than spending thousands on an actual RV skirt). The snow has hardened forming a rock solid base around the house keeping all the cold air out from underneath. We also sealed some of the vents and windows with window plastic to keep the heat from escaping. Our main source of heat is our furnace which is currently hooked up to a 150 gallon propane tank for the winter. If we want extra heat, we have an electric space heater that doubles as a faux fireplace in the living area. At night we turn on a heated mattress cover which can sometimes be too warm. We also have two dogs with warm little bodies who have absolutely no concept of personal space. 
Q:   Seriously, how do you shower?
A:   Of course we shower. Definitely not as much as we used to. But this has less to do with living in a RV and more to do with the fact that we don't have to get up and dressed to go into an office for work. Now before you pass your judgments, my clean friends, remember that in below freezing temps we cannot run our water. Then ask yourself if you would be trucking through the snow to the locker room twice a day. If you think to yourself "eh…I would probably go every other day" then you're on my schedule. If you think to yourself "eh…I would probably go every three days" then you're on Josh's schedule (on a good week). 
Not having running water might sound horrible but it's really not all that bad. The gallon water jugs from Wal-Mart are our best friends. We use them to flush the toilet, brush our teeth, make coffee, etc. When the temperature rises above freezing on a more mild day, we do the dishes – but for the most part we use paper plates and utensils so we don't have dishes pile up. 
But back to showering – our resort has all the amenities you could want in our situation. Less than a minute walk from our house is the clubhouse with a pool, 2 hot tubs, a gym, and a locker room with beautiful stone showers. For the most part – we shower in the locker room. Lately its been a bit above freezing so we have been able to shower in the RV. It really just depends on that one degree. 
Q:   Why didn't you winterize your RV?
A:    Josh did. Our water hose is wrapped in heat tape and insulation. But nothing can fight that Rocky Mountain cold. It still freezes through. Rather than fighting it daily – we just don't run the water when it's freezing. On warmer days, Josh will bring in the hose, let it thaw out in the shower, and then we'll run water.
Q:   Won't you get carbon monoxide poisoning? 
A:   We aren't running the engine so the truck's exhaust isn't an issue. We are heating the RV with a furnace and ensure that the furnace exhaust pipe is never blocked by snow. We have a carbon monoxide detector for good measure. 
 Q:    Is it worth it?
A:     It's not easy. Living in a RV is work. You can't be lazy. You have to think about things you would never usually have to think about. ex) "Did I unplug the water tonight so it doesn't freeze?"… while you're about to hit the sack.
You have to be resourceful. You have to be a minimalist. You have to be okay with not being 5 minutes from a strip mall with a beloved Target. Sometimes you have to clean out your shitter with a special hose and that's just life. You can't just press a button to turn on the stove, you have to light a match. These are all little things that you get used to. In the grand scheme of things, it's nothing.
Sometimes, after I have walked through the snow to the showers and then realize I forgot a towel, I want to scream. Then I remind myself I'm living in one of the most beautiful winter towns in the United States. I remind myself that I can wake up and hike, cross country ski, or hit the slopes in some of the most beautiful scenery in the Rockies.
Is it worth it? Yeah, it is most definitely worth it. All I need to do is open the window above our bed and look out at snow-capped mountains or open the door to breath in fresh, clean, mountain air and I remember its all very worth it. 
---
Standing on a hill in my mountain of dreams… telling myself it's not as hard as it seems… – Led Zeppelin
A snow-filled early winter: 
Being settled in one place has its perks. We have a favorite Mexican restaurant (Fiesta Jalisco) with real queso blanco (game changer). We know where everything is now and I don't need a GPS to find the grocery store. Josh is friends with all of the maintenance men on our resort. We have a regular dog park and the dogs perk up in the car when we get close. We are comfortable giving out our address, knowing that we won't be gone next week and miss a piece of mail or a package.
I love Colorado. Not just Colorado, but I love this mountain town. Everyone looks weathered. Weathered in a good way. Weathered in a way that makes me envious. People look wind-burnt, chapped, wrinkled, like they have lived a beautiful life outdoors, and like they have been 12,000 feet closer to the sun than most. I love it. Nobody takes their appearance too seriously. Nobody gets overly dressed up to go out and about because if you're not wearing water-and-winter-proof Sorel boots, your feet will instantly freeze. There is a buzz around town when there's a snowstorm on the forecast. A good buzz. Not one big giant moan session. It's either sunny or snowing and, either way, everyone's happy about it.  There's no traffic, or people beeping at you on the road. Everything is just a bit slower. People are more appreciative of the beauty around them…because there is so much of it.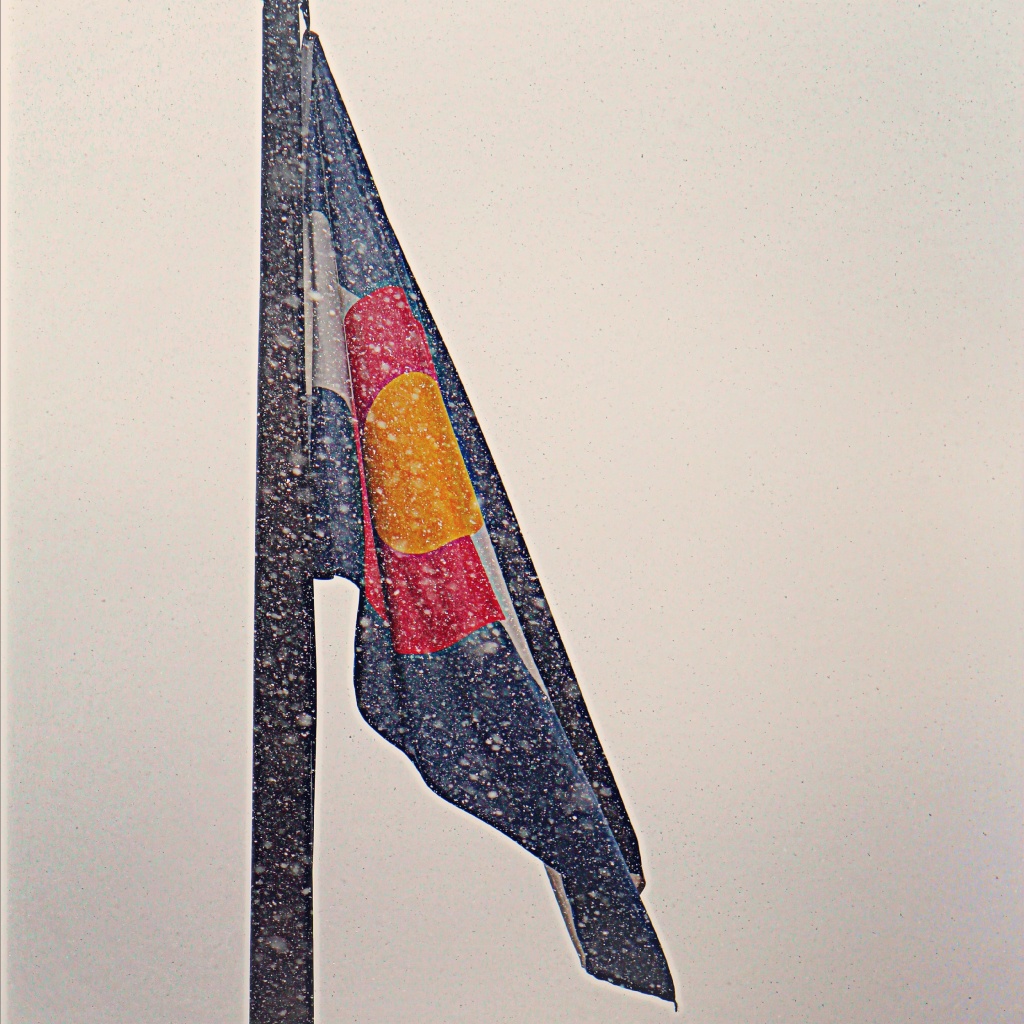 Keystone Mountain
With our Epic Local Pass we have access to multiple mountains. We get unlimited and unrestricted riding at Breckenridge, Keystone, Afton Alps, Mt. Brighton and Arapahoe Basin with limited restrictions at Park City, Canyons, Heavenly, Northstar & Kirkwood. It includes a total of 10 days at Vail and Beaver Creek. We haven't even made a dent. We get a lot of afternoon runs in at Breck after work and we've made the short trip over to A.Basin and Keystone. Keystone is about 15 minutes from us. It is the one mountain in the area that has night skiing. The village is right at the base of the slopes which is convenient. It's nice to get off the lift and be right in the thick of it.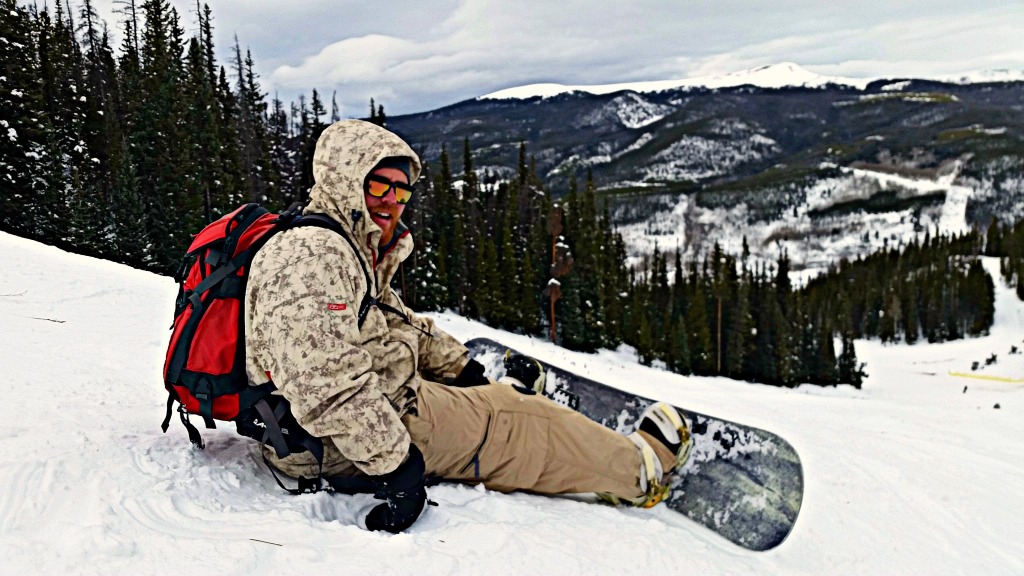 The Colorado Trail
 I was pretty set on becoming an Olympic X-Country Skier upon arriving here, despite the fact that I have never ever been on skis – of any kind – in my life. Our neighborhood is right next to the Breckenridge Nordic Center with miles upon miles of groomed trails. So once I got the notion in my head that I was going to utilize this, I didn't let it go. We ended up going to an expo with a ton of used snow-gear with the intention of purchasing ourselves some nice vintage, neon, 80's-fabulous cross country skis, boots, and poles. We were talked out of it by someone who knew what she was talking about when it comes to cross-country skiing. She made a valid point: We want the best-of-the-best when it comes to our snowboards, boots, and bindings…and you want the same when skiing. Regardless, we learned a lot if we ever want to seriously purchase cross-country skis. For now, I will rent, get accustomed, and figure it out later. We did, however, buy two pairs of used snowshoes which we put to good use the next day.
Snowshoeing is heaven. Something about being in the middle of nowhere is so zen. Add snow to that, and the crisp quiet sound of snowflakes falling into nothingness, and you've just added a few years to your life.  I believe there are few better views than looking out over a field of miles and miles of snow without a single footprint in it. On this hike, it went from sunny, to snowing, to sunny again. We did parts of a packed trail and then trail-blazed for probably about a mile in 4 feet of soft fresh snow (not easy). Snowshoeing has got to be the best winter workout there is. There are a ton of trails in the area. We're doing a portion of the Colorado Trail in the series of photos below: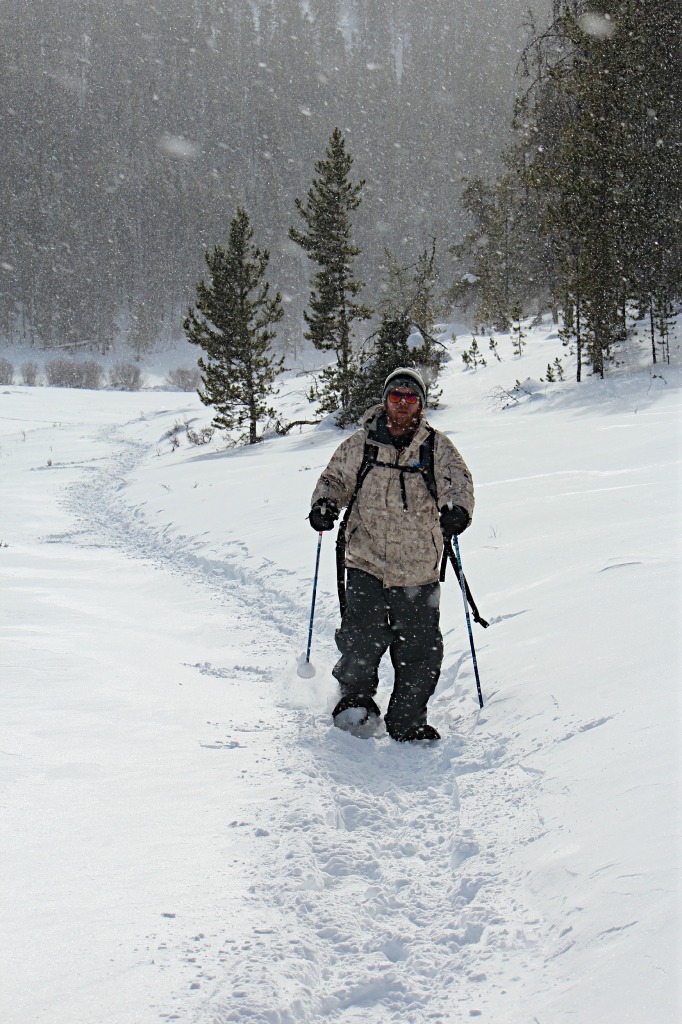 The hot tubs at our clubhouse have been life-savers after a day on the mountain. A 104 degree dip and New Belgium is just what you need after hiking through snow all morning.
We were so lucky with the 2 early snowstorms that hit the mountain in mid-November. Every other day over the past few weeks, new terrain has opened.
Christmas Tree
One of my favorite childhood memories was going to "Pine Needle Plantation", the Christmas tree farm, to chop down a tree. I figured there would be some Christmas tree farms out here and what would be prettier than chopping down a tree in the snow? It turns out there aren't too many farms. But I did learn that the Dillon Ranger District allows you to chop down trees in specific areas with a permit (Dillon is the town next to us). In the Lake Hill area you can cut down any Lodgepole pine you want.  So Josh bought an ax, we trucked through the snow with the dogs, found a tree, and dragged it back with the lake and the mountains as our backdrop.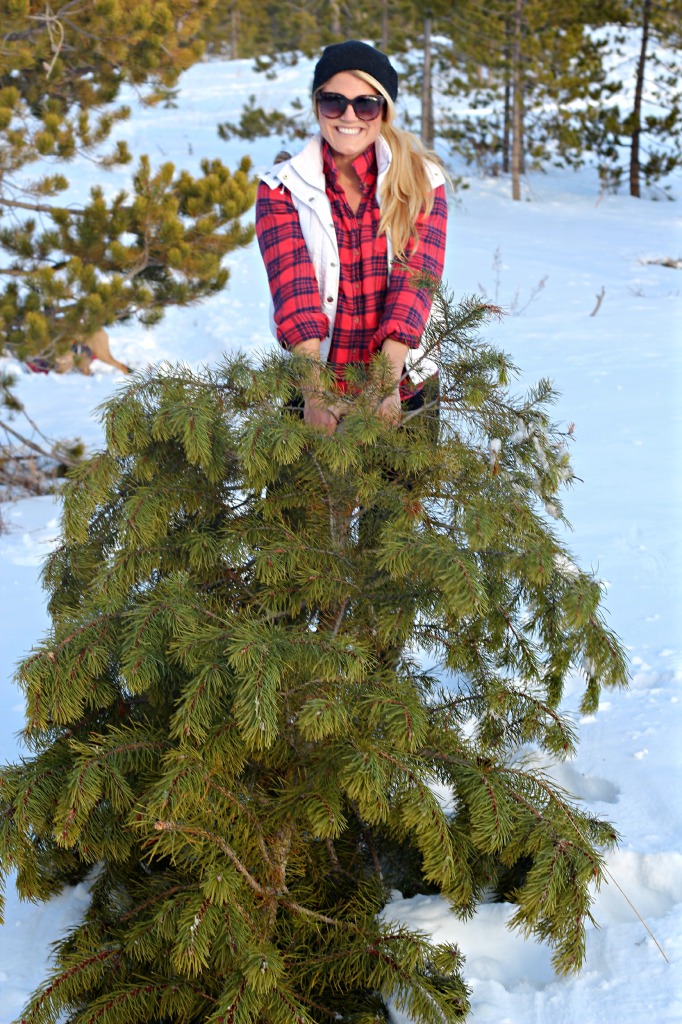 Arapahoe Basin
Arapahoe Basin is about 18 minutes from us. When we first arrived, it looked super bootleg. There is no lodging, just one early 90's looking restaurant/bar. People were tailgating at the base of the mountain with coolers and fold-out chairs. The only reason we were thrown off is because our home mountain of Breck is so very far from this. As soon as we got onto the lift and ascended into the basin, however, our mouths dropped. This mountain is unlike any other. It's the closest you will get to feeling like you're in the Swiss Alps. Photos don't do it justice. The place is understated and I like that. People bring their dogs. They do a run and then hangout on their tailgate with friends and drink a beer and then head back up the mountain. It's low-key and it's beautiful. It feels like a true local mountain, not a corporate cash-cow.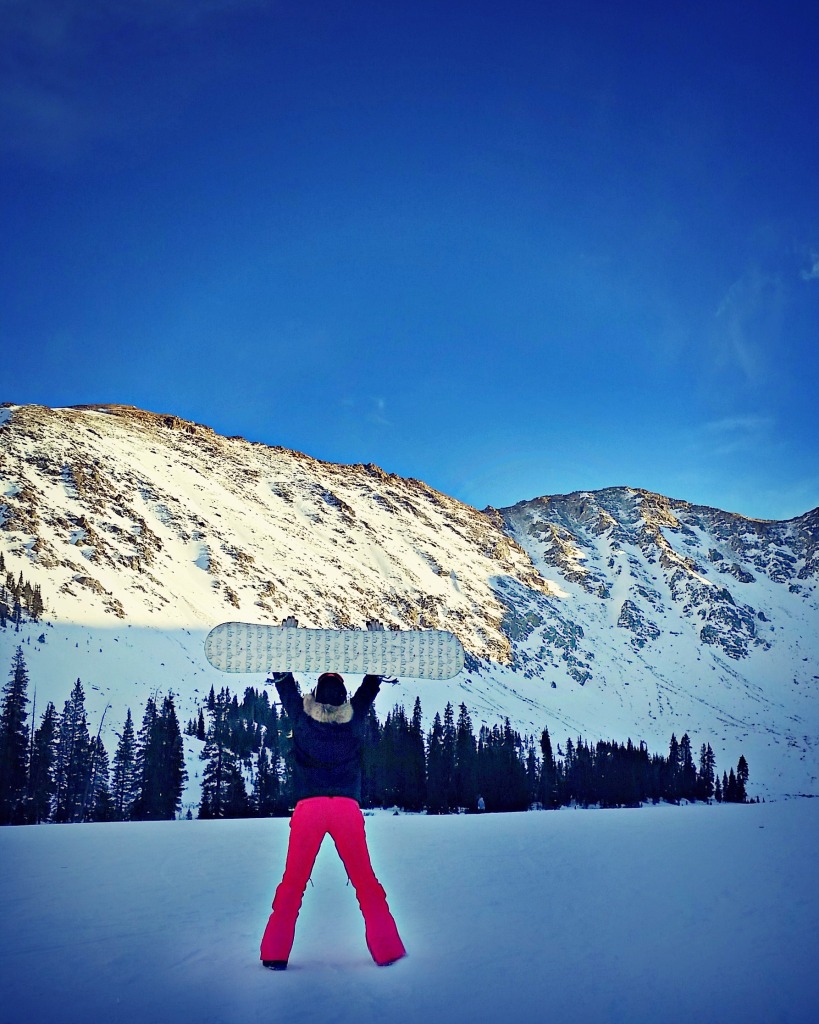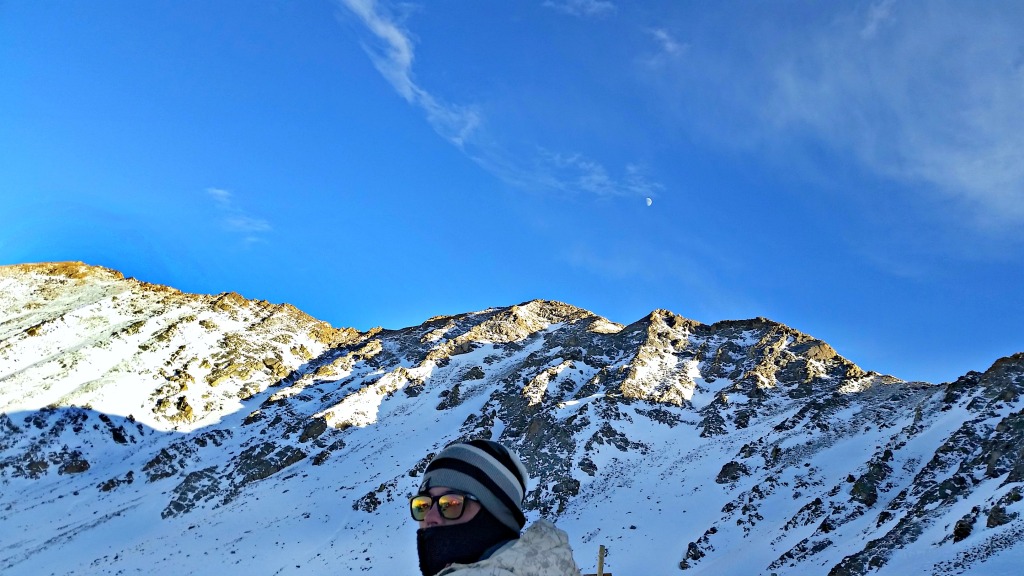 I love snow for the same reason I love Christmas. It brings people together while time stands still… No one seems to be in a rush to experience anything other than the glory of the day. – Rachel Cohn
Breckenridge Christmas Tree Lighting
It's only fitting that the cutest town ever would have a Santa Run followed by a Bernese Mountain Dog Parade followed by a Christmas Tree Lighting.  Downtown was blocked off for a "Running of the Santas" down historic Main Street. Then the mountain dogs in their tacky sweaters led  the actual Santa through town in his firetruck to the pavilion where there was a count down and tree-lighting followed by Bavarian dancers.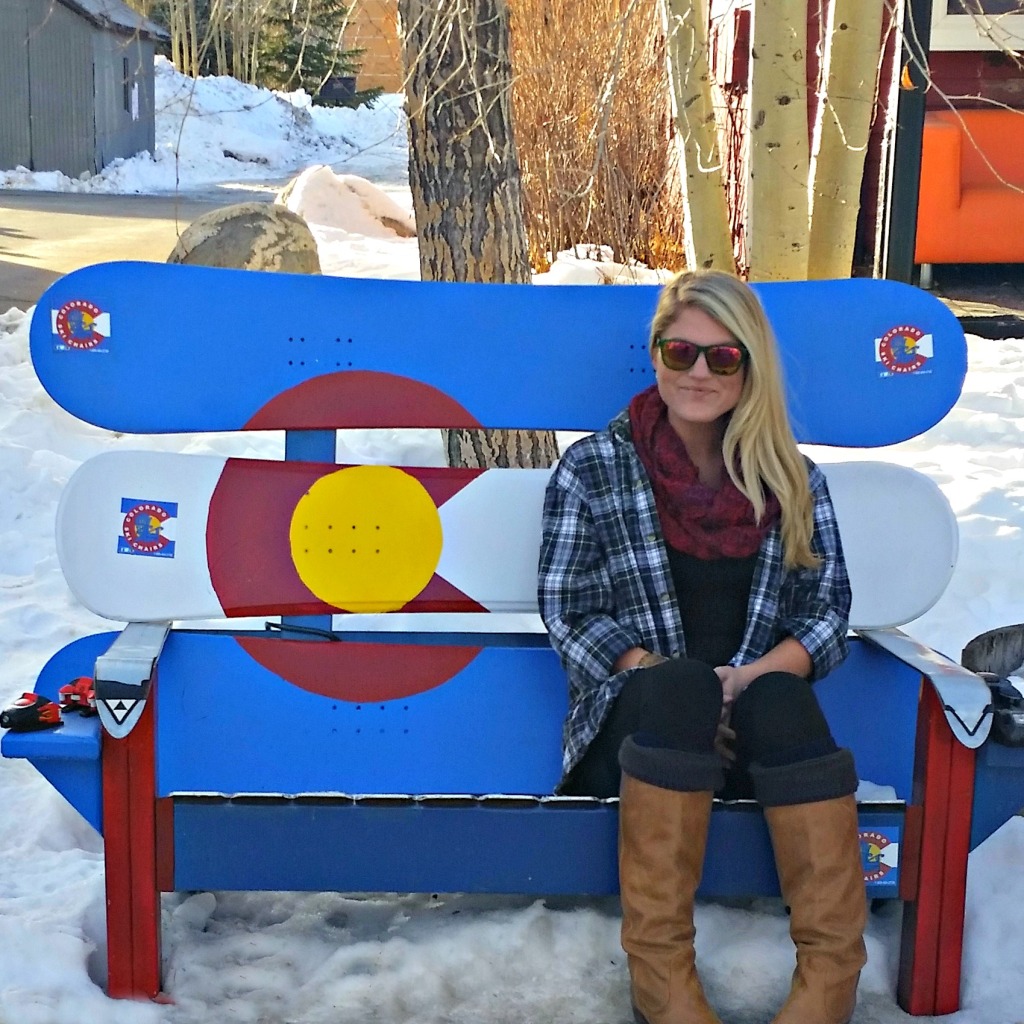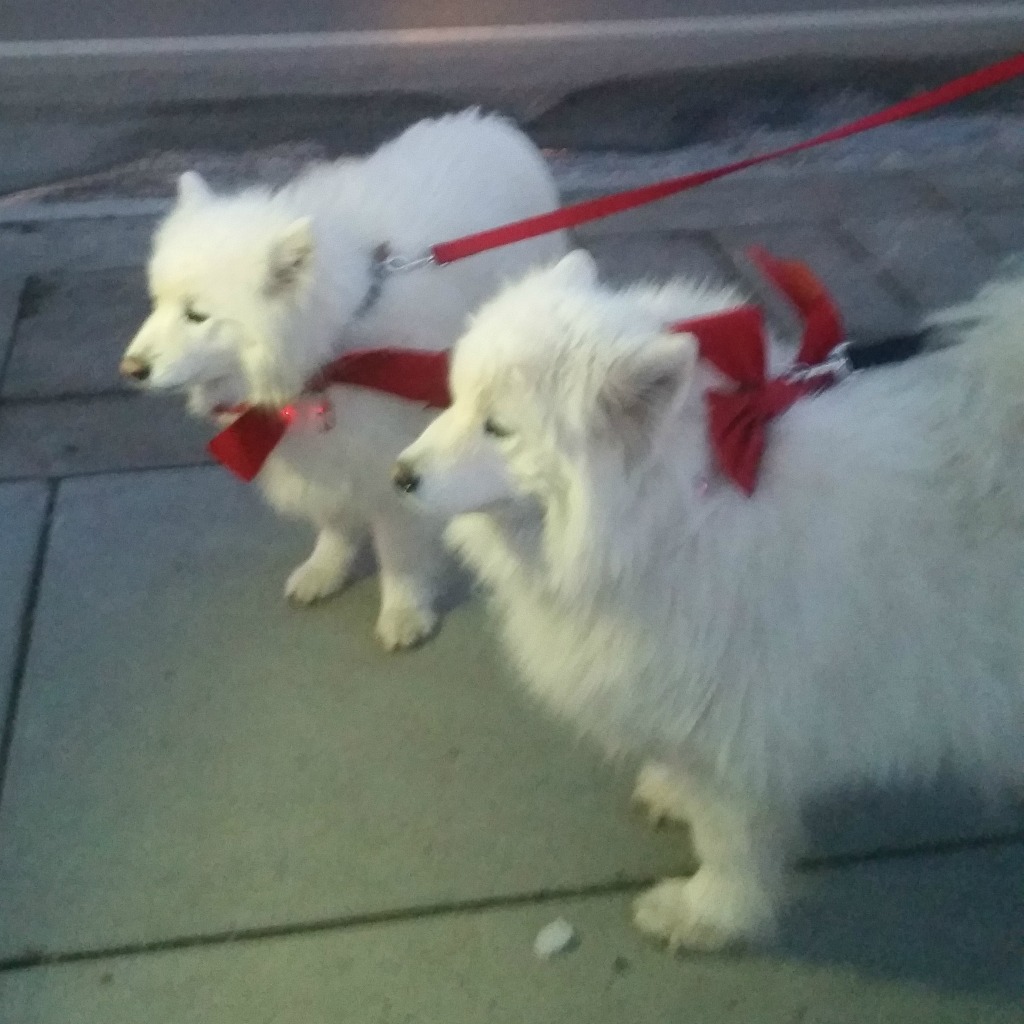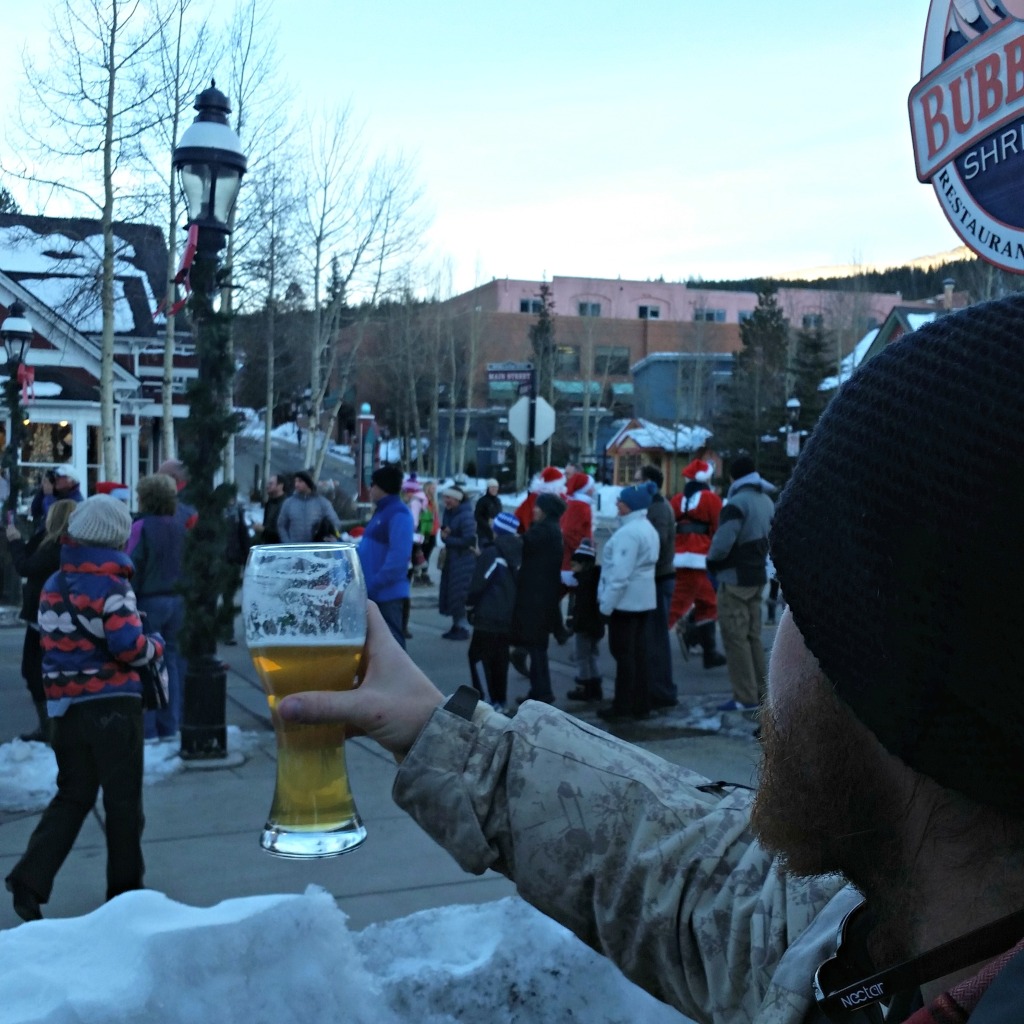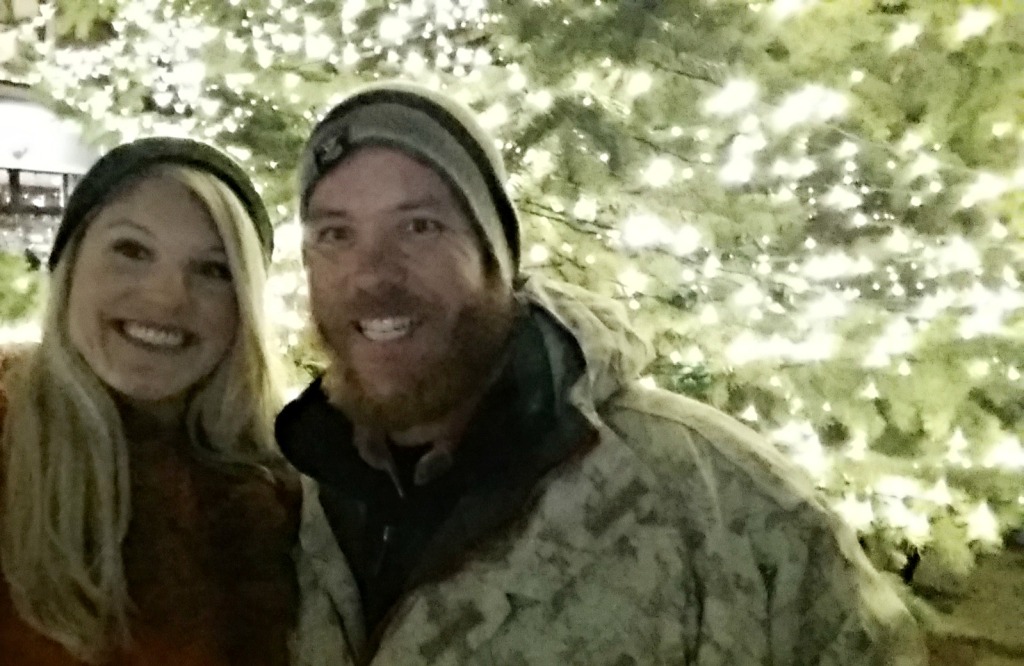 Dew Tour
For the seventh straight year, the Dew Tour hit Breckenridge for a long weekend of snowboard and freeski competitions. Peak 8 was taken over for the superpipe and slopestyle competitions. Downtown hosted the streetstyle competition on Friday night. It was awesome to see the town transformed and be right in the thick of the excitement all weekend.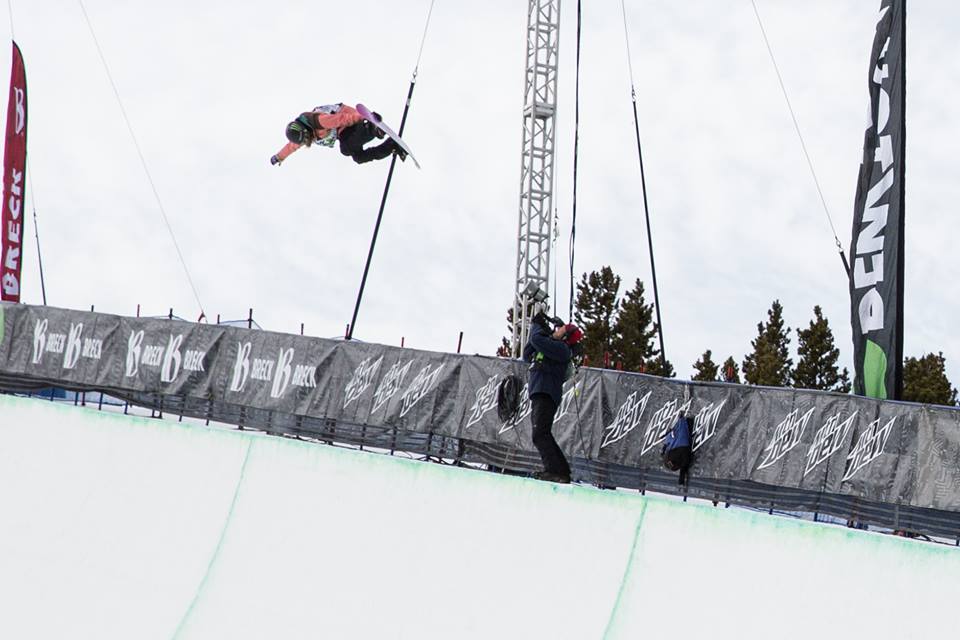 Good Eats
We have been all over Breckenridge and can now suggest quite a few places to eat/drink depending on what you're looking for. The Blue Stag is in the middle of town and is about 25% cheaper than most other restaurants. Mi Casa is delicious high-end Mexican dining. Rita's has an awesome deal on burritos and margaritas on Tuesday nights. Blue River Bistro is super swanky and has live jazz  on Friday and Saturday nights. Oscar's has the nicest owner known to man. The Gold Pan is the oldest saloon in town having apparently been around since 1879.
Our favorite restaurant so far has been The Warming Hut. It's a little log cabin on Main Street that is candlelit and cozy. The entire place is set up like a dining room in someone's home (someone with serious shabby-chic interior decorating skills). All of the food is organic and grown down the road at a local farm.

'Till next time ya'll! Cheers.