The name Utah comes from the Native American Ute tribe and means "people of the mountains."
MOUNTAINS:
12 weeks ago we shoveled ourselves out of Breckenridge and headed towards to the Utah border. Because of the state's inland location, Utah has unusually dry snow and is known for having great powder, so our first stop was the Wasatch Mountain Range. Having not road-tripped in the RV in 4 months, we had that same first-day-on-the-road excitement all over again. The next 10 days were spent in Park City/Canyons. Unfortunately, the snow wasn't anything to get excited about and we were riding mashed potatoes. We kind of had a feeling knowing that Utah had a pretty bad season and we were catching the tail end of it. Fortunately, the town of Park City is the most fun, friendly, festive little place and we had the best time regardless.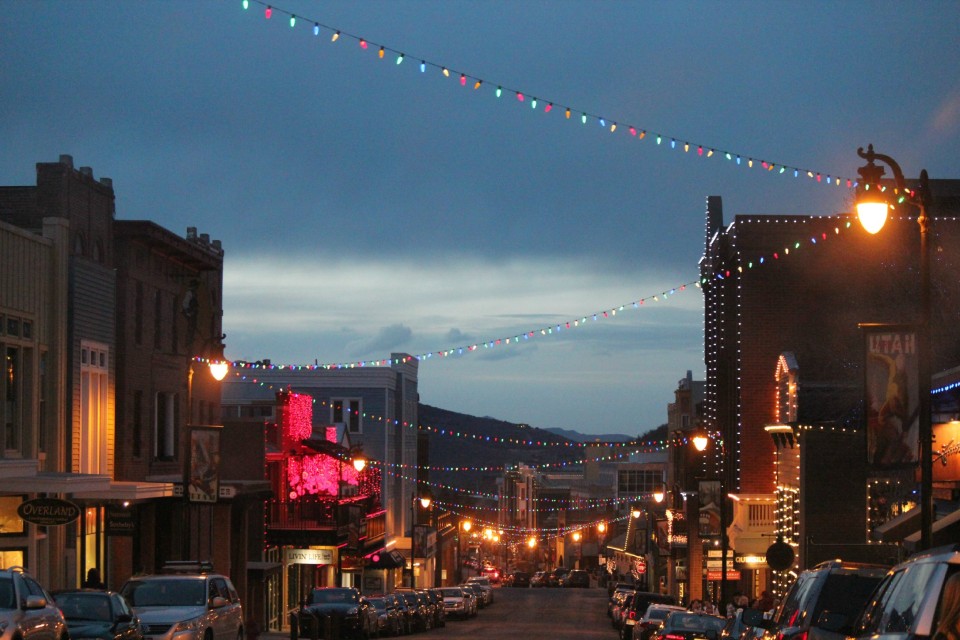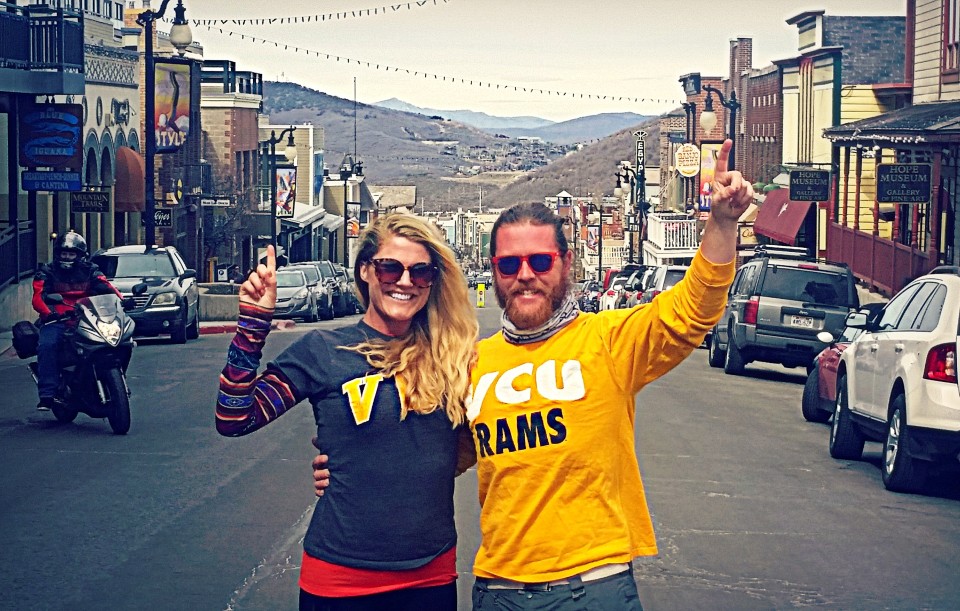 After a winter of countless powder days, riding slush in 60 degree weather was kind of depressing at first. But with awesome apres ski bands, a weekend-long music festival, and the annual pond skim all going on, it was hard to stay bummed for long.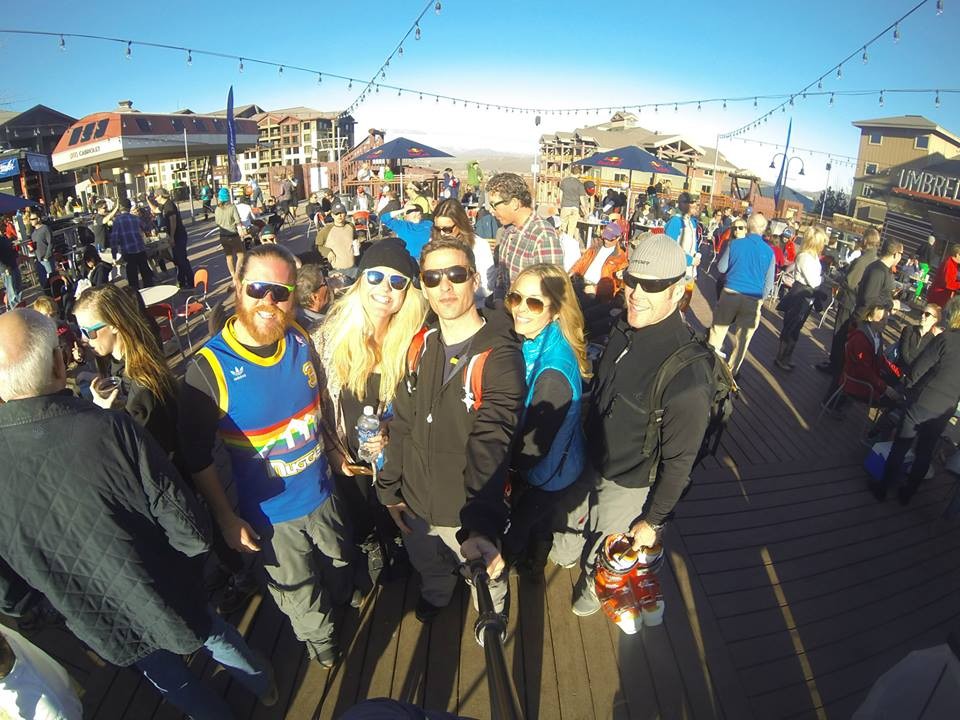 The best thing about riding in spring conditions is the unspoken rule that everyone on the mountain dresses like an assclown, as pictured: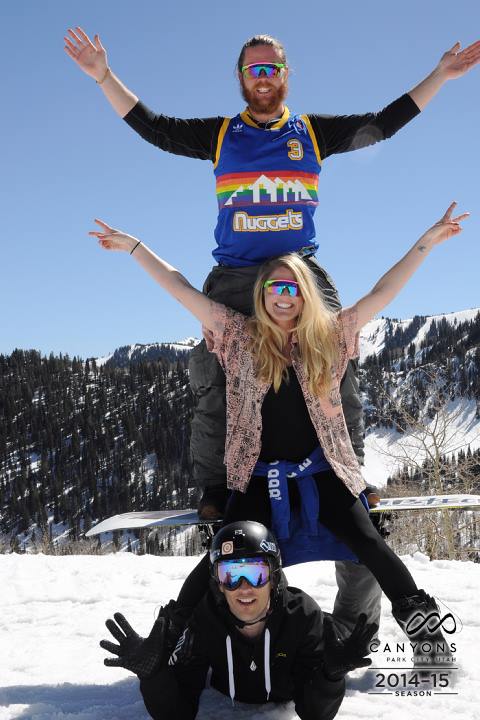 This was our first pond skim experience and Canyons Resort did it right. Where has this wacky event been all of my life? For those that don't know (and I didn't) most ski resorts close out their season with some variation of: everyone dresses up, gets drunk, and watches people attempt to ski or snowboard across a pond. No one makes it across and everyone has way too much fun.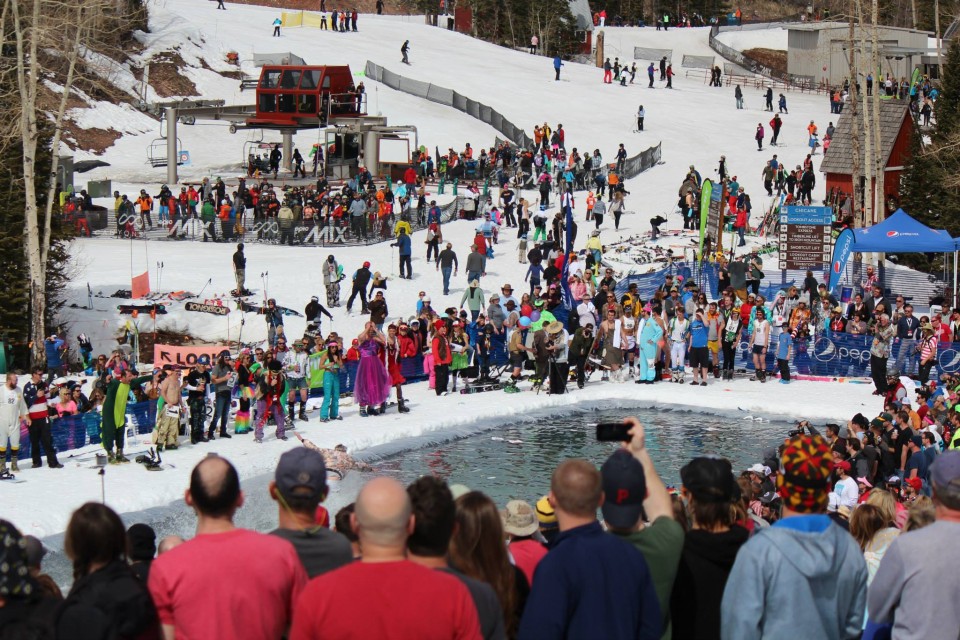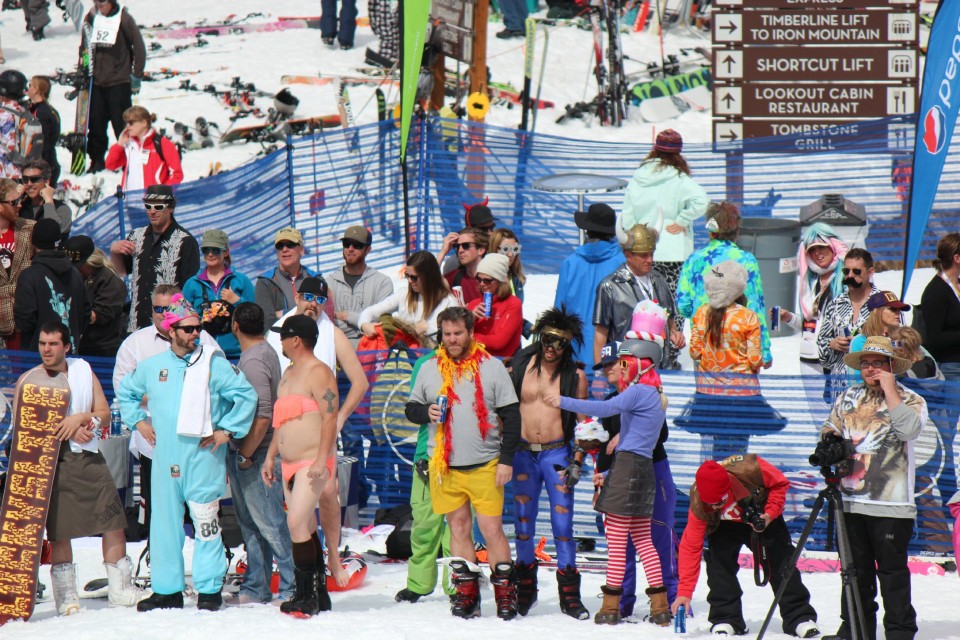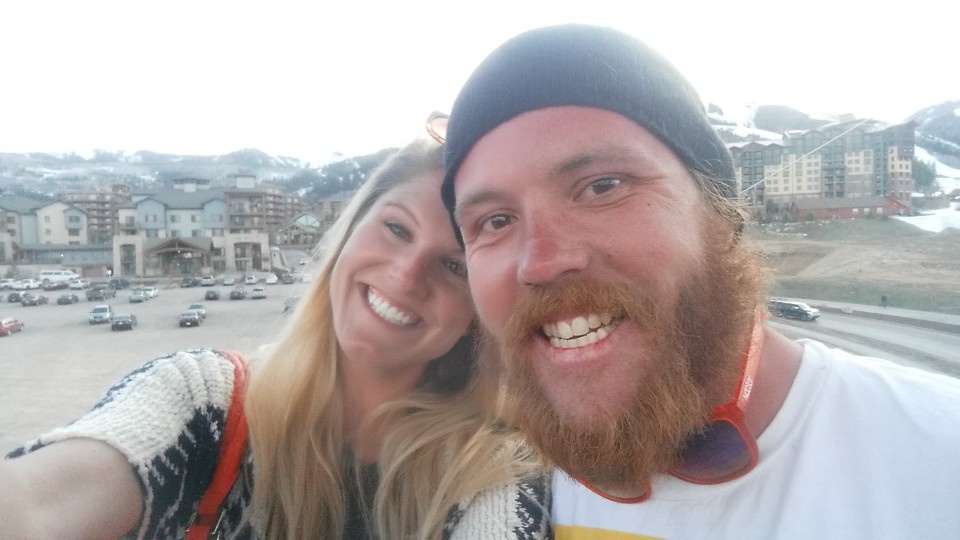 For what was supposed to be our last boarding trip of the season, we really only rode probably 10 hours total. We spent most of our time skipping around Main Street and falling in love with the town – from the theater, to the music venue, to the brewery.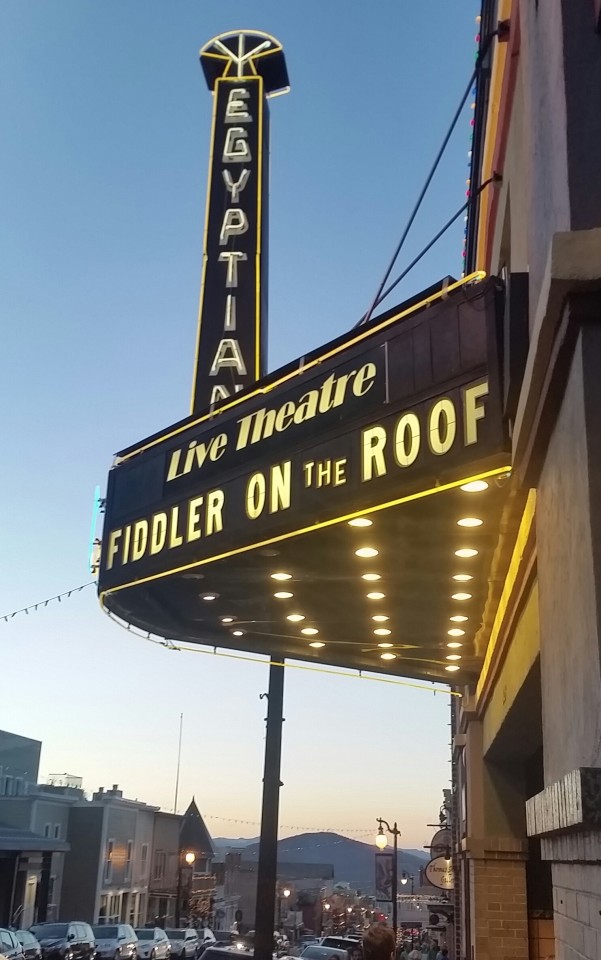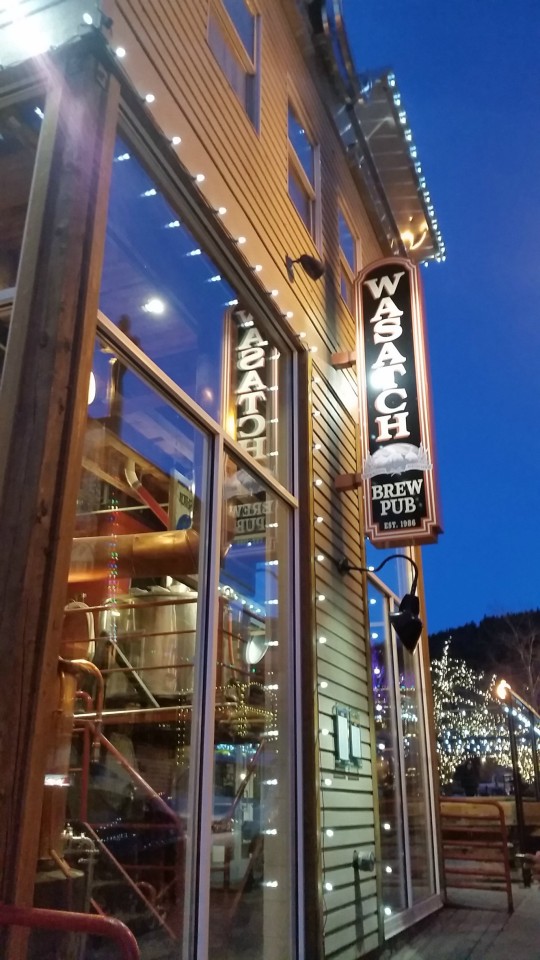 Olympic Park was about 5 minutes from our RV resort. It isn't all that exciting unless there are ski jumpers practicing at the ski jumping pool or people training on the bobsled track. Other than that the best part is the The Alf Engen Ski Museum. Did you know that 55 of the Olympic athletes at Sochi hailed from Utah, and most from Park City? The place seriously churns out some talent.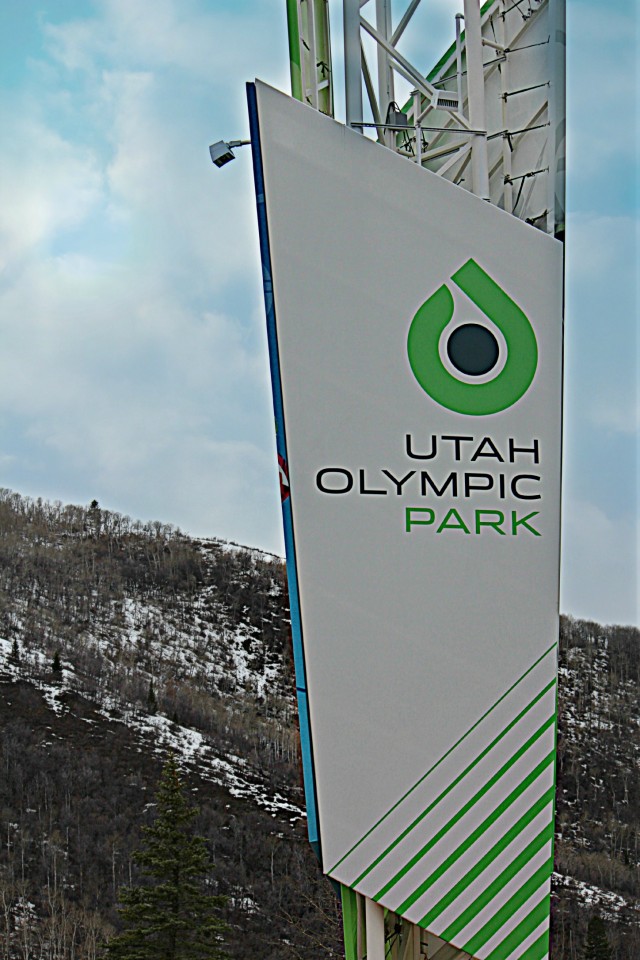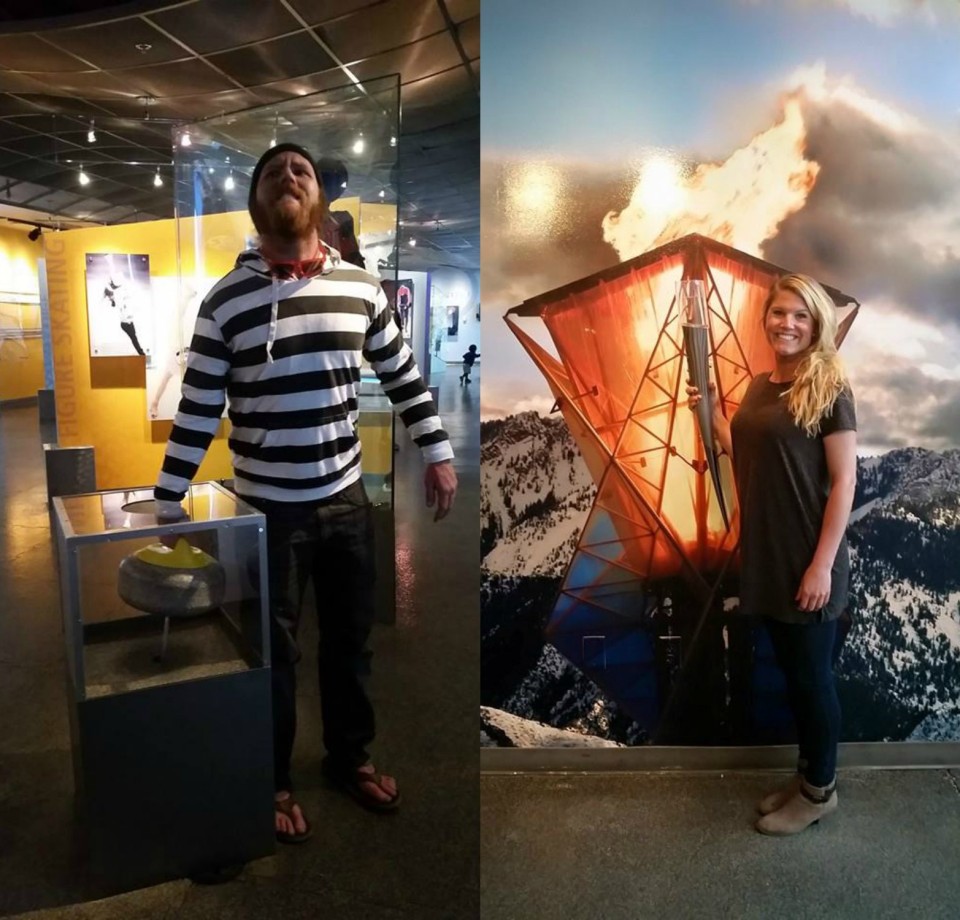 We took one day to check out Salt Lake City. It's a beautiful, clean, updated city built on Mormon money. Typically people who believe that someone walked into the woods and "saw a vision" are folks I steer clear of. But I was feeling up to being creeped out on this particular day, so we did a full tour of Temple Square. It's a beautifully landscaped 10-acre area housing 9 sites including the Mormon Tabernacle, the Family History Library, and the Salt Lake Temple. Fun fact: the LDS Conference Center (which we accidentally toured) holds over 21,000 people and is the same size as a Major League Baseball stadium from wall to wall.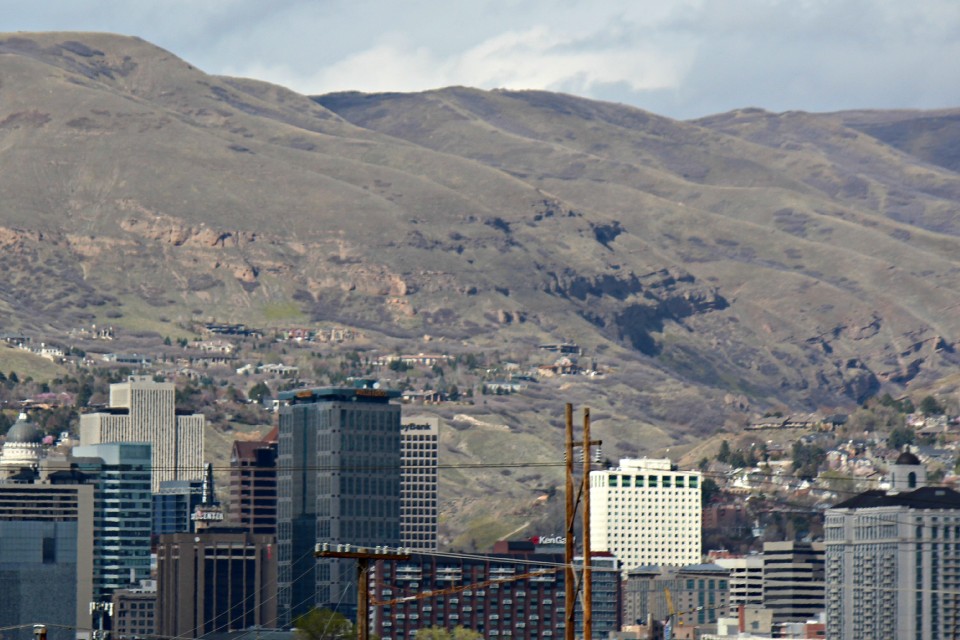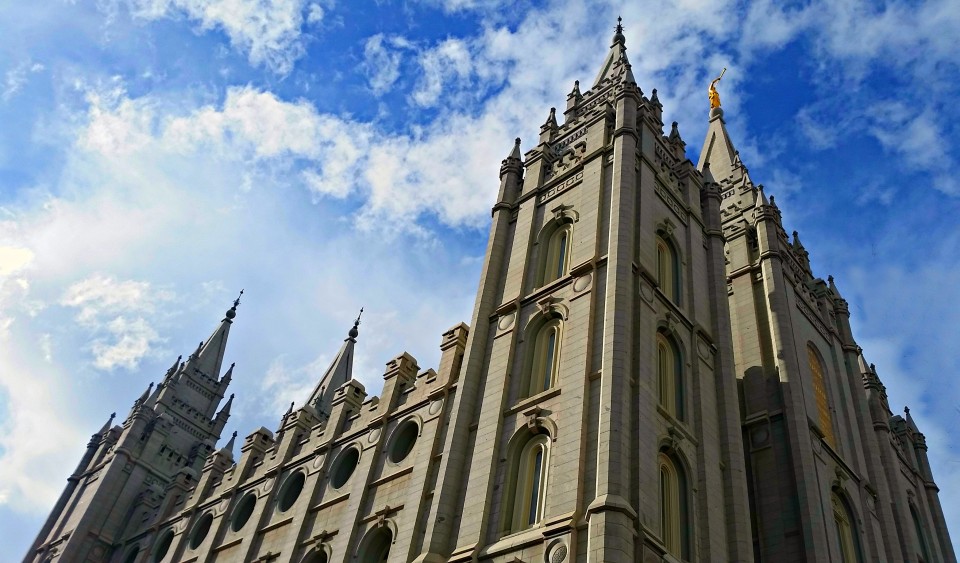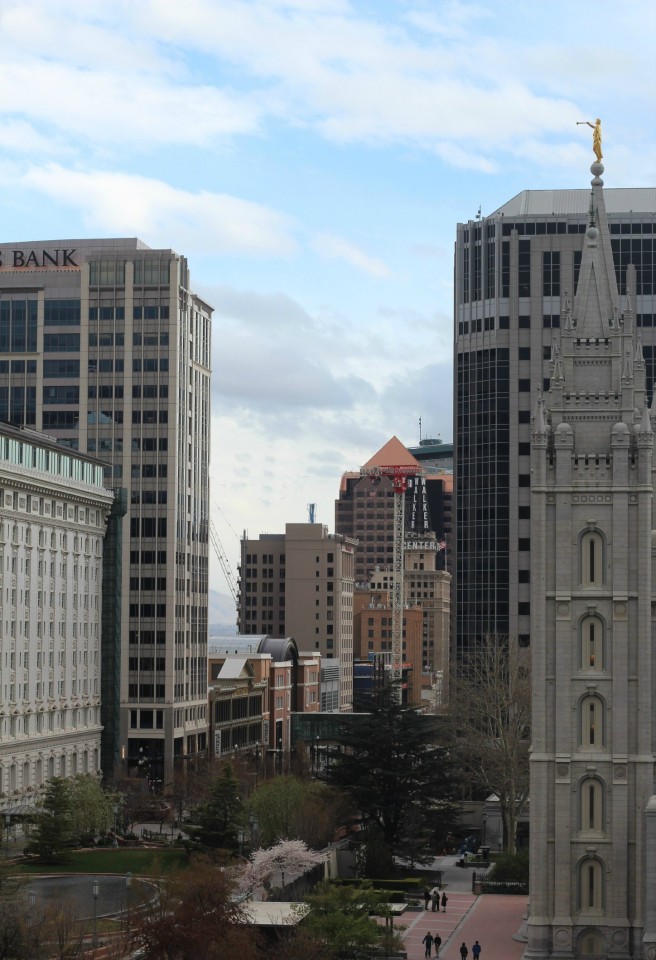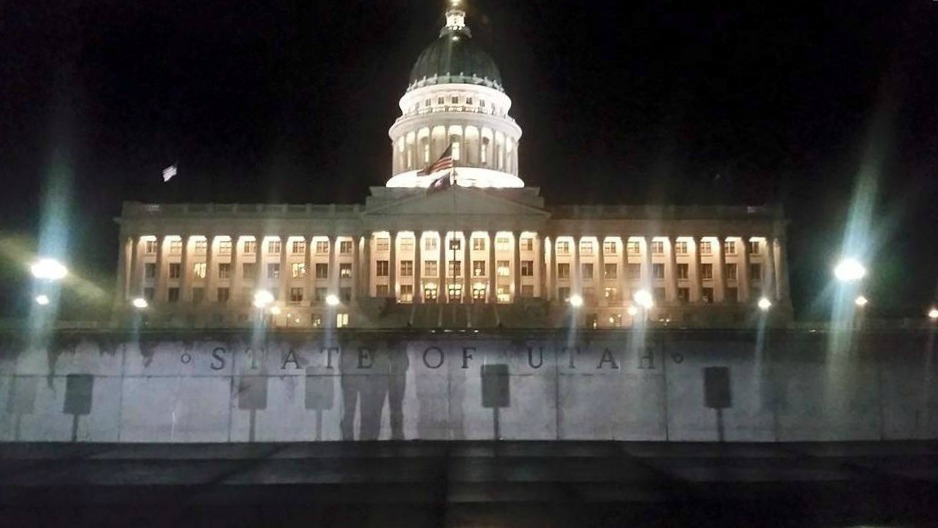 Next time we're in the upper portion of Utah, we're definitely checking out the Salt Flats and Antelope Island on the Salt Lake.  At this point, we were ready to get to the desert, pack up our coats, and dust off our hiking boots.
"Should you shield the canyons from the windstorms you would never see the true beauty of their carvings." – Elisabeth Kubler-Ross
DESERT:
We got into Moab at night and when we woke up we were surrounded by red rock and warm, dry temps. It was an adjustment being able to sit by a pool in early April after a long, cold winter. An awesome adjustment.
Moab has gained huge popularity in the past few years among outdoor adventure-seekers. You can see hotels and new restaurants popping up everywhere. It's the only proper "town" on the Utah side of the Utah/Colorado border for hours so it's a gathering place for extreme mountain-bikers, rock-climbers, mountaineers, rafters, and jacked-up jeep/4 wheel-drive enthusiasts. You've got the Colorado River running through it, some of the best mountain-biking in the world surrounding it, Arches National Park 5 minutes from it, Canyonlands National Park 45 minutes from it, and Dead Horse State Park 40 minutes from it, among a handful of other beautiful canyon hikes and adventures. Not to mention it hosts the annual Jeep Rally which draws thousands of Jeep owners from all over to take on some of the toughest off-roading there is (we were there for this and my Jeep felt very small). In typical Aimee & Josh fashion, our week in Moab turned to 3 weeks.
Arches was our first taste of insane rock formations since leaving The Badlands last Fall. When you first enter the park, you really are taken aback. You can see right through the sandstone arches and past the sandstone towers to the snow-capped La Sal mountain range. The view is such a stark contrast. If you just want to go and take a picture with a famous arch, go to the Delicate Arch. If you want to get in a quality hike and see a few arches along the way, go to the Double-O-Arch. Whatever you do, go to Delicate Arch at sunrise or sunset and prepare your eyes for amazement. We went at sunset and every time I looked down at my camera or away from the arch and looked back, it had turned a deeper shade of gorgeous red.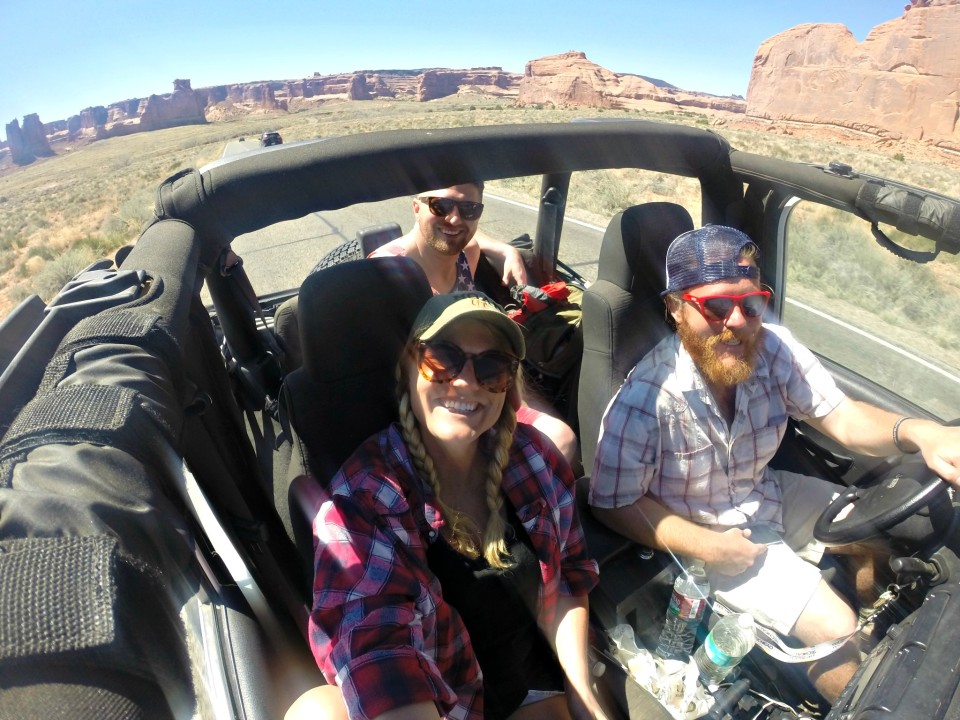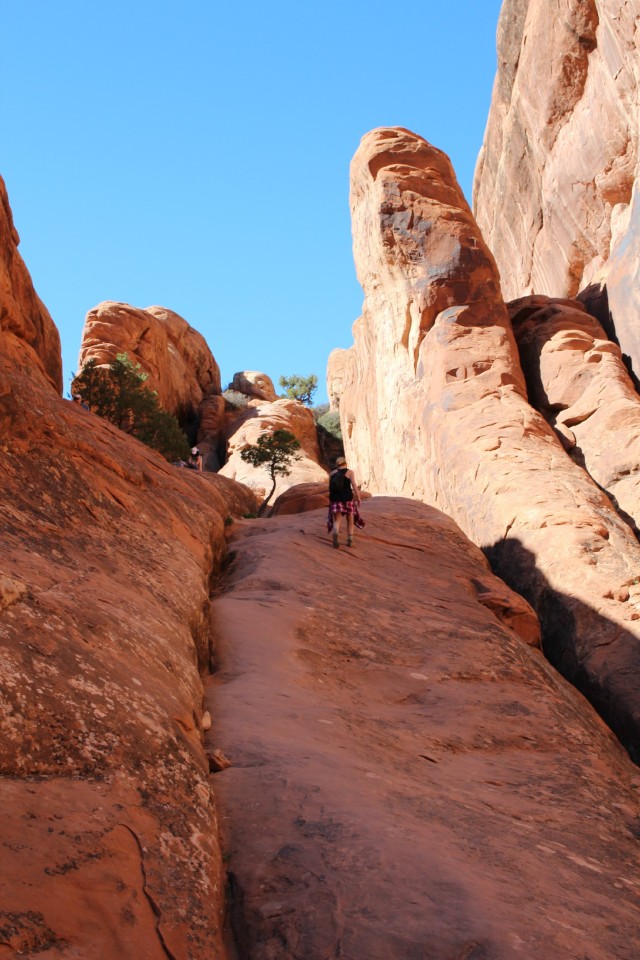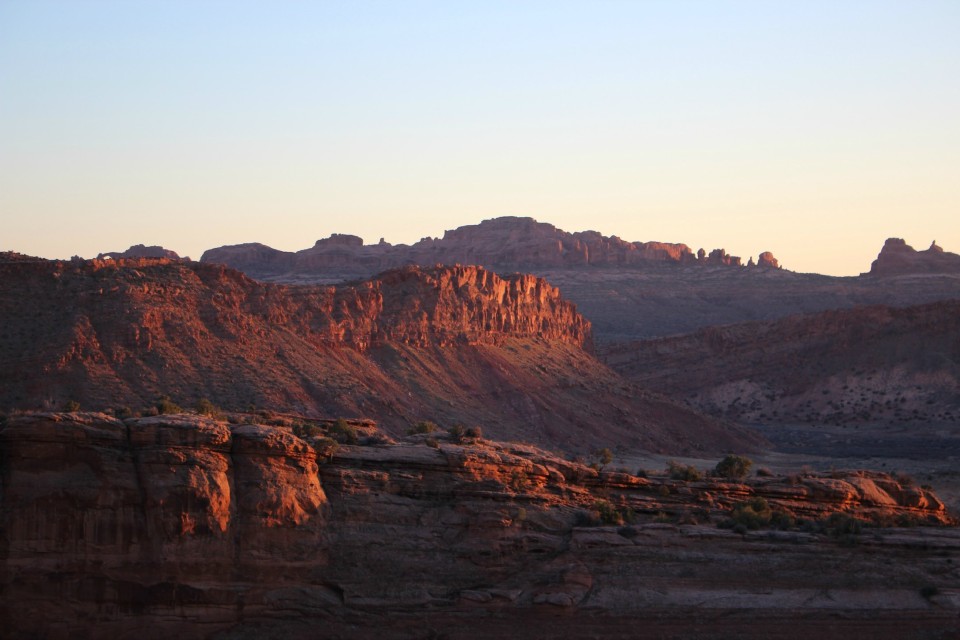 Canyonlands is enormous – it's split by 2 rivers and has 4 separate districts. The most accessible is the Island in the Sky District. Hands down the best way to get into Island in the Sky is to kick it into 4 wheel-drive and take the back roads from Moab. It's 2 hours of canyon/river views and then one of the steepest, most white-knuckle, switch-back ascents of your life up to the top of the mesa. I wouldn't suggest making the drive backwards unless you like the smell of your breaks burning up.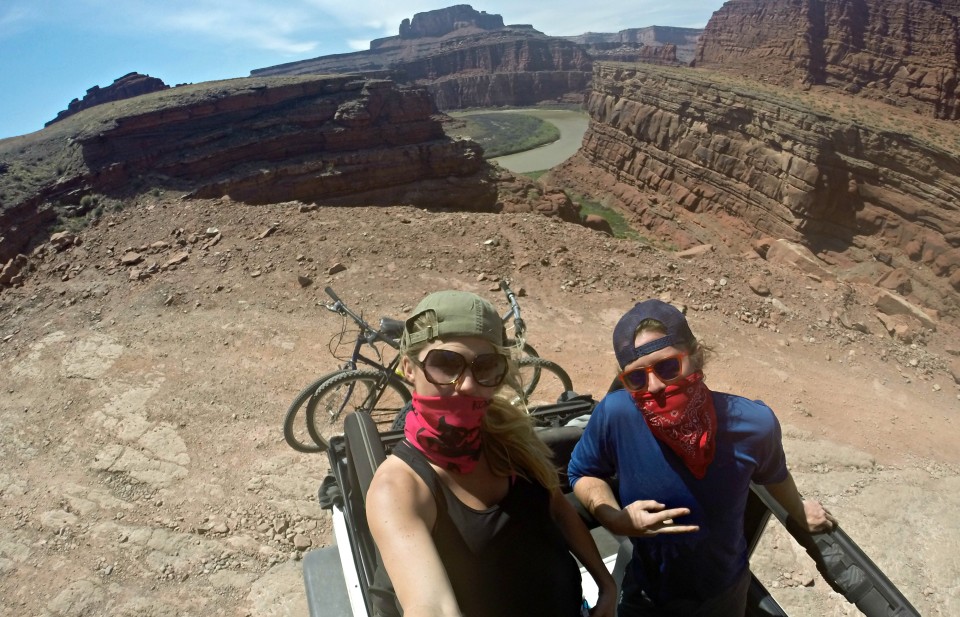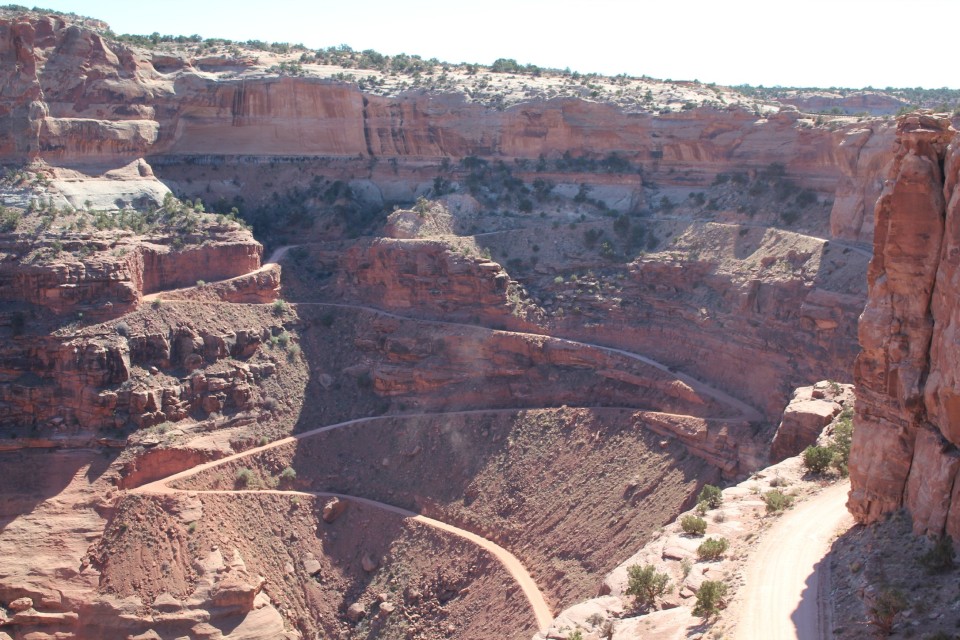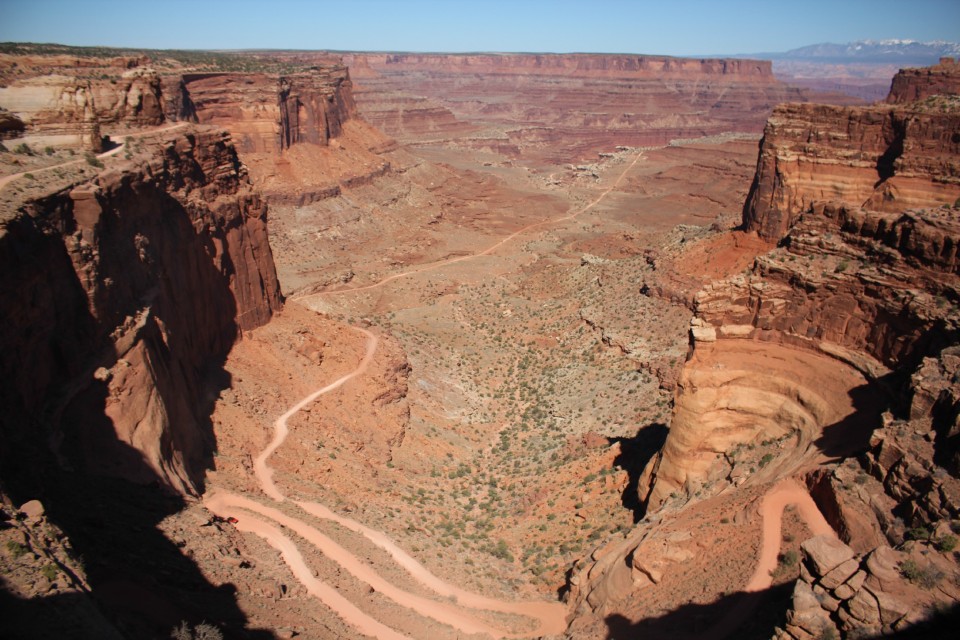 ShaferTrail from Aimee Long on Vimeo.
The Island in the Sky is an easy day-trip. Definitely do one or two of the hikes. My suggestion is to hike the Grand View Point trail, the southern most spot on the mesa, which takes you as far as you can go to the edge. It's amazingly and noticeably quiet out here. If you stop and hold your breath to listen it's almost eerie.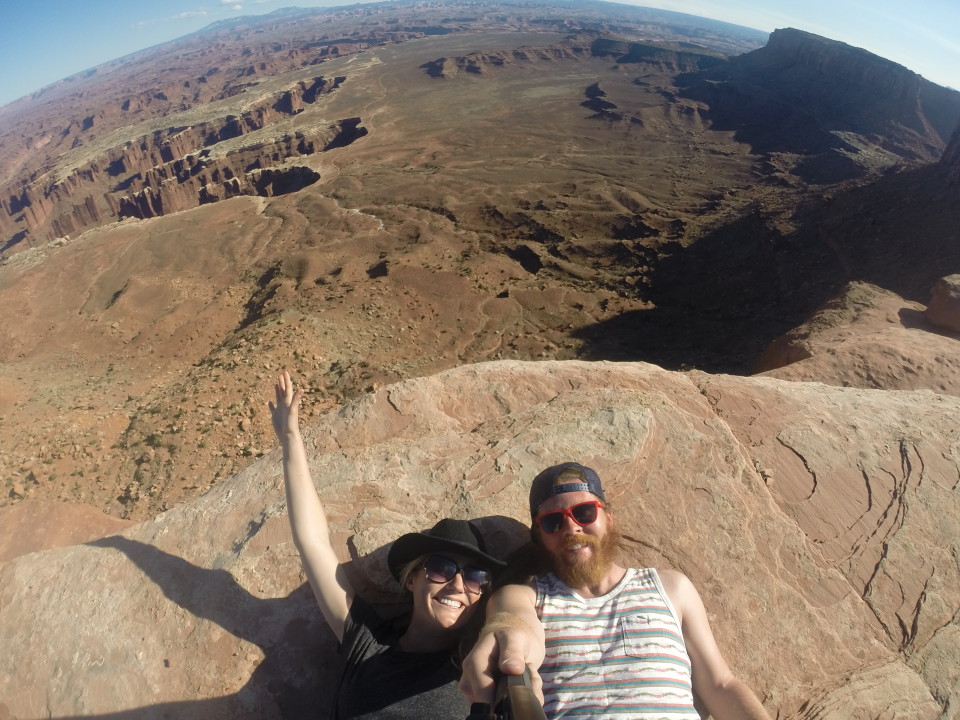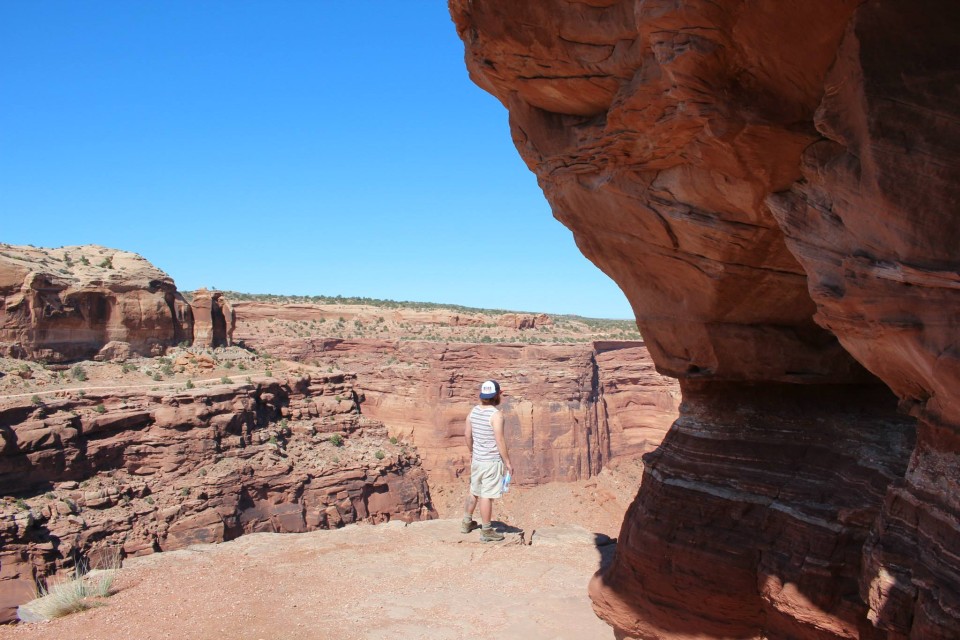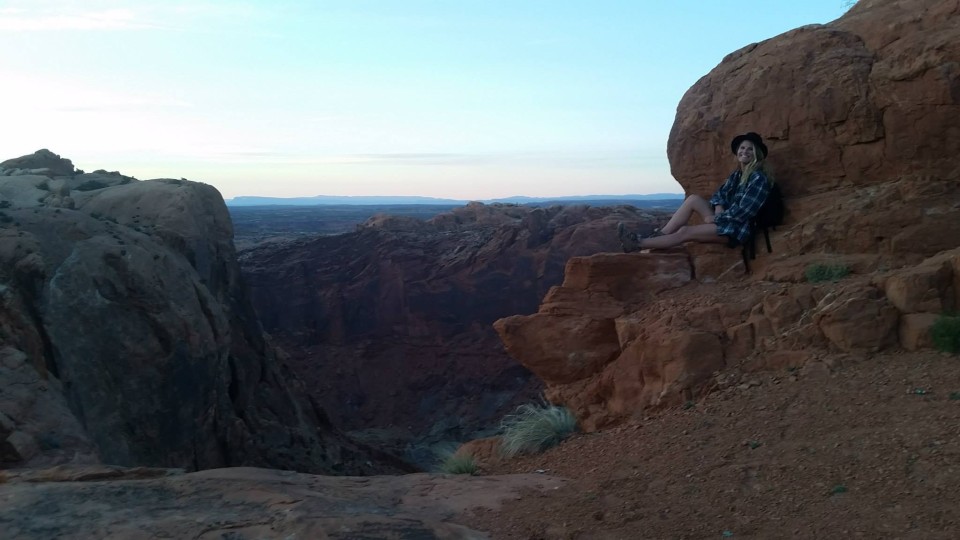 We also visited the Needles District which is known for it's back-country hikes through sandstone spires. This is one giant expanse of phallic earth if you ask me. You can see a bird's eye view of this area from atop the Island in the Sky mesa but it's actually over an hour and half drive to get from the entry of one district to the other. Then once you enter Needles and get closer to the spires, it looks like an entirely different world.
On the way to Needles, definitely stop at Newspaper Rock to see super vivid petroglyphs up close. We did some off-roading through BLM outside of Needles on the way as well.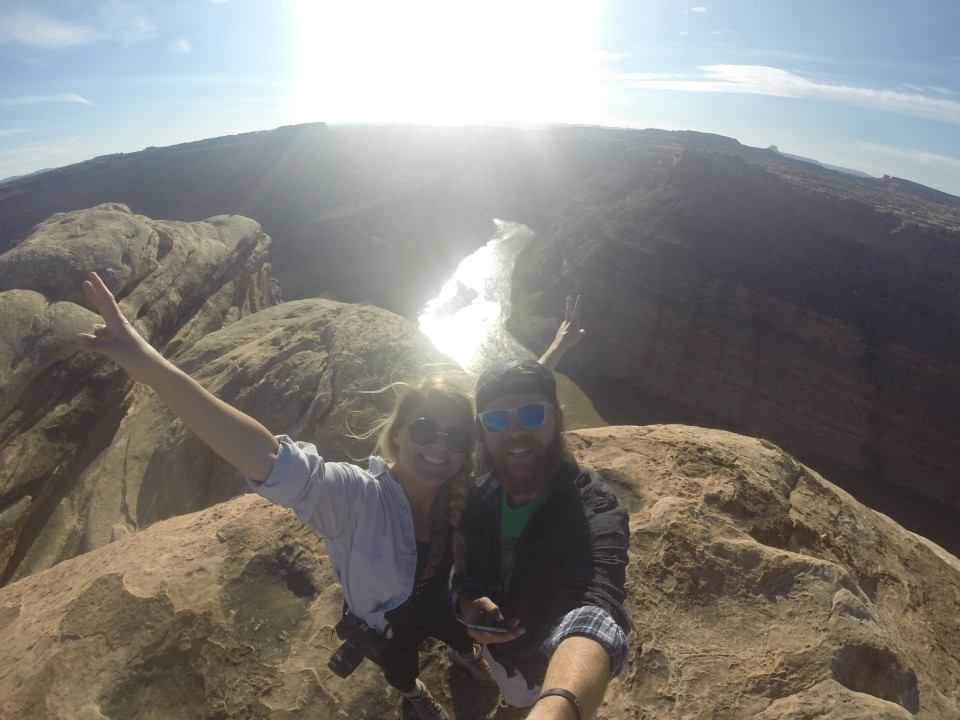 Dead Horse Point State Park was an amazingly pleasant surprise. In researching the area I thought we would probably stick to the national parks but I'm so glad we didn't. It sits atop the highest mesa in the area and has the most dramatic overlook of the canyon at Dead Horse Point. The park views are claimed to be some of the most photographed vistas in the world. It is also home to miles of bike trails, and is where we fell in love with mountain biking. If you're there for a day, take an 8-10 mile bike ride around the mesa then hike the 4 mile loop from the visitor's center to Dead Horse Point. Get to the point by sunset and you're in for a treat.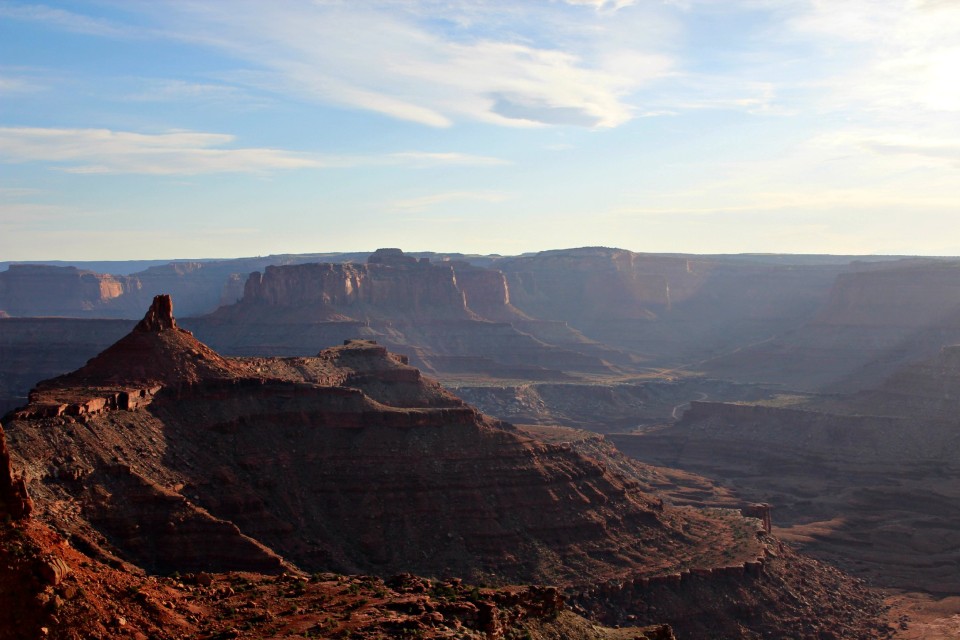 The Sand Flats Recreation Area is 9,000 acres of fun in Moab. It has 40 miles of off-road trails and is famous for the well-known Slickrock mountain biking trail. Word to the wise: if you and your boyfriend own 2 old-school mountain bikes purchased off of Craigslist and have never done a double-black diamond bike trail before, DON'T attempt Slickrock Trail. I'm not speaking from experience.
DO, however, go on an off-roading excursion with one of the 50 off-road companies in town. We went on an amazing sunset trail ride in a UTV and rock-crawled over thin, high, slivers of slickrock, and up and down 85 degree rock hills. Luckily for us, our tour guide was an old cowboy who retired as the Moab Sheriff a few years back. He was quick to tell us in-depth stories about each of the people that have died driving over cliffs at specific points on our trek.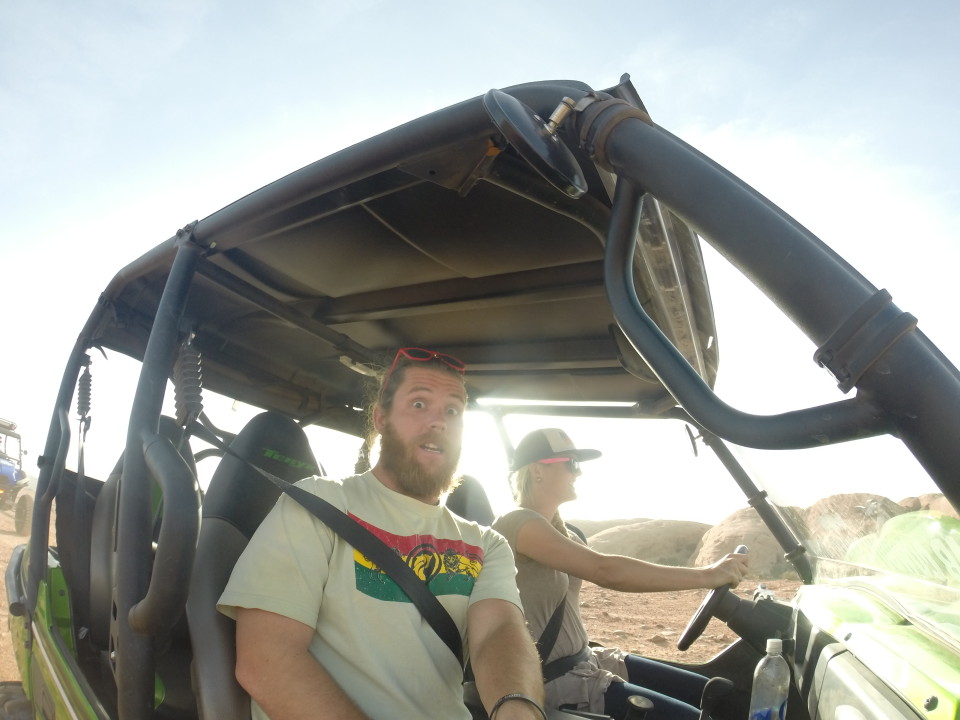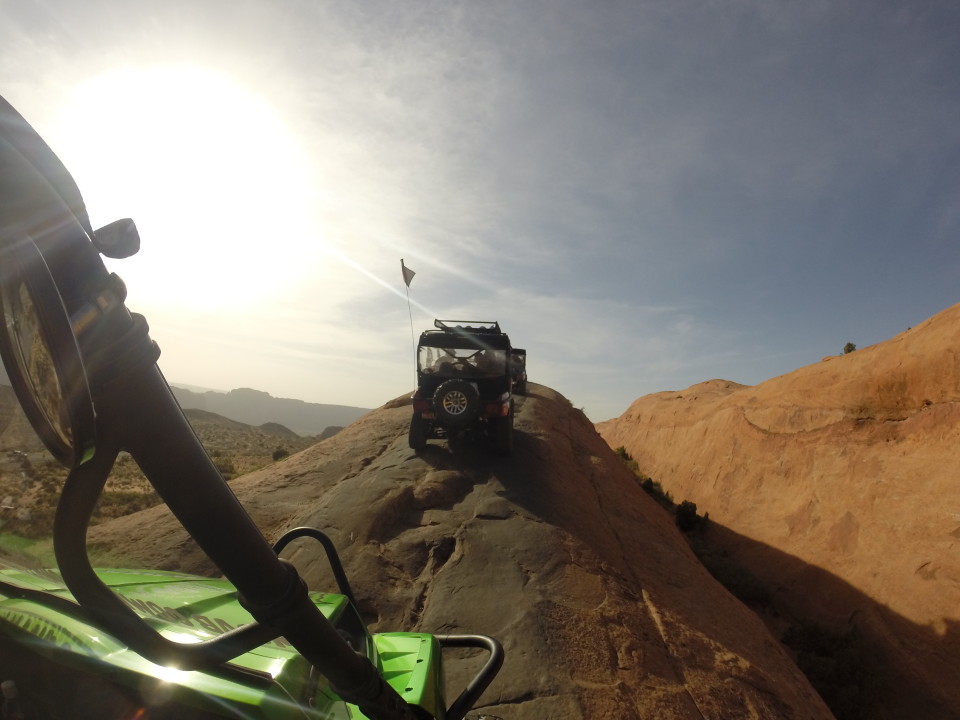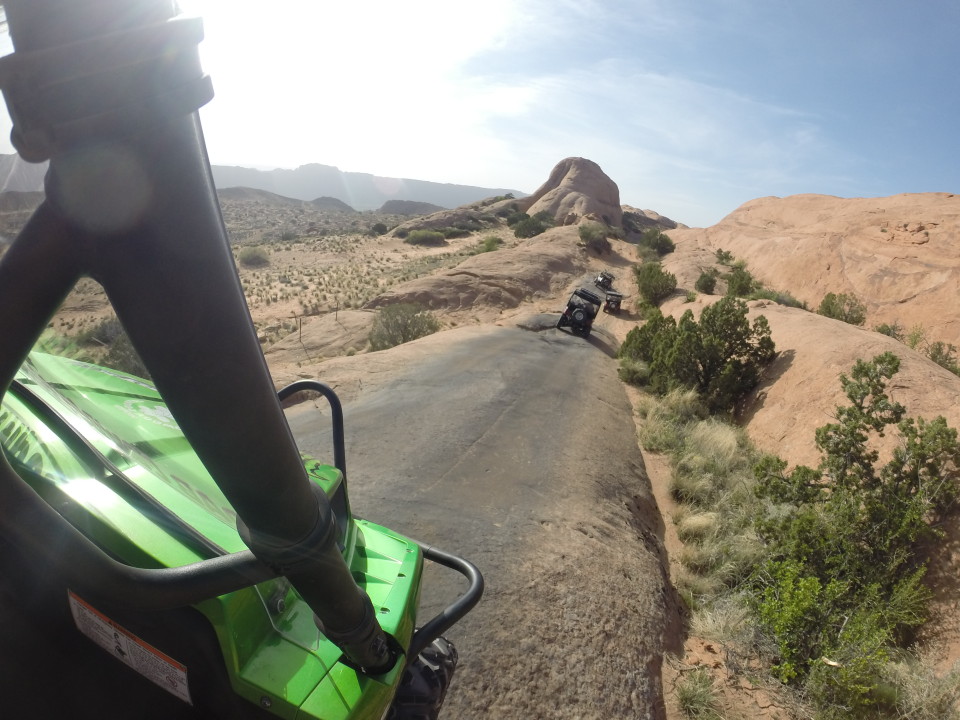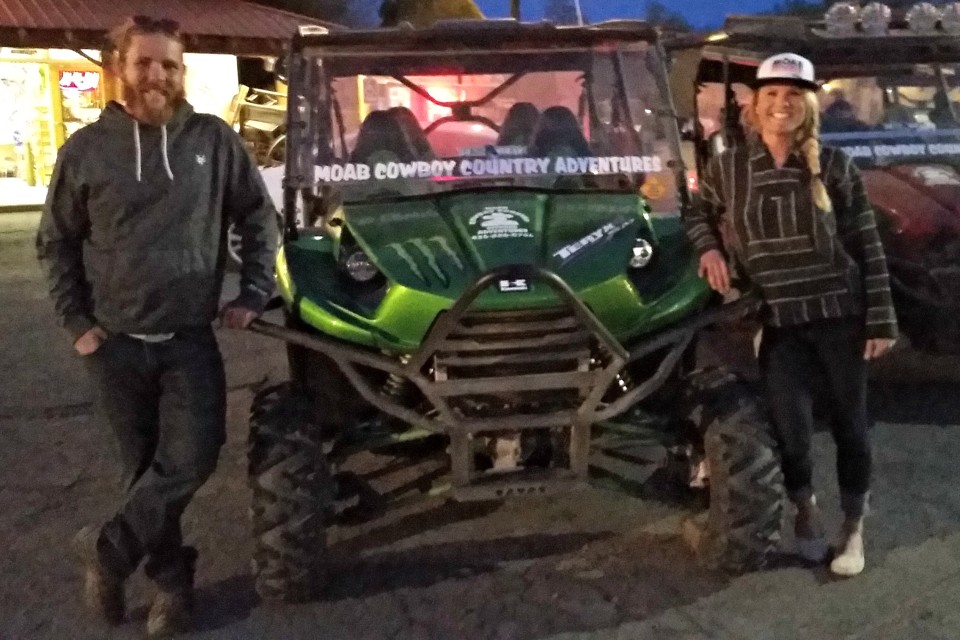 Hells Revenge from Aimee Long on Vimeo.
We left Moab for a little unfortunate town called Torrey, UT. Torrey is the closest town to Capitol Reef National Park, which is why we chose to post up there for a few days. If you enjoy a margarita at a bar and having cell service, Torrey is not for you. If you can find a bar, it doesn't have a liquor license and if you can find cell service…you're not in Torrey. But the land we were parked on was truly beautiful and we were not complaining. We could look out of the RV window at the sun setting over horses grazing across acres of fields with a backdrop of red rock.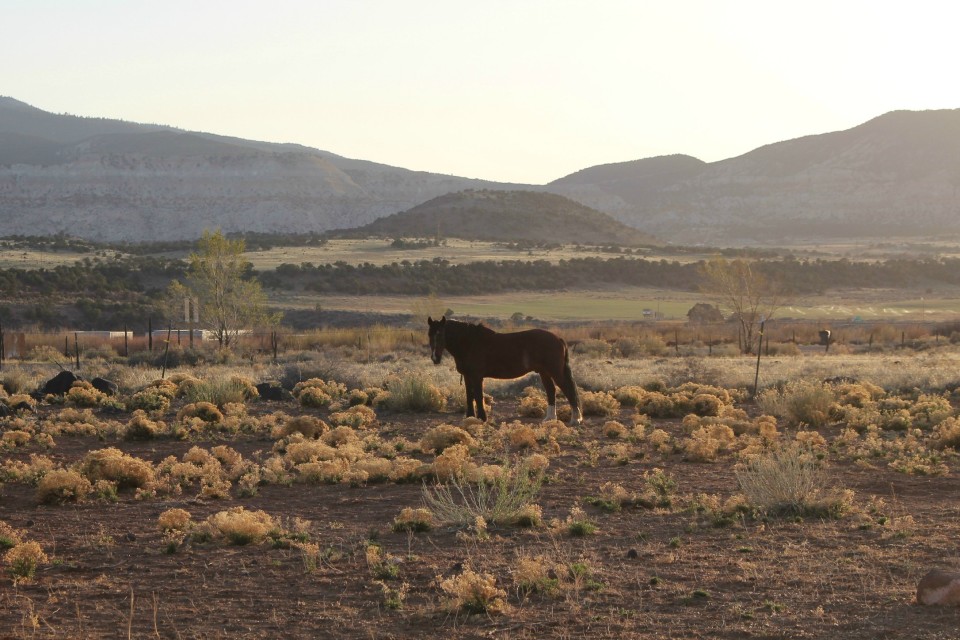 Capitol Reef National Park was our #3 stop on the "Mighty Five" tour. (Utah has 5 national parks coined the "Mighty Five"- we're hitting the two on the western side of the state later this summer). If I were to describe Capitol Reef in one phrase it would be: geologic shitstorm. It's an expanse of multi-colored domes and cliffs centered around a very historical gathering place first inhabited by natives and then cultivated by Mormon pioneers and named "Fruita". The Mormons grew orchards throughout the area and the contrast of the rock against green grass and trees is wild looking.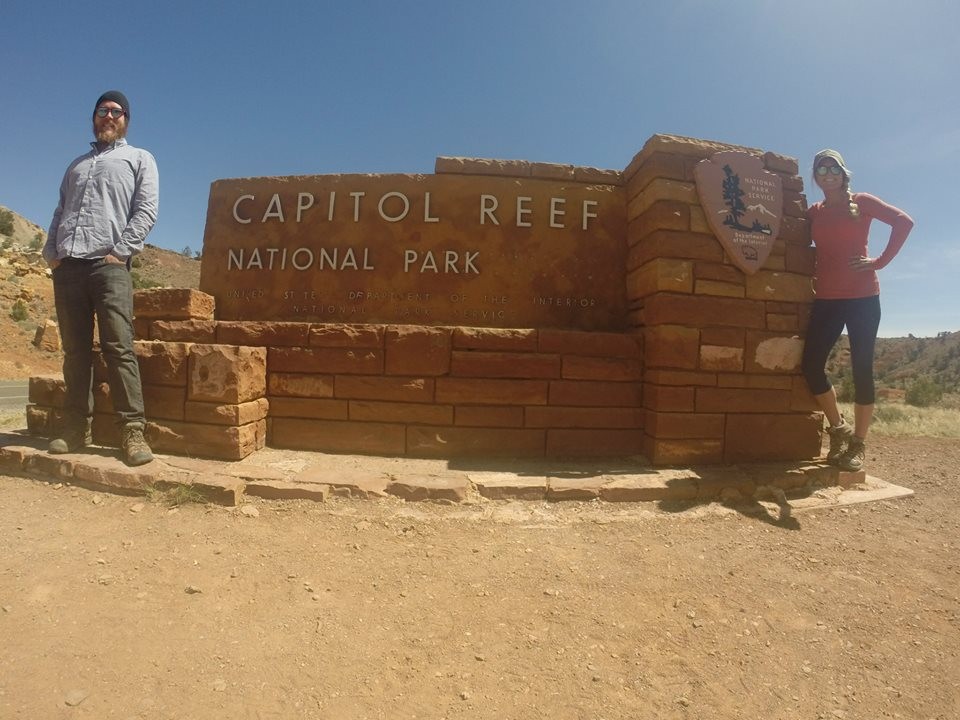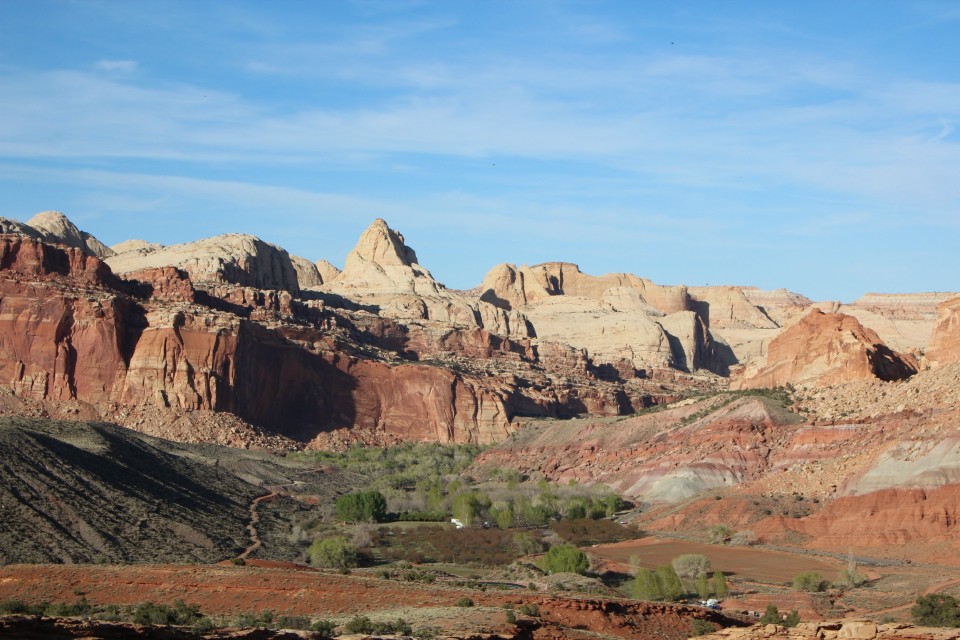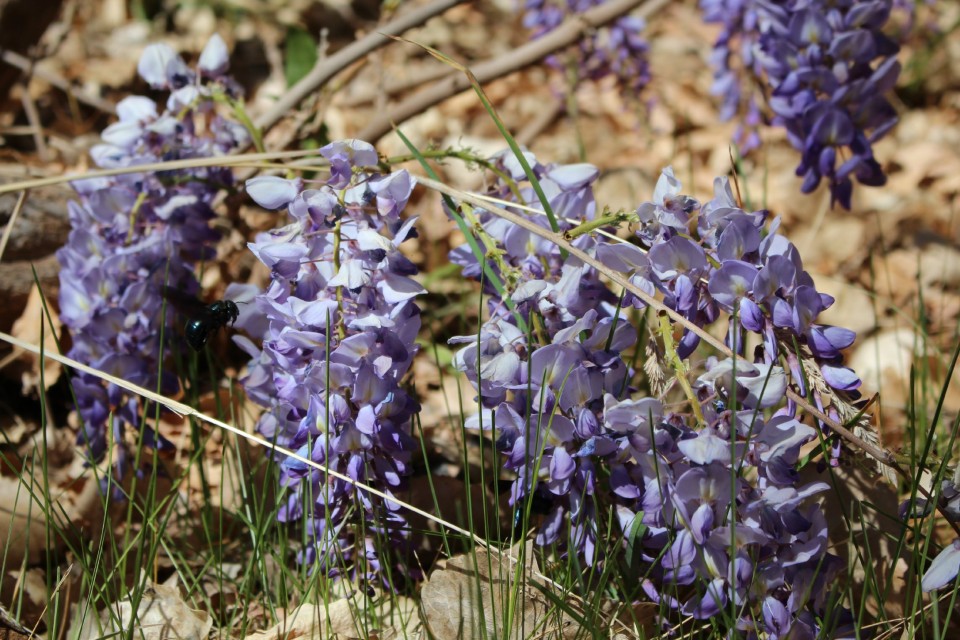 Hands down the coolest portion of this park is the Capitol Gorge. You are surrounded by huge walls of rock on either side of you. In the course of just a mile you pass both an ancient Native American petroglyph panel and the "Pioneer Register", signatures of Mormon pioneers dating back to the late 1800's. You're actually walking through history.
The second coolest portion is the Waterpocket Fold, a geologic monocline (a wrinkle on the earth) extending almost 100 miles. It's hard to get to but if you can handle a 45-minute drive on a remote dirt road without radio it's worth it.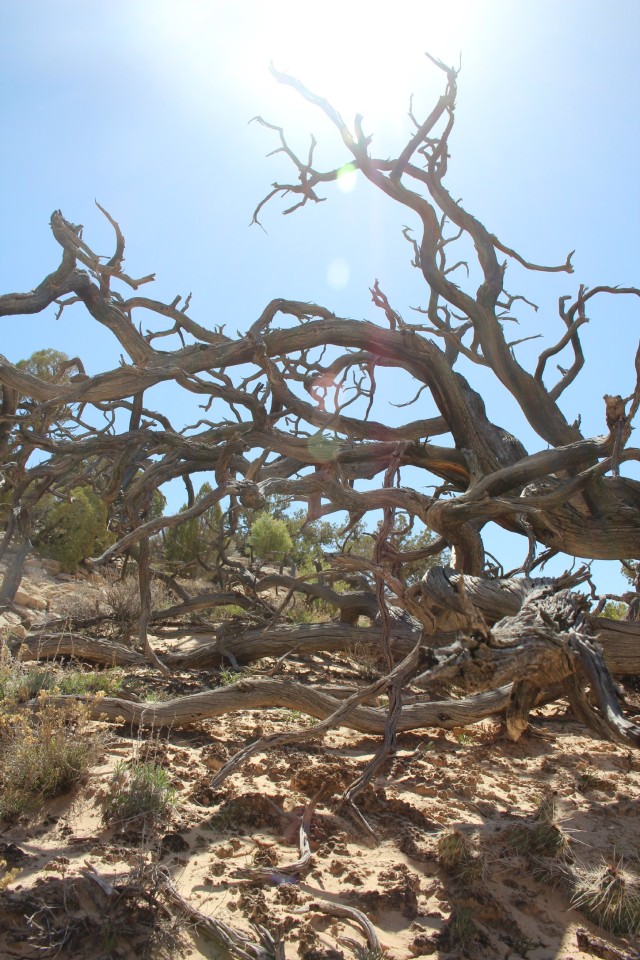 Another similar hike to Capitol Gorge is Grand Wash. There are no goose-bump inducing historical markings but it's definitely another hike that makes you feel small with towering walls on either side.
If you have just been to Arches National Park already, Hickman Bridge isn't all that exciting. But it's one of the shorter hikes in the park, so we figured why not? (Fun fact: The difference between a natural arch and a natural bridge is that a bridge has a flat, level top over an arched opening, resembling a man-made bridge.)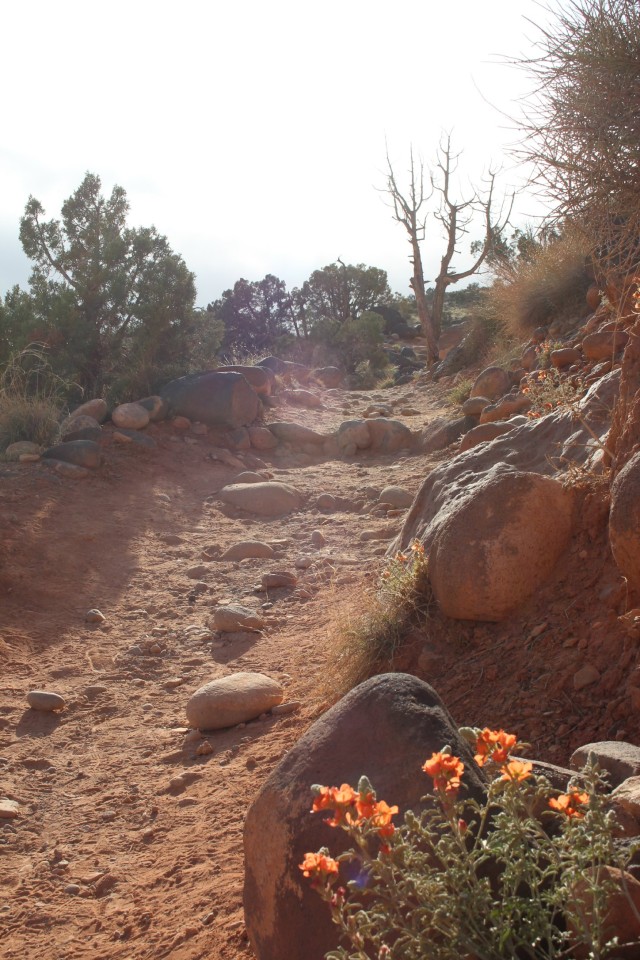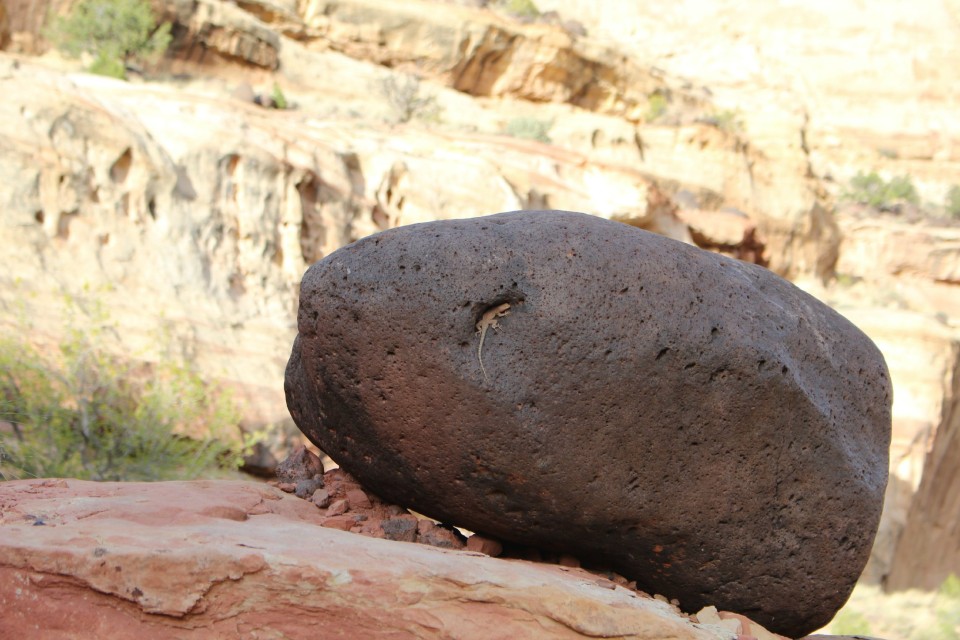 About an hour south of Torrey is Grand Staircase-Escalante National Monument and one of the most impressive places I have ever been. Escalante is a 1.7 million acre national monument. There is nowhere else in the lower 48 states that encompasses this much remoteness. The terrain is so rugged, daunting, and at one point – impassible, that this was the last area in the contiguous US to be charted. The desire to hike through our first slot canyons is what drew us there. We hiked through not one, but three, and each one was amazing in it's own right. None of them are easy to find and all of them entail a long ride on a washboard road that makes your brain rattle inside of your skull. But if you get the coordinates offline (before you lose service) and stick them into a GPS on your phone, you're good to go.
We hiked Zebra Slot, Peek-a-Boo Canyon, and Spooky Canyon. Zebra is the most beautiful with white and red striped walls and Spooky is the most claustrophobic with the tightest squeeze and deepest/darkest floor. Some portions of the slots are so tight you have to take your camelpack off just to shimmie through. There are so many nooks and crannies in this region of the US that it's almost hurts your brain to think about. We didn't even scratch the surface.
Zebra Slot Canyon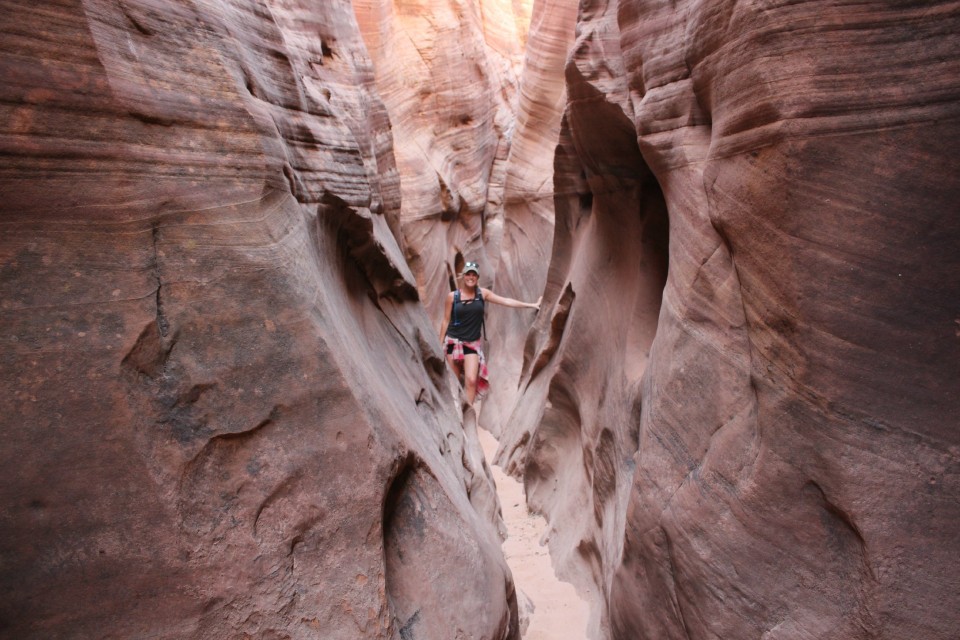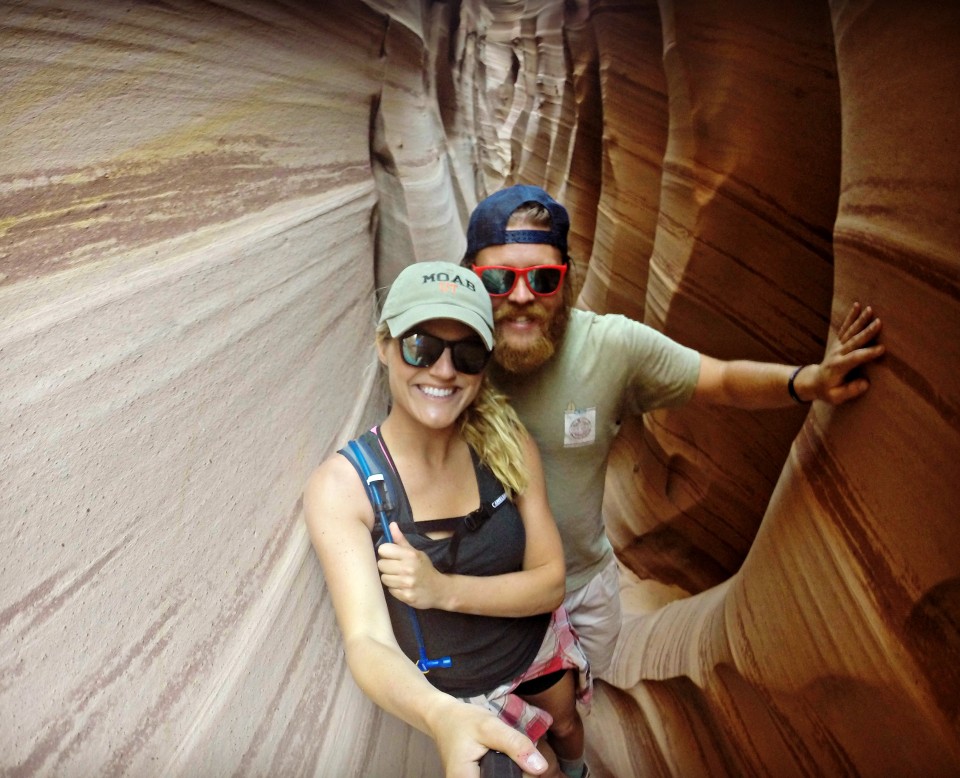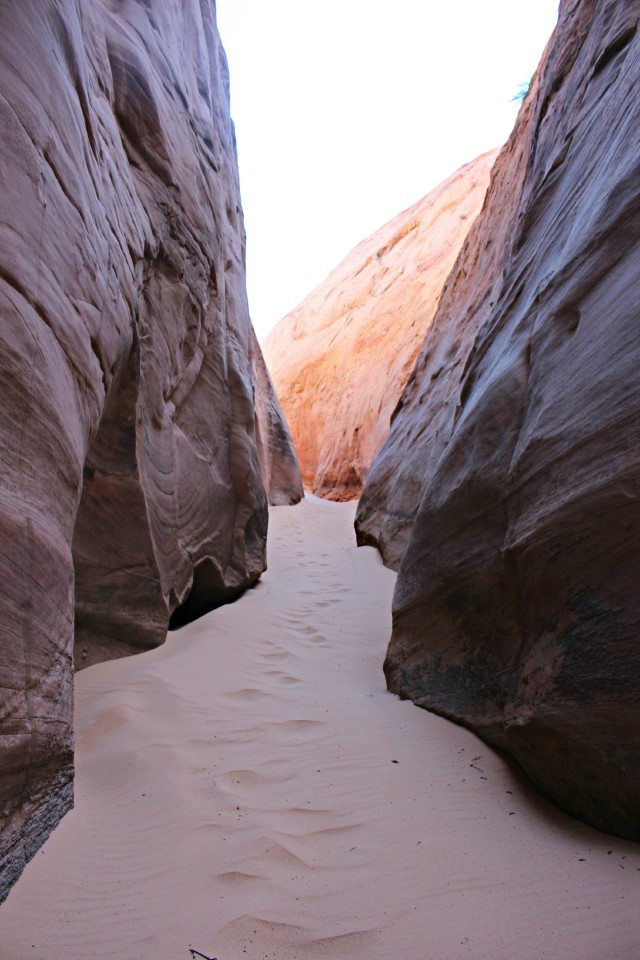 Peek-A-Book Slot Canyon: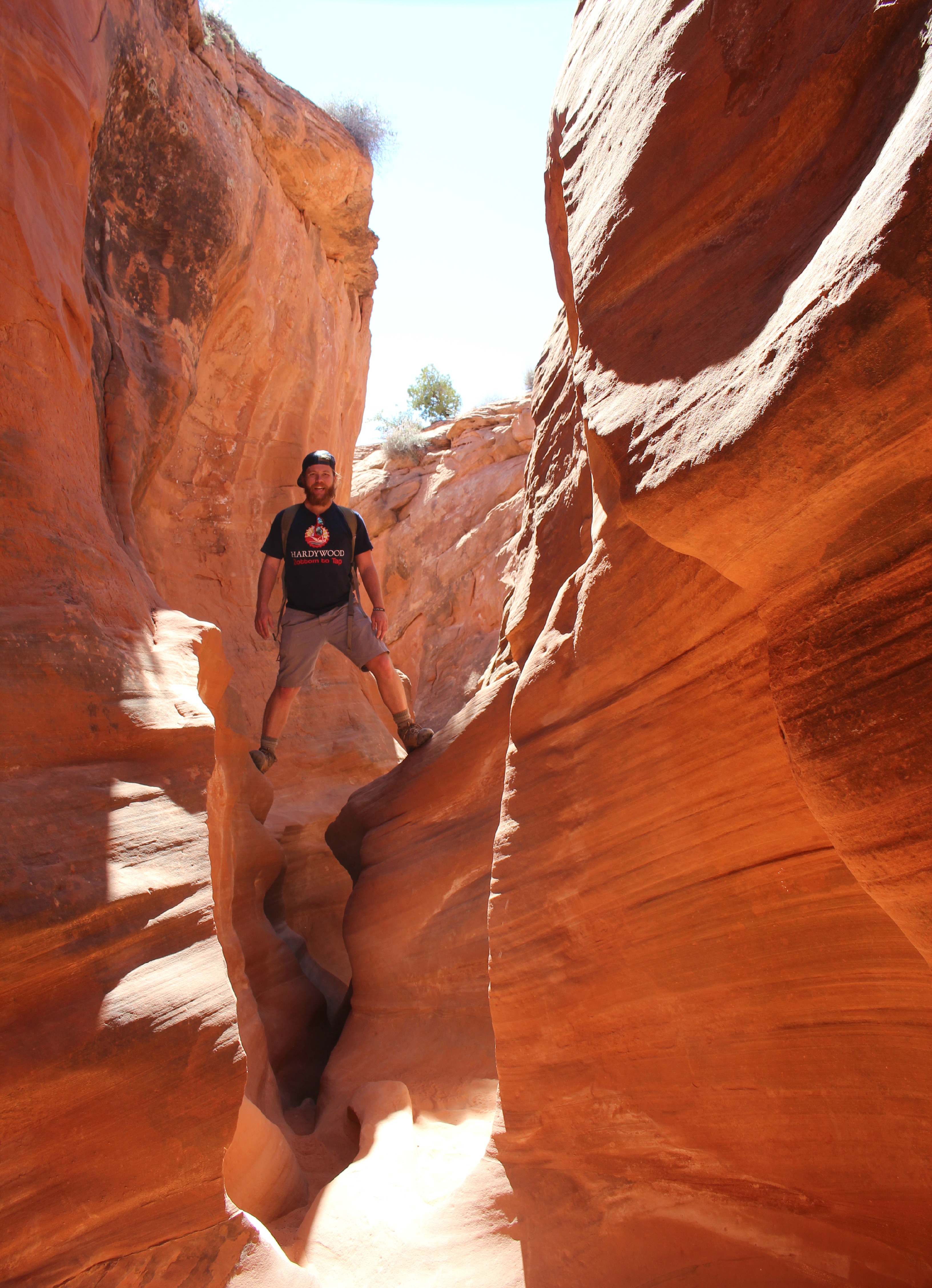 Spooky Slot Canyon:
After realizing State Parks have so much to offer , we remembered a quirky couple that bought some furniture off of us at one of our 79 yard sales prior to moving into the RV last summer. They had taken a cross-country road trip and raved about a place called Goblin Valley. Because it's kind of hard to forget that name, it stuck with me. So we visited…and it is WACKY. There are no real trails and you can just galavant all throughout the nooks and gnomes. If you're thinking about planning a trip to Mars, just skip it and go here. I can't imagine what the first person who stumbled across this 3-mile expanse of land thought.
About 10 miles from Goblin Valley is an incredible 8 mile hike through Utah's best slot canyons. Little Wild Horse and Bell Canyon are a part of the San Rafael Reef and both connect to make an 8 mile loop. Occasionally there is water in some of the narrows and we ended up wading toward the end of our hike. The cold water actually felt great on our tired feet. We weren't initially sure if we were going to make the full hike because it was later in the day, but once you enter the first slot, there's no stopping – you have to see what's around the next corner.
Slot Canyons from Aimee Long on Vimeo.
After we explored what we could in this area, we went back to Moab because…we love Moab. There are so many awesome hikes and bike trails around the town that aren't a part of any park system. We are constantly looking for dog-friendly hikes and both Negro Bill Canyon and Corona Arch were just that.
Negro Bill Canyon is a 4 mile hike along a clear creek and over to the Morning Glory Bridge. At the Morning Glory Bridge you can stop and watch people on mountaineering treks repelling down the giant wall into the canyon.
Corona Arch is another 4 mile hike that takes you to the arch most known for people strapping themselves into harnesses and swinging through it.
This area is chalk-full of prehistoric dinosaur tracks as well. I was pretty much just as excited about them as a 6 year old boy would be. The distance between two of the most prominent tracks we saw was 6 adult-human steps. That's a big beast.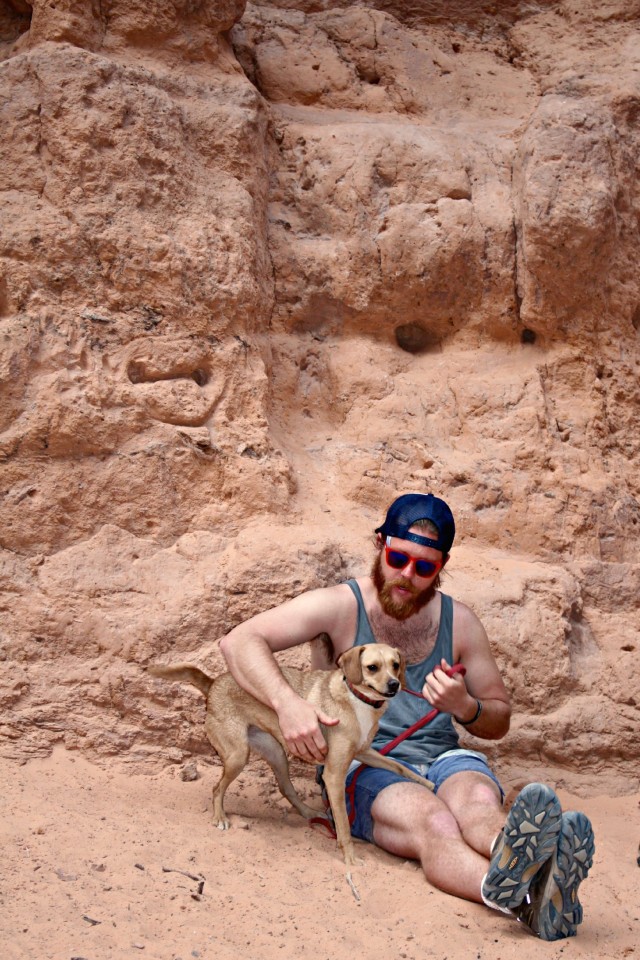 Here is where I get a little philosophical and inspirational. I mentioned before to not attempt a double-black bike trail as a newbie. This holds true. (Yes, we attempted. Yes, we had to turn around a quarter mile in because Josh's bike broke. Yes, a group of extreme uni-cyclists finished the trail that same day. No, we were not happy about it.)
We did find multiple trail systems that suited our skill level, however, and absolutely fell in love with it. Bar M Trail System offers a boatload of varying trails and is super accessible from Moab. Klondike Bluffs offers beautiful trails through desert country about 15 minutes from Moab. We rode the bluffs at sunset and it was gorgeous…we were also dodging jack-rabbits the size of our dogs.
The moral of the story is, we should keep trying new things. As adults, I think we forget that it's okay to be a beginner. Just because we have been around the block doesn't mean we're going to be a pro at something new from the get-go. *If you look like a fool, it's okay… at least you're not an extreme uni-cyclist…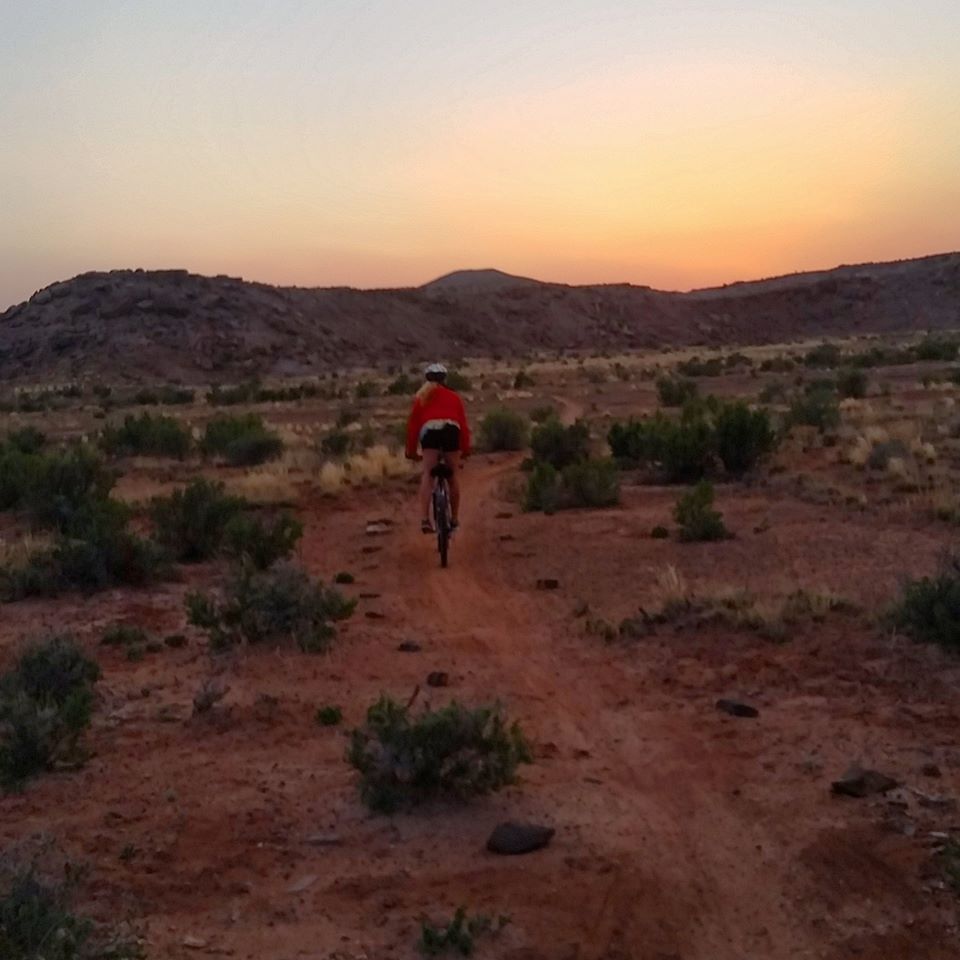 I don't have any scrumptious culinary outings to share with you because all of the food in southern Utah is miserable. We did eat at this cliff-side restaurant overlooking Moab called the Sunset Grille. It is an old house from the 1950's, built and lived in by the "Uranium King", a gentleman who hit the uranium jackpot in Moab during the uranium boom and made millions, putting Moab on the map. The house is the epitome of 1950's Modernism and not much has been changed inside – very cool.
Utah is a true gem tucked within the US with vastly different topography throughout and enough adventure to last a lifetime. I consider it one of my favorite states on the journey so far.
*Me looking like a fool: