"All the earth colors of the painter's palette are out there in the many miles of badlands." – Georgia O'Keeffe
New Mexico, the land of enchantment, was a whirlwind of vastly different experiences spread throughout the course of a month. From the Sangre de Cristo mountains in the north to the Chihuahuan Desert towards the south, we covered about 1,150 New Mexican miles.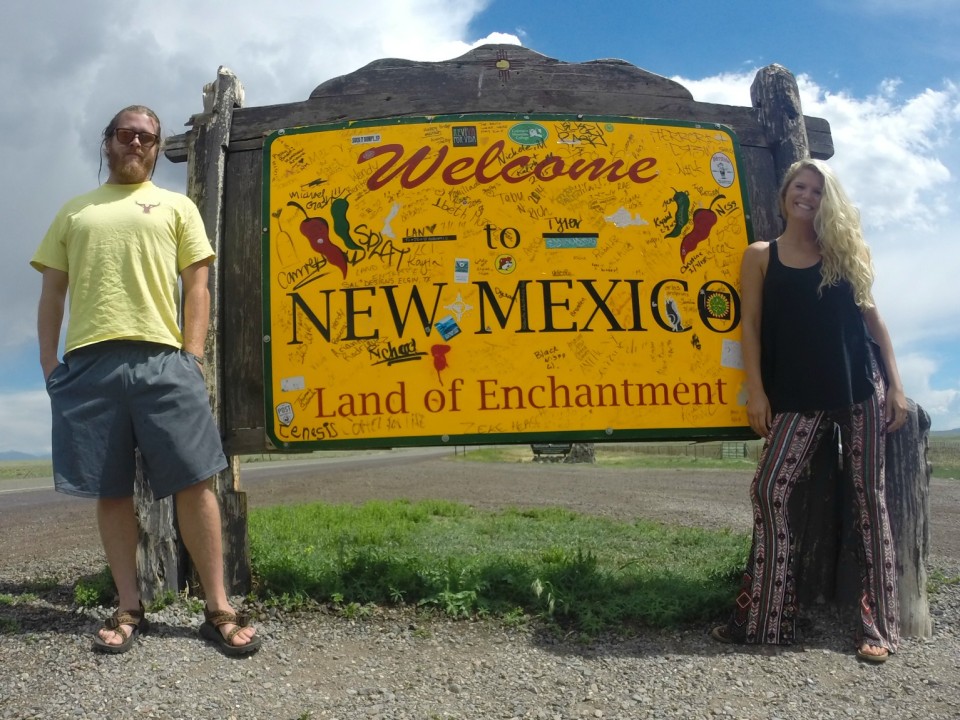 The Royal Gorge
We started our trek down to New Mexico from Denver and made two well-worth-it stops while en route. Cañon City is south of Colorado Springs and straddles the Arkansas River. Fun Fact: It's home to nine state and four federal prisons and penitentiaries. But don't let that stop you from going to the Royal Gorge. 😉
The park's main attraction is a suspension bridge that has been hanging 956 feet above the Arkansas River since 1929. The park is pretty historical, but in a dramatic turn of events, was burnt to a crisp in 2013 as a result of a forest fire. Over the past year or so it has been built back up to it's current shiny-and-new state.
Ziplining 1,200 feet over the gorge at 50 mph was epic. Not having to pay the $40 per person to ride because the credit card machine was down, and we were the only riders at the end of the day, was even more epic. Getting unharnessed and being told we just rode the highest zipline in North America was the cherry on top.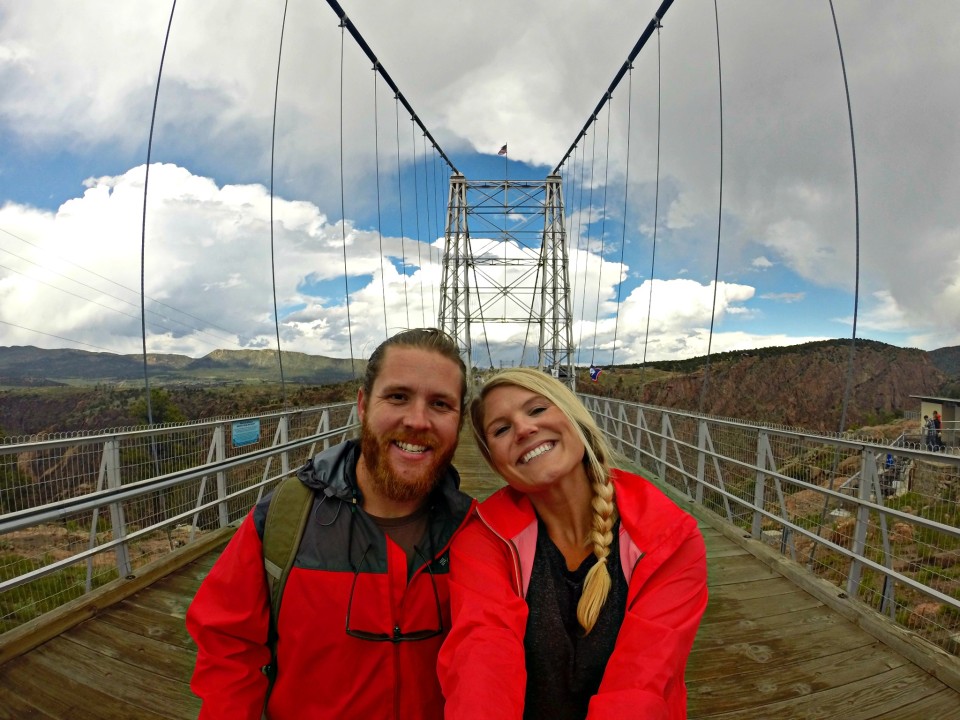 Ziplining:
royalgorge from Aimee Long on Vimeo.
Great Sand Dunes National Park
Further south into the San Luis Valley is Great Sand Dunes National Park and Preserve. This area of Colorado has multiple extremely varying ecosystems all in one setting. It almost looks like a movie set staged in front of a real backdrop. The first sight of the beachy dunefield floating in front of the snow-capped Sangre de Cristo mountains as you drive up makes you think your eyes are playing tricks on you. Although you know you're in Colorado, I guess you don't expect to see the alpine mountaintops in the background.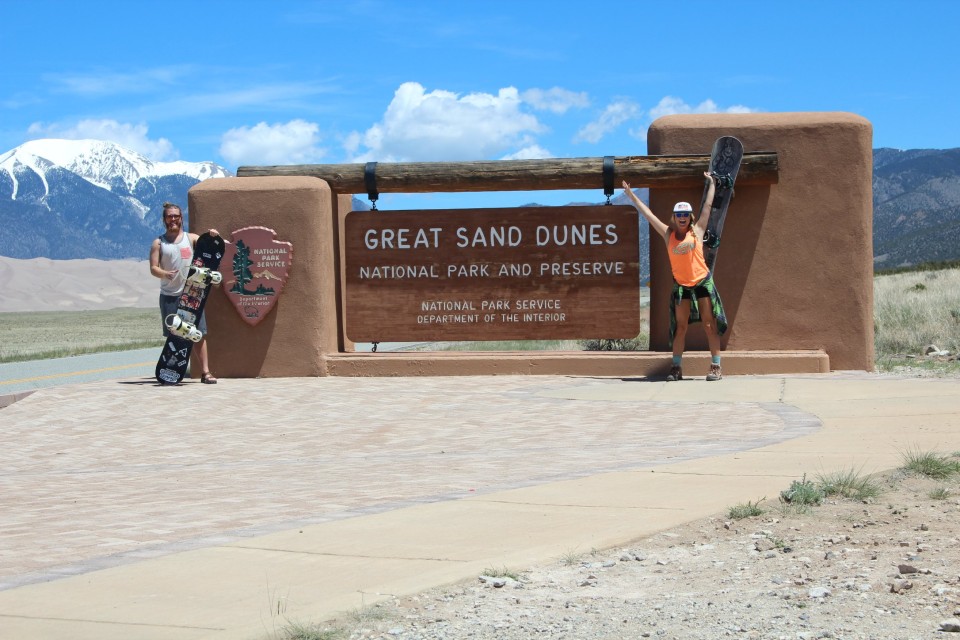 The park holds the tallest dunes in North America. We hiked to the second tallest dune and it was our best workout of 2015. Ascending up through sand is no joke. The ride down, however, was a little less exhausting and a tad more fun. We originally thought we would ride the dunes on 2 old snowboards but a lady that worked at our campground advised us against it. Apparently tons of visitors turn their bindings into trash by getting sand in the crevices. So, instead, we rented the little wooden sand boards they provide. Sand boarding involves a lot of wax, takes a little extra oomph to start, and then sends you down the mountain in a straight line. It's a lot of fun, but nothing like snowboarding – there's no carving the mountain involved.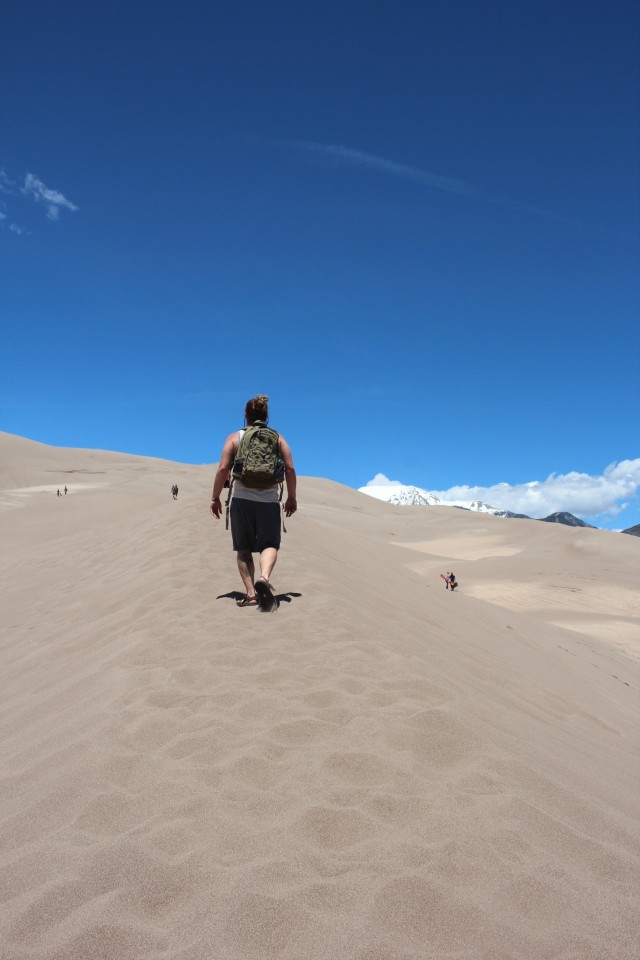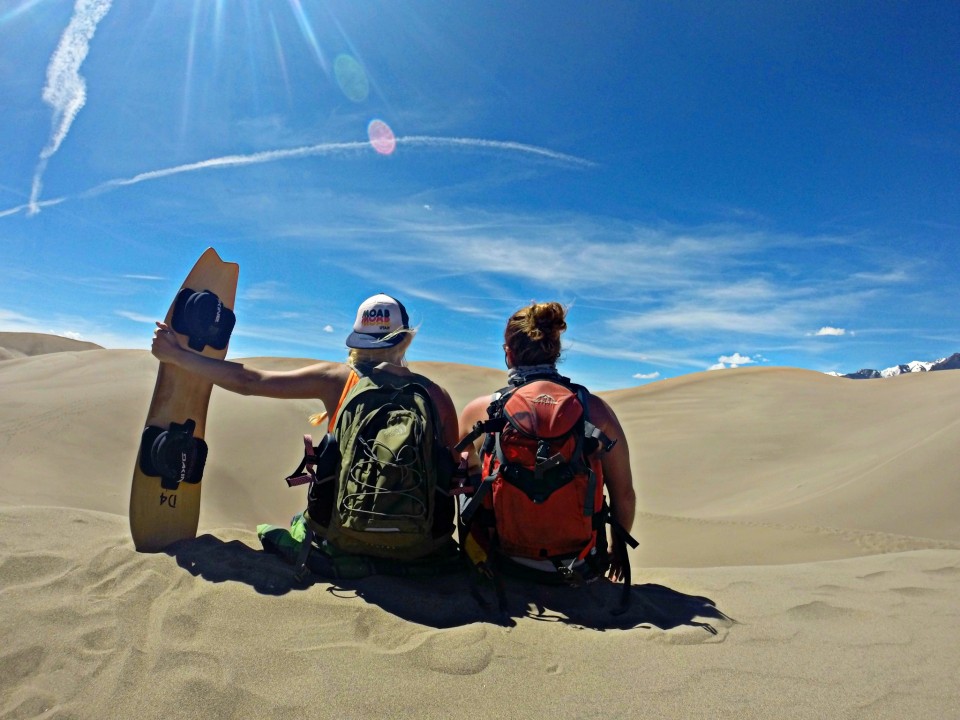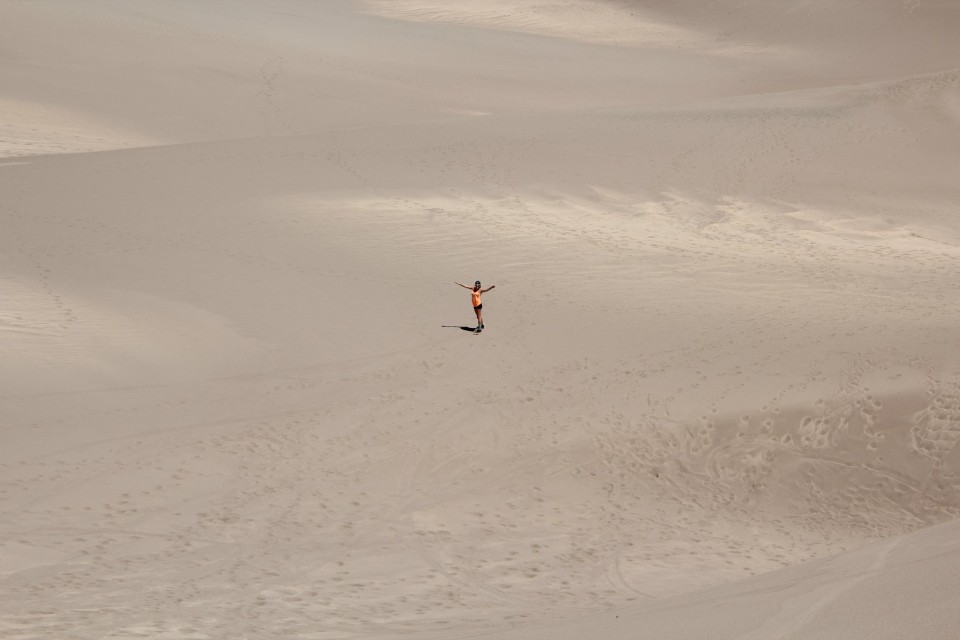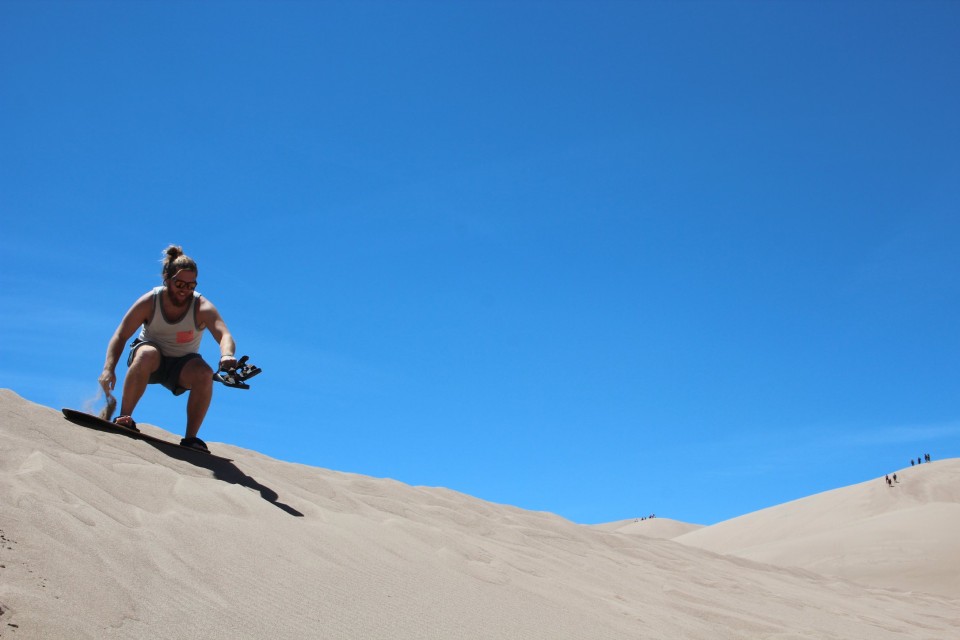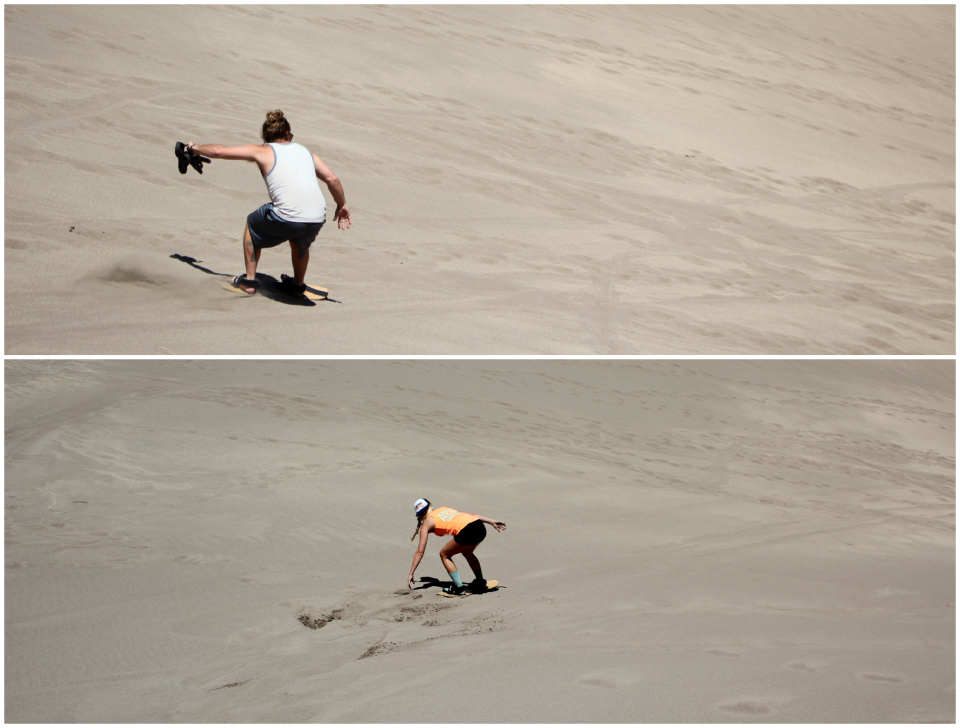 Sandboarding:
sandboarding from Aimee Long on Vimeo.
Luck was on our side again, and without knowing it, we visited the dunes at the best time of year. In late May/early June the snow run-off from the mountains creates a huge running creek in front of the dunes called Medano Creek. We were surprised to show up and see people camped out on the beach in front of the water with chairs and floats. The dogs had a blast splashing through the current. This is also a great time to visit because the sand isn't too hot yet. We could walk around barefoot and not worry about the dogs' paws burning. (I know in some places early June is already scorching, but you're over 7,000 feet in elevation here.)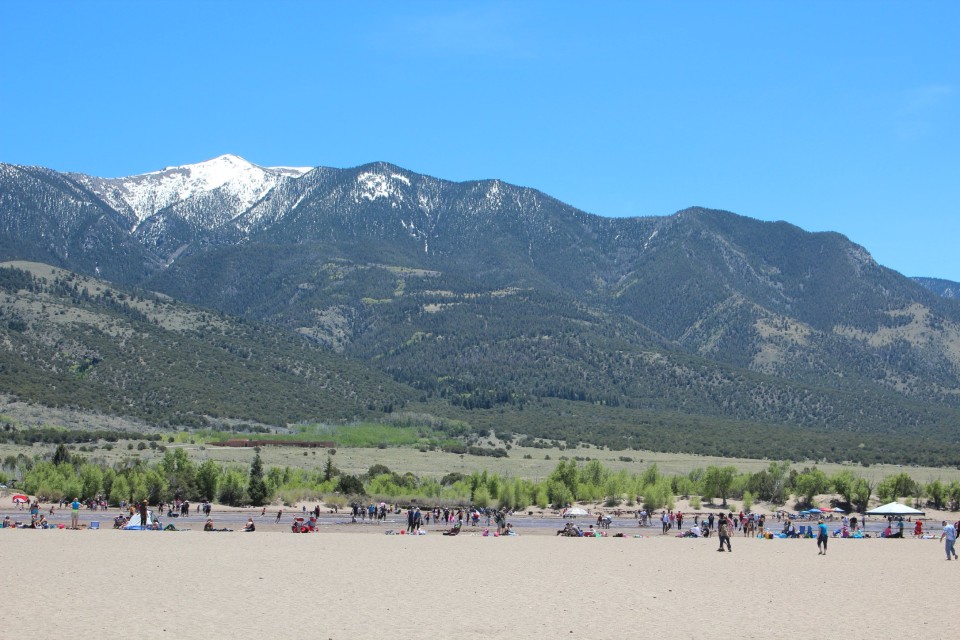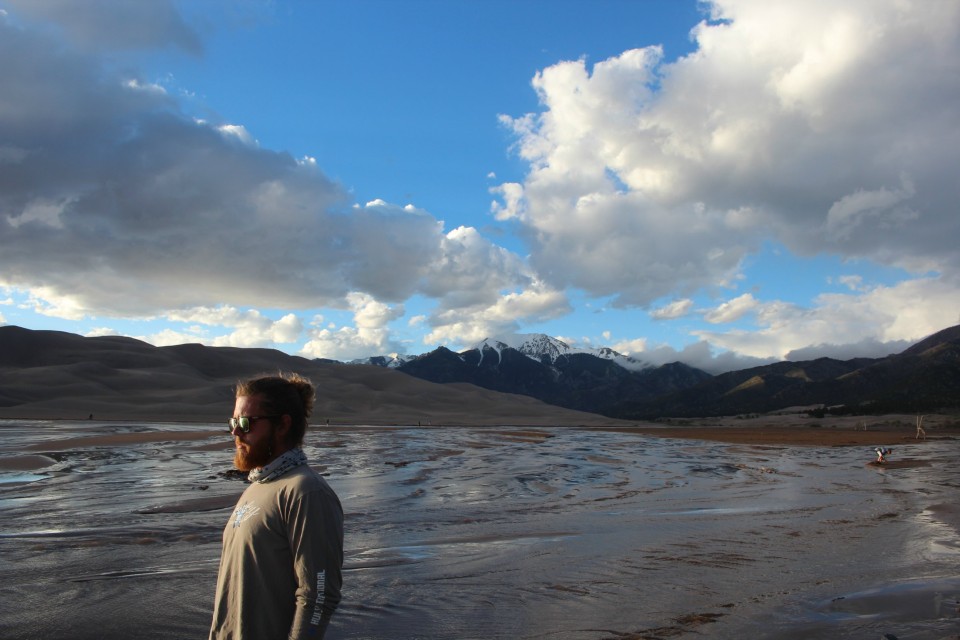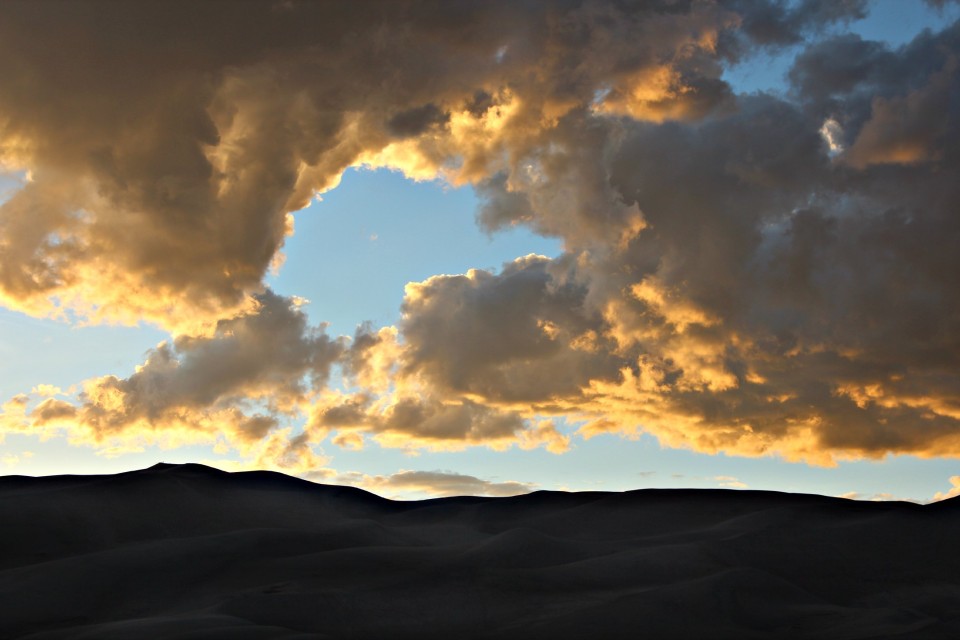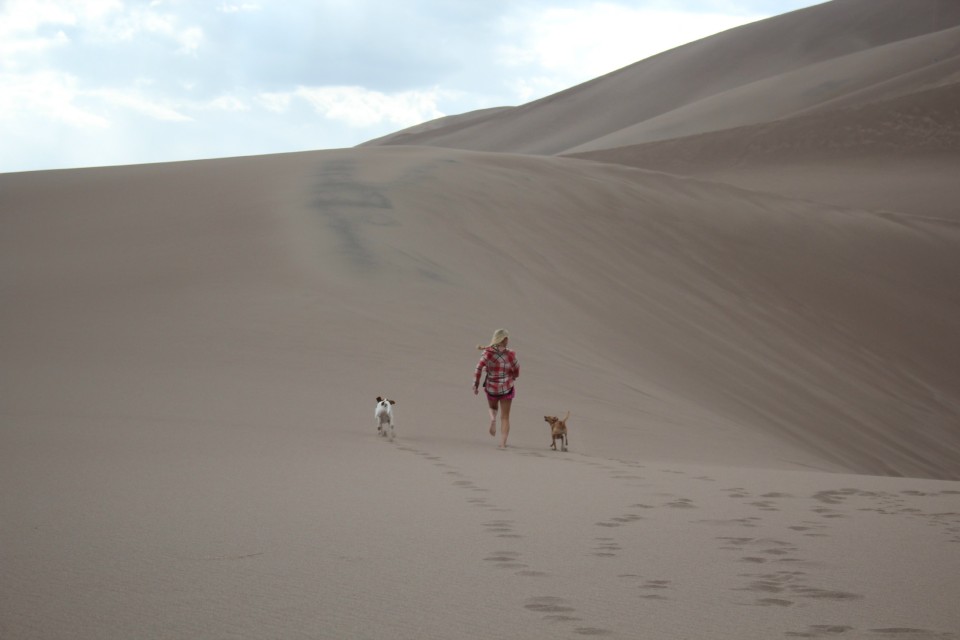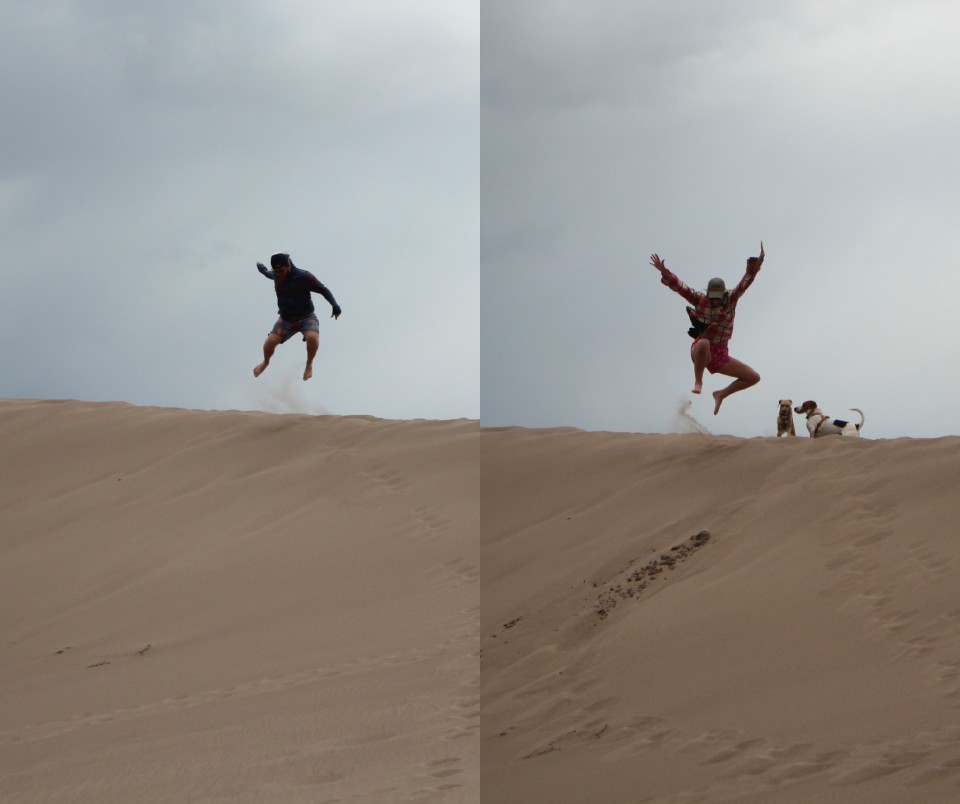 Santa Fe
Santa Fe, the oldest capital city in the United States, is a beautiful little stucco haven. It's a city built on history with a thriving art scene and everything expands out from the Plaza, in true Spanish fashion. I think New Mexican architecture is so clean and beautiful and even if the stucco buildings didn't house anything I would be content just walking around. Santa Fe was home base for little over a week. There was a fantastic 10 acre dog park, tons of cute patio restaurants serving up spicy New Mexican heat that we could not handle, and great hot but dry weather, perfect for chilling by our little RV park pool.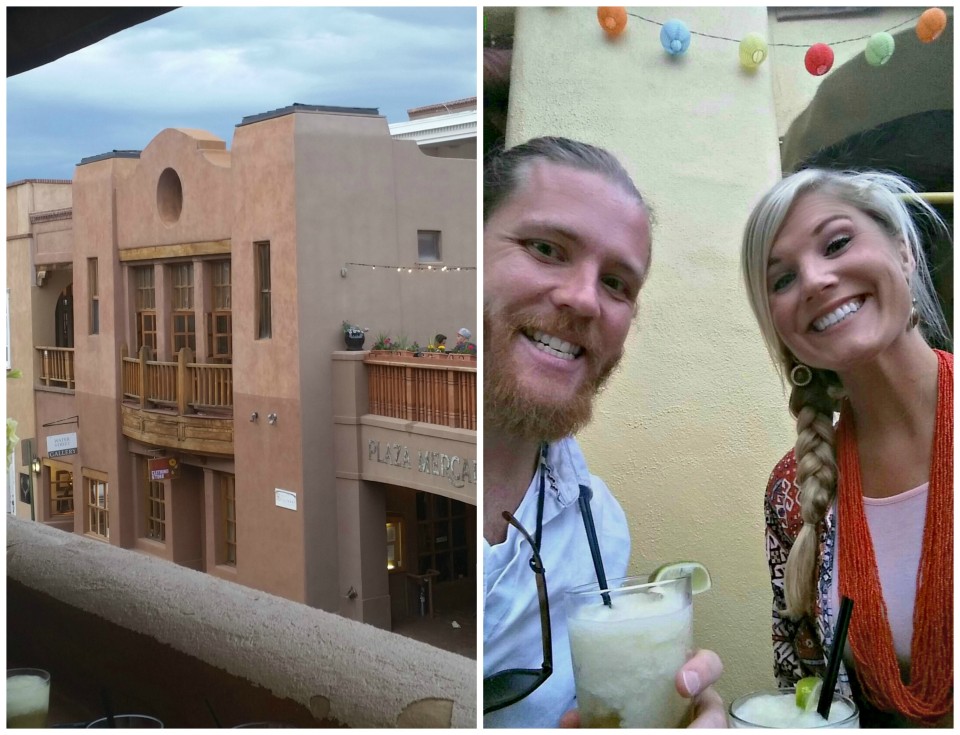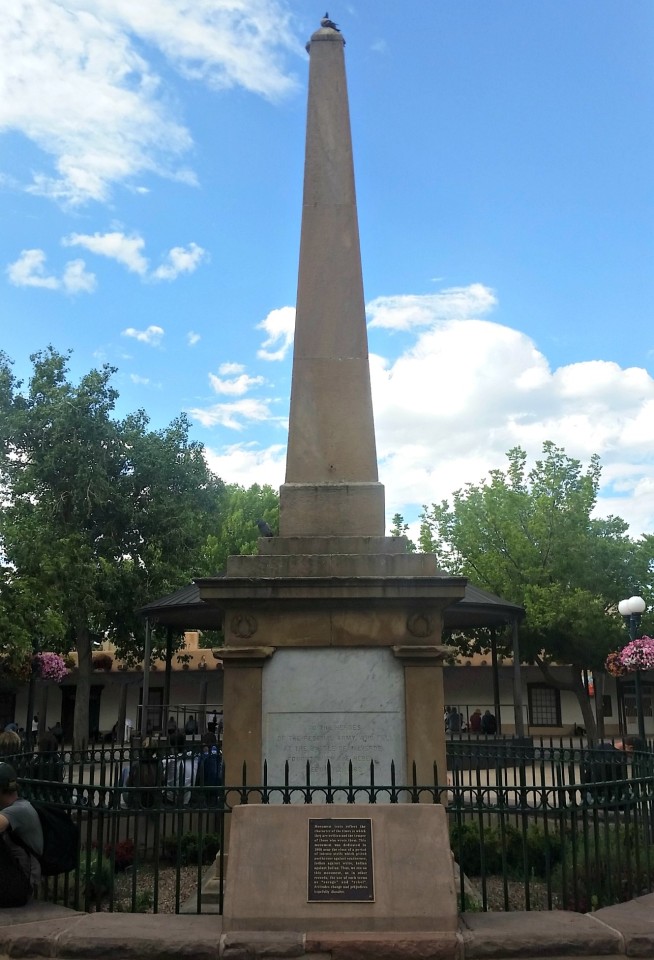 Sites to see include San Miguel Chapel, the "oldest" church in the U.S. I use quotations because they can't exactly prove it. Regardless, standing in front of a huge row of prayer candles in a musty old church and looking up at beams that have been there since the 1600's is pretty amazing. The "Oldest" House in the U.S. is also worth checking out. Not to ruin it, but it's tiny, low to the ground, lopsided, and haunted. The Loretto Chapel, home of the miraculous staircase, is worth a stop (if you visit on a weekend, try to go early as it's a wedding chapel and usually closed for ceremonies by late afternoon). While you're on a church kick, The Cathedral Basilica of St. Francis of Assisi is gorgeous at sunset. Then you walk inside and it's beauty puts the outside to shame.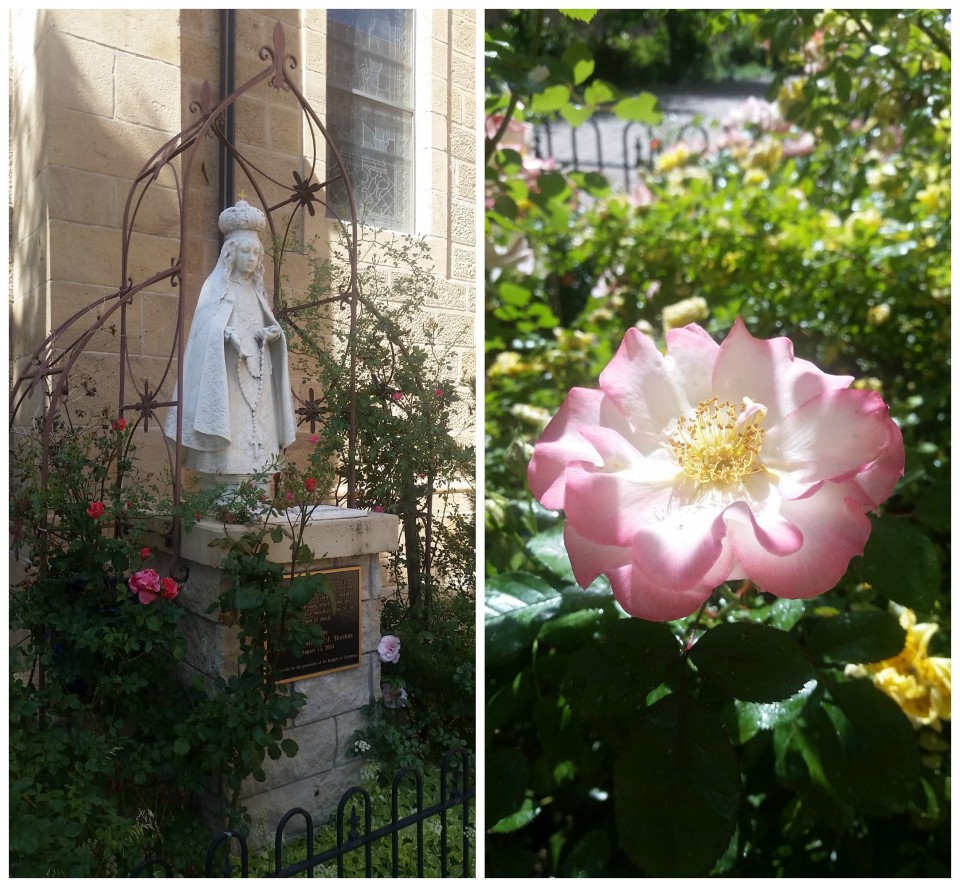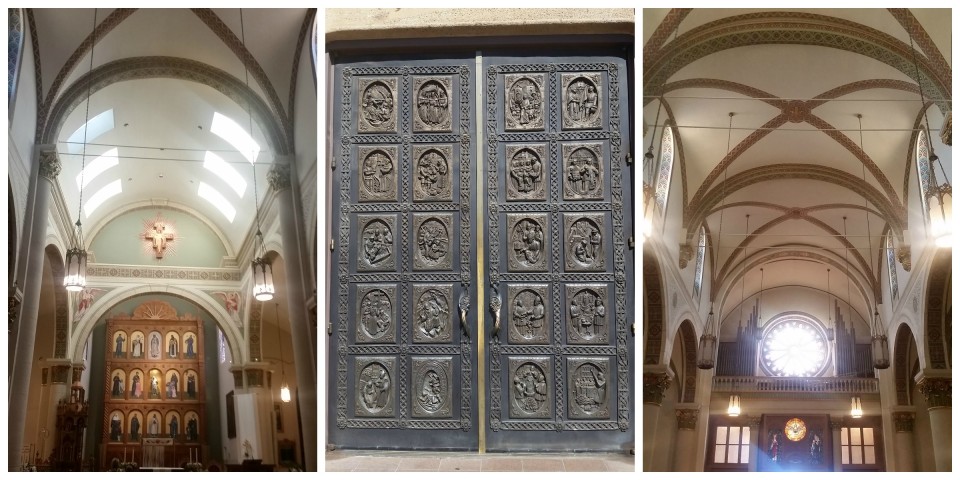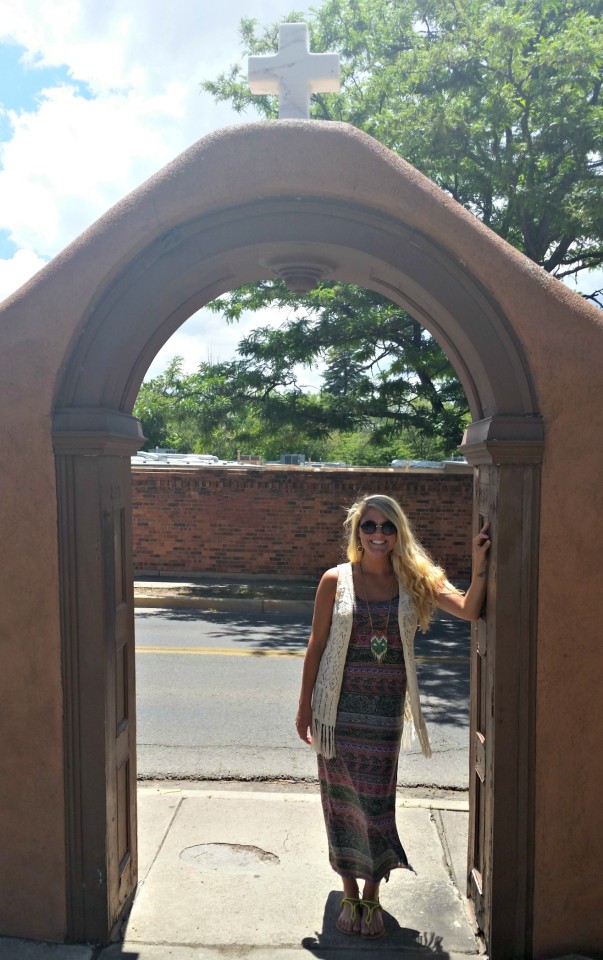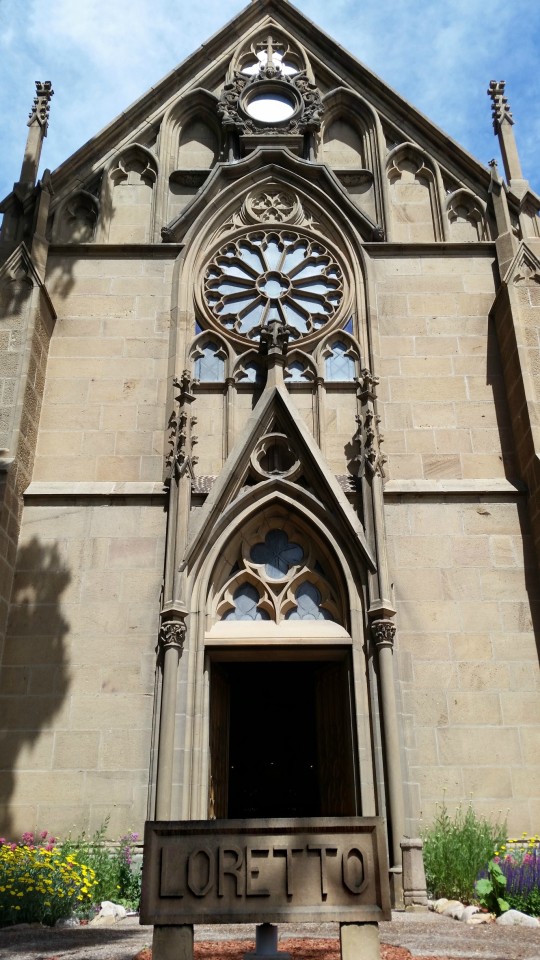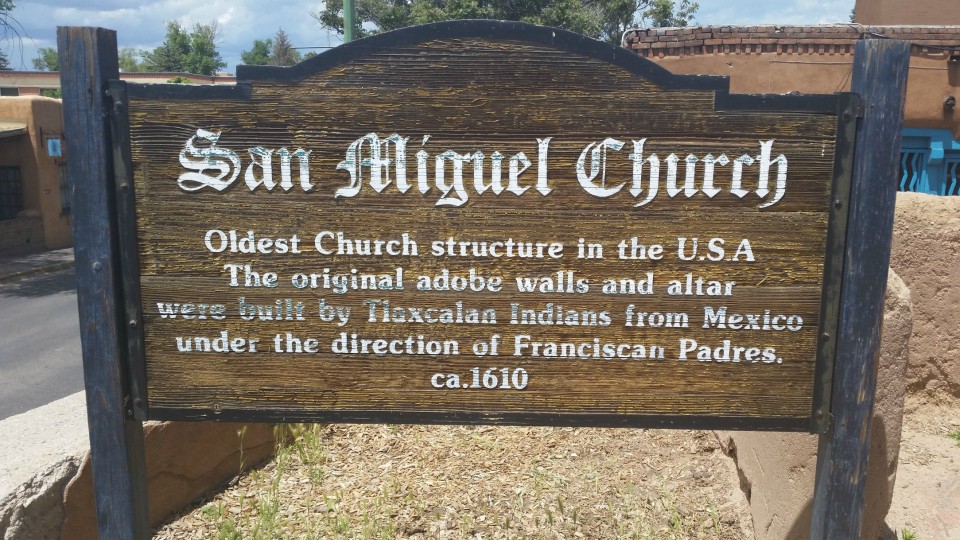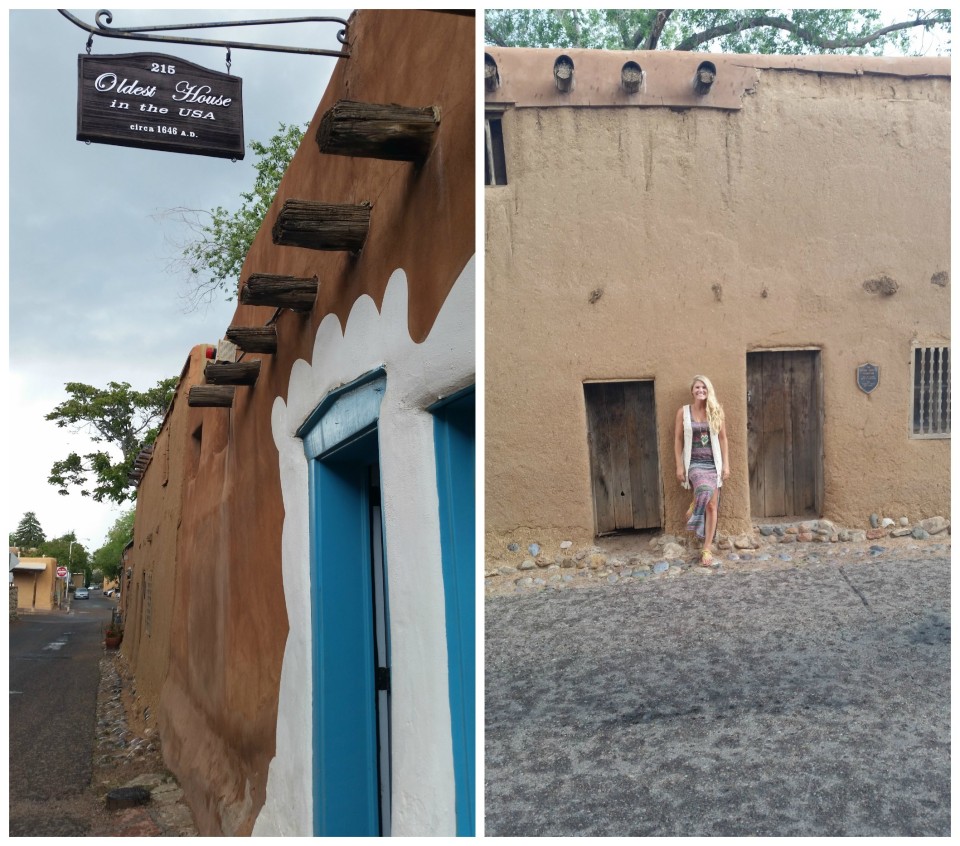 There is no shortage of art galleries in Sante Fe. Whether you're looking for expensive pieces or simply walking through the Indian Market perusing the hand-made turquoise jewelry, it's all there. We walked down Indian Market in the Plaza, which is set up every weekend and has been for hundreds of years. We also checked out Canyon Road, the famous "magical  1/2 mile". The highlight was definitely visiting the Georgia O'Keeffe museum. She was raw and fierce and really makes you realize how breathtaking and refreshing the vast, dry, rocky landscape of the southwest is. The Santa Fe Railyard is also worth checking out, especially on Saturdays for the massive farmer's and artist's market.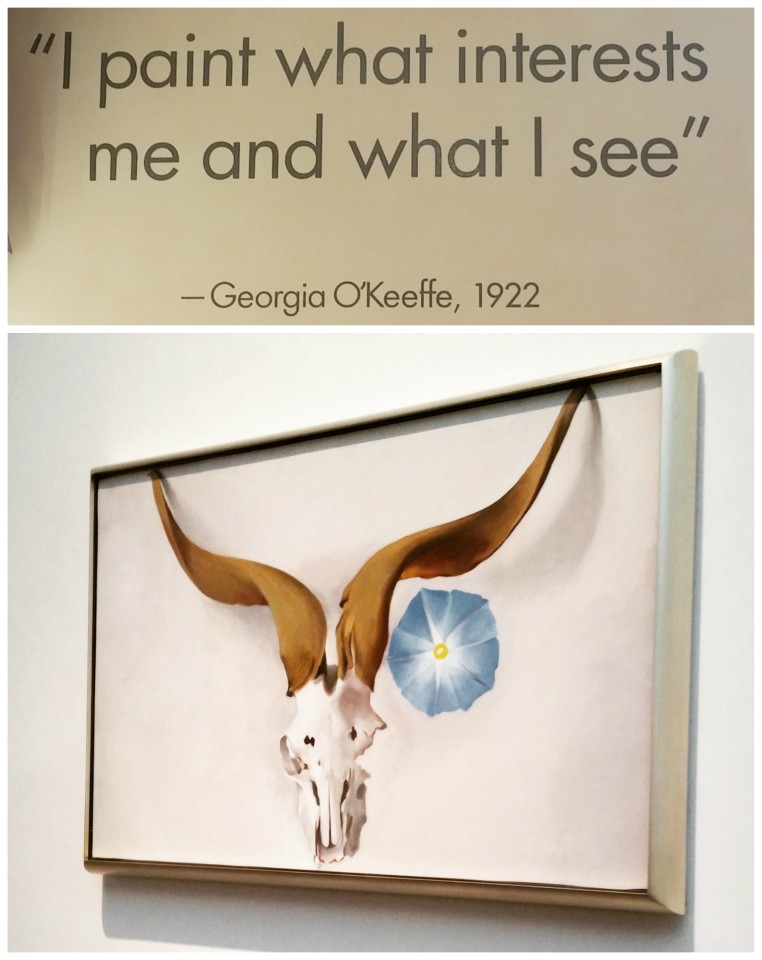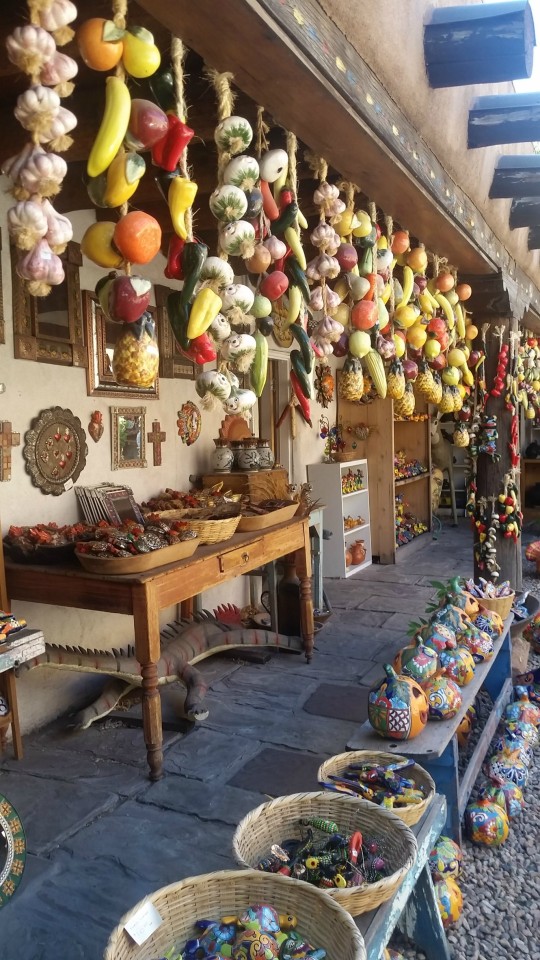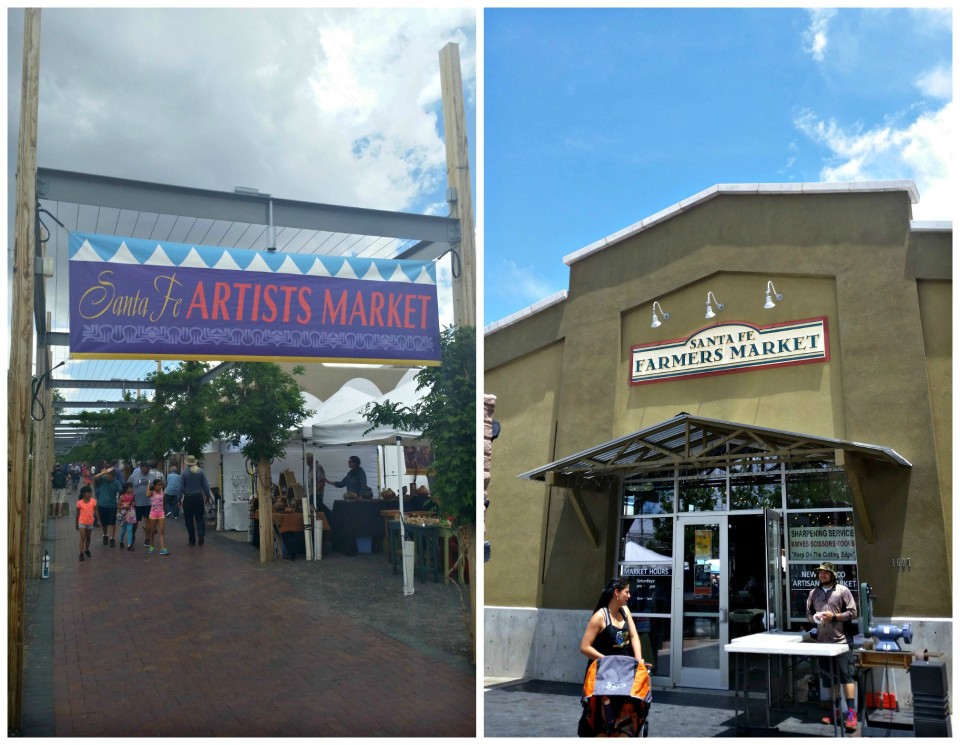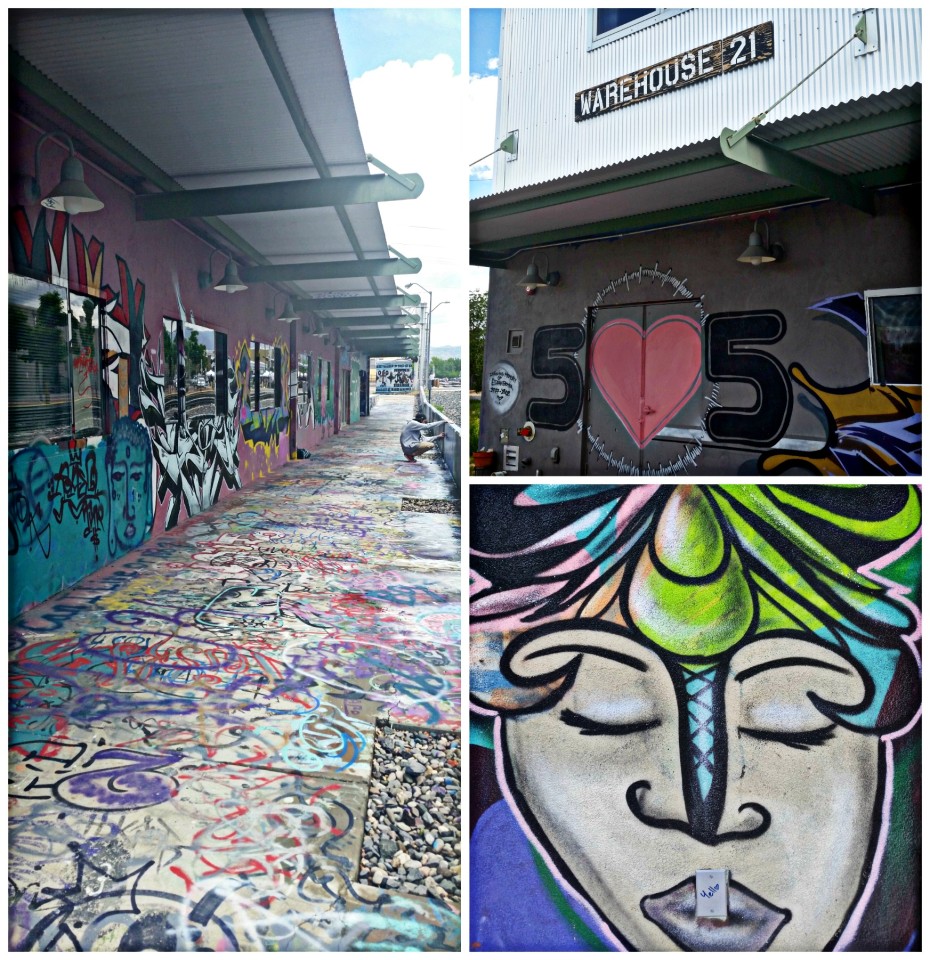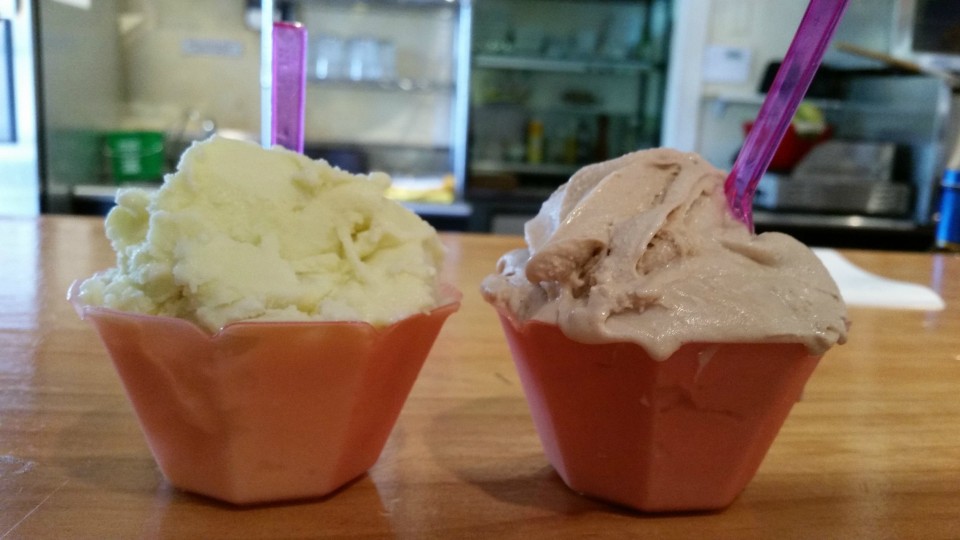 Taos & The High Road to Sante Fe
I took a mini road trip from Santa Fe north to Taos, taking the scenic route through the high desert and mountains of Carson National Forest and remote traditional Pueblo Indian villages. Taos Pueblo (the point of my trip) is a living Native American community and home to the Red Willow People. The multi-storied adobe buildings that make this village have been inhabited for over 1,000 years. Now people can tour the village and shop in the small, simple, electricity-less stores selling native hand-made crafts. The town smells like fry bread and smoke is rising from the kivas while shop owners stand in their doorways hung with red, drying chile peppers…
On the way back from Taos, I veered off and drove through all of the small villages, most featured old mission churches which provided great photo opps. My longest stop on this route was El Santuario de Chimayo, a small shrine and place of worship for generations of Hispanics and Native Americans. It is known as a healing place and nicknamed "the Lourdes of America". The grounds were super serene to walk through and photograph.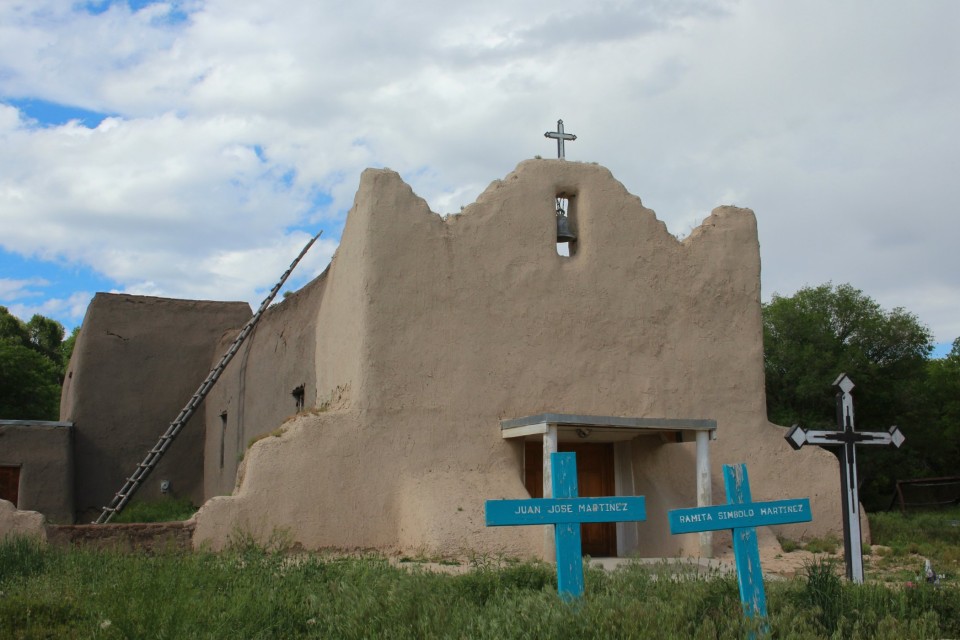 El Santuario de Chimayo:
Canyon Road
From the looks of it, there seemed to be a ton of older, big spenders in Santa Fe that were likely drawn there for the art. We were not those people. We still, however, wanted to stroll through Canyon Road since it's such a well-known art district. This extremely diverse stretch is home to galleries that hold everything  from Tibetan rugs and knick-knacks to abstract yard sculptures and fountains.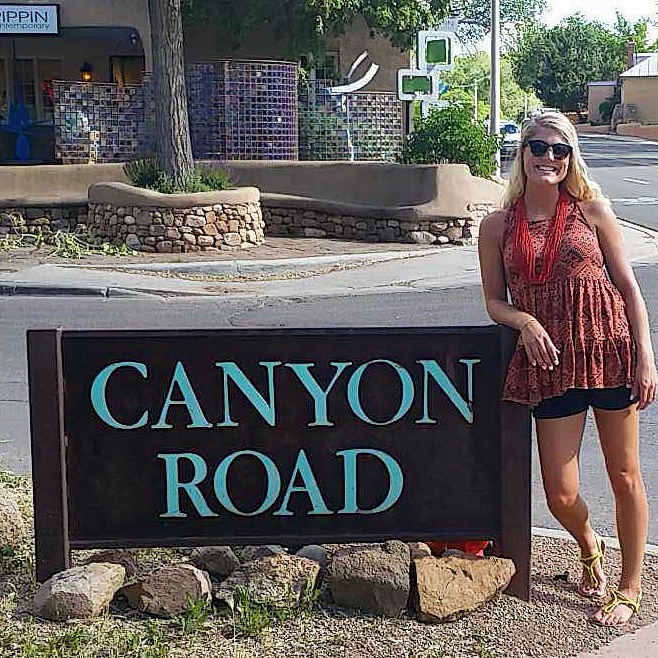 Bandelier National Monument
On a Friday, we uprooted from Santa Fe to begin our trip through the rest of the state. Before hitting the highway and heading south we drove out to Bandelier National Monument. Bandelier holds history dating back to Paleoindians. Hiking trails lead to the sites of ancient Indian dwellings and cliff-side cavates that you can climb into by ladder.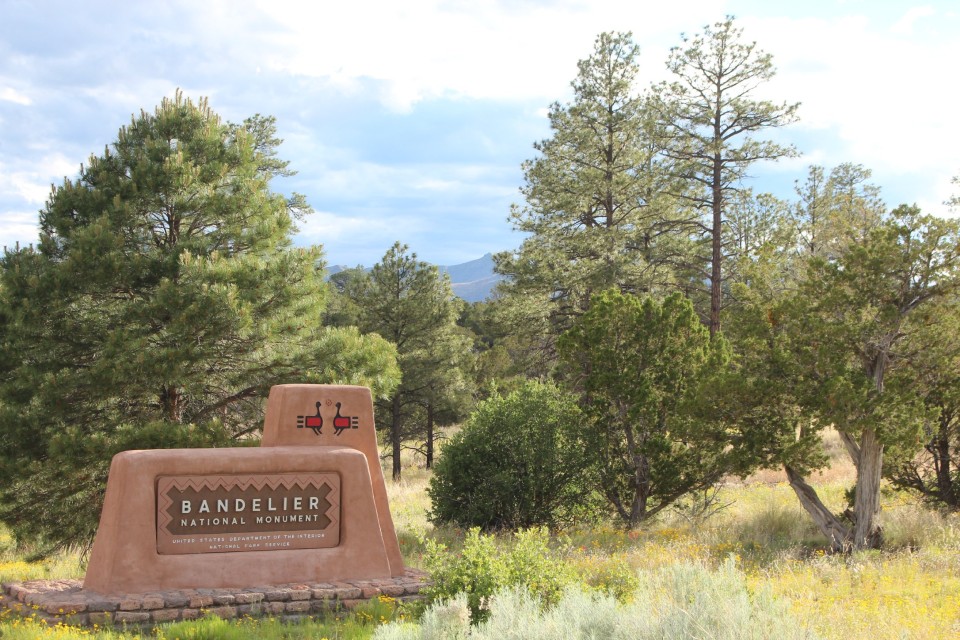 Another mile down the trail and you reach The Alcove House, which is set high up into a cliff and reached by a series of 4 long ladders. It's a long climb but you're rewarded with an awesome view of the canyon from a cool, shady cove.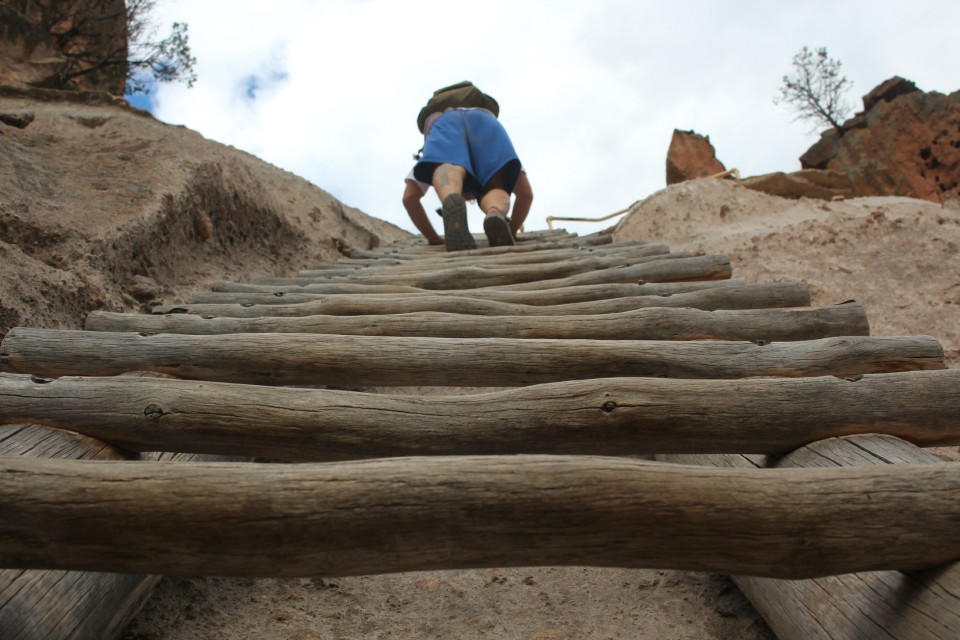 The drive down to the southeastern corner of the state could have been worse…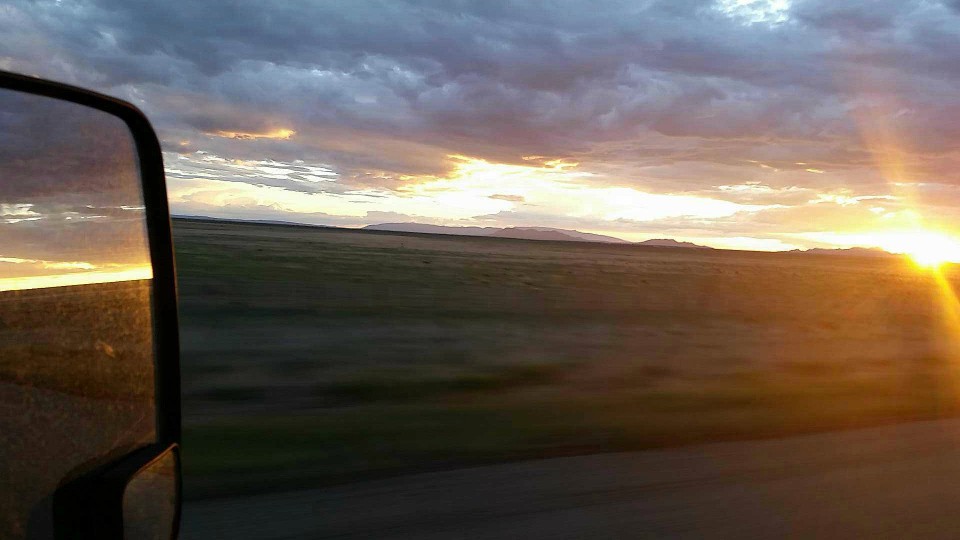 Truck stop sunset…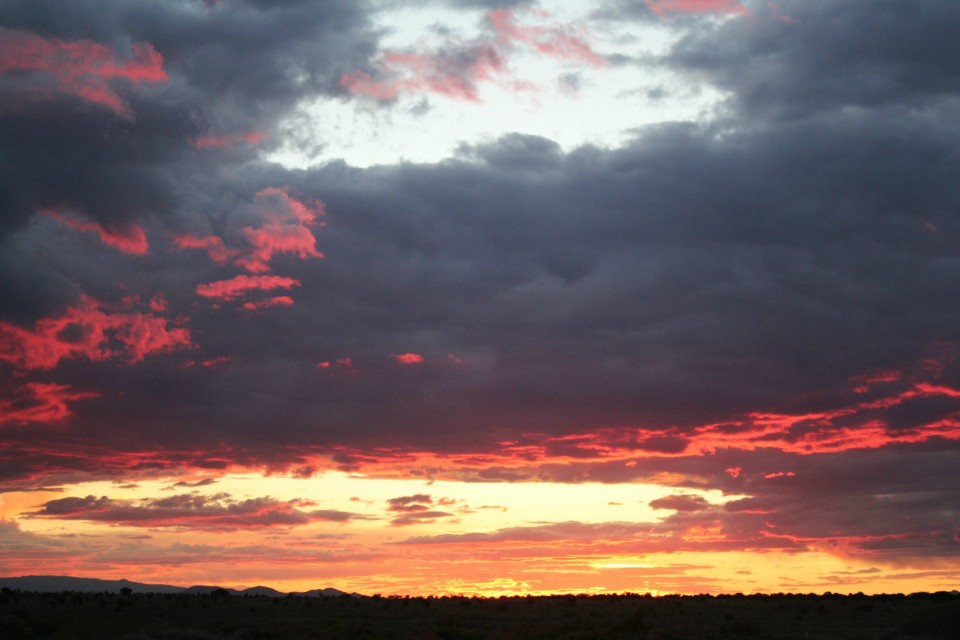 Roswell
We don't know who they are. We don't know why they came. We only know they changed our view of the universe. This universal sacred site is dedicated July 1997 to the beings who met their destinies near Roswell, New Mexico July 1947. – Plaque at Crash Site
On the way to Roswell, we started getting closer after dark, and were really amped up on extraterrestrial excitement. After freaking out for 20 minutes and pulling over because we were seeing green flashes of light in the sky…and then realizing it was heat lighting…we decided to calm down. We crashed in a Wal-Mart parking lot and stayed up all night reading about the government cover up theories surrounding the town (a pretty wild Friday night). There are 3 types of people out there: 1) Those that truly think a UFO crashed into earth and the government tried to cover it up. 2) Those that trust the military's claim that it was just a weather balloon. 3) Those that believe the theory that this was a huge government cover up for a  jet prototype carrying human test subjects.
If you're wondering, we are all aboard the human test subject train. If you haven't read about it, it's pretty nuts. In summary, the US government captured/hired German scientists to help create a very technologically advanced jet after WWII. During this time, it wasn't out of the ordinary to use human test subjects (especially normal for Germans). It's believed that test subjects were typically disabled/disfigured people that scientists were fine with disposing of for the cause. The theory is that we may have been caught using disfigured children to test the effects of altitude on the human body in this newfangled jet. This would explain the alien-type bodies that were seen.
The town of Roswell looks like one big middle school science project. Main street is a few blocks of shops with UFO's sticking out of the roofs and blow up aliens in the windows. The UFO Museum is hilarious. It's $5 to get in and visited by people from over 30 countries EACH MONTH. However, it's basically a warehouse with paper clippings, photos of the crash sight, witness testimonials, etc. framed and set up on divider walls.
Carlsbad Caverns
Carlsbad Caverns is not close to anything else, and is almost at the Texas line. Do not miss it though – it is absolutely worth the drive. The great news? Even if you go in the dead of summer, you're underground exploring where it's cool.
Other than the incredible caverns, you must check out the bats at sunset (or if you don't want the crowds, go see them come back from their nightly hunt at sunrise). This huge colony of Brazilian Free-Tailed bats live in Carlsbad Caverns and flies out of the main mouth of the cave each evening from about April to October. In the fall they head south for Mexico. By mid-summer they have given birth so the colony doubles in size and the swarm that exits gets even bigger. I can't imagine that, because it was never-ending when we witnessed it in June. We don't have any photos because you have to remain completely quiet and no flashes of light are allowed. They are pretty strict about it and if your kid won't shuttup they make you leave – we saw some pretty bummed parents having to walk out after waiting 45 minutes for the show to start. Each night the time that the bats emerge varies, but typically it's right at sunset. A ranger speaks to the crowd seated in a cliff side ampitheater until the first few start flapping out and then everything goes silent. They are super small so it almost looks like a cloud of smoke billowing up from the cave. By the time the sun completely sets you can no longer see them and people start filing out but the bats keep going for hours.
Because I couldn't take photos, I'll thank Google Images and the renegade bat watcher who broke the rules and snapped this: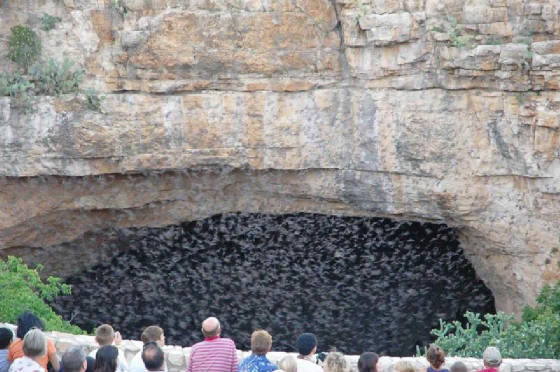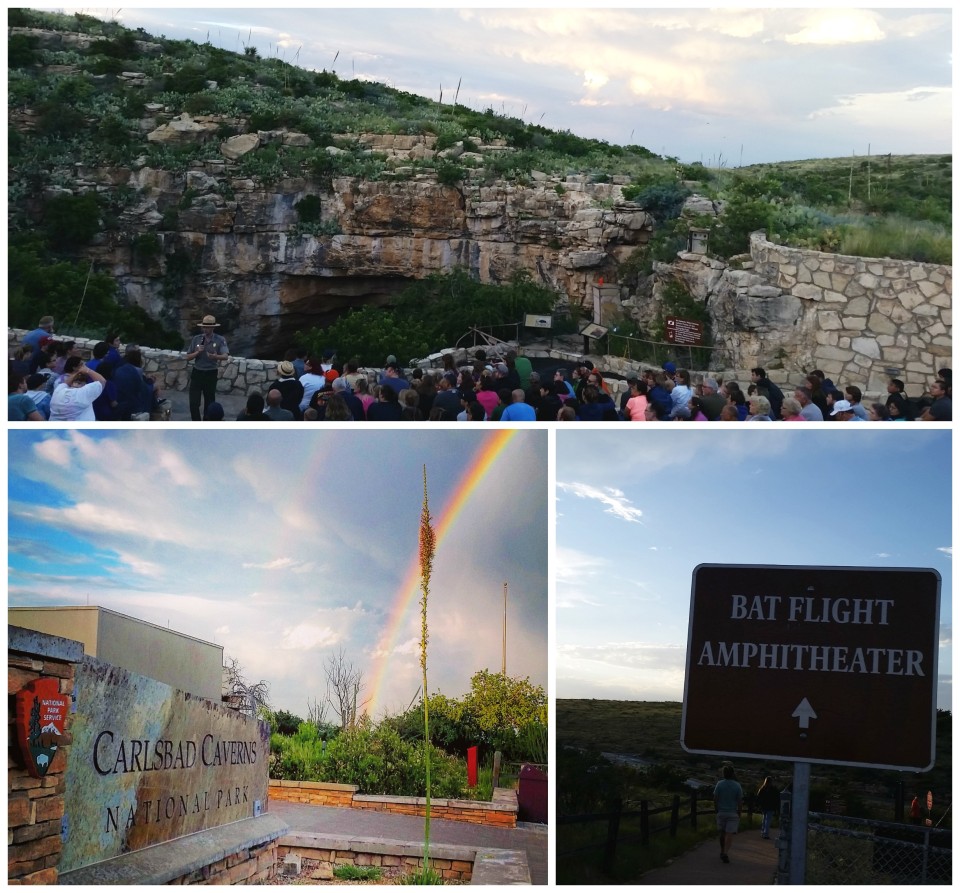 We spent the next day underground. You can either walk the main loop or do ranger guided tours to separate"rooms" of this gigantic cavern. We tried to sign up for a ranger-guided tour but they fill up weeks in advance and typically we don't plan ahead. After we entered the caverns, we realized no other tours were necessary – the main room is incredible.
There are 119 known caves deep below this desert and this is considered one of the largest and most decorated caverns in the world. We descended in via the Natural Entrance which is a switchback trail in the location of the first rugged entryway used during it's discovery. Then we descended into the Big Room, 700 feet underground. The sheer size of this room is unreal. A steady hand or a small tripod for low-light photos and an extra layer for 56 degree average temperatures are needed.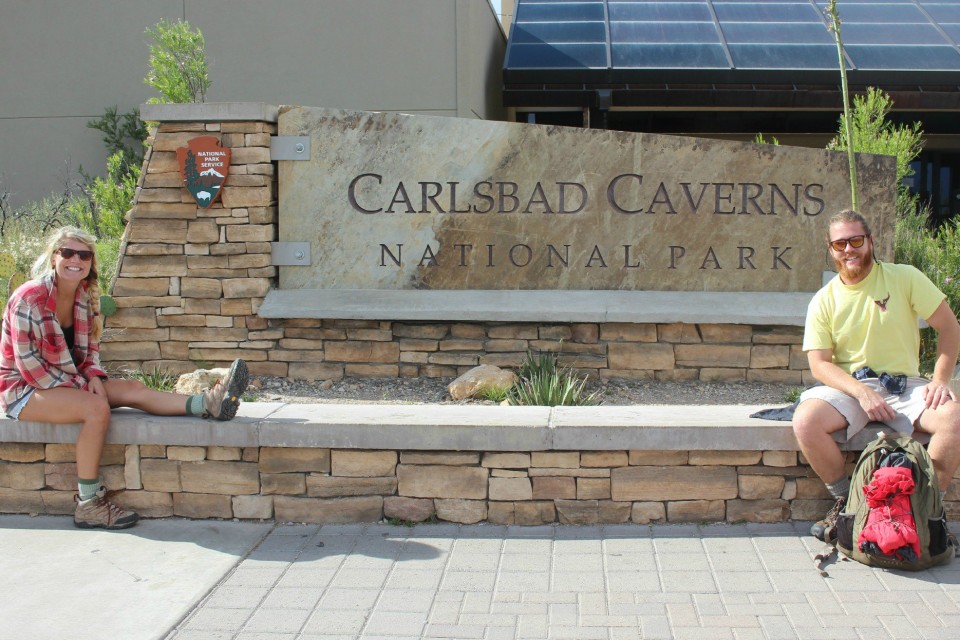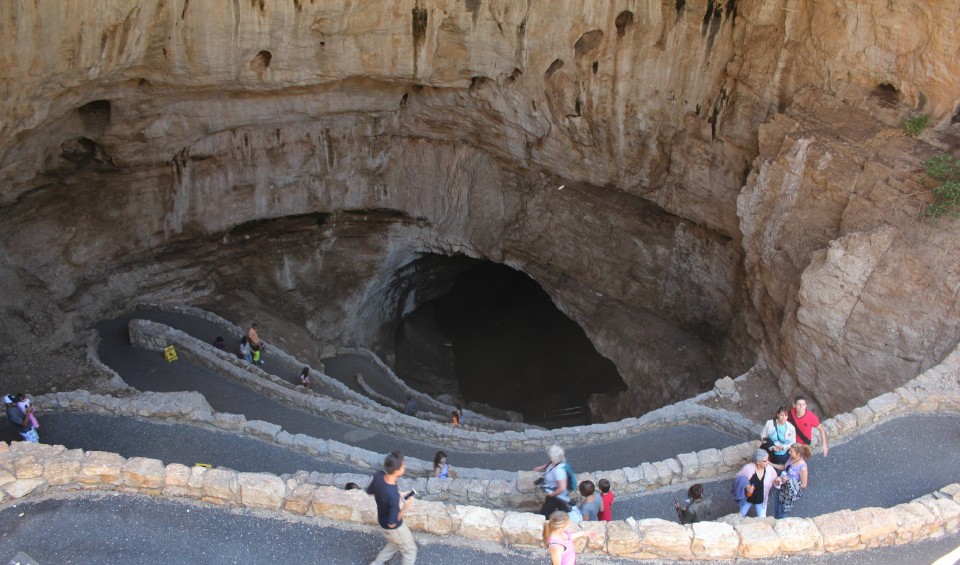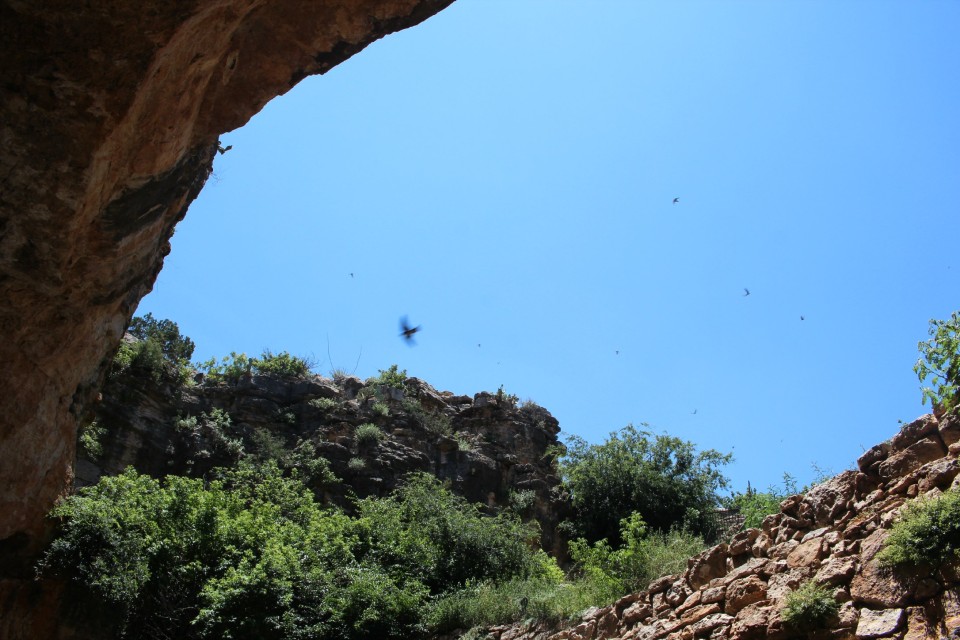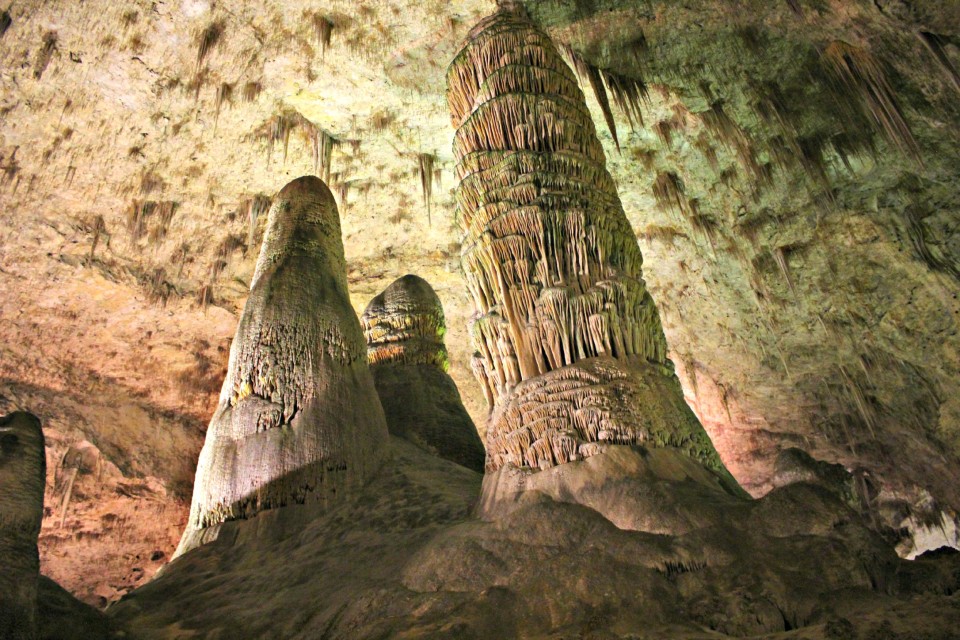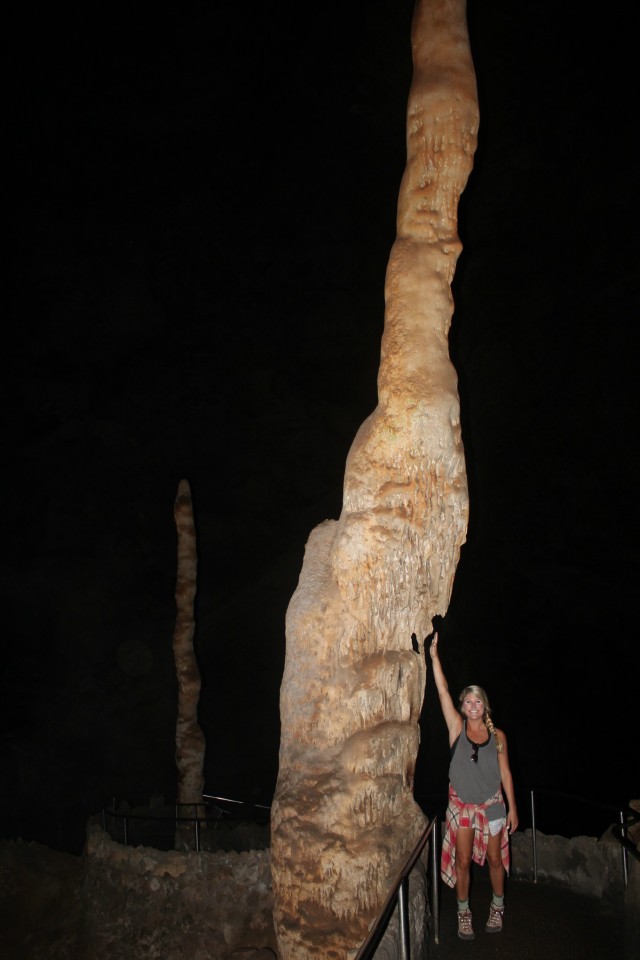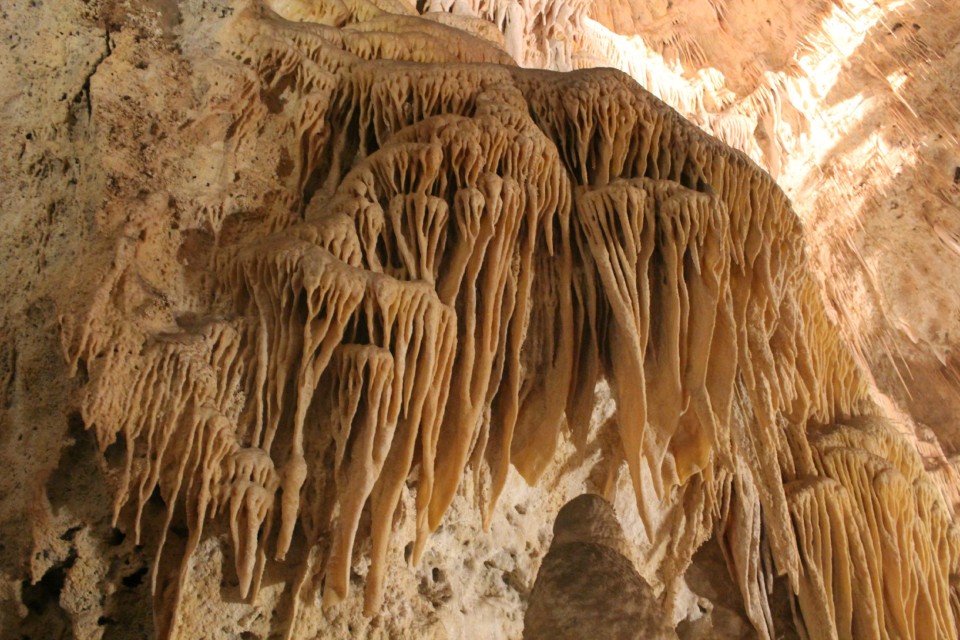 At the end of the day you can take the elevator 75 stories back up in a matter of seconds. Walking out into daylight, blue skies, and heat was a shock.
White Sands
White Sands National Monument is, in my opinion, the most beautiful place we have been yet. It's a bold statement but I stand by it. All you need to do is get here at sunset, get a back-country pass, sleep in the dunes, and wake up at sunrise. If you do that, you have experienced what you need to experience at White Sands which is sunset, a starry sky, and sunrise. We arrived at the Visitor's Center 10 minutes before closing time at 7PM and got the very last back-country camping spot (again with the luck). They only offer 10 back-country passes per night on a first-come-first-serve basis. The drive to the back-country trail head turns from road to packed white sand about halfway through. We parked and loaded up our backpacks for the mile hike into the dunes. The sun was setting the entire hike creating a beautiful cotton-candy sky over top of white rippling dunes (swoon).
This is the world's largest gypsum dune field at 275 square miles. Because it's gypsum, the sand itself never gets hot and it's harder than typical sand which made it easier to hike. The camping sites are nowhere near each other so you have an entire valley surrounded by dunes to yourself. If there weren't beatles the size of your hand crawling around, I would say sleep outside of your tent under the stars. In the morning, when you unzip, you see other campers slowly emerging to the peaks of nearby dunes to take in the show along with you. You quickly realize sunset here has nothing on sunrise. Once the sun pops over the mountain range and spills onto the dunes, all of the ripples are amplified with shadows and the white gypsum turns golden.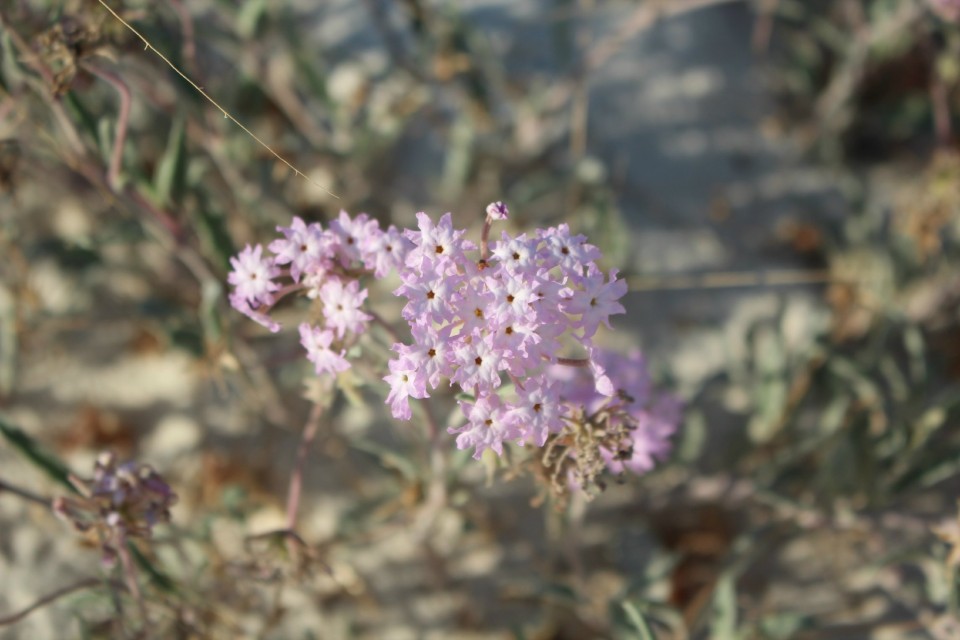 The drive up from White Sands to Albuquerque through the Tularosa Basin is pretty barren. A 160 foot thick layer of molten rock covers 125 square miles and is called the Valley of Fires. You don't need to walk out into this area to know that it's hot. It just looks hot.
Albuquerque
Albuquerque sits at the foot of the Sandia Mountains and straddles the Rio Grande. A portion of old Route 66 heads through downtown in a section of the city called Historic Nob Hill. There is a lot of delegated open space for biking, hiking, and petroglyph hunting. Like Santa Fe, the historic town square centers around a plaza with stucco buildings and a large, old mission church.
In Nob Hill, we had beers at Kellys Brew Pub, which used to be a well-known service station and dealership along Route 66. We also ate brunch at Standard Diner, a modern restaurant with a classic diner feel, housed in a former 1930's Route 66 gas station.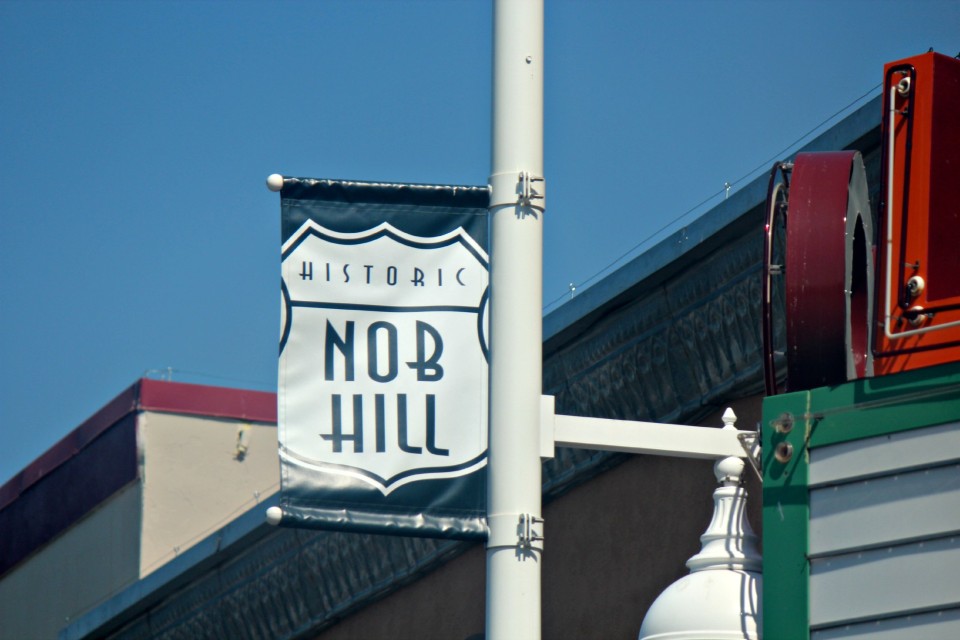 Hiking around Petroglyph National Monument…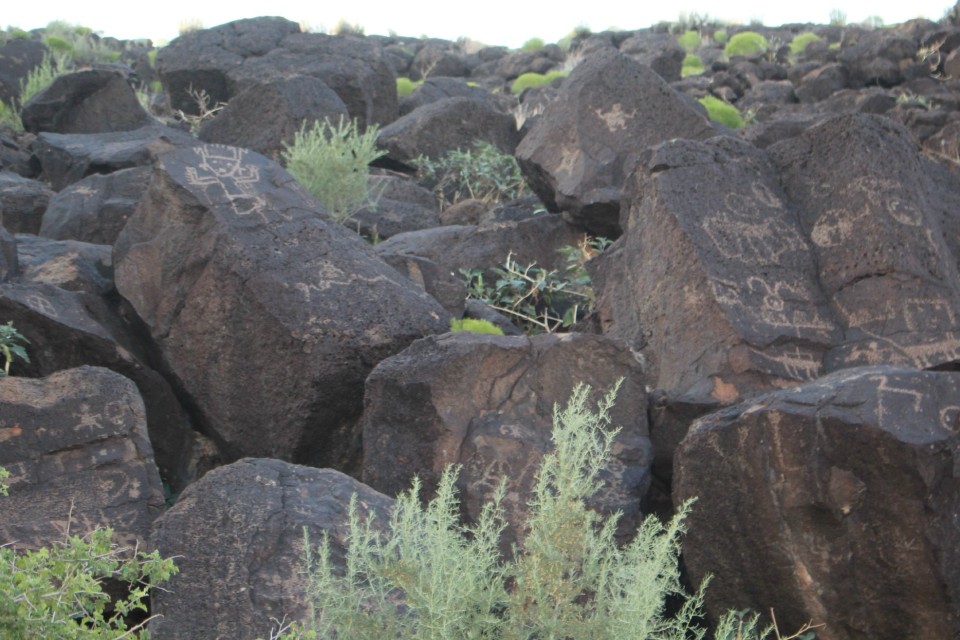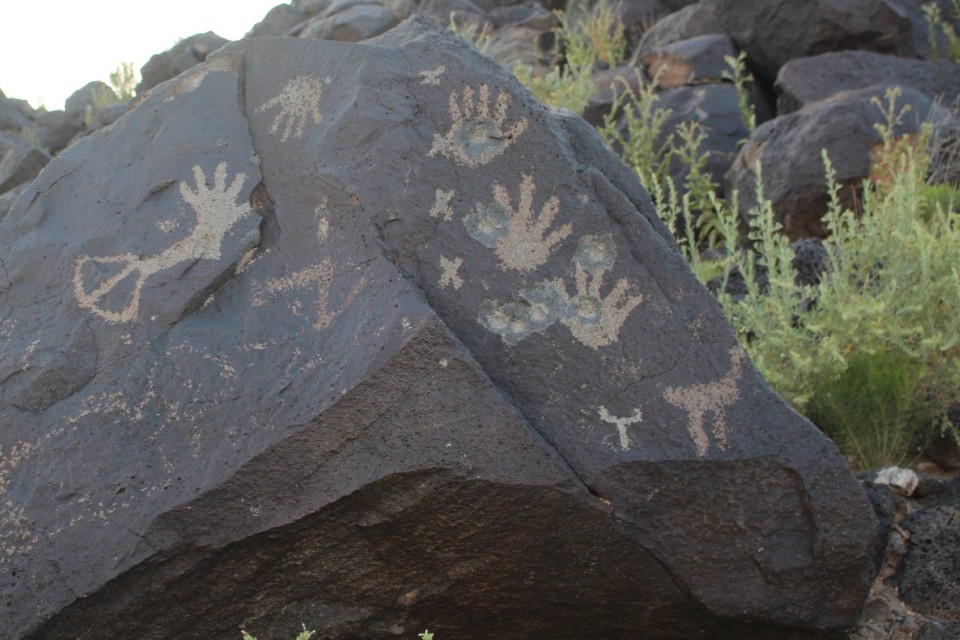 Hiking up to the peak of the Sandias trying (and failing) to find "The Eye of the Sandias", a mysterious eye painted onto a large rock back in the 60's…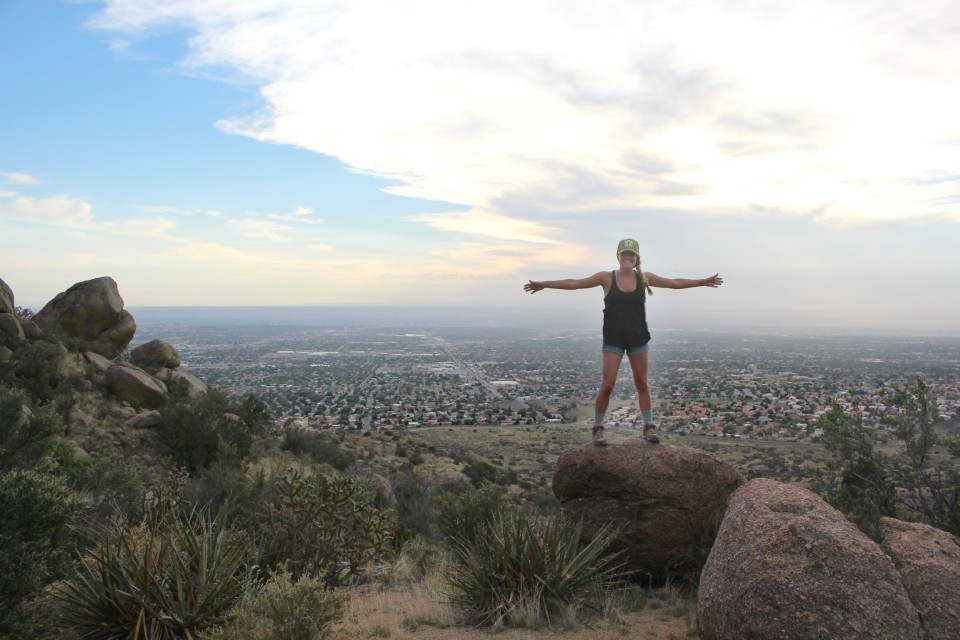 The winds have welcomed you with softness. The sun has blessed you with his warm hands. You have flown so high and so well, that God has joined you in your laughter and set you gently back into the loving arms of Mother Earth. – The Balloonist Prayer
Albuquerque is the hot air balloon capital of the world because of the perfect combination of predictable wind currents and air temperatures. In October, up to 1,000 balloons hit these skies for the International Balloon Festival. I thought there were a ton of balloons in the air on the morning of our flight, so I can't even imagine how the festival skies look. Our balloon ride was at sunrise so we had a 4:30AM wake up call. Because it's so hot in the summer months you can't fly past morning due to the balloons needing cool outside air to rise.
There were six people in our basket including our pilot. The ride is extremely smooth. It's pretty relaxing until you look straight down. I had a mini panic attack for about 5 minutes at the beginning of our hour-long ride but was able to shake it. We got up to about 1,500 feet and were floating above suburban Albuquerque with a view of the Sandias. We didn't really know what to expect out of our landing. Our basket didn't topple over (which apparently sometimes happens) but we did damage the top of a tree and skid about 10 feet. Our pilot had been doing this for over 25 years so I'm assuming that's normal.
After the flight, we folded up the vessel that just sent us 1,500 feet up into the air into a box that could fit into the back of a truck. That was pretty crazy. To top off the morning, they gave us the history of ballooning, served us mimosas with souvenir champagne flutes, and gave us T-shirts and flight certificates to make it official. I definitely recommend Private Balloon Flights.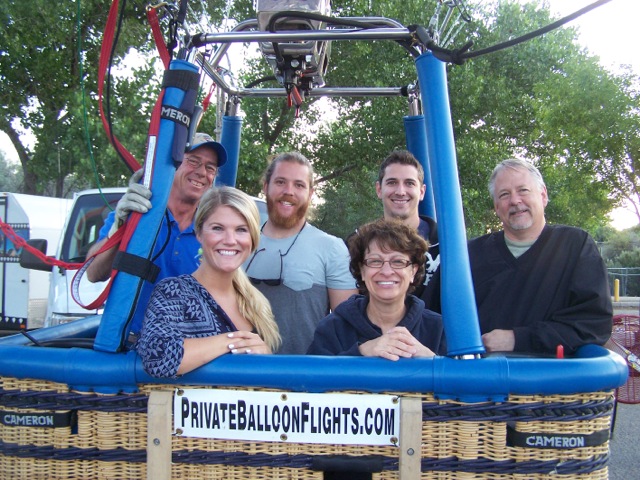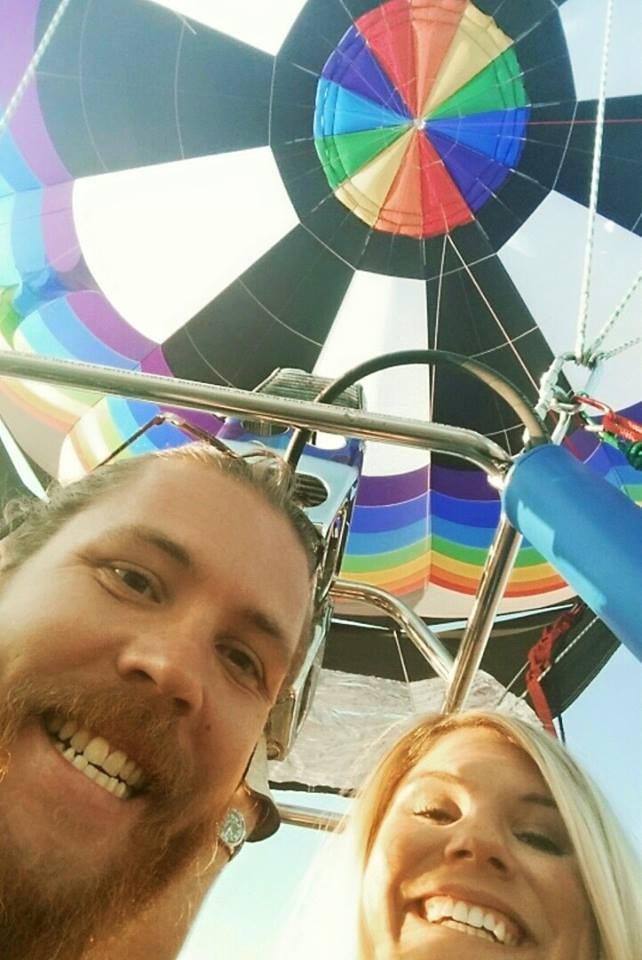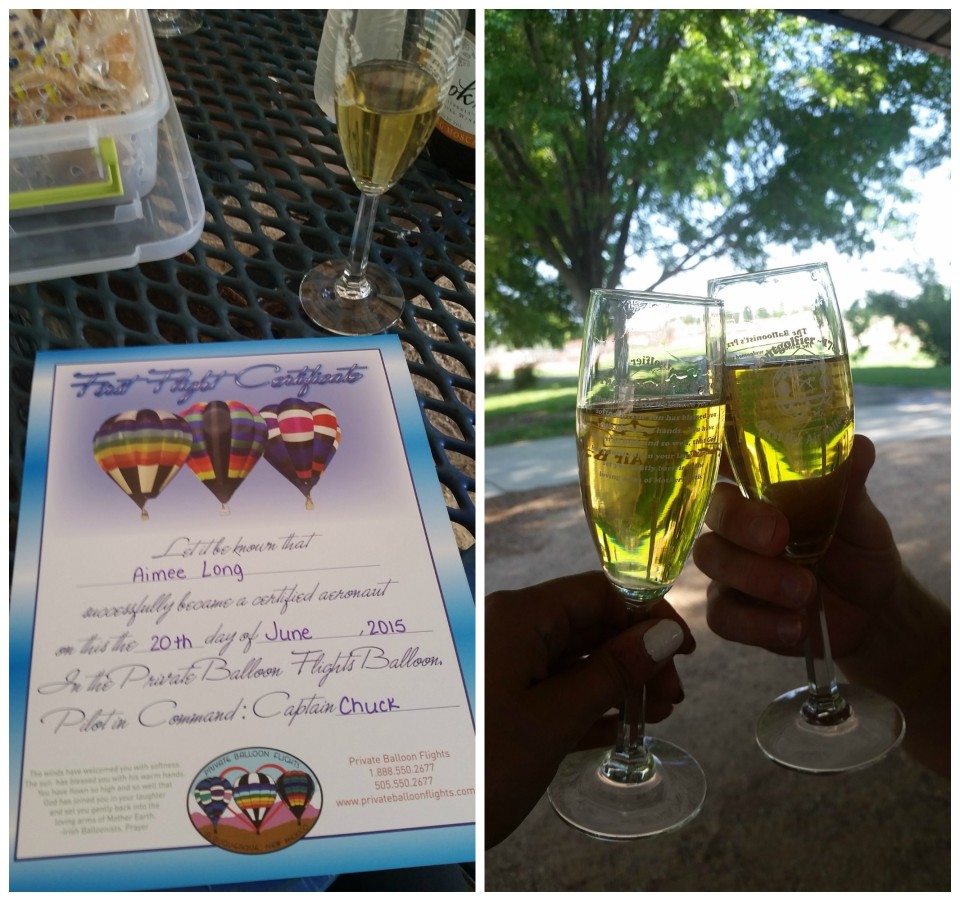 Taking the Sandia Peak Tramway for views of the city is another awesome way to get elevated in this town. It's a 15 minute ride up over 2.7 miles of deep canyons and mountain peaks. When you reach the top there are huge viewing decks, a full bar/restaurant, hiking trails, and the ski resort. We watched the sun set over an 11,000 square mile panoramic view of New Mexico and the Rio Grande Valley and then had dinner at the bar. When we walked back out of the restaurant the lights of the city became the new view. The ride back down was pretty eerie just gliding into darkness while dangling over the Sandias.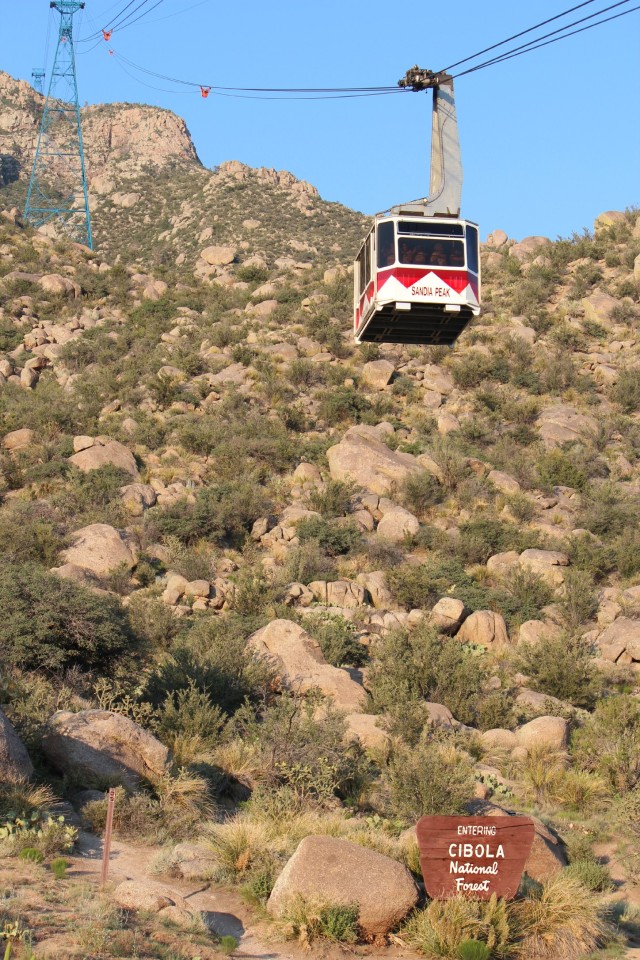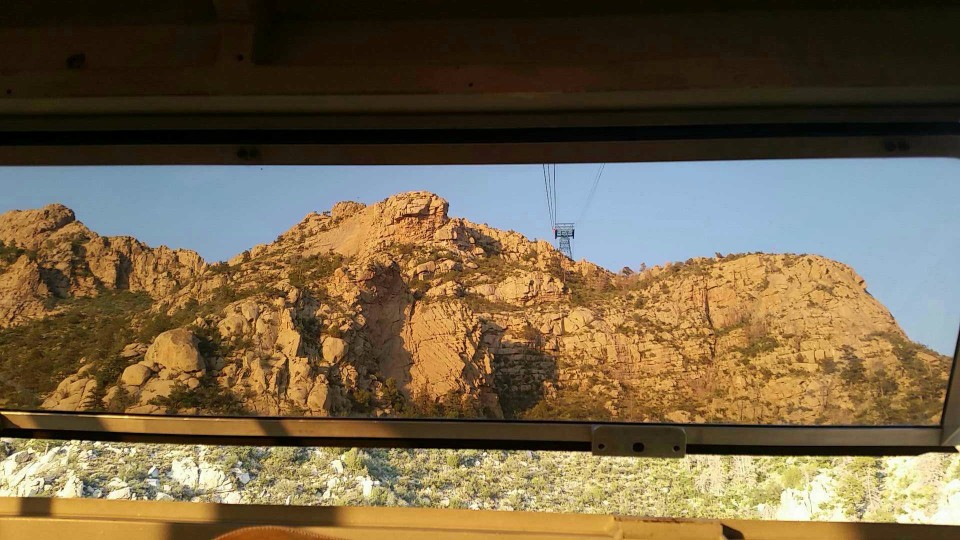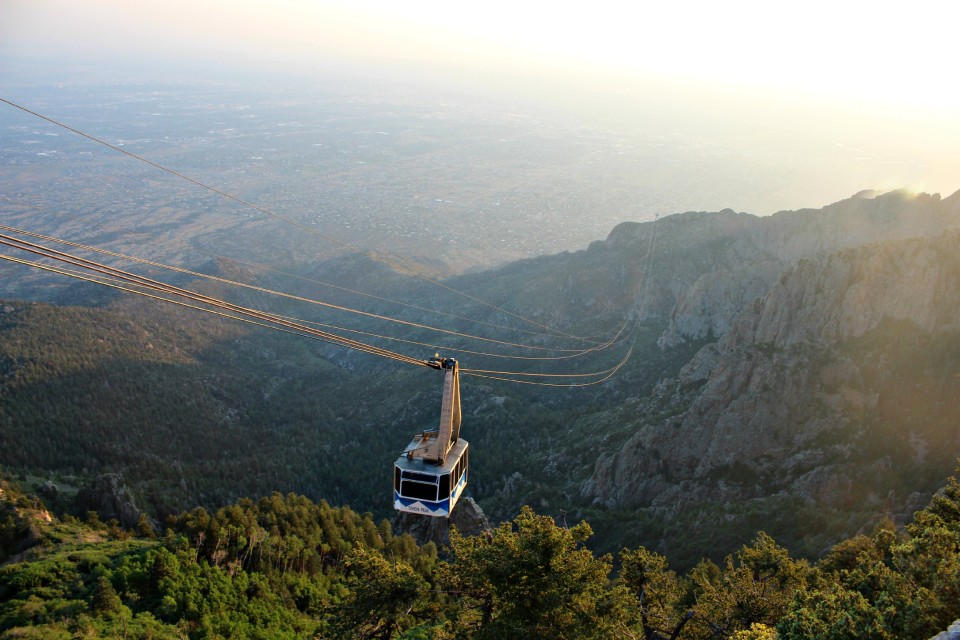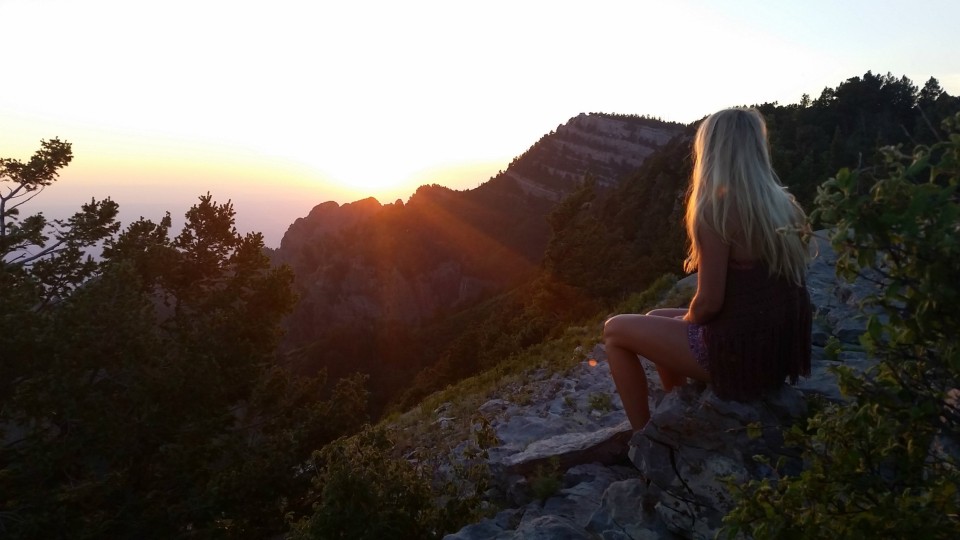 We took a Sunday drive about 2 hours east of Albuquerque to Santa Rosa. Some of the drive can be taken on Route 66 but you have to hop back on Interstate 40 for a good chunk of the middle portion. The town of Santa Rosa spreads out from a ghostly portion of old Route 66. There are dilapidated, empty old motels on every block. We stopped at the Route 66 Auto Museum to check out over 40 classic cars and memorabilia from the era that 66 was in it's prime.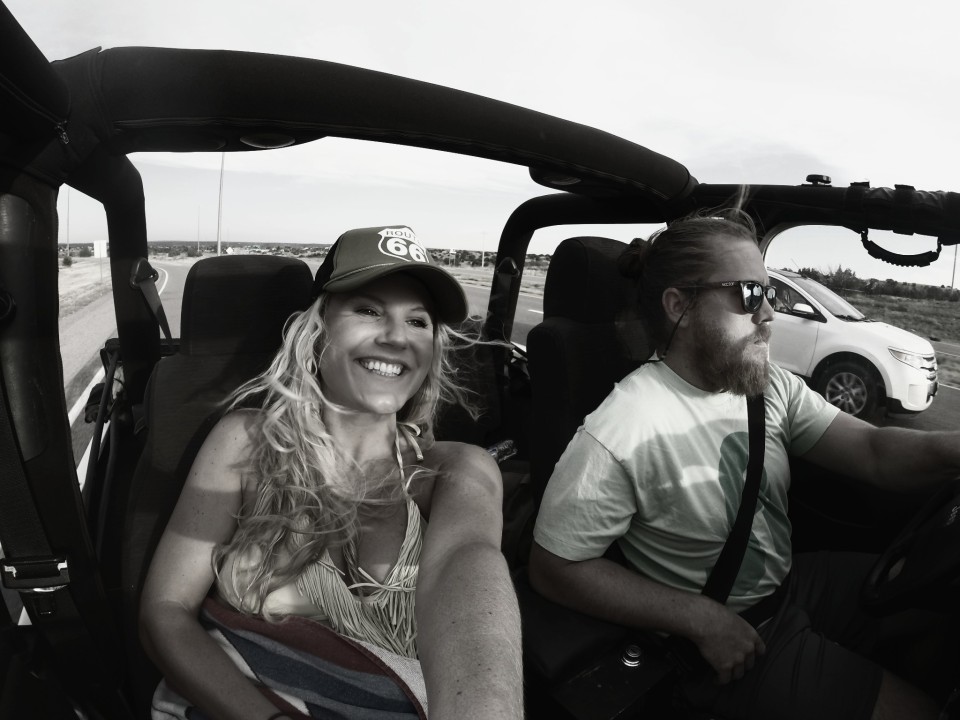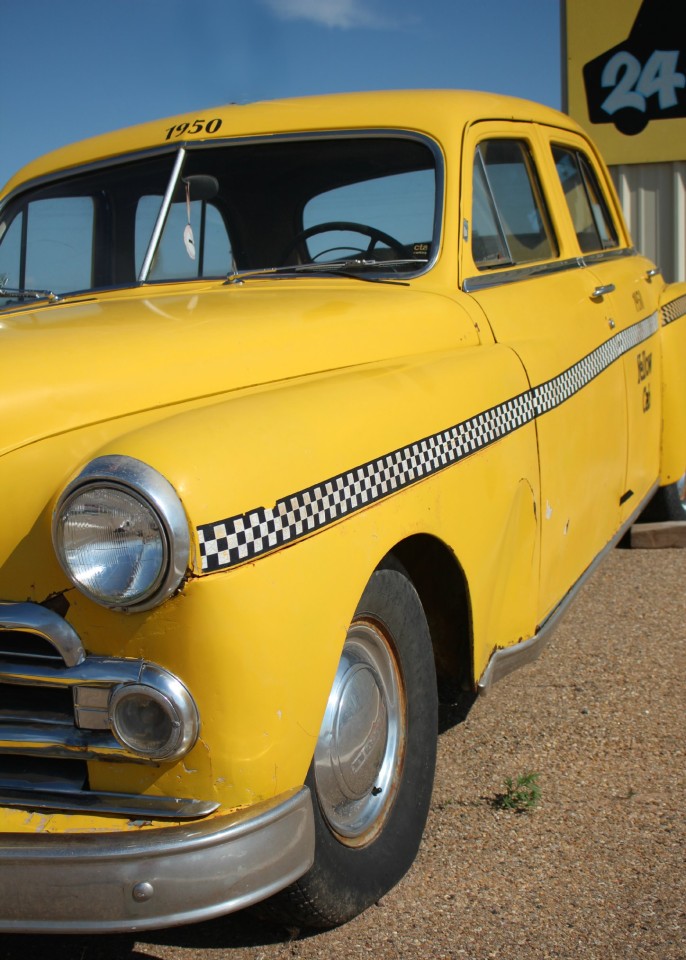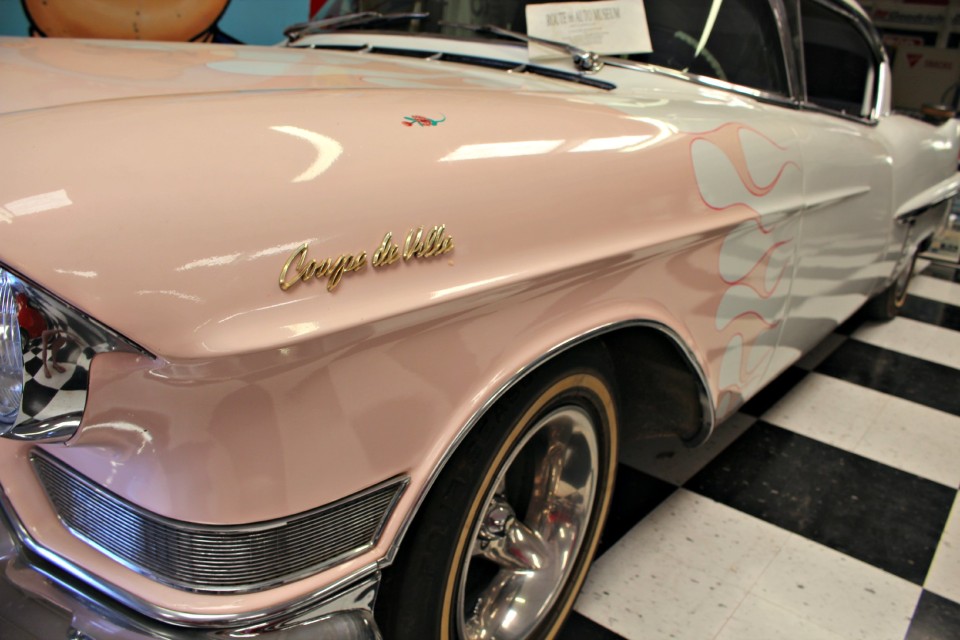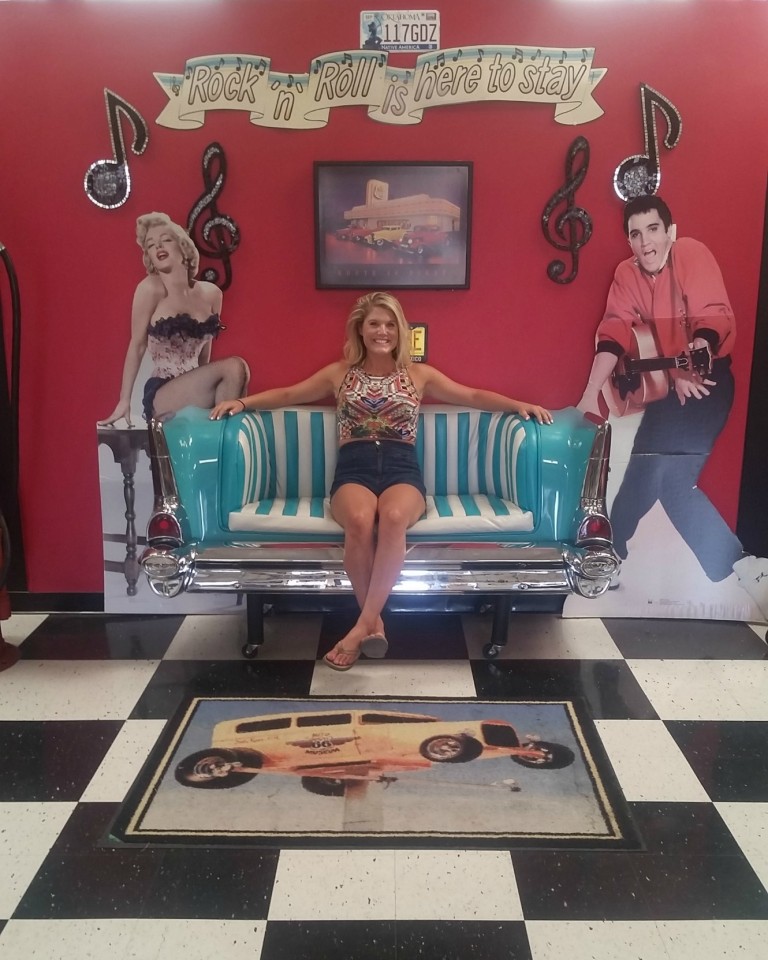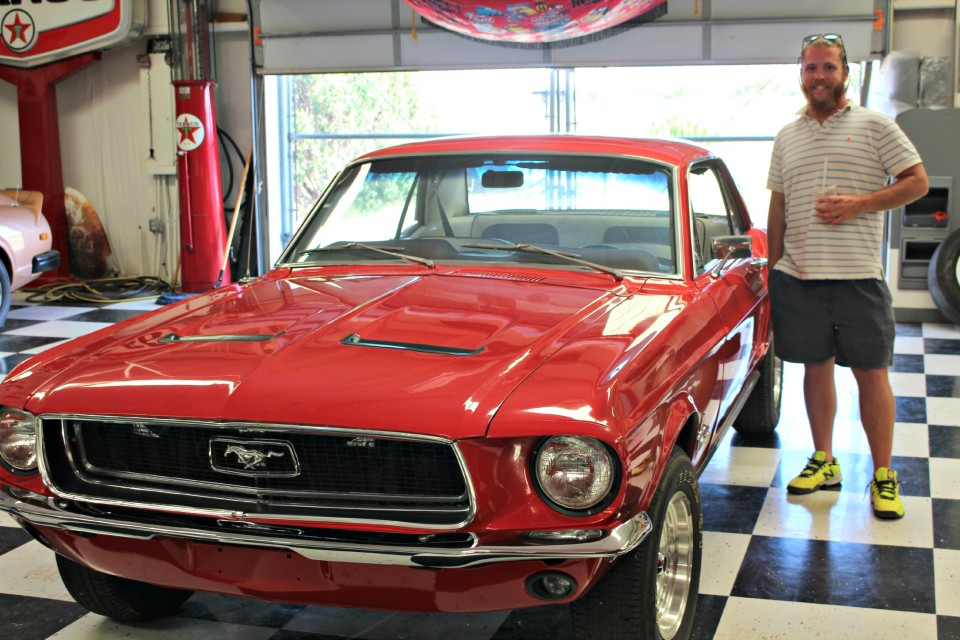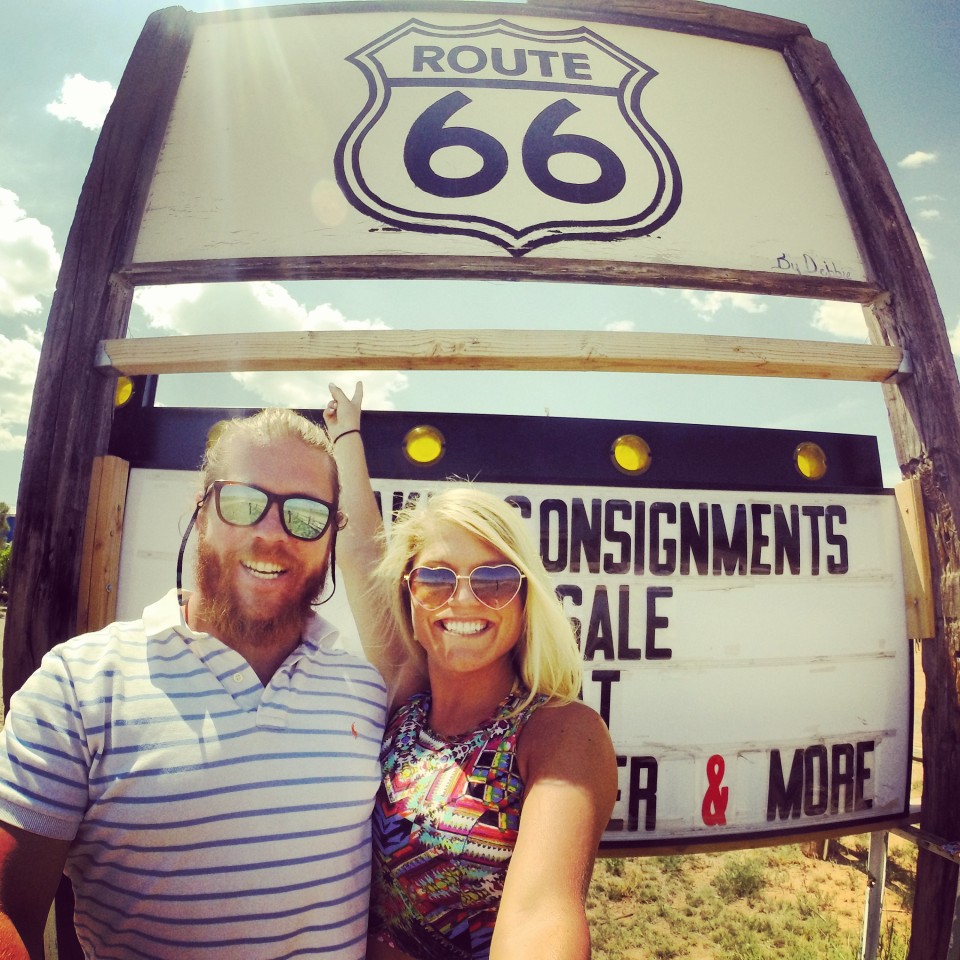 The point of making the drive out to Santa Rosa was to jump in the Blue Hole. The Blue Hole has long been a sigh of relief for people traveling through during sweltering summers in the arid desert heat. In the 30's it was a fish hatchery. In the 70's it became a recreation area. Now's it's both a swimming hole and a dive center for landlocked scuba divers. The water is crystal clear and cold. 61 degrees doesn't sound that cold but it's pretty chilly. The first jump off of the cliff into the water takes your breath away for a few seconds. Rumor has it, in the middle of the week, you can come when the water is super clear (not shaken up by swimmers from the weekend), scuba dive down to the floor, and look up at the stars.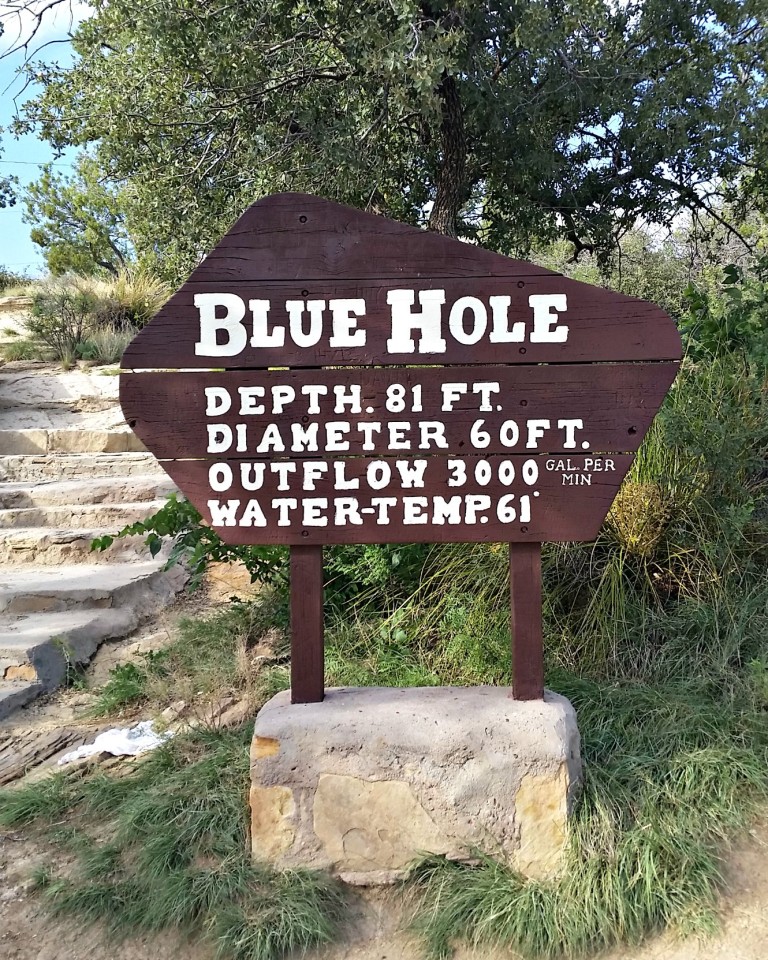 Blue Hole:
bluehole from Aimee Long on Vimeo.
Good Eats
Cowgirl BBQ & Smokehouse is a spot in Santa Fe with highly-praised food, a super festive patio, and live music every night. The waitstaff is dressed in belt buckles, boots, and cowboy hats and I LOVE when servers are in theme. It's the best kind of flare but makes you seriously wonder if the money is that good. Apparently the place has won a bunch of awards and is visited by tourists often, but is still a hangout for locals…which is always a good sign.
Cheers!