Trip of a Lifetime
We are now ready to start on our way down the Great Unknown…We have an unknown distance yet to run; an unknown river yet to explore.

– John Wesley Powell
A rafting trip through the Grand Canyon has been on my bucket list for about a decade. 10 years and a solidifying day-trip on West Virginia's New River later and we were booking it. In April we chose our outfitter and put our deposit down. We would plan our summer travels around getting there. We booked a 5-day, hike-in trip through the lower portion of the canyon and it was worth every dime. Spending that time in the heart of one of the wonders of the world was good for the soul. This place pulses with both serenity and wildness. Being completely unplugged from the constantly-connected way of life these days is hard to come by.
I knew after the first night of sleeping next to the lapping current, underneath the stars, that my next trip through the canyon would be much longer. Just being down there, in that canyon, in pure, unadulterated nature is what makes this trip so special.
Our 5 amazing days on the Colorado began with a 4AM wake-up call for an early morning, 7.7 mile, rim-to-river hike. We hiked in on the Bright Angel Trail, which starts on the South Rim and descends 4,380 feet to the river with a grade of 10% for it's entirety. The Bright Angel Trail was originally a trail used by the Havasupai indians to commute between the rim and Indian Garden. Now it's one of 2 major trails in the park.
Those photos are from the first 2 miles of the hike, which are considered the most scenic. Keep in mind, Josh and I had never been to the Grand Canyon prior to this. Nor did we have time to check out the rim before the hike (we got in the night before). So this was our first experience peering down into this wilderness of rocks that has been stopping people dead in their tracks since it was discovered over 500 years ago. It was really hard to keep our heads down and our eyes on the rocks we were hiking over. So hard, in fact, that Josh sprained his ankle on mile 3 and hobbled the rest of the way down (seriously a trooper – it was not just your average sprain).
After you descend Jacob's Ladder, a series of long switchbacks, the trail levels out. At 4.6 miles you enter an oasis of shade called Indian Garden. We did not extensively research the trail so this was an awesome surprise. We definitely did not expect to see lush greenery and cottonwood trees in the Grand Canyon. Garden Creek, a perennial water source created this area, and it's the perfect pit stop to cool down on the way to the river.
This area is somewhat level so we kind of thought this was the end and the river was just around the bend. We were mistaken. We turned a corner, exited the garden, and ahead of us was a wide view down into Devil's Corkscrew, a portion of the trail that lay ahead. At this point, it's scorching. Temperatures here can reach 130 degrees. You are far from the cool air of the 7,000 foot elevation at the rim, shade is limited, and if you started early – the sun is now high and hot.
At some point, you can hear the rush of the river slightly far off. We scrambled over some rocks and then that big, chocolatey, beast was finally in sight. Our monstrous, baby-blue rafts were bobbing by the shore like beacons calling us home for an unforgettable adventure. There were a handful of folks in our group still finishing their hike so we had some time to sit back on the shore and dip our feet into the glorious 50 degree water. Then at some point the river-guides had to pull us all out of the water to show us how to pack our lives into big, red dry-bags for the boat and we were off…
This unusual combination of gradient, volatility, and sediment distinguishes the Colorado as the most tempestuous river on the continent – savage and unpredictable, often dangerous, and almost psychotic in its surges. No river in Europe, no river in South America, no river in Russia, compares to it. Pakistan's Indus and Tsangpo in Tibet exceed its drop. The Nile and the Mississippi deliver a larger gross tonnage of silt. A number of rivers in Canada match or exceed the savagery of its rapids. But none of them combine these elements like the Colorado. And those qualities, put together, account for its greatest claim to fame. No other river on earth has ever cut canyons to rival those of the Colorado.

–Kevin Fedarko "The Emerald Mile"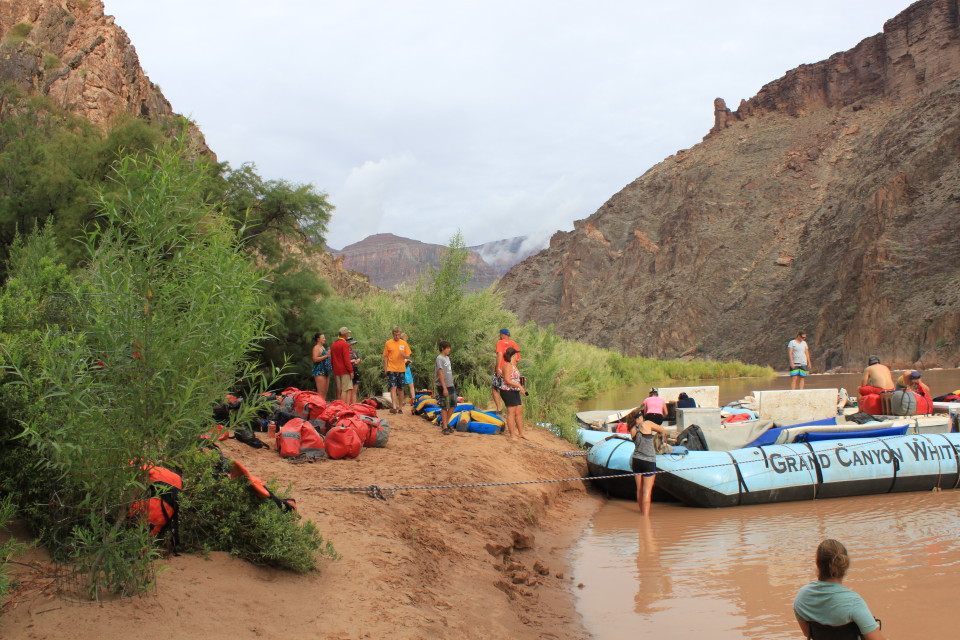 If you have always wanted to raft the Grand Canyon, and want to potentially set up a trip and prepare, I've definitely got some tips for you. If you think not showering for days and sleeping outside is the worst idea of a vacation, I've also got a tip for you – don't be stupid, change your mind, this trip is what life is all about.
Tips for rafting through the Grand Canyon that I wish I had known:
Alcohol: However much you think you will need, triple that. We ran out of beer by day 2 and had to live off of a liter of cheap tequila for the remainder of the trip. On the last night we were fresh out. After a long day on the river, you're going to want that drink.
Pack lotion and chapstick. It sounds silly to pack frilly toiletries for a backpacking/rafting trip but lotion is something I wish I had packed. The air is so dry down in the canyon.
Good, thick rain paints (not cheap ones from Wal-Mart). We were about to forego buying rain gear altogether even though they printed in bold: "DO NOT COME WITHOUT RAIN GEAR" on our packet. We didn't buy any until the night before, solely because we didn't want to be the only assholes of the group who didn't follow directions. They were $70 Columbia pants (because of course, in holding off, we had to get them from the Grand Canyon gift shop) and our intent was to return them promptly after the trip ended. No, we would not be returning them. They were so necessary. We had a day of monsoon weather and they were lifesavers. They held up better and were much warmer than everyone else's cheaper pairs.
Baby wipes. Honestly, taking a river shower might feel nice but it's not going to help your situation. A good percentage of the Colorado River is silt, especially later in the season. I didn't even attempt to wash my hair in the river. I just let it dread up and used my wipes for a nightly bird bath.
A slim but sturdy camera bag. If you're like me, and bringing a large DSLR camera on a trip like this is a must, you will want something small but protective to put it in. It needs to fit in your day-time dry bag, which clips to the raft next to you so it needs to be compact. But it also needs to be solid, as these bags can get thrown around. I had a tough time frantically shoving my huge camera bag back into my dry bag whenever we were coming up on a rapid.
Every rafting trip is different. River guides are winging it, for the most part, when it comes to stops and camping. They can have an idea of where they want to set up camp for the night, but timing plays a factor. Other rafting outfitters getting there first plays a factor as well. The same goes for hikes through side canyons. We missed a few side-hikes because we got a crazy rainstorm one day (which provided the most magical day of waterfalls so we were not disappointed). Here are some photos from a side-hike to Elve's Chasm, a beautiful pool and waterfall you could climb into: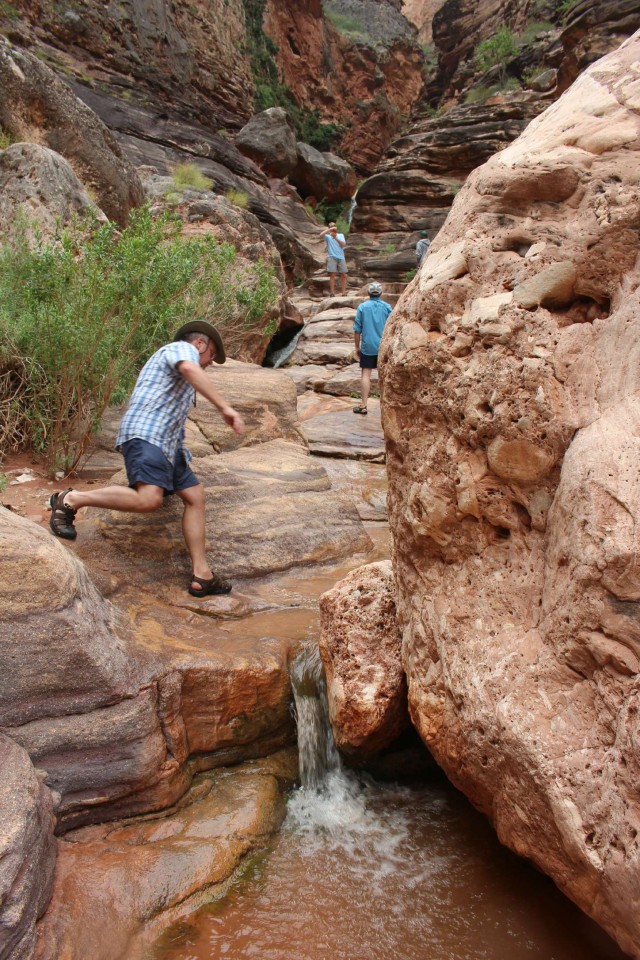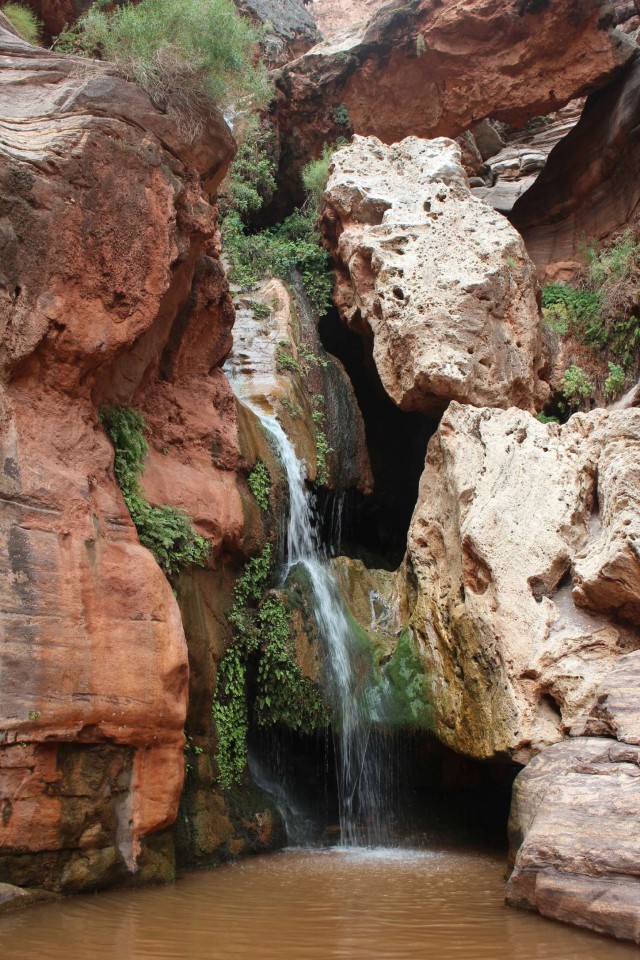 Once you anchor-up for the night, everyone in the group falls into a routine of unloading the boats and setting up camp. You form a line and hand off each tent, chair, cooking pan, cot, and dry bag one-by-one. These boats hold more than you ever think possible. The first night, stuff just kept coming and coming – every time I thought it was the last chair, I was wrong. Your guides point out where the "kitchen" and "bathroom" will be, then the rest of beach is free range for setting up your camp.
By the second night, you realize that assembling your tent is unnecessary. Sleeping outside, with the canyons hovering over you, watching shooting stars as you drift off, is one of the best parts of this experience. There is no light pollution out here, the night sky is like you've never seen it… and the canyon walls are dramatic bookends for it's perfection. (For those wondering, because I know you are: you sleep on a cot, so nothing is crawling on you. There are also no mosquitoes in the canyon, so you don't wake up eaten-alive.)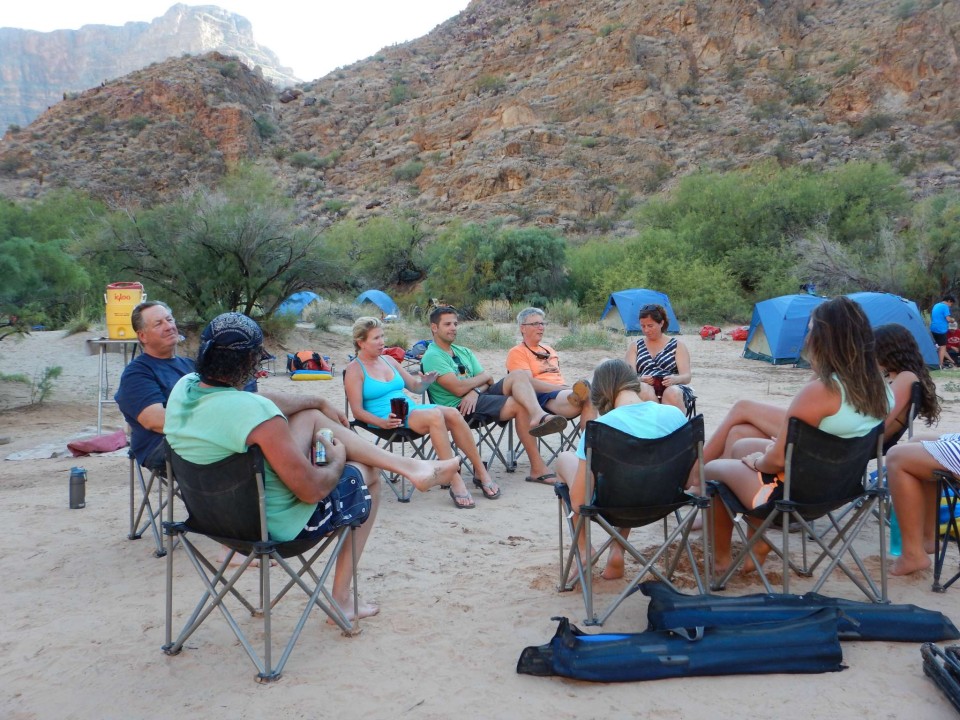 If you are wondering where you poop. It's usually in a nice, quiet area under the shade of a tree with a great view of the river. Ladies and Gentlemen, meet Oscar: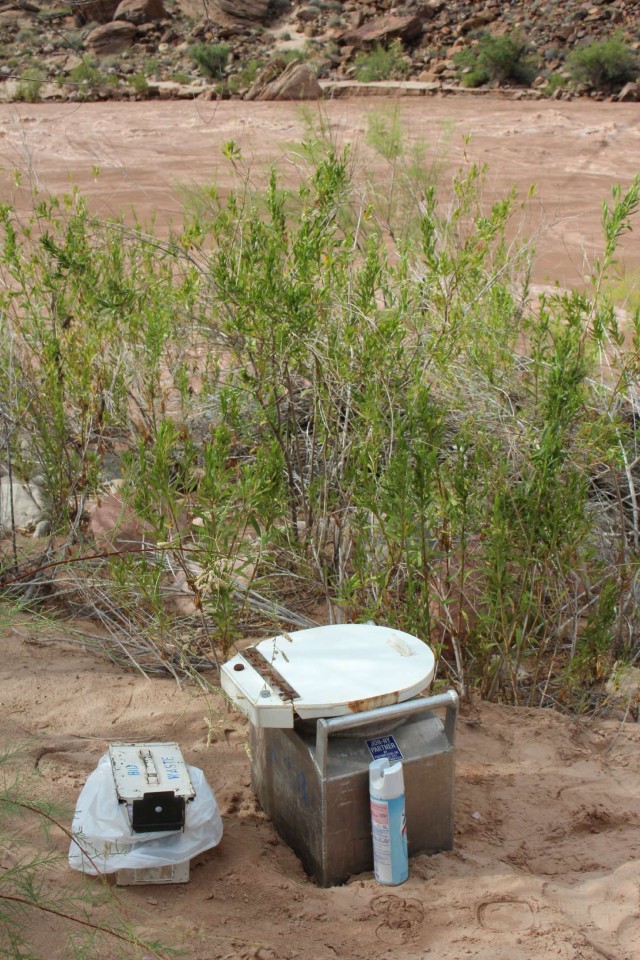 These steel tanks are sealed up with a lid when they're full and taken to a waste plant after the trip.
Now let's talk about eating. We ate like kings and queens on this trip, which was not expected. Josh and I both joked that we were eating better than we typically do in our "real life". Not only do these guides have navigating this river down to an art-form, but they have the camp set-up, and back-country cooking down to a serious science as well. It's a pretty amazing process to watch. I can't even cook in a house with a stove and a microwave, so I was probably even more impressed than everyone else. We had steak and taters, pork chops and applesauce, mexican, cake, brownies, you name it.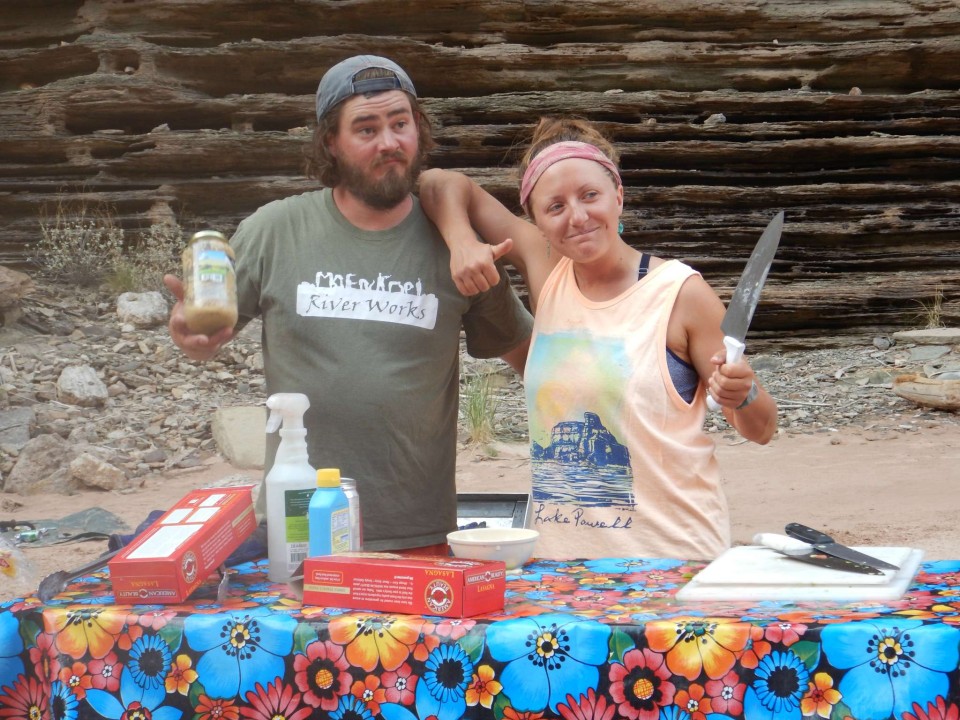 Lunches on the river banks: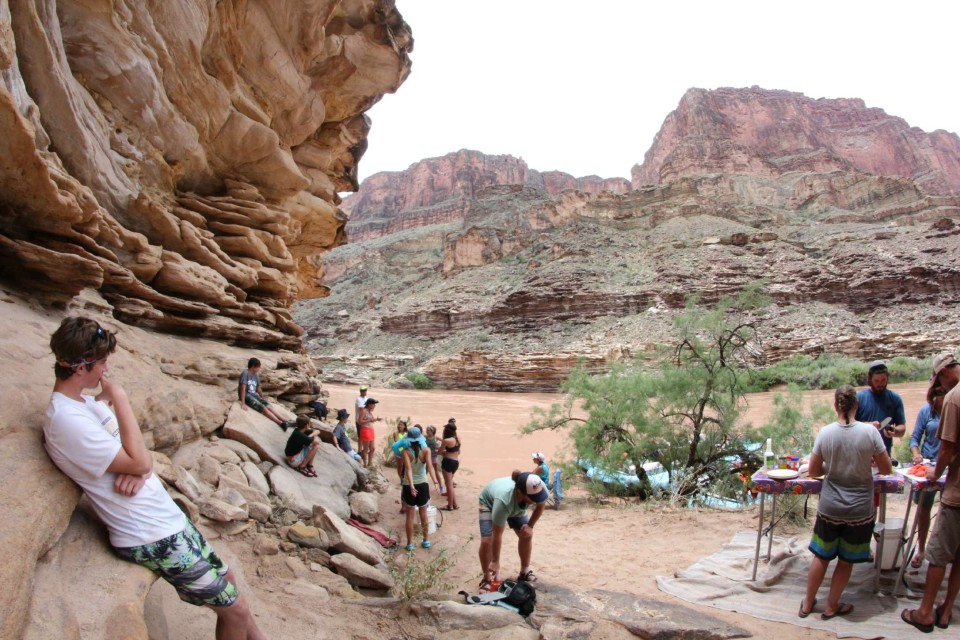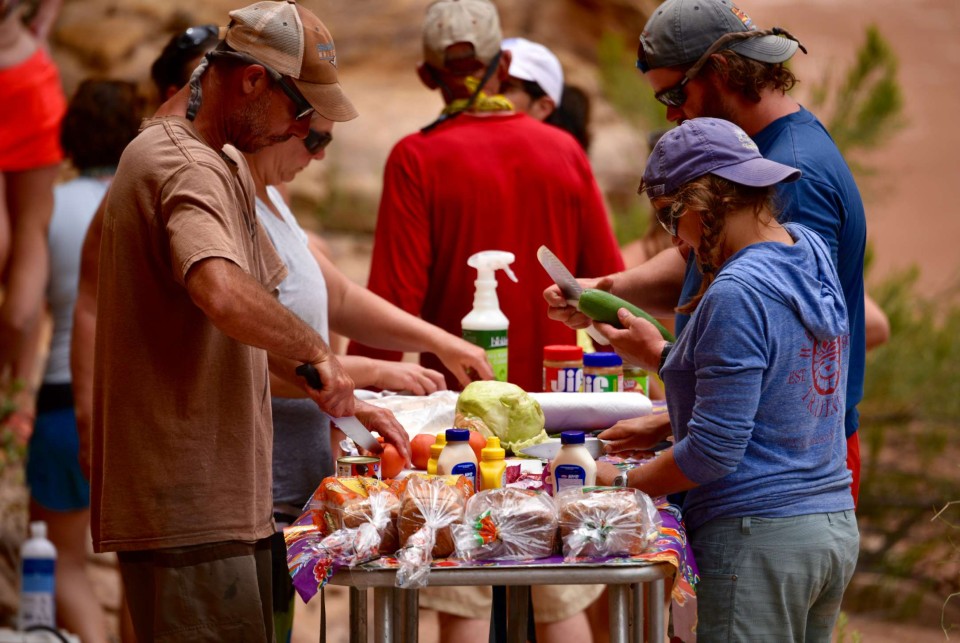 The motor-boats we were on are army-surplus rafts with a huge center and 2 pontoons on either side. Inside the center of the raft holds everything needed for a full trip down the upper and lower. The boats are packed precisely and I still have no idea how everything fit: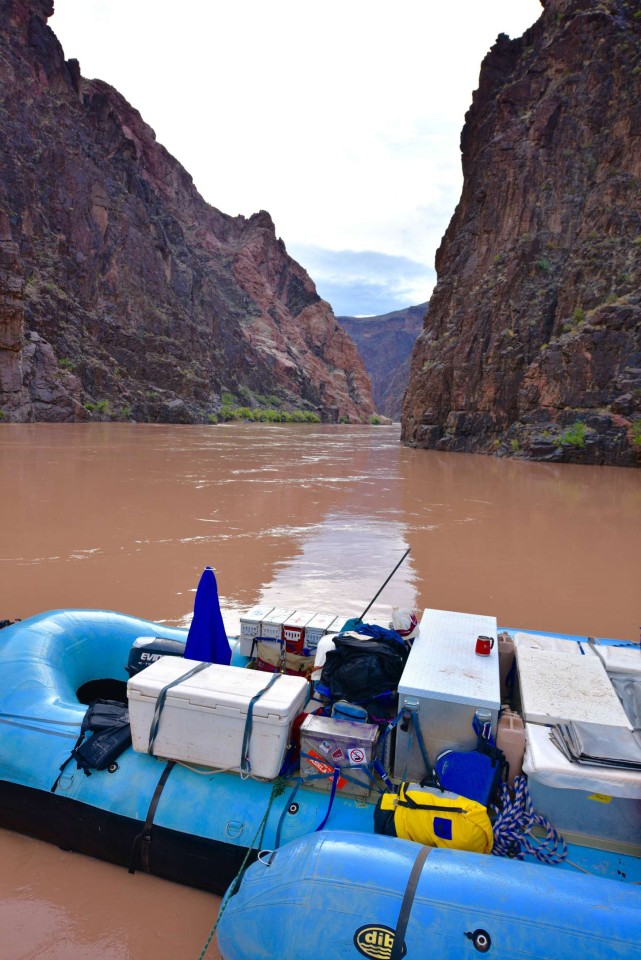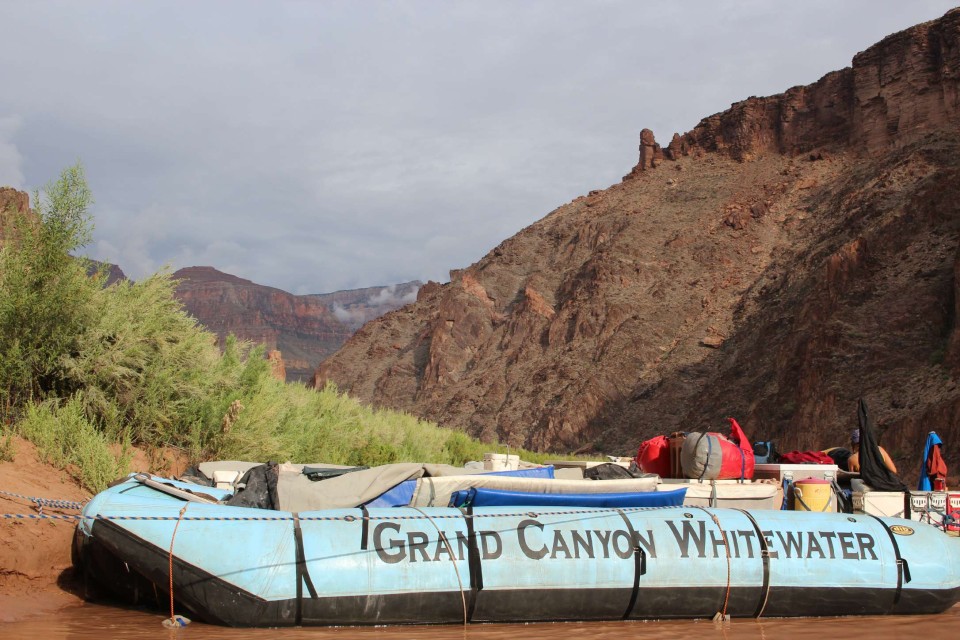 Arizona's "Monsoon Season" lasts from mid-June to mid-September generally speaking. During this time, there are frequently afternoon thundershowers with tons of wind and lightning. On our third day, at around 8AM, after everyone had packed up their camp-site, sealed up their dry bags, and started climbing onto the boats…the skies opened up. It dumped for about 4 hours, turning this day into a magical float through hundreds of waterfalls.
This experience was like a dream. Our main guide, Matt, has been running this river for 20 years, and this was only the second time he had seen a display of waterfalls of this magnitude. I couldn't stop thinking about how entire parks are centered around one single waterfall of this size…and we were cruising through hundreds of them. Water was rushing over the canyon walls everywhere you looked. Some falls were chocolately-brown like the river, some were clear rain water, some were triple or quadruple tiered, and some were one long stream of unobstructed water crashing into the river. I felt like I was in the Amazon. I truly will never forget those 4 hours and feel so lucky that we got to experience it.
A few hours into the torrential downpour, everything started to look greener, plumper, and a bit more alive. The vegetation along the canyon had arms-wide-open just soaking up every drop.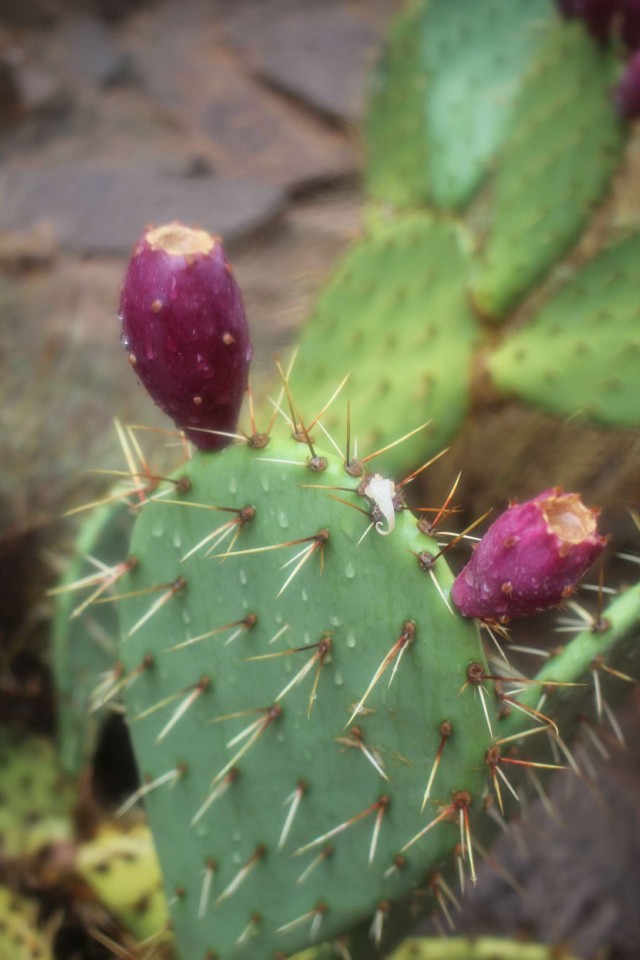 Our fellow rafter, Bob, took beautiful photos on this day (and everyday). Everyone was super thankful that he brought his camera and talent, and captured the trip so well. Here are some photos he took of the falls:
As quickly as the skies opened, they closed. The sun came out, we stripped off our rain gear and warmed up by the rays. Because of the downpour, we anchored up early on this day and just hung out by the river.
Along the 277 miles between between Lee's Ferry and Lake Mead, the Colorado drops 2,000 vertical feet. About 1,000 of those feet are within about 160 pockets of white water which make for some ferocious rapids. The lower portion of the canyon has the highest concentration of this whitewater.
An area called Upper Granite Gorge is where you hit a majority of these clusters of rapids. In this portion of the river, the canyon walls are almost at a 90 degree angle to the ground with their black Vishnu schist exposed. Vishnu schist is the oldest rock in the canyon. Our first full day on the water was here, making it obviously the most intense, with back-to-back rapids, some being the the largest in the canyon (Hermit Rapid in particular).
The last of the huge rapids is Lava Falls, which is around 20 seconds of chaos that we hit on our last full day. There was a lot of build-up for this rapid since it was almost all flat-water on the way from camp that morning. It did not disappoint. Once you have made it out below this rapid alive, you've done it. On our last night, everyone received a river rat pin to signify making it "below Lava". All-in-all, we rode around five Class IV/Class V rapids. Note that the "class" scale was introduced after many of the rapids in Grand Canyon had already been rated. Therefore rapids in the Grand Canyon are rated on the older, more complex "1-10" system. A size 10 rapid in Grand Canyon would be a class V rapid. At the bottom of the post, I've included a list of all the rapids we ran.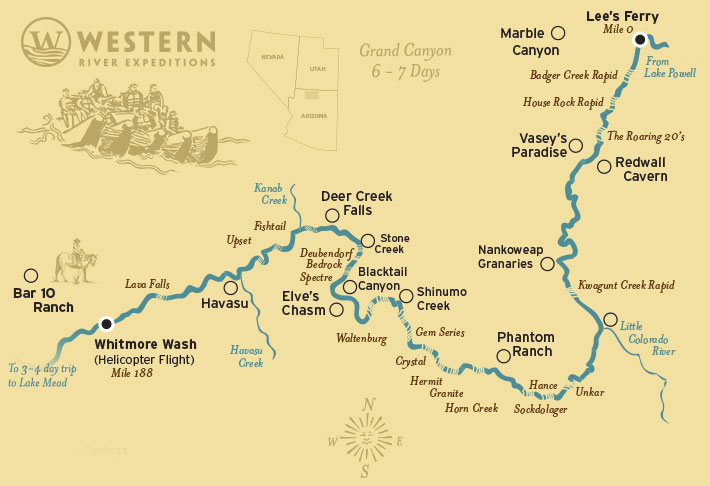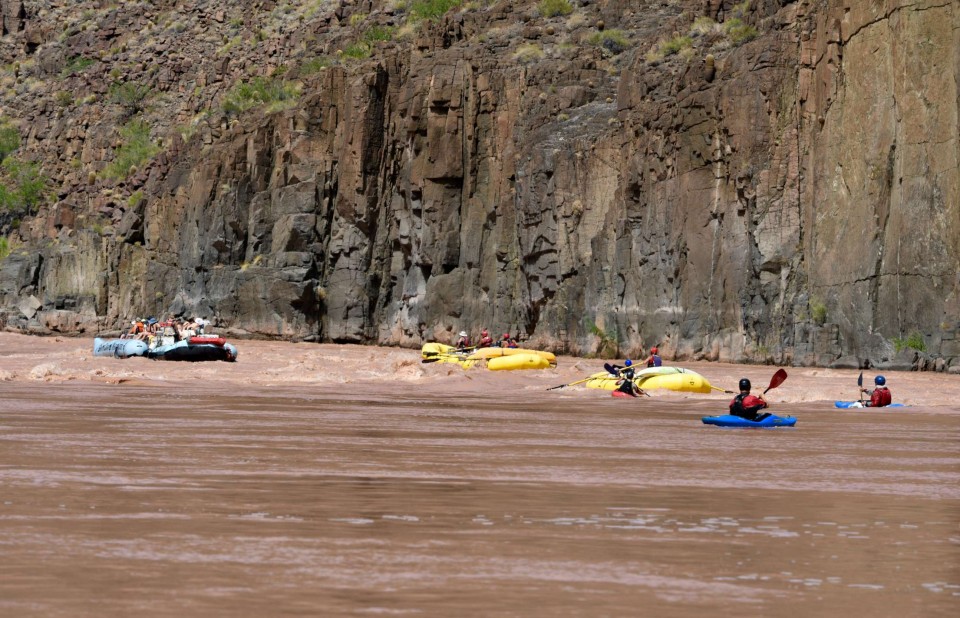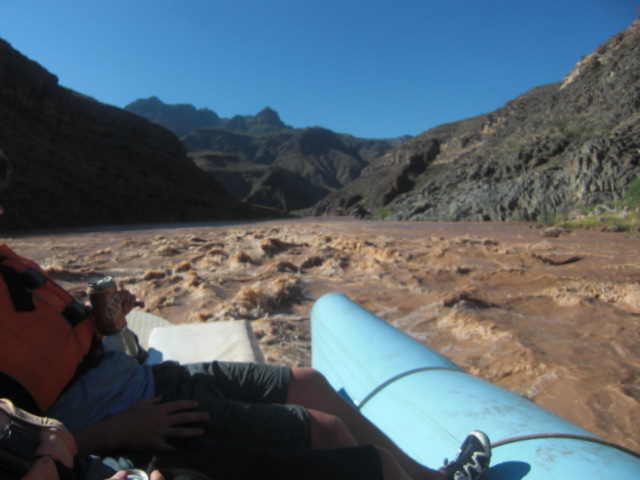 My GoPro doesn't do the whitewater justice, but the second portion of this video captures us going through rapids:
Whitewater Trip from Aimee Long on Vimeo.
One of our camps was at Fern Glen Canyon. Luckily we camped there on "The Day of the Waterfalls" which is what I'll call it. There was a waterfall at the end of the canyon that was in it's full glory after all of the rain. No hike in the canyon is considered "easy". You can always expect some rock scaling and scrambling. This one had a bit of both but was pretty short. Josh and I woke up at sun-up before coffee was called, and hiked through it before we set out for the day. Hiking it at dawn was pretty amazing. All of the bats coming home from their nightly hunt came swarming above us as we entered. About 3/4 of the way through there is a hanging garden. Then as the finale, a clear waterfall runs over, which was a pretty convenient way to wake up/take a cold shower to start the day.
In the Grand Canyon, Arizona has a natural wonder which is in kind absolutely unparalleled throughout the rest of the world. – Theodore Roosevelt
I mean, just look at this place. It's no wonder people fall in love with it. The experience of being in this canyon has been completely changing the course of people's lives for years. It's all-encompassing. When you're in the belly of the canyon… a small dot on this one-of-a-kind river… you are truly in the middle of nowhere. If you somehow climbed out over a canyon wall, you would be in the most desolate of deserts with days of walking ahead of you. It was dubbed "The Great Unknown" and was some of the last land to be charted in America. It's the most sublime and beautiful of natural scenery. It's truly another world outside of the one you left at the top of the rim.  It dwarfs you. I've never been somewhere that left me reeling for days afterwards…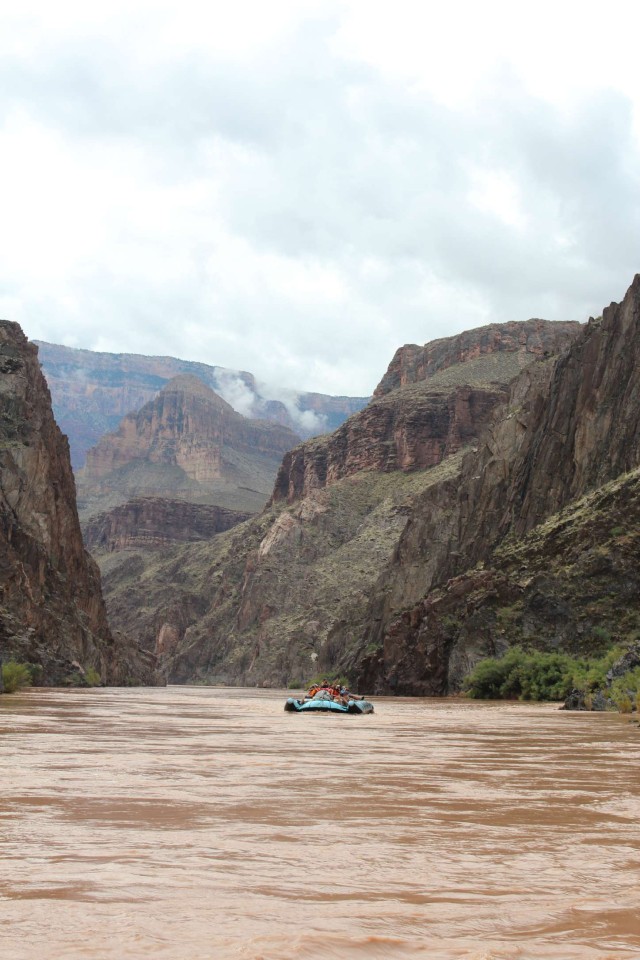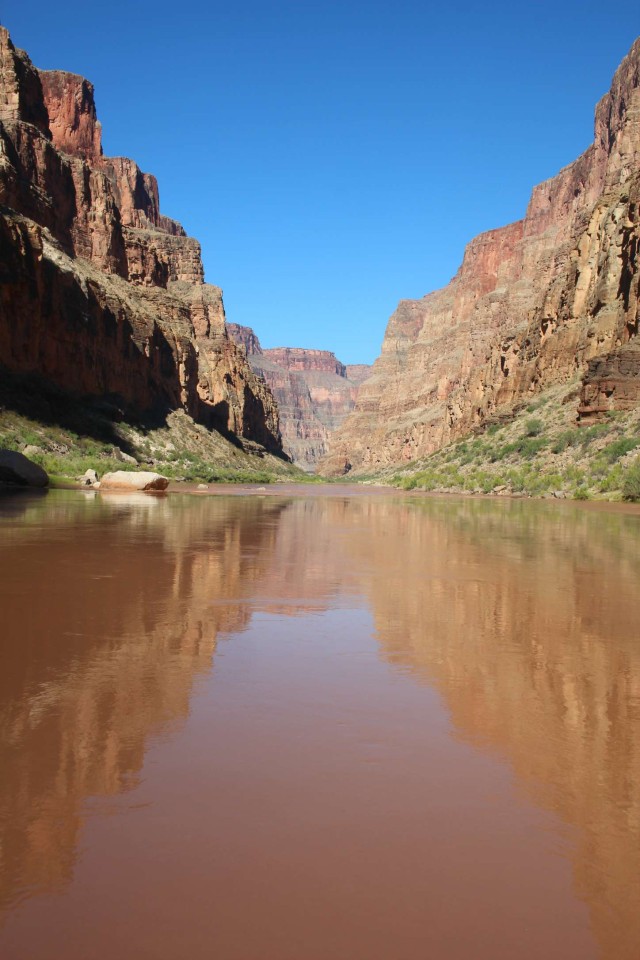 Some more of Bob's photos:
You go to sleep each night after sitting around listening to river lore from your guides. You wake up to the tips of the canyon walls turning orange and watch as the sun glides down until "COFFEE! COME GET YOUR COFFEE!" is called. When you get home you almost miss this schedule.
The trip wouldn't have been the same if we hadn't had such an awesome group of people. There wasn't a single bad apple. We seriously lucked out with our guides, Matt, Tim, Holly, and Matt's wife Katrina "Bean" (who he mentions in his bio) too. We were one, big, happy river family by the end of the 5 days.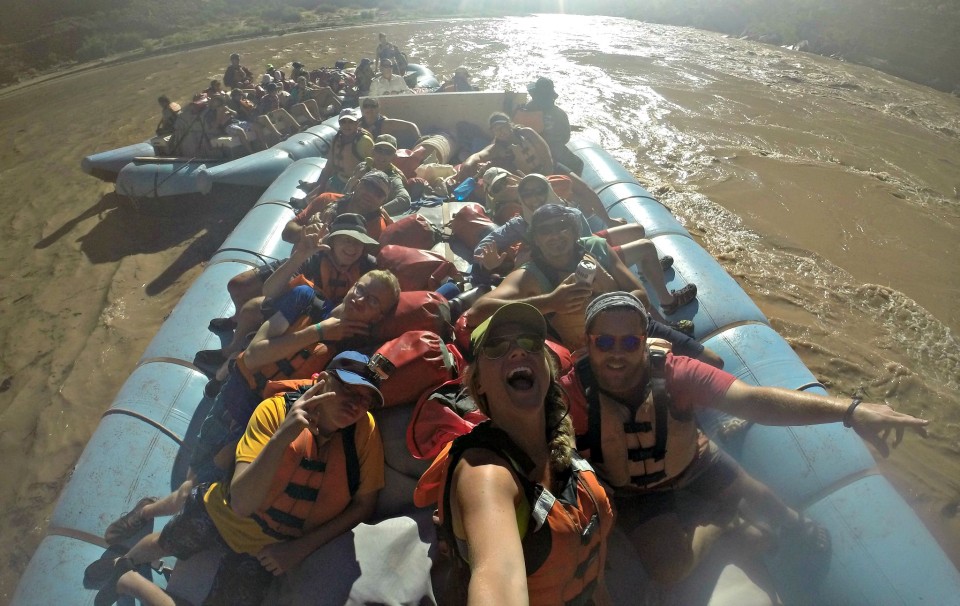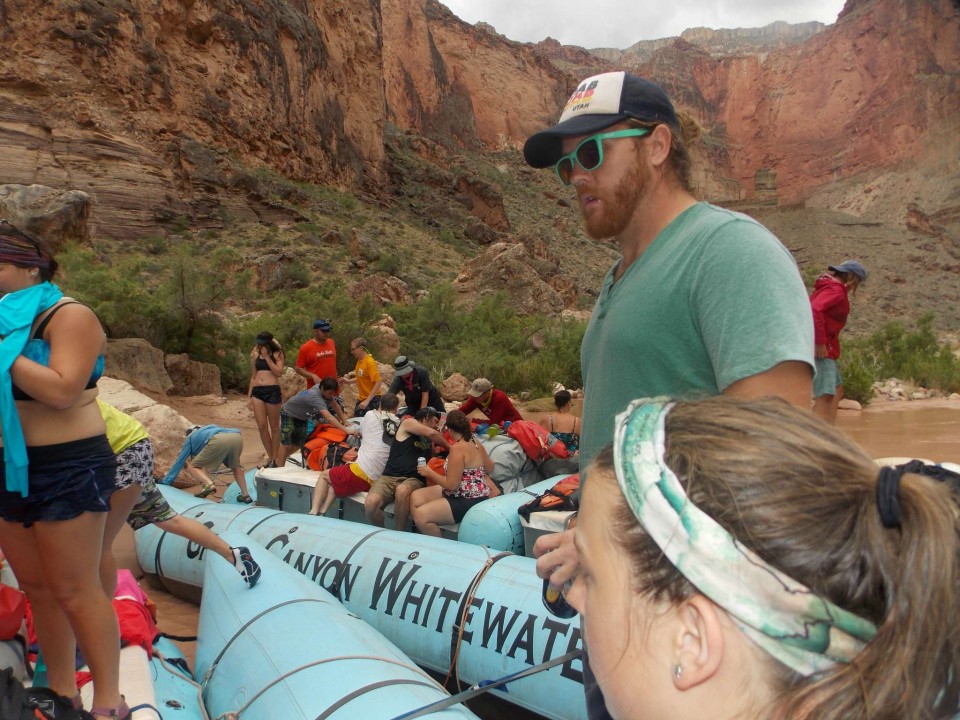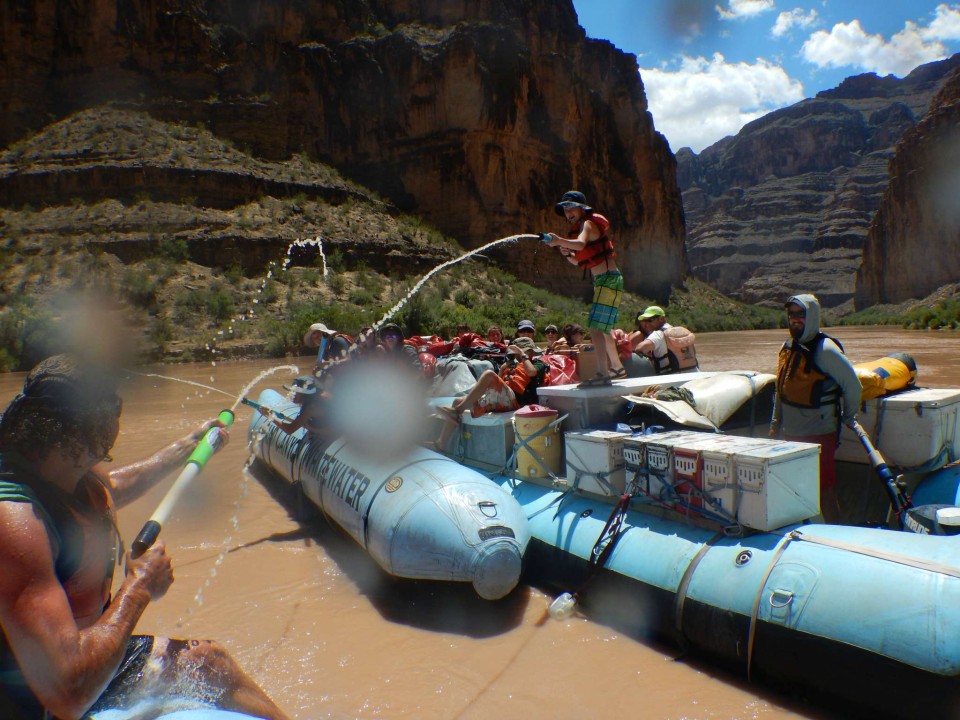 Our trip ended on Havasupai land. After we said our goodbyes and our guides carried on down river. We all hopped onto an old, bouncy school bus and a Havasupai driver trucked us up and out over an hour of bumpy road. When we made it to the Havasupai town, we hopped onto a more comfortable bus for the remainder, and headed back to the South Rim, where the adventure began.
Dirty, exhausted, and sad to be back above the rim… I knew I would find myself between those canyon walls again. Till next time Grand Canyon. Thank you.
What makes a river so restful to people is that it doesn't have any doubt—it is sure to get where it is going, and it doesn't want to go anywhere else.

— Hal Boyle
List of rapids we ran including (1-10) scale rating: 
Mile 88.3 – Bright Angel Rapid (3), Bright Angel Creek and Bright Angel Bridge
Mile 89.5 – Pipe Creek Rapid (3)
Mile 90.8 – Horn Creek Rapid (7-9) – At lower water, forms very large waves and hydraulics and is one of the most difficult rapids in the canyon requiring a right to left downstream pull to miss the rocky right shore.
Mile 93.1 – Salt Creek Rapid (3)
Mile 93.9 – Granite Rapid (7-8) – One of the more difficult rapids with a strong push of hydraulics to the wall on river right.
Mile 95.5 – Hermit Rapid (7-8) – Perhaps the strongest hydraulics and biggest waves in the canyon.
Mile 97.1 – Boucher Rapid (4-5)
Mile 9882 – Crystal Rapid (7-10) – Several very large holes followed by a dangerous rock garden at bottom of rapids on river left. Formed in 1966 when a flash flood of Crystal Canyon washed debris into the river.The beginning of a series of rapids called "the gems."
Mile 99.7 – Tuna Creek Rapid (5-7)
Mile 100.0 – Lower Tuna (Willie's Necktie) Rapid (4)
Mile 101.1 – Agate Rapid (3)
Mile 101.8 – Sapphire Rapid (6)
Mile 102.6 – Turquoise Rapid (2-4)
Mile 104.5 – 104 Mile (Emerald) Rapid (5)
Mile 105.2 – Ruby Rapid (4-5)
Mile 106.5 – Serpentine Rapid (6-7)
Mile 108.3 – Beach and trailhead for the South Bass Trail.
Mile 108.4 – Bass Rapid (3)
Mile 109.3 – Shinumo Rapid (2-3)
Mile 109.6 – 109 Mile Rapid (2) This sleeper of a rapid has sharp schist fins on river right.
Mile 110.0 – 110 Mile Rapid (2-3)
Mile 111.4 – Hakatai Rapid (2-3)
Mile 112.8 – Walthenberg Rapid (3-6)
Mile 113.6 – 113 Mile Rock (2)
Mile 117.2  – Elves Chasm – A popular side canyon with a small clear-flowing stream with waterfalls and multiple pools.
Mile 119.3 – 119 Mile Rapid (2)
Mile 120.6 – Blacktail Rapid (3)
Mile 122.2 – Mile 122 Rapid (4)
Mile 123.3 – Forster Rapid (3-6)
Mile 125.5 – Fossil Rapid (3-6)
Mile 127.5 – 127 Mile Rapid (3)
Mile 129.2 – 128 Mile Rapid (4)
Mile 129.7 – Specter Rapid (6)
Mile 131.1 – Bedrock Rapid (6-8) – The river splits around a very large rock outcropping. Going left of the rock is not recommended.
Mile 132.3 – Deubendorff Rapid (5-8) – Has multiple large holes and pourovers on the left and center
Mile 134.3 – Tapeats Creek – A large creek entering at river right. A popular hike up Tapeats Creek leads to Thunder River.
Mile 134.3 – Tapeats Rapid (4-5)
Mile 135.4 – 135 Mile (Helicopter Eddy) Rapid (3)
Mile 135.6 – Granite Narrows. This is the narrowest location of the river at 76 feet.
Mile 136.9 – Deer Creek Falls – A popular stop, both for the falls themselves and for hikes up to the "narrows" and the "throne room."
Mile 138.4 – Doris Rapid (4)
Mile 139.2 – 138.5 Mile Rapid (3)
Mile 139.7 – Fishtail Rapid (4)
Mile 141.7 – 141 Mile Rapid (2)
Mile 144.0 – Kanab Rapid (2-5)
Mile 148.4 – Matkatamiba Rapid (2)

Matkatamiba Canyon is a popular, short hike up a narrow, winding slot canyon with a perennial stream.

Mile 150.2 – Upset Rapid (7-8)
Mile 154.0 – Sinyala Rapid (1-2)
Mile 157.3 – Havasu Canyon is a beautiful turquoise-watered side canyon. Havasu Canyon Rapid (2-4) follows shortly downstream.
Mile 165.0 – 164 Mile Rapid (2)
Mile 167.0 – National Rapid (2)
Mile 168.5 – Fern Glen Rapid (2)
Mile 171.9 – Gateway Rapid (3)
Mile 179.7 – Lava Falls Rapid (8-10) – Also known as Vulcan Rapid, is perhaps the most difficult, if short, run in the entire canyon.
Mile 180.1 – Lower Lava Rapid (3-4)
Mile 186.0 – 185 Mile Rapid (2)
Mile 187.4 – Whitmore Helipad is where most concessions passengers end their trip by helicopter take-out.
Mile 188.3 – Whitmore Rapid (2-3)
Mile 205.6 – 205 Mile (Kolb) Rapid (3-6)
Mile 209.2 – 209 Mile Rapid (3) This rapid has a large hole in the middle of the rapid.
Mile 212.5 – Little Bastard (LB) Rapid (3)

Mile 213.3 – Pumpkin Spring

Mile 216.0 – Three Springs Rapid (2)
Mile 217.8 – 217 Mile Rapid (4-5)
Mile 219.6 – Trail Canyon (Ducky Eater) Rapid (2) Cross-river hydraulics can flip small inflatable kayaks here.
Mile 220.7 – Granite Spring Rapid (2)
Mile 223.7 – 224 Mile Rapid (3)
Mile 225.9 – Diamond Creek – Take-out. This is the first location downriver from Lee's Ferry where a road reaches the Colorado River. The road is prone to flash flood by Diamond Creek in monsoon season. This is the only takeout for Grand Canyon boating trips above Lake Mead.