Northern/Central Arizona: The South Rim, Flagstaff, Sedona & the Verde Valley
South Rim
After our rafting trip we stuck around the Grand Canyon for a few days. Although nothing can compare to being in the belly of the canyon, we wanted to take in the vistas we've seen photos of our whole lives. The weather on the rim is absolutely beautiful and super mild in the summer. We took advantage of the paved bike trails they have all throughout the South Rim.
The South Rim is pretty much the antithesis to being inside the canyon on the river…especially during high season. There are buses, lots of people, and tons of foreigners using iPads to take photos. We made the most of it though. We camped in Tusayan, Arizona which is the small town right outside the entrance of the park. Other than biking along the rim, we went to the Imax theater and watched an awesome documentary on the canyon and had dinner at a cute western saloon. If you're not staying in the park, Tusayan is a great option.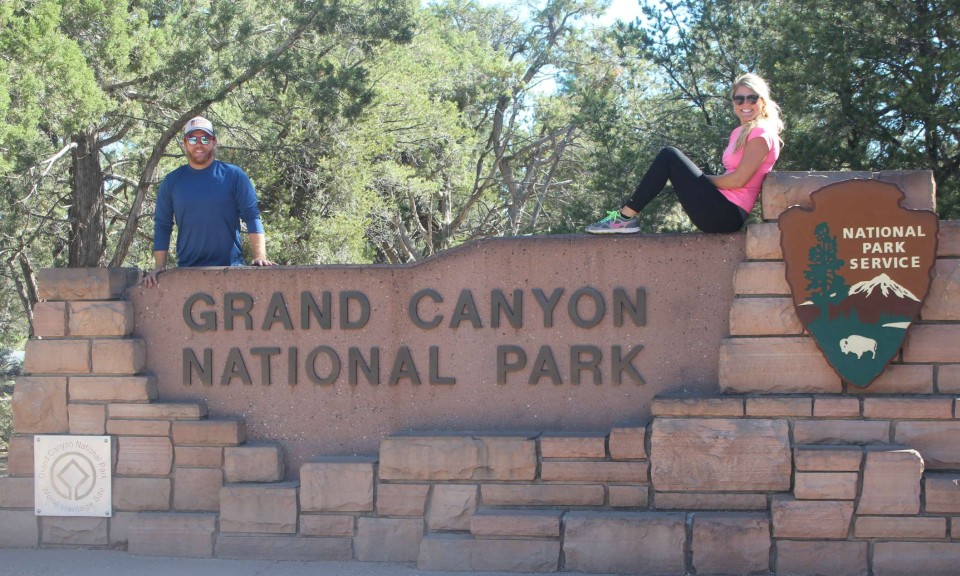 I had to snap a photo of these guys. These are the mules that hauled our luggage down into the canyon for our rafting trip.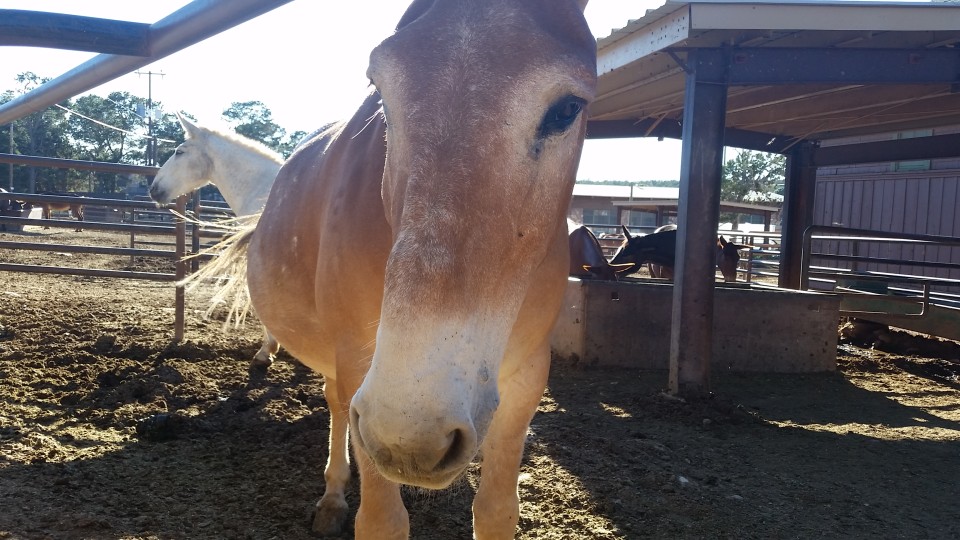 We rode bikes west along the rim on Hermit Road (only accessible by buses and bikes) as far as we could go until dusk then rode the bus back. We got as far as Mohave Point and, there, caught the sun hit the edge of the canyon wall and splatter it's last light across the hundreds of peaks below.
Yavapai Point: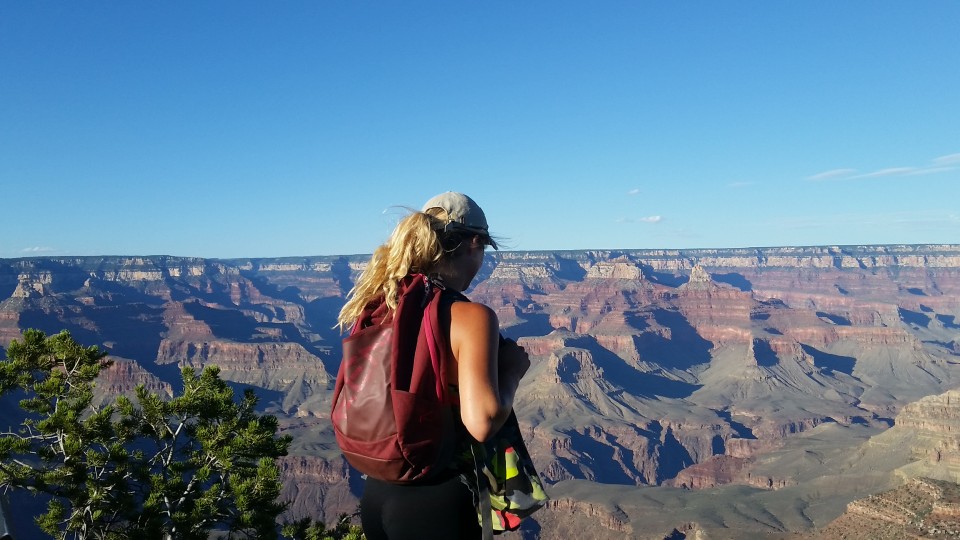 Powell Point: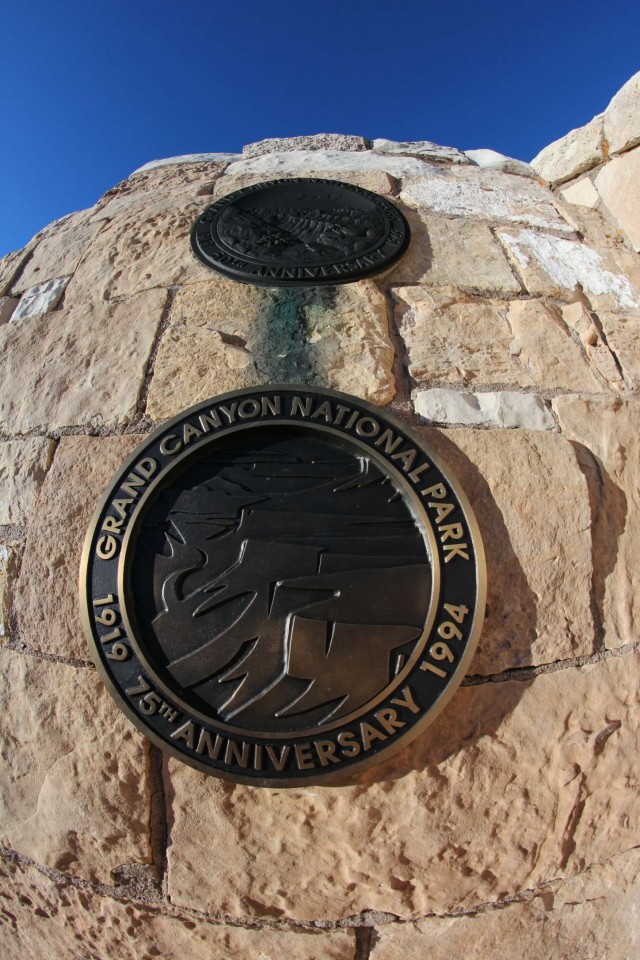 Hopi Point:
Mohave Point:
The next morning we set out to bike the east portion of the rim and stopped at each of the points along the way. We tried and failed to catch sunrise but it was still beautiful to see a different lighting cast over the canyon.
Indian Garden (the oasis we hiked through to get to the river) – just a green "S' from above: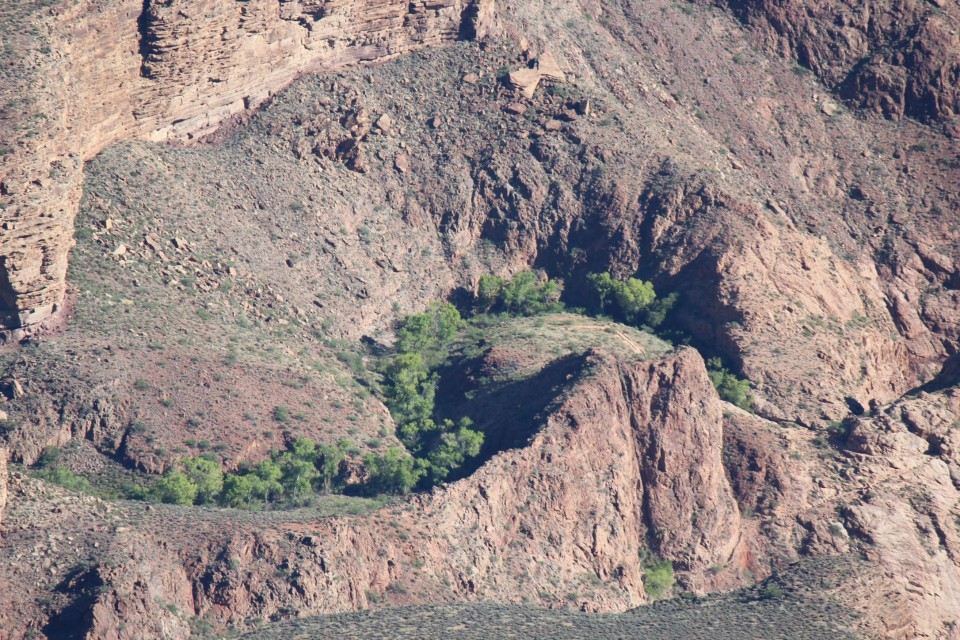 A birds-eye-peak of the river we had just spent the last 5 days on:
The squirrels on the rim are fearless, ruthless…oh and they carry the plague. Every 5 steps there's a sign warning that they are the most dangerous wildlife in the park.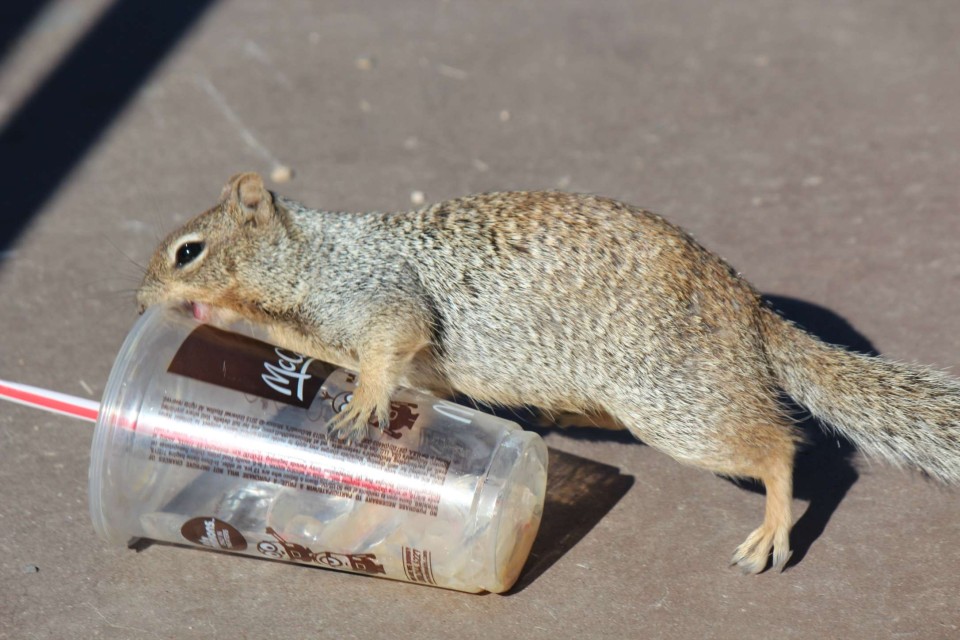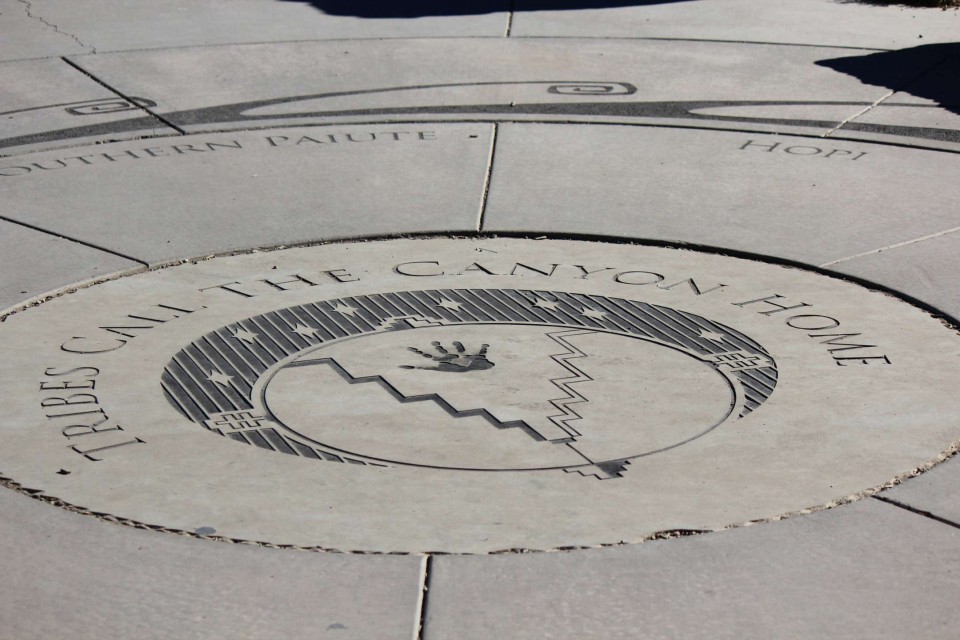 Flagstaff
Flagstaff is just an hour south of Grand Canyon. It's on the southwestern edge of the Colorado Plateau and is still high in elevation. It's part of the largest Ponderosa Pine forest in the lower 48 and between the mild, sunny summer weather and towering pines everywhere, it's gorgeous. There is also an eclectic small town vibe that we loved. The Saturday afternoon that we got in, we drove past a rescue event/dog festival and I knew we were going to fall right into place here. We parked the rig, got the leashes, and went of course: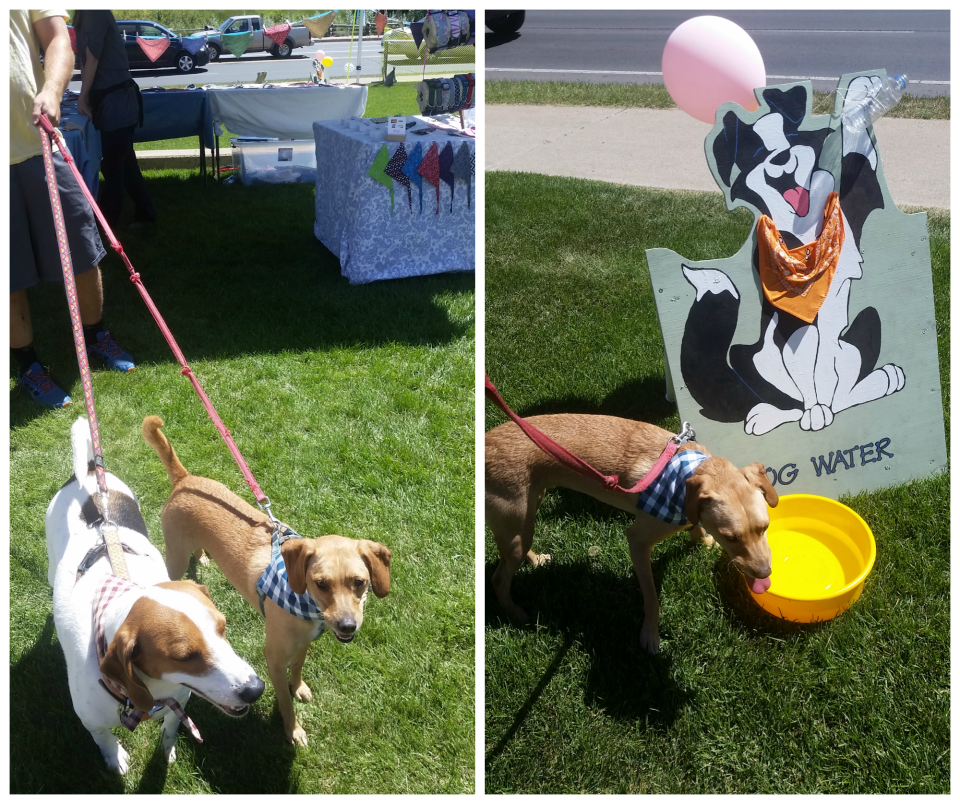 Historic Route 66 runs right into Historic Downtown Flagstaff. Local coffee shops, outdoor gear shops, and used books stores can be found on every corner. It's home to a handful of historic hotels, breweries, and boutiques. With Northern Arizona University right there, there's definitely a college vibe as well. It reminded us a lot of Asheville, NC, our very first stop on this voyage.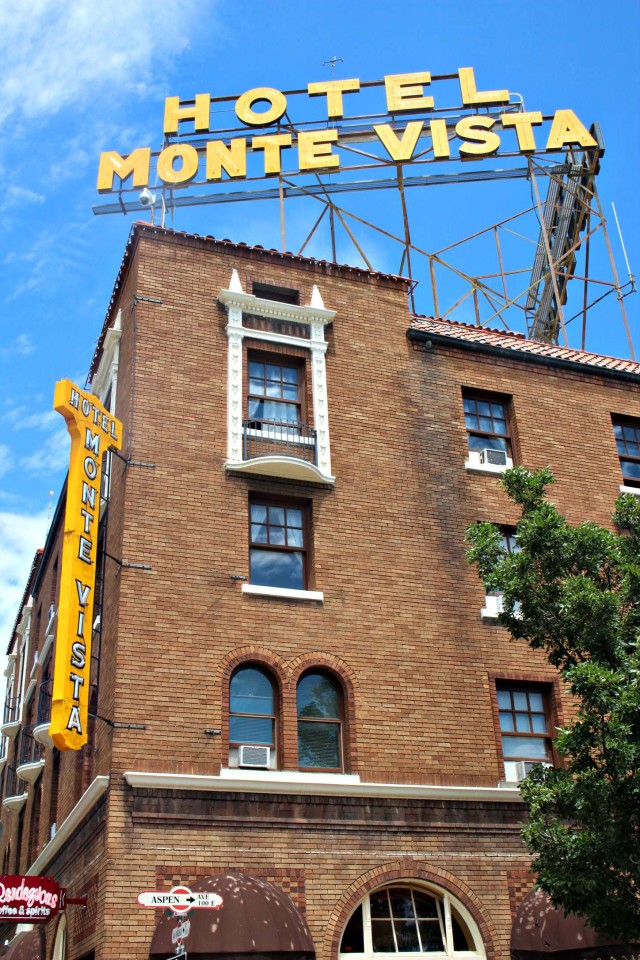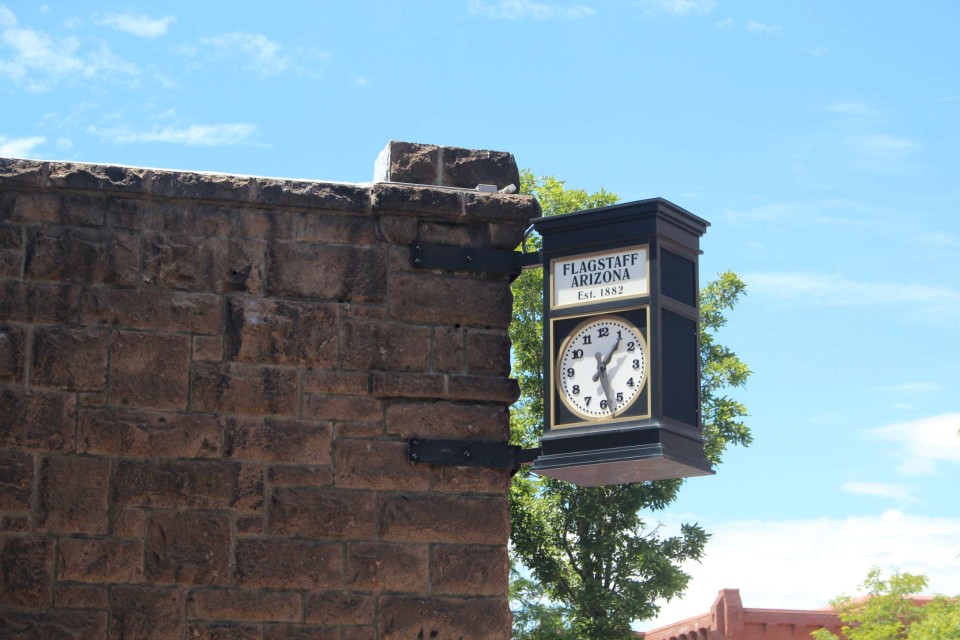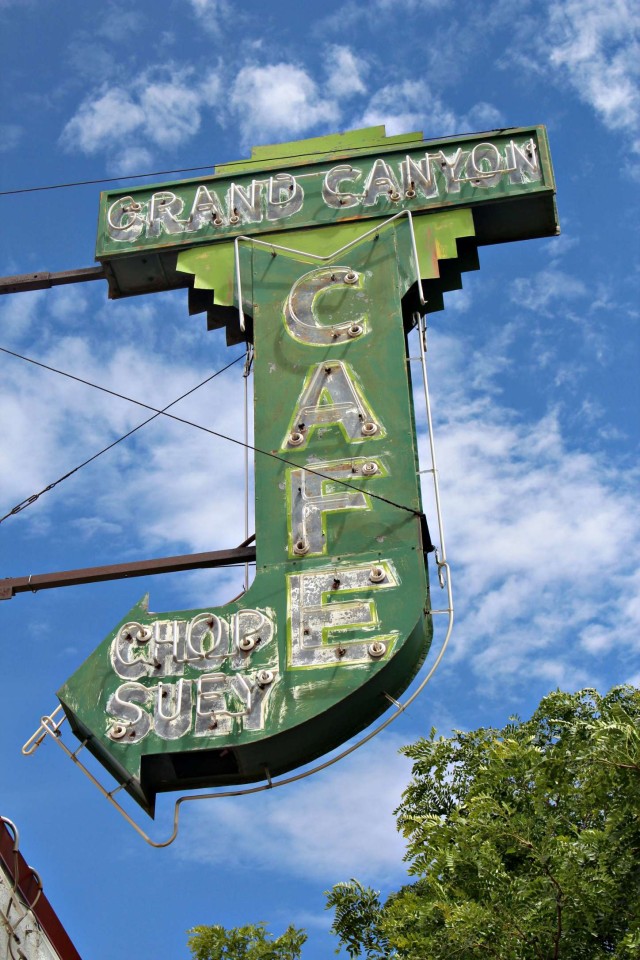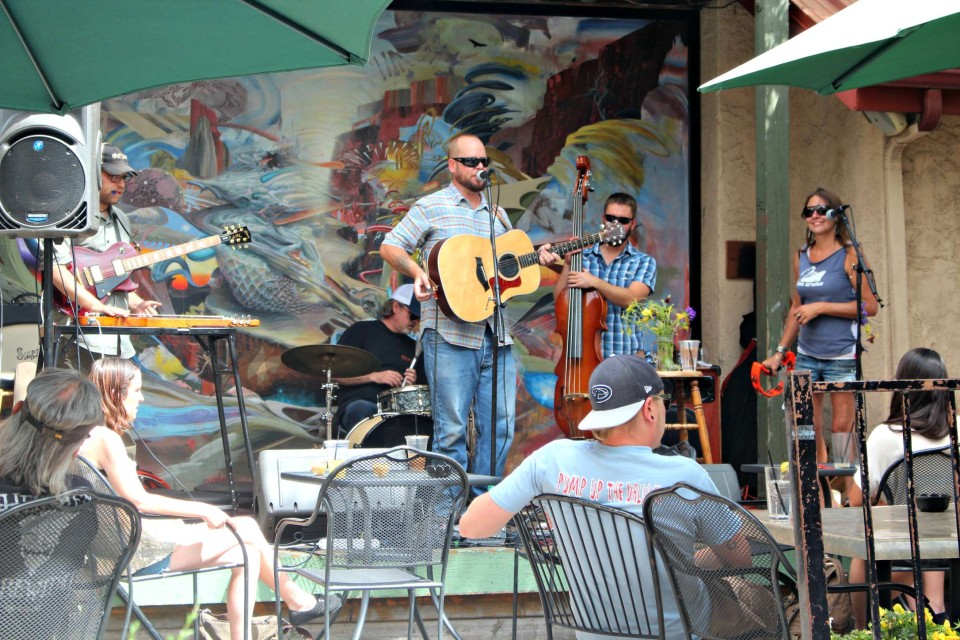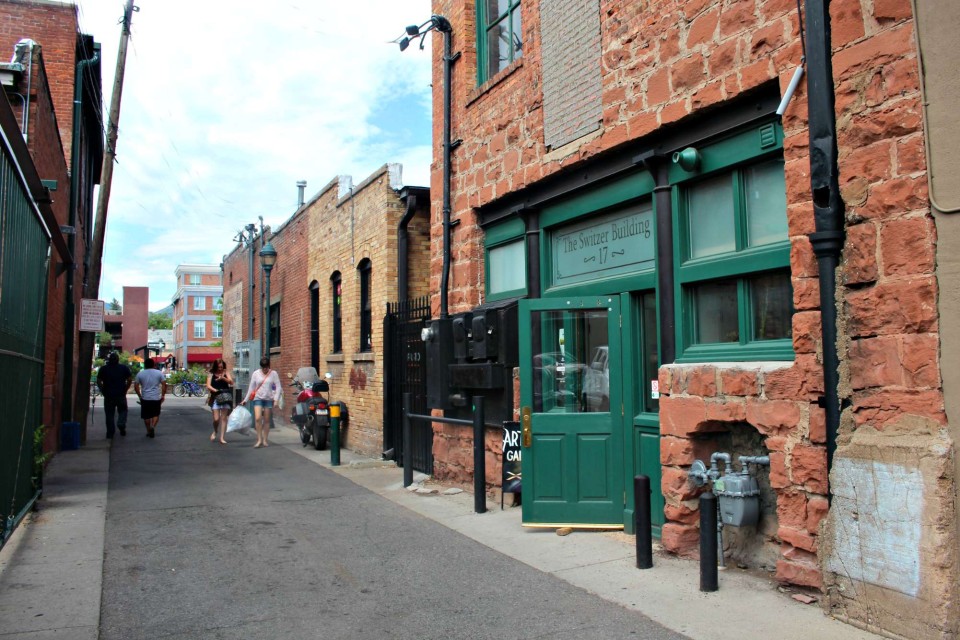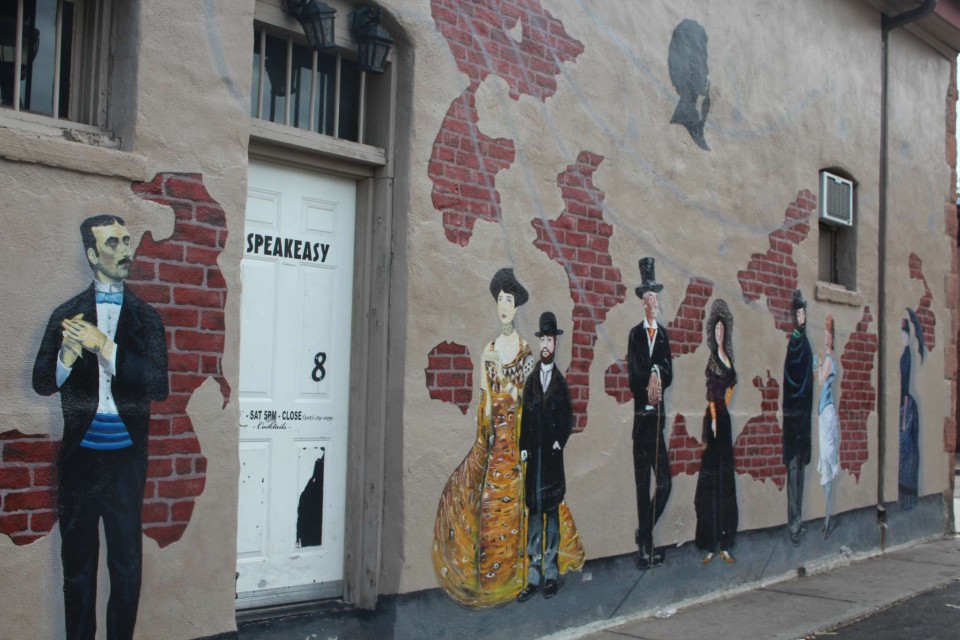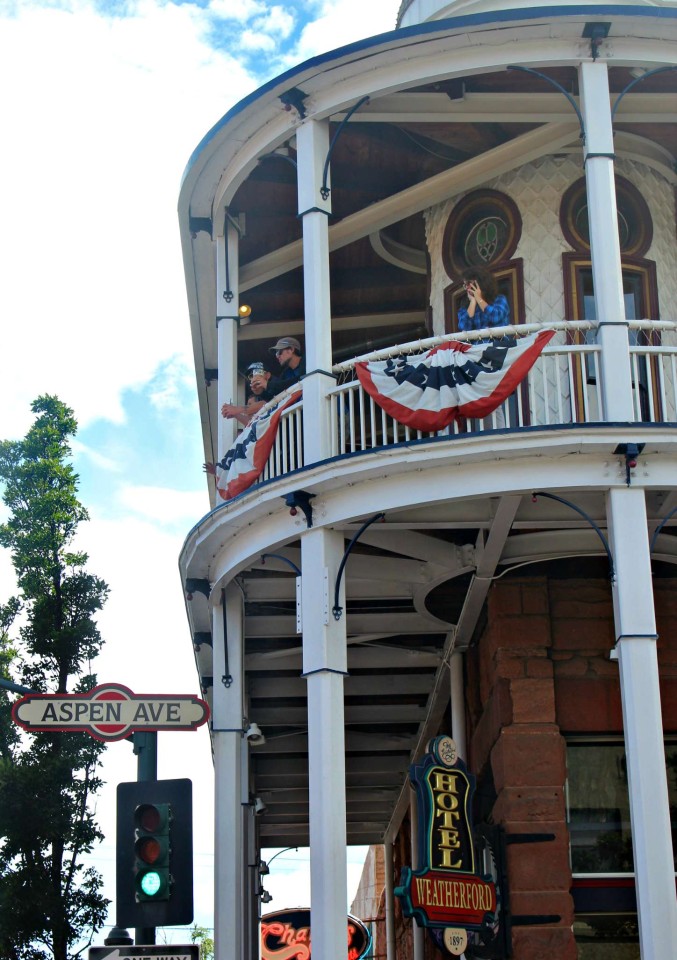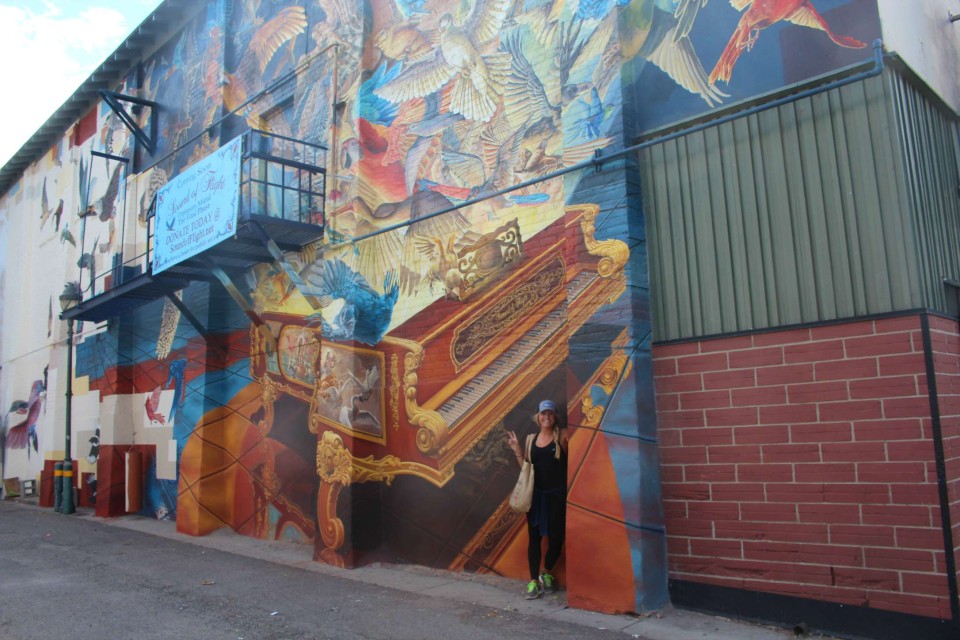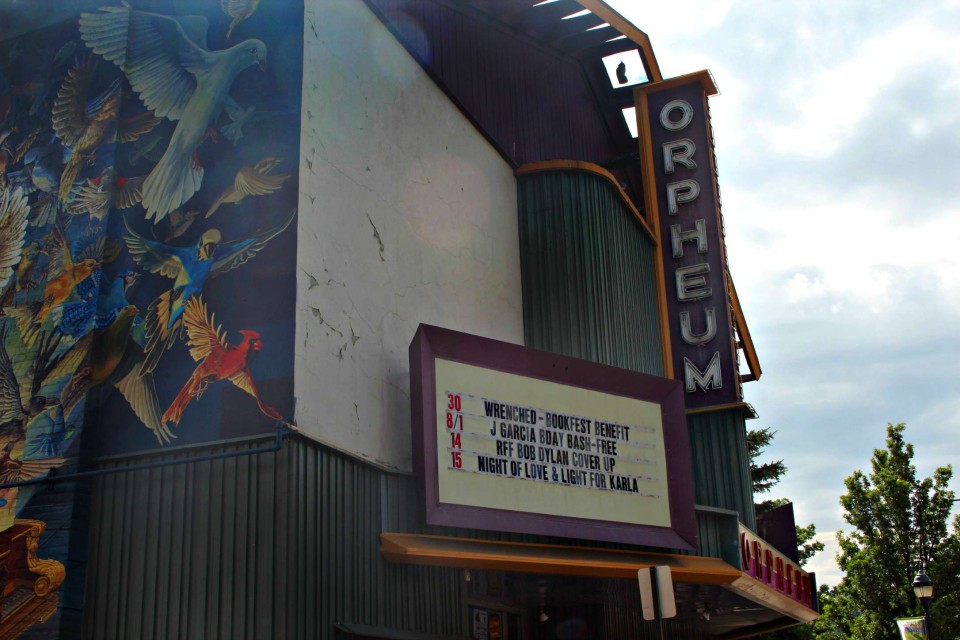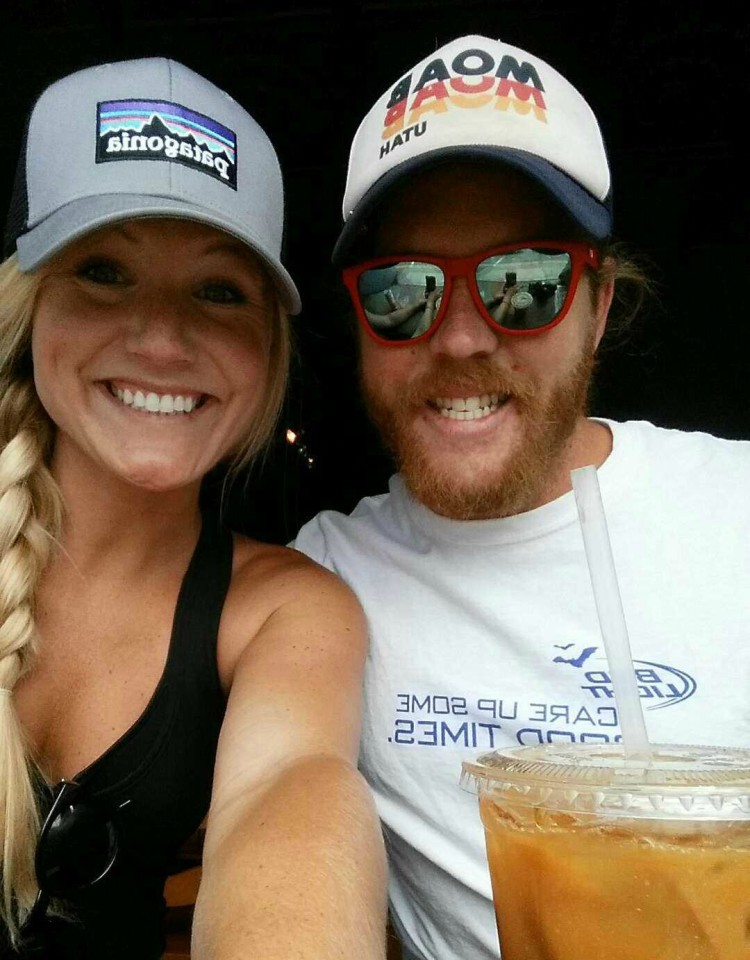 Mount Elden is just northeast of town. I took the dogs here for a super vertical, rocky hike up for scenic views of Flagstaff. I had almost forgotten what it was like to hike upwards at such high elevation (our hike in the Grand Canyon was a descent) – it brought me back to my first hike, heaving and panting, in Jackson Hole last Fall.
A trip through Arizona is a trip through different worlds. From the Glen Canyon area (Lake Powell) to the South Rim and Flagstaff, it's like night and day. You go from sandstone and desert to Pine forests and sunflowers.
Even more shocking is the difference in landscape between Flagstaff and Sedona, which are a mere 30 miles apart. In less than an hour you go from tall pine trees and green grass to red-rock buttes and steep canyon walls.
Sedona
Sedona use to be America's "Little Hollywood" and has quite the cinematic legacy. It's signature red rocks can be seen as the backdrop in a huge amount of old films. Even Elvis Presley fell in love with the place. It's also the capital of the New Age movement and a hub of crystal shops, spiritual healers, psychic readers, and people simply seeking inner-peace. We spent a little over a week here.
Everyone says you have to take the iconic Pink Jeep Tours in Sedona. Granted we can take our own "White Jeep Tours", we got fully into the Sedona Spirit and hopped on board.
Broken Arrow Trail is the most rugged of the trail rides offered (my Jeep couldn't have handled this trail anyway). We took an 8AM ride, stopped and walked up Submarine Rock, took in the 360 degree views at Chicken Point, and drove around the slim edge of Mushroom rock. Whether you're hiking, biking, or off-roading it's absolutely beautiful out there surrounded by junipers, cacti, and cypress trees.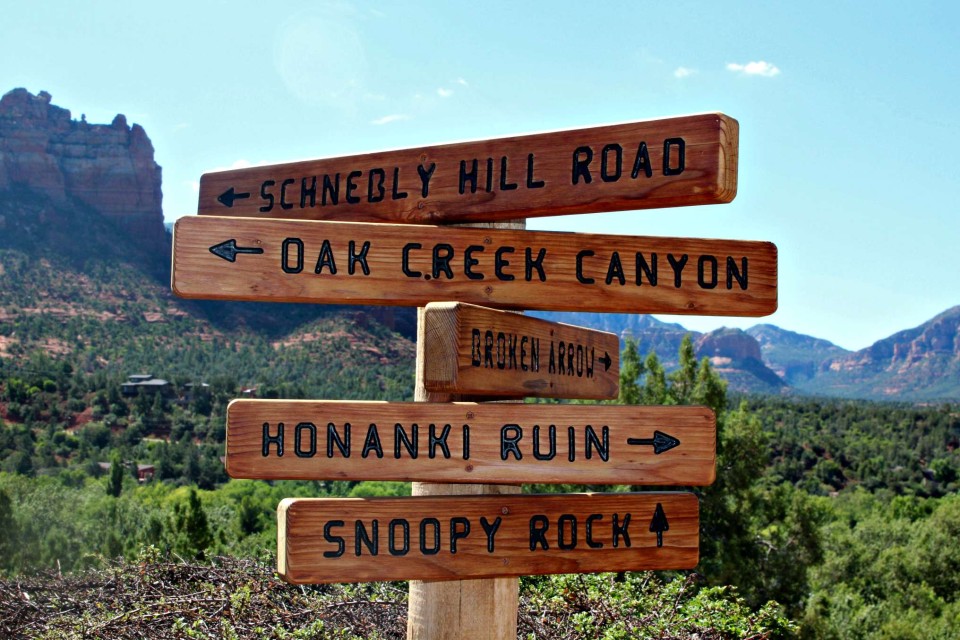 Point of No Return Road:
Chicken Point:
Submarine Rock:
A twisted Juniper tree caused by energy vortexes, swirling centers of subtle energy coming out from the surface of the earth:
Downtown Sedona is touristy and commercial but still has it's quirks. (I'm over a year into this trek and still not cool enough to hate on touristy-ness. I still actually might love it.) But for every "Life is Good" store there is a locally owned new-age shop selling crystals and offering aura readings.
Sedona lies at the mouth of the gorgeous Oak Creek Canyon and is surrounded by red rock monoliths. Almost every restaurant and shop along the main strip has a large balcony overlooking all that natural beauty. I definitely suggest a sunset dinner in town. We ate on a deck as the sun deepened the reds of the rocks, looked around, and everyone had put their forks and glasses down and become quiet. It's quite the show.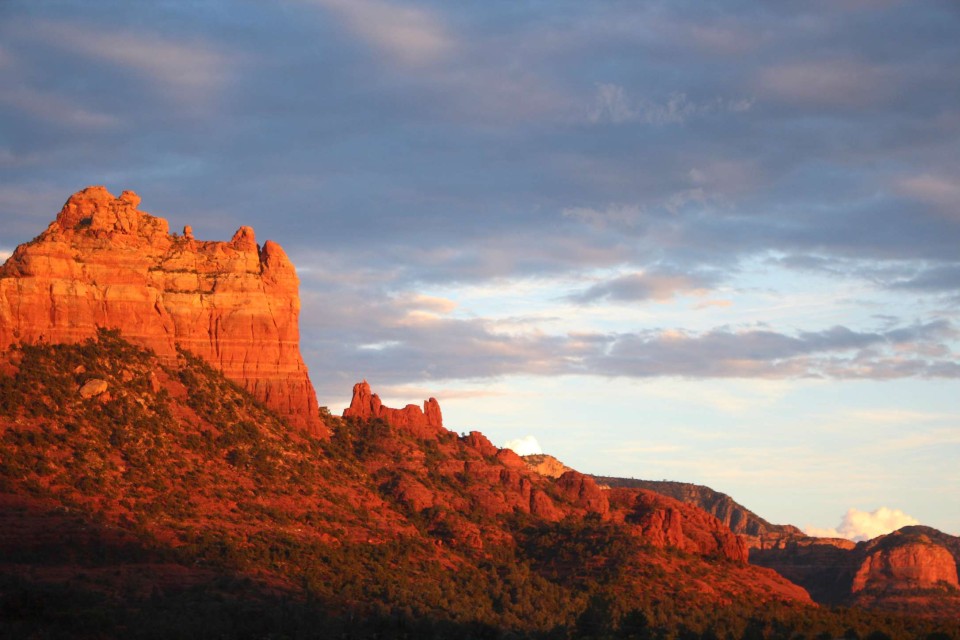 Morning coffee views: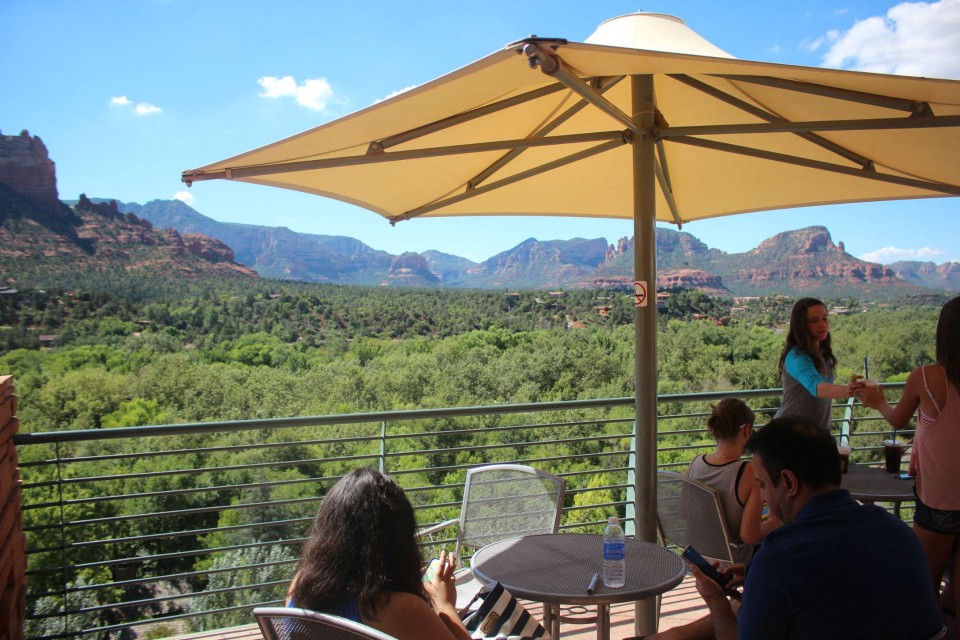 Chapel of the Holy Cross: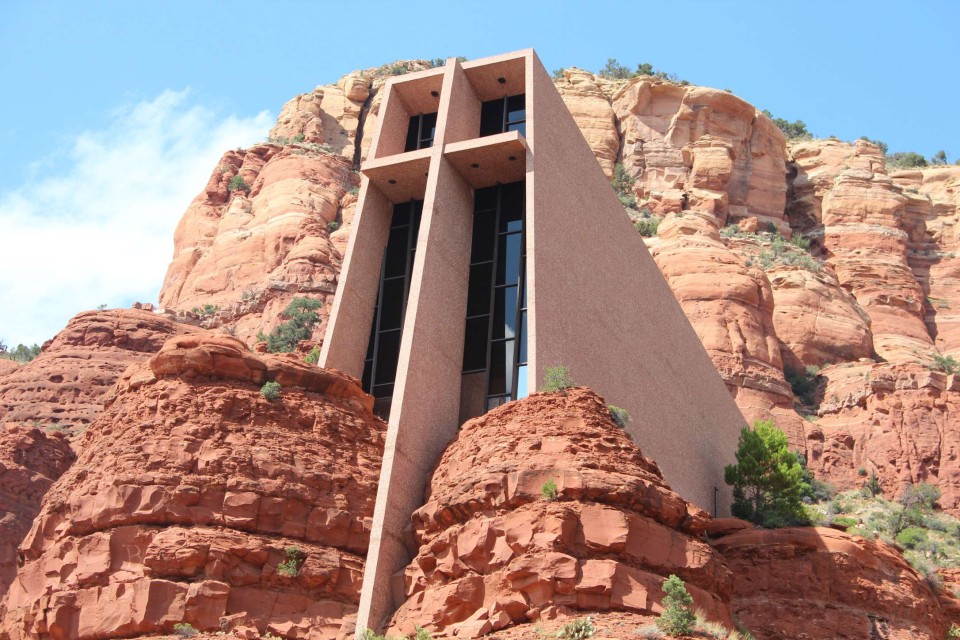 Tlaquepaque is a gorgeous little shopping center that authentically resembles a Mexican village. It's been around since the 70's and is too pretty to miss with it's stucco walls, Mexican tiled fountains, and cobblestone walkways. We checked out a few galleries and shops, did tastings at a boutique wine & spirits shop, then went to Oak Creek Brewery.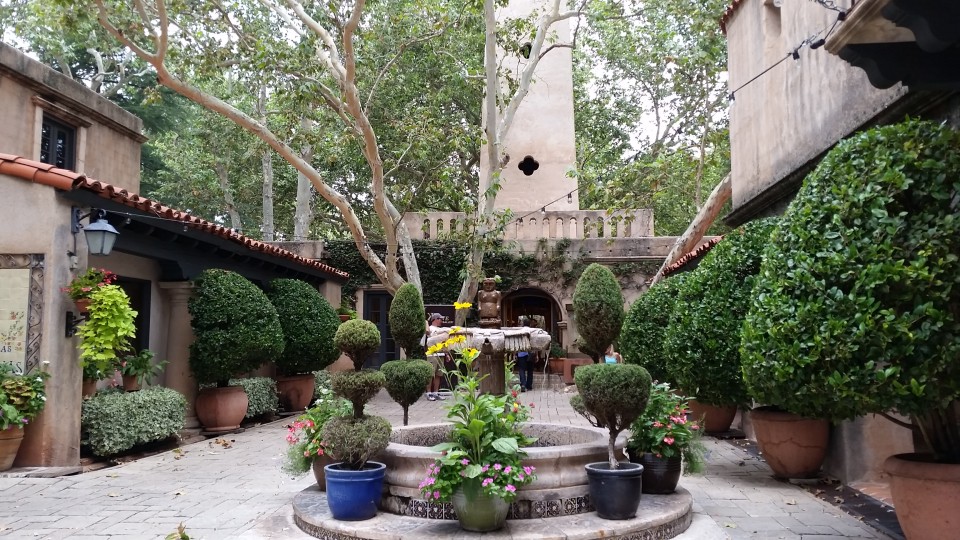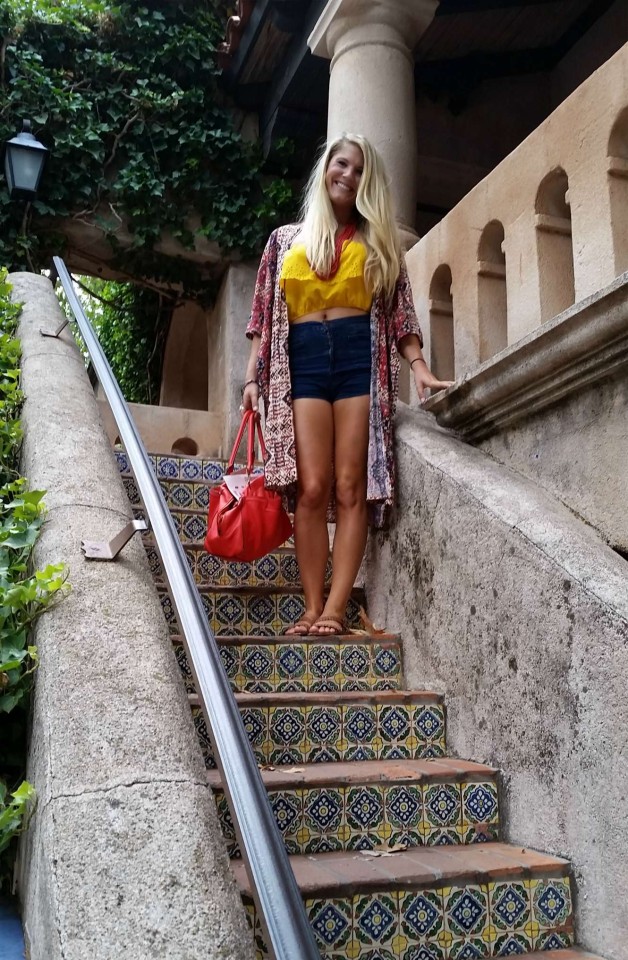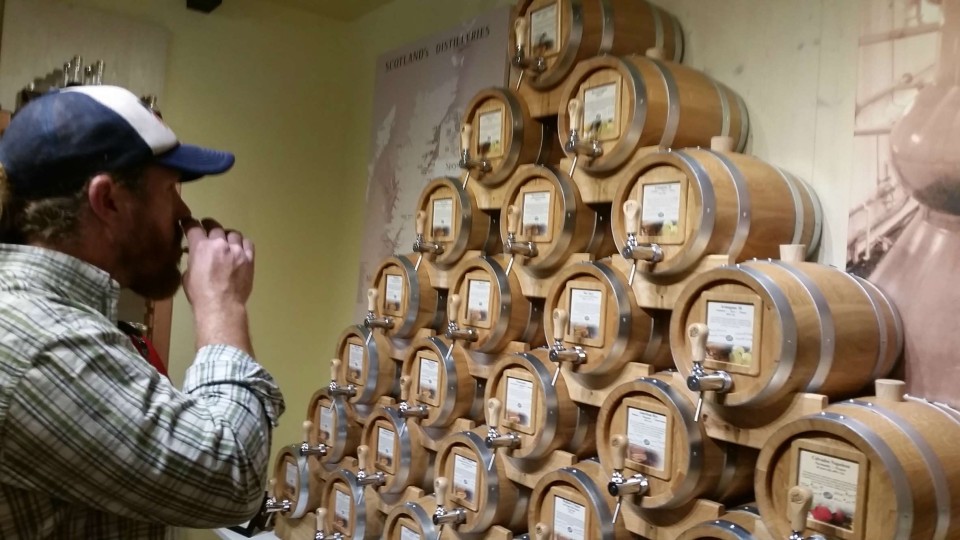 Better than any of the dining or shopping in Sedona is it's amazing open-space. There are tons of gnarly mountain biking trails that I probably shouldn't have attempted (a handle-bar front flip and some scratches/blisters later and I'm still here) and even more hiking trails. The canyons and mountains around Sedona have more maintained trails than anywhere else in Arizona. The vast red rock views and famous buttes like Bell Rock and Cathedral Rock towering around you don't hurt the situation.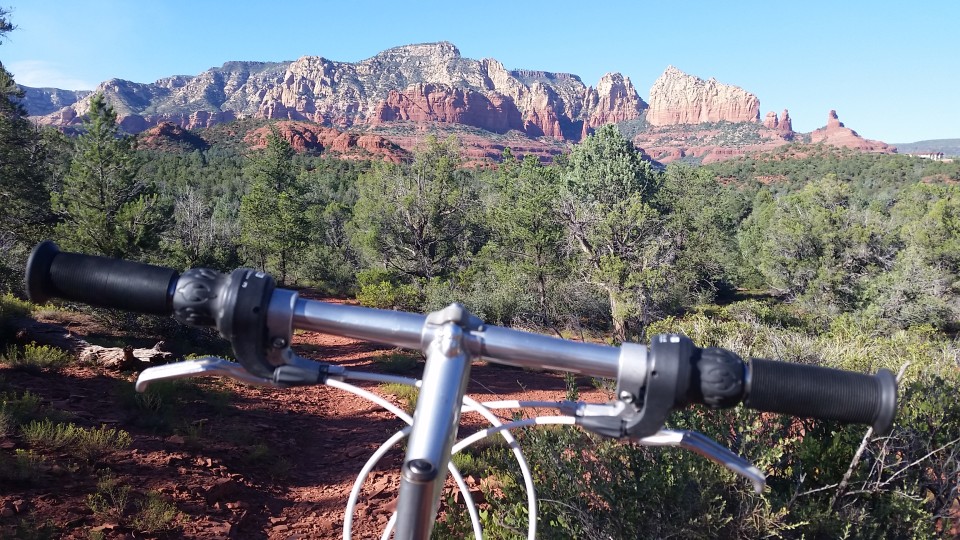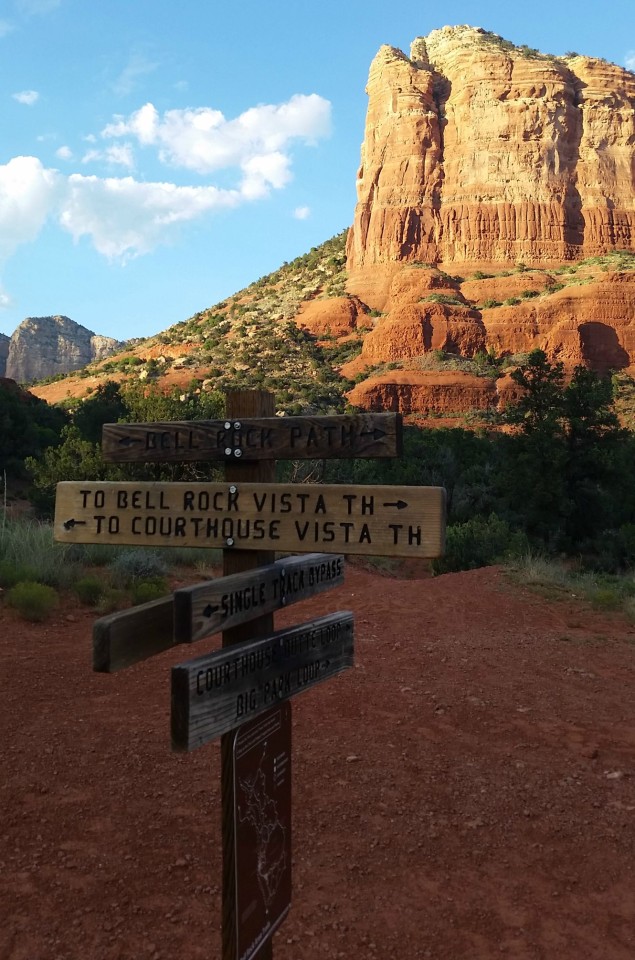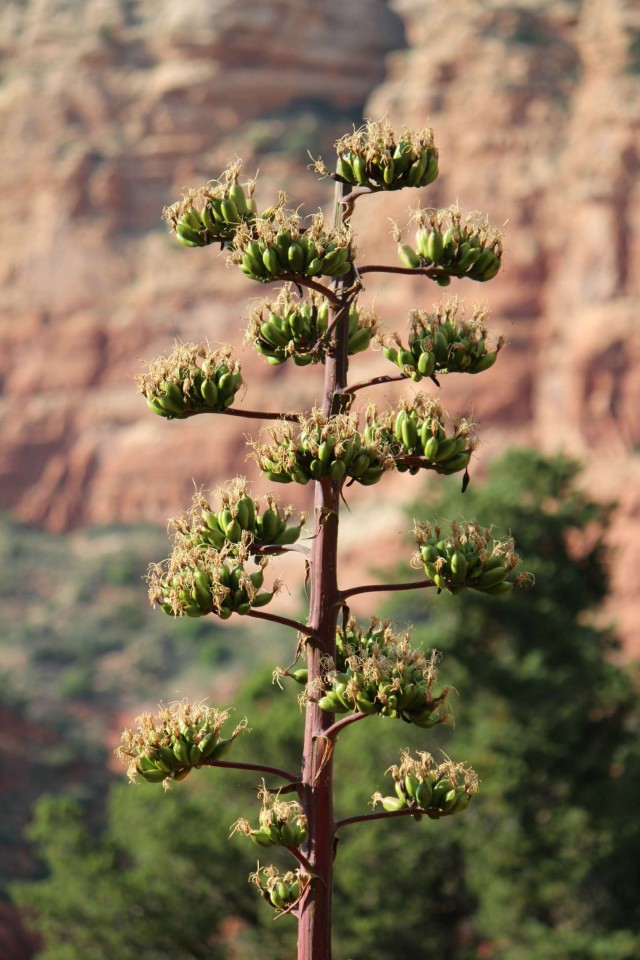 In addition to being a beautiful and serene place, Sedona has long been known as a spiritual power center. There are 4 main vortexes in the area and with them, a large New Age community sprung up. Some people travel from all over the world to experience the energy and some people think it's a load of shit. I'm somewhere in the middle, in that I think getting outside and going somewhere naturally beautiful to focus on yourself a bit is what the doctor should always be ordering. On the morning of my birthday we hiked up to Bell Rock, a main vortex, to start my 28th year off with good energy. I will say that I was definitely positively affected.
To get up to this view, you actually climb straight up the bell-shaped rock: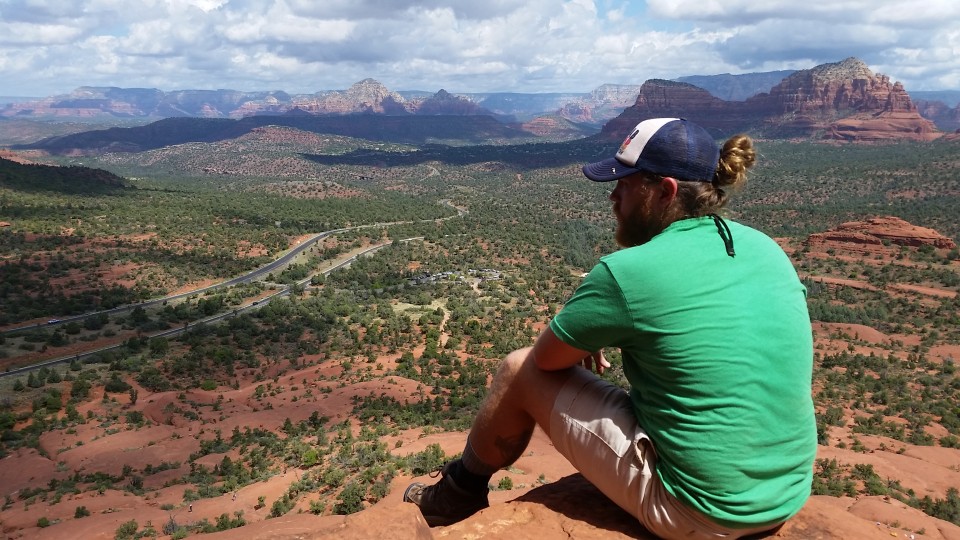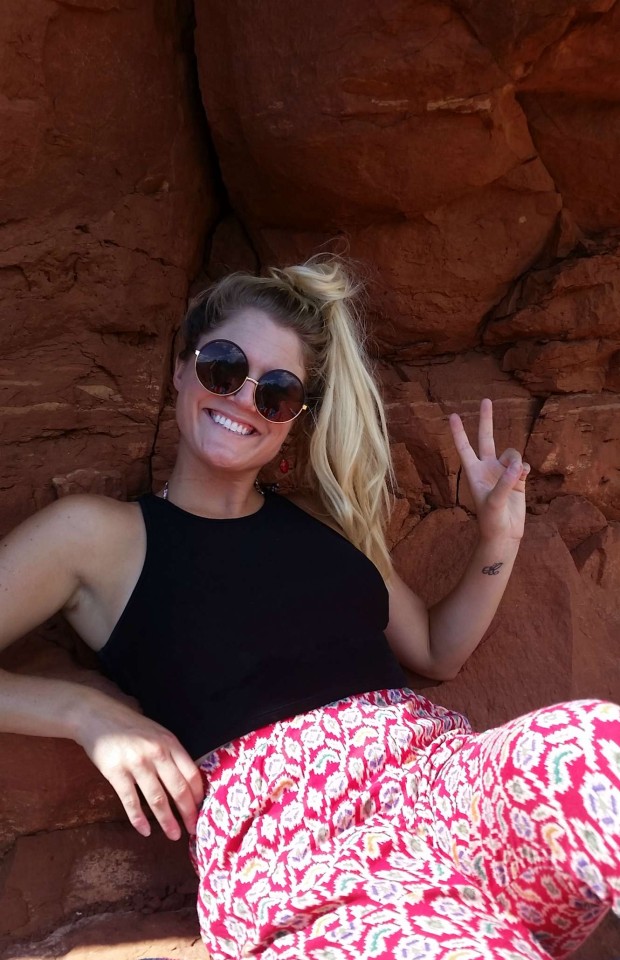 What's the best thing about hiking besides the actual hiking? The photo opps, duh. Devil's Bridge is a steep hike near Red Rock State Park with an awesome endpoint. You can climb out onto this beautiful, red, natural bridge and have your photo taken suspended above miles of desert scenery.
We didn't want our Jeep, Sandy, to miss out on the trails even though we cheated on her with a Pink Jeep. Schnebly Hill Trail is a little less demanding than Broken Arrow Trail so we took her out for a sunset spin with stunning vistas.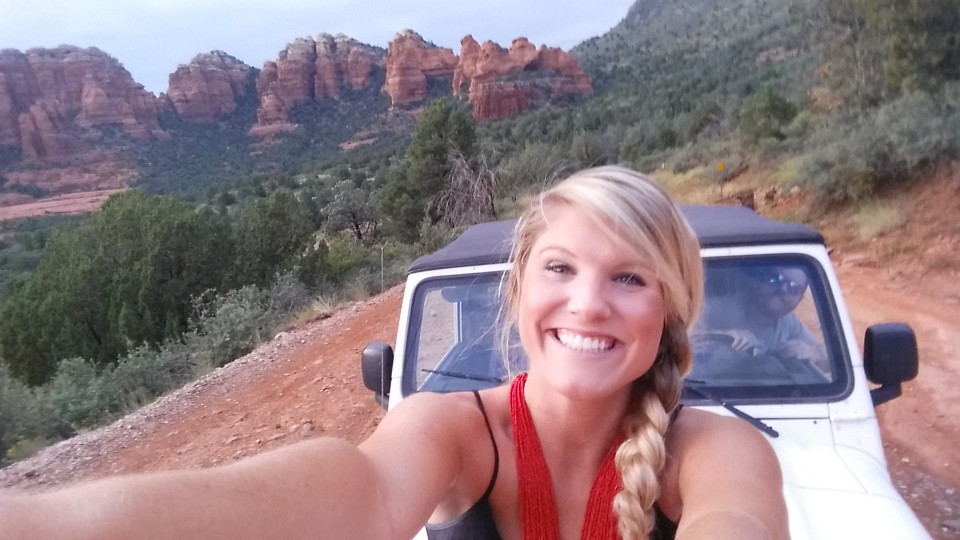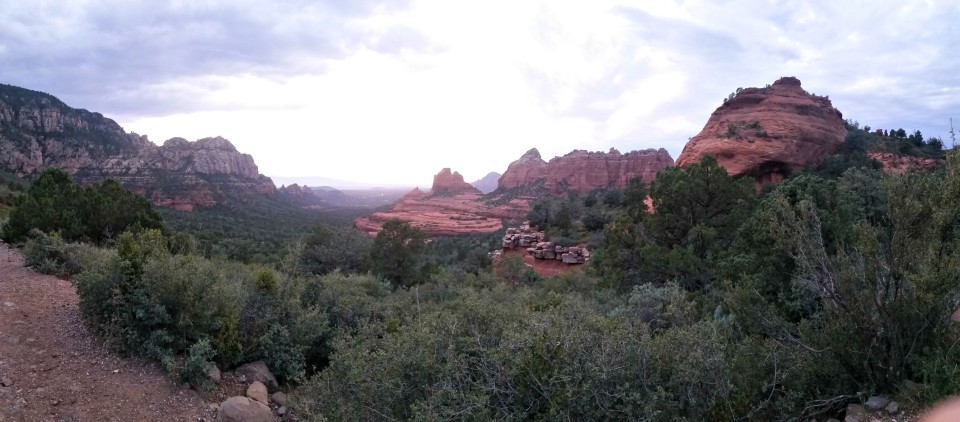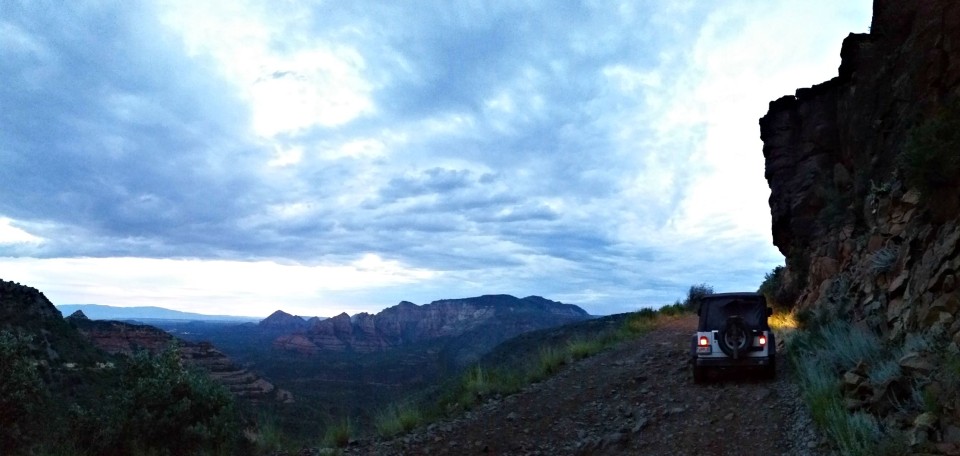 Slide Rock State Park is a fun red-rock area with access to cliff-jumping and sliding through the rapids of the beautiful Oak Creek. The only down-side was the $30 parking fee. We brought our eno hammock, a picnic lunch, our floats, and posted up for the day. It's packed on the weekends but we walked to the far end of the creek and had some space to ourselves. There aren't a lot of options to be near water in the southwest so people take what they can get. Campgrounds and parks around Oak Creek are hot spots. This place is a natural water park and getting rocketed through the water shoots was actually pretty fun, even for two people in their late twenties.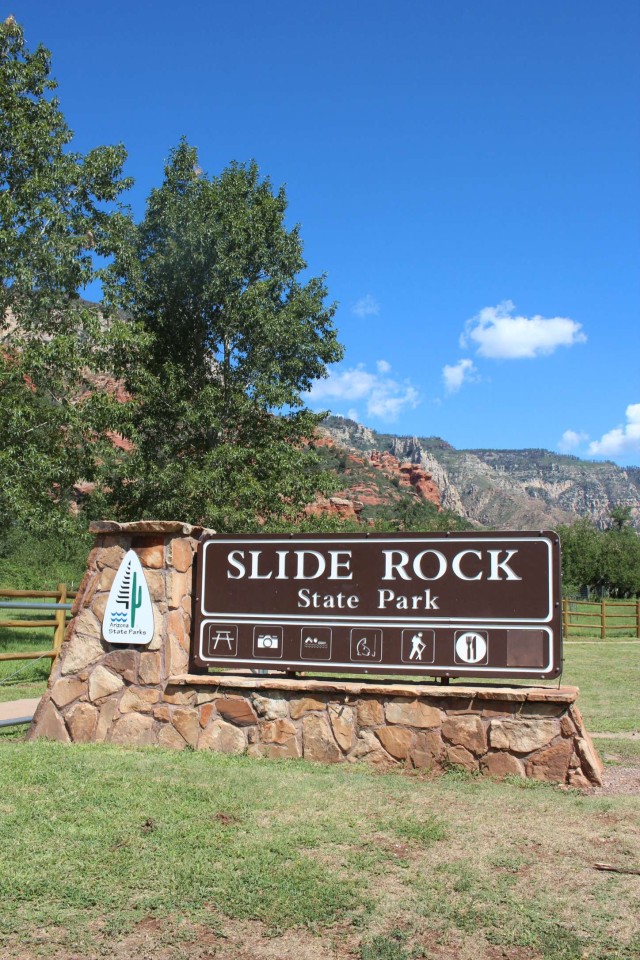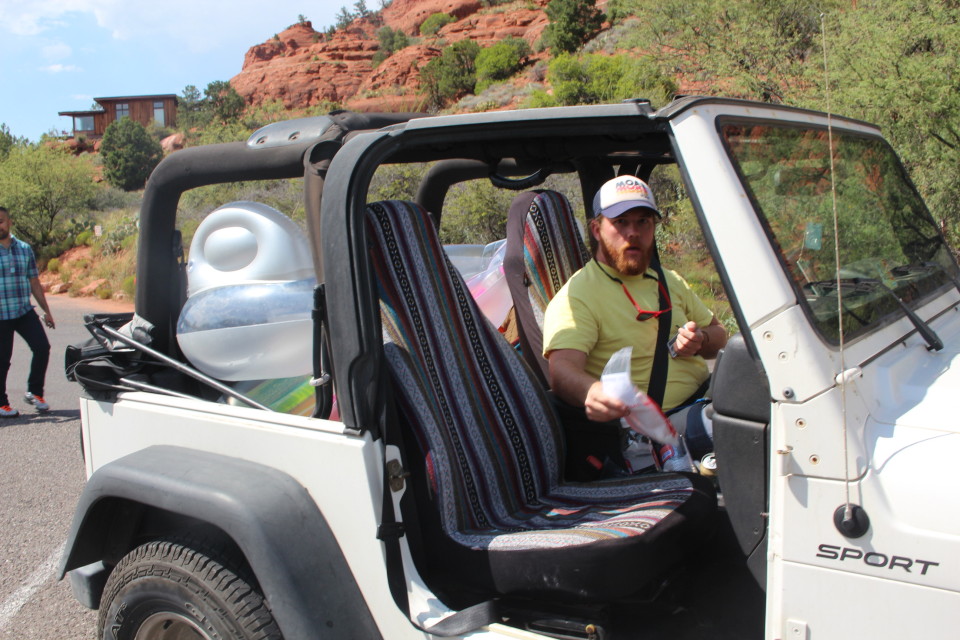 Outside of Sedona, the Verde Valley region is home to quaint little towns like Prescott and Cottonwood. There's also a small, but booming, wine community in the area. We stumbled upon Lo Lo Mai Springs campground, which is this tranquil little secret oasis along Oak Creek. You drive down a hill past a llama, a donkey, and through a cave of cottonwoods to get there. There is very little cell-phone service and a whole lot of charm. We stayed here for a weekend and visited all of the wineries surrounding it.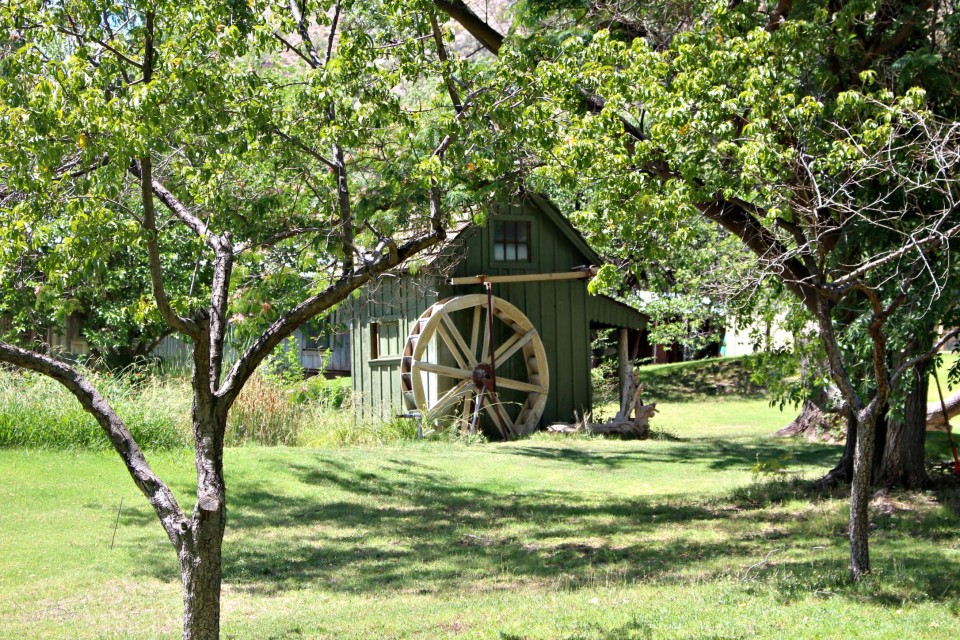 Javelina Leap Winery:
Oak Creek Winery:
Page Springs Vineyard:
Page Springs was hands down the favorite. The setting is serene and the wine was actually really really good for Arizona wine.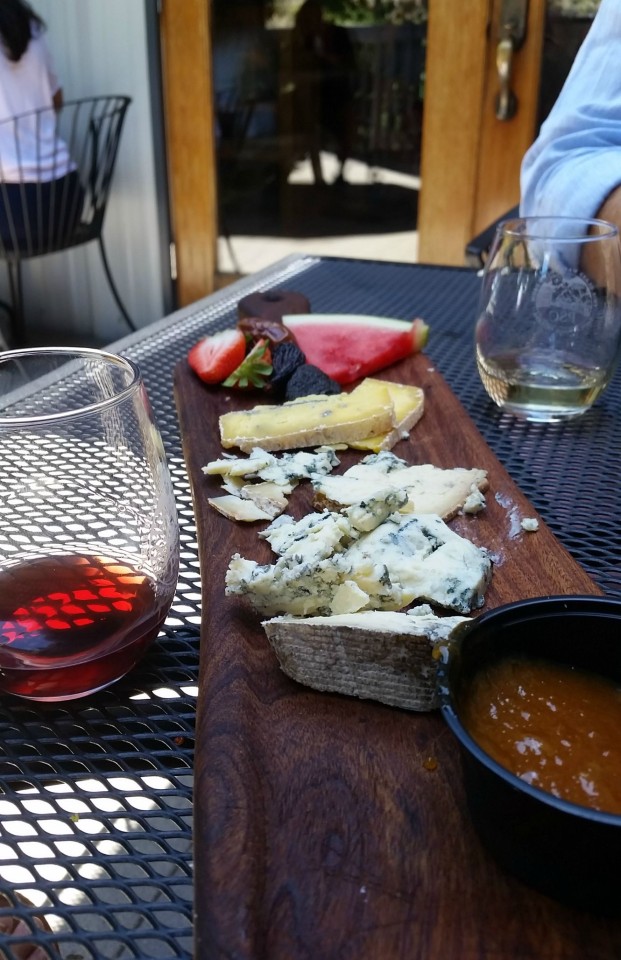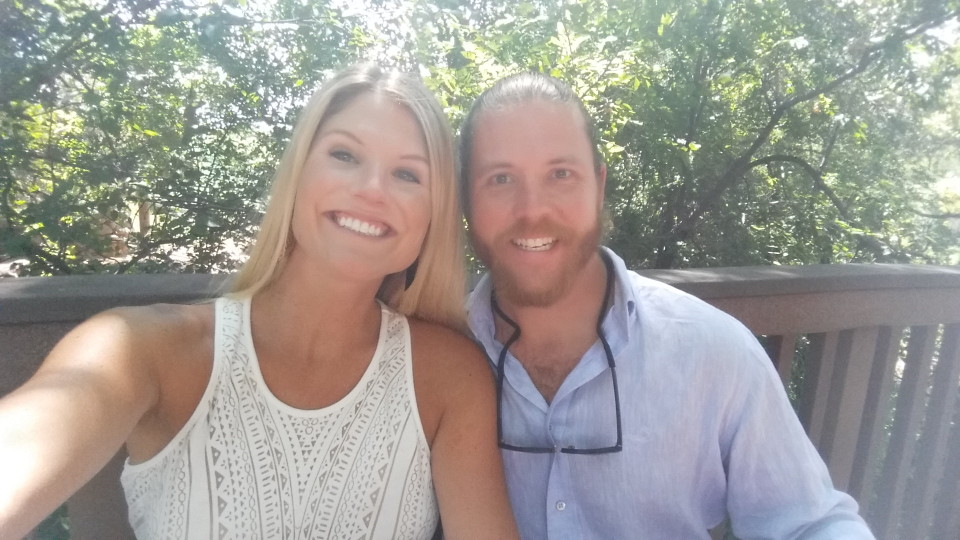 Cottonwood is a quaint little town about 30 minutes southwest of Sedona. Wine tasting rooms, galleries and restaurants line Main Street and provide the backdrop for this cute historic district. Instead of the red rock buttes of Sedona, you have the Verde River running through surrounded by Cottonwood trees. We had lunch on a patio and then tasted wine…lots and lots of wine, and listened to some live music. I wish we could have spent more time here. It's a bit more lively than Sedona and we got the feeling most of the area's locals live here and leave Sedona for the tourists.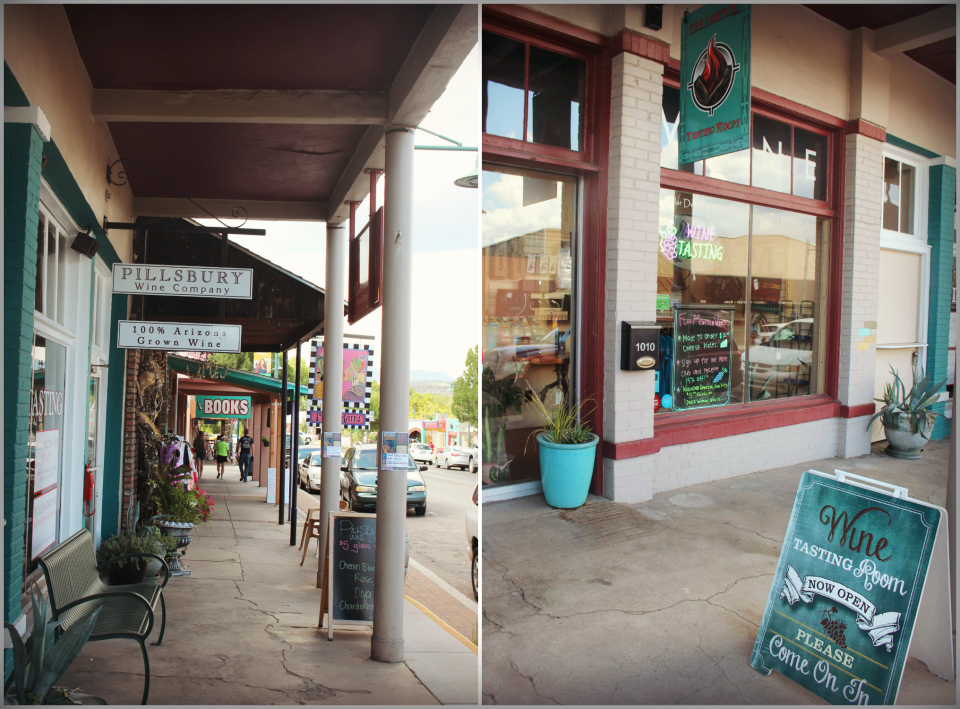 Jerome
Jerome is another 30 minutes west of Cottonwood and sits on top of a mountain overlooking all of Verde Valley at about 5,000 feet. We went here at dusk which was the perfect time to visit considering it's a spooky little ghost town left behind from it's past as a thriving copper mining camp. It was pretty much deserted after WWII and in the late 60's it was designated a National Historic District. It's one of the largest ghost towns in America. The town's jail still stands, the infamous "prostitution row" alley can still be walked through, and most of the buildings look the same as they did 100 years ago. The old hospital turned hotel is said to be the most haunted. We had my perfectly weird birthday dinner at a creepy place called the Haunted Hamburger and walked around town.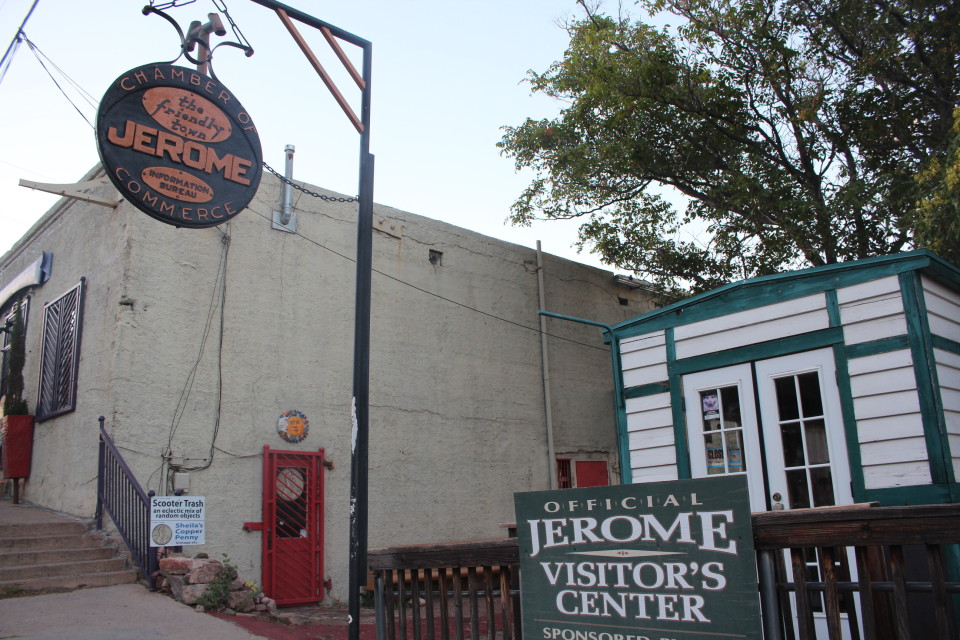 Good Eats
I don't typically think of sushi when I think of Central Arizona, but we ate at an awesome sushi joint that everyone raves about in Flagstaff, called Karma. A few sake flights and specialty rolls later and we understood the hype. It was also fun to talk about how we were heading to "Kah-ma" in a Pauly D accent.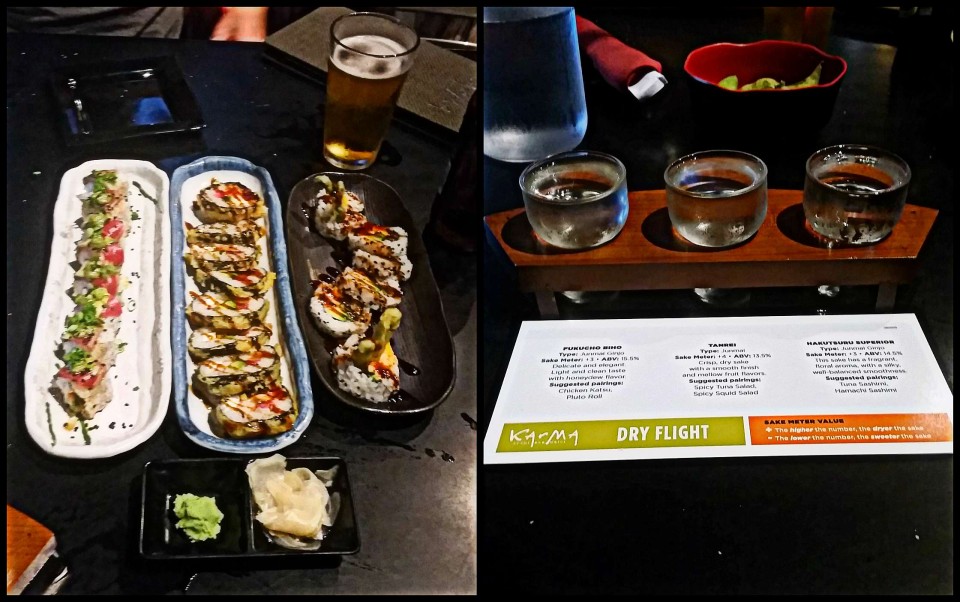 We're not done with Arizona just yet. We plan on making a trip to the West Rim and a Havasu Falls hike/camping trip next summer. We're also planning on heading back to southern Arizona this Fall. It was simply just too hot this summer.
Cheers!