The High Rockies became home. We absolutely loved living in Summit County and are already feeling homesick for Breck.  It's definitely been a winter I will never forget from witnessing some of the world's best athletes, to knocking things off my bucket list left and right, to hands-down experiencing the best snowboarding of my life.
**A quick update in reference to the last blog post. We correctly winterized our pipes soon after that post went out. (Woohoo!) Apparently the heat tape we had originally wrapped around our water hose was crappy. Josh replaced it and there was no more trudging through the snow to the clubhouse to shower. I don't know if I would have lasted 4 months of that. All-in-all, Lady Luck held up beautifully through a freezing winter. I'm so glad we didn't listen to the folks we met along the road last Fall who warned us against RV'ing in the snow. It was so worth it and we will be doing it again next winter.**
Cross-Country Skiing
With nordic ski centers and beautiful terrain surrounding us on every corner, we took our first stab at cross country skiing and hilarity ensued. Word to the wise, if you grew up on a snowboard, skiing will make you feel deaf, blind, and dumb for the first hour. (This was the first time I ever stepped into skis).  Cross country skis are much longer and skinnier than down-hill skis, which I don't think helped the situation. Regardless, after a few embarrassing tumbles with insanely fit, 60-year-old, avid nordic skiiers as our witness, we picked it up. Gold Run Nordic Center (located right next to our RV park) offers miles of groomed trails and naturally I thought it would be best if we took the most difficult one. Skiing uphill was an excellent workout and the views were absolutely worth it but the downhill portion was a little rocky. At least now I know that I love the workout and the views, and maybe I'll invest in a split-board one day…because I have no business skiing downhill.
We now have a huge soft spot for Breckenridge. Everyone is so loyal to their little ski town in Colorado and we definitely hopped on board that train. Once you leave Breckenridge for, say, Vail, you lose sight of the tops of the snow-capped Rockies and I hate it. Maybe you can't get up a flight of stairs without huffing and puffing, but life at 10,000 feet is beautiful.
Breck in Photos: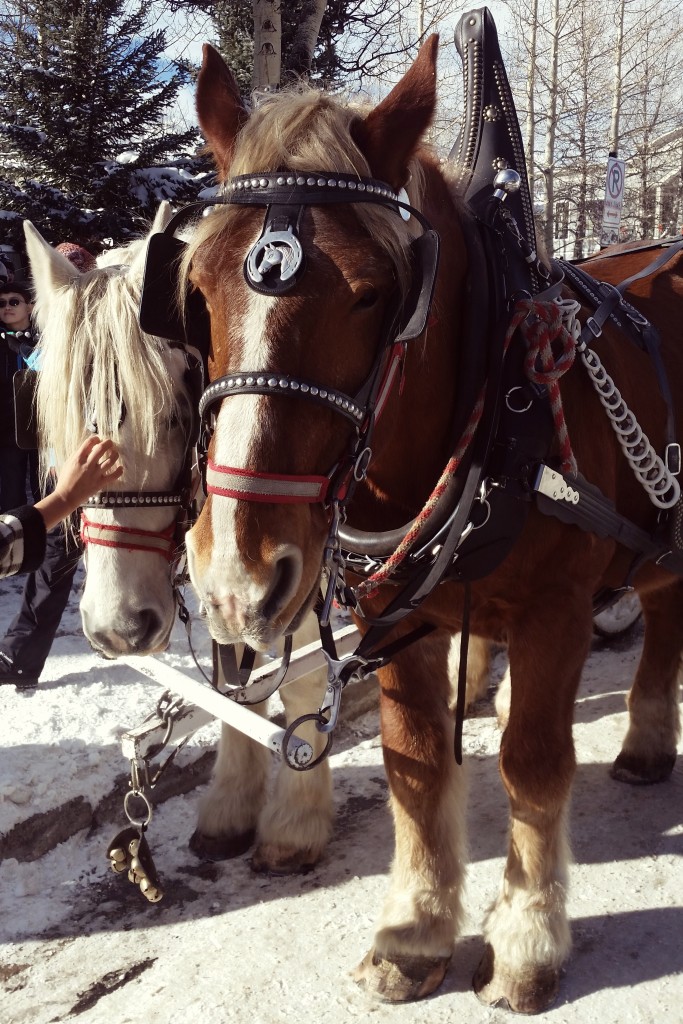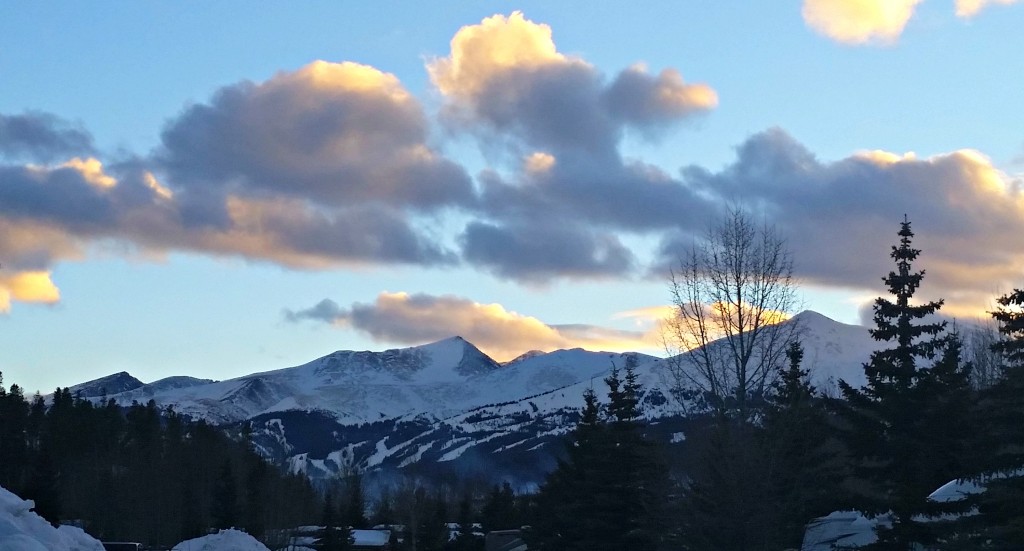 Snow Sculpting Competition
We were fortunate enough to witness 15 teams from a total of 10 countries compete in the 25th Annual Snow Sculpting Competition, which is held in Breckenridge every winter.  The small teams start with a block of snow and work with only hand tools for 65 hours across five days and then the sculptures stay on display through the following week. It was pretty crazy to walk through and see their progress day after day.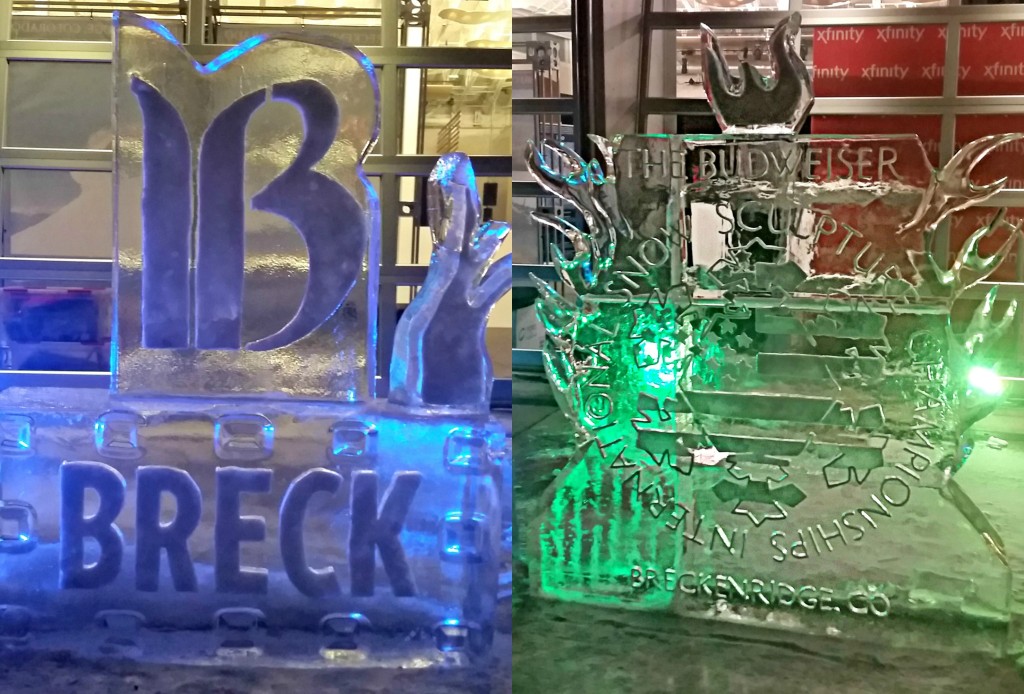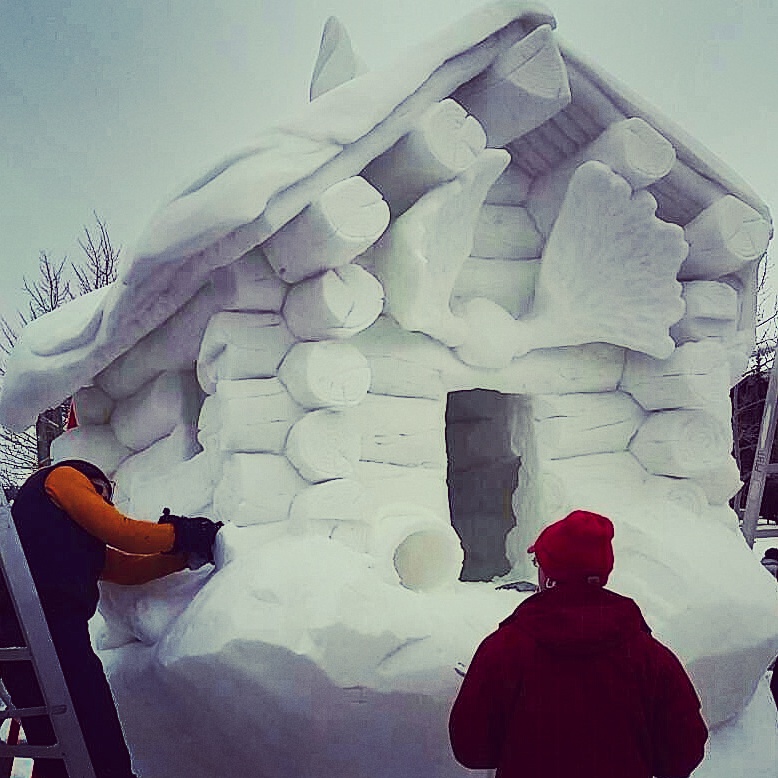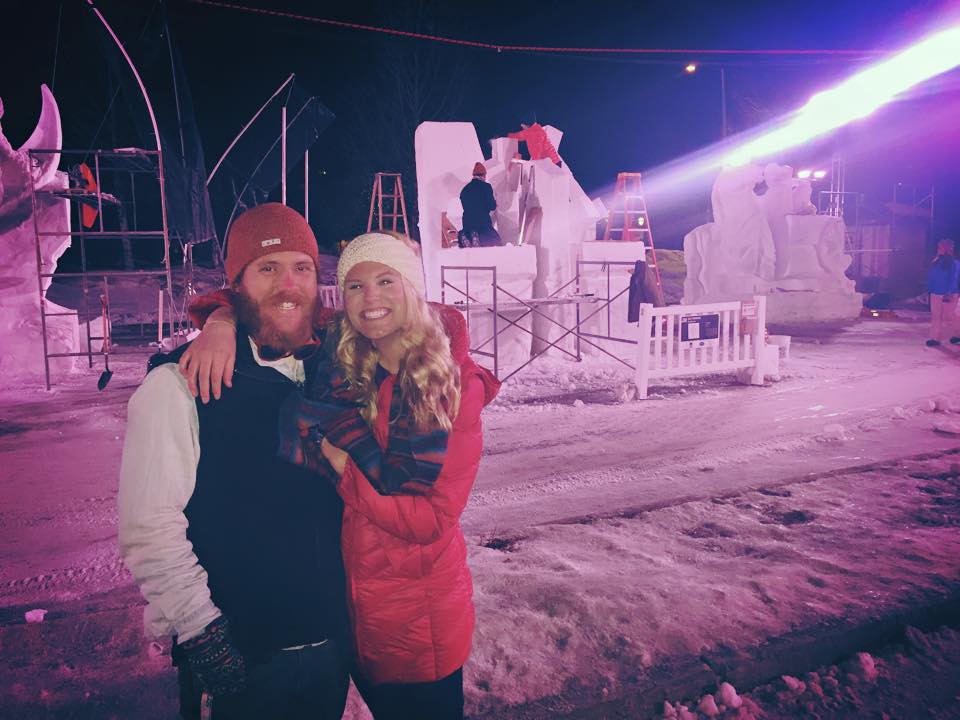 Not to be outdone by ice and snow, fire artists came out the week after. There's never a dull  moment in the streets of Breckenridge.
I'm seriously not kidding when I say there is always a party going on in Breck. We froze our toes off dancing in the streets to a New Orleans funk band on Mardi Gras.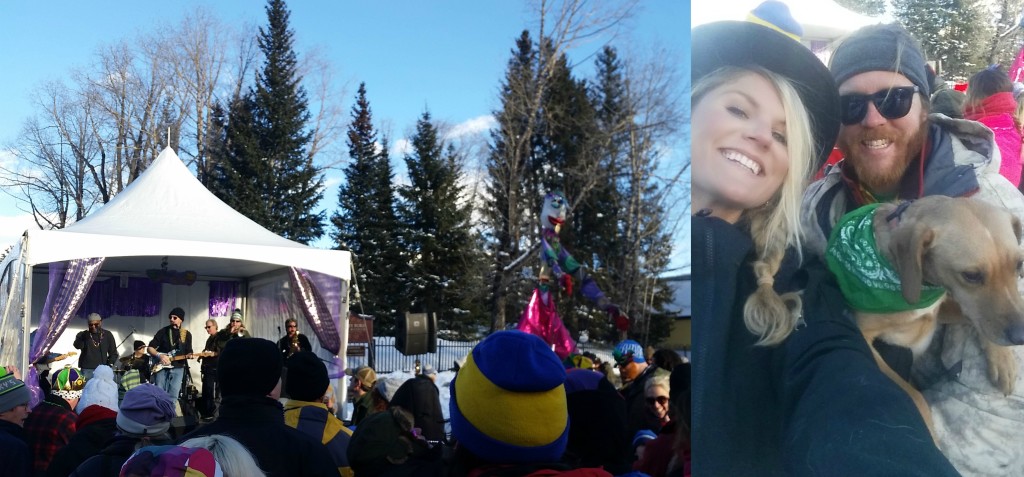 Peak 9 Sleigh Ride
What do you do when  you have visitors? You do the touristy things you've been wanting to do all winter! We took a sleigh ride up Peak 9 to a Happy Hour, complete with a ukulele player on the ride up, blankets, and hot chocolate. Not a bad start to a Thursday night.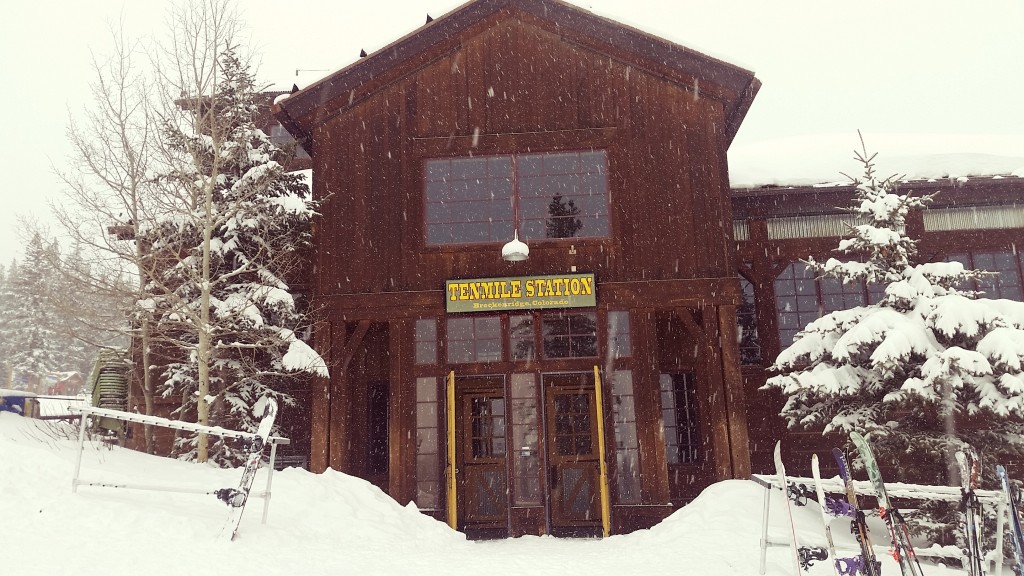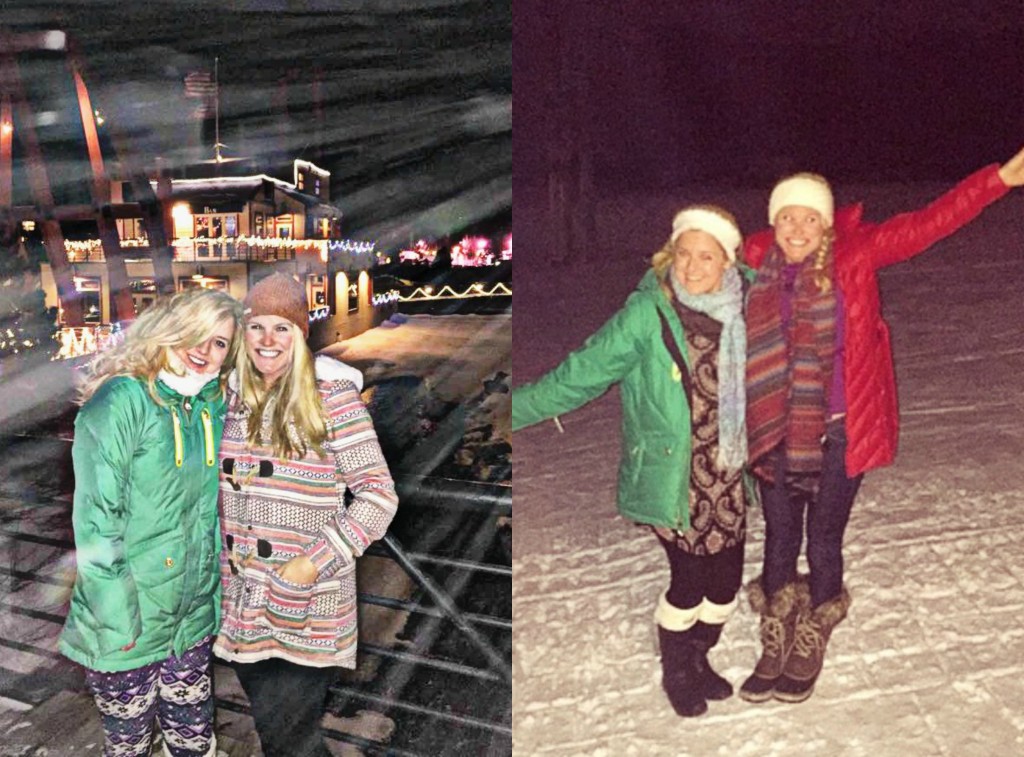 The BEST Neighborhood
We can't rave about Tiger Run RV Resort enough. It really became home during those 4 months. It's located right on the Colorado Trail so we could walk out of our door and sink right into some awesome snowshoeing.
Sapphire Point
 I never got over the beautiful views we were constantly surrounded by. I was still in awe almost daily up until we left. Sapphire Point Overlook is one of the best places to take in the views. It sits between Keystone and Breckenridge at an elevation of 9,500 feet. The overlook offers a stunning view of Dillon Reservoir and the Tenmile mountain range.
Idaho Springs
Idaho Springs is a tiny little town 30 minutes outside of Denver off I-70 on your way back to Breck. We passed it multiple times and finally I decided we were going to check it out. It's truly a 1-stoplight town and it's main attraction is Indian Hot Springs. If you're as intrigued by the sleepy, little, side-highway towns of America as I am, then it's worth a stop and a walk up and down main street. Don't go for the hot springs though. We've been to way better.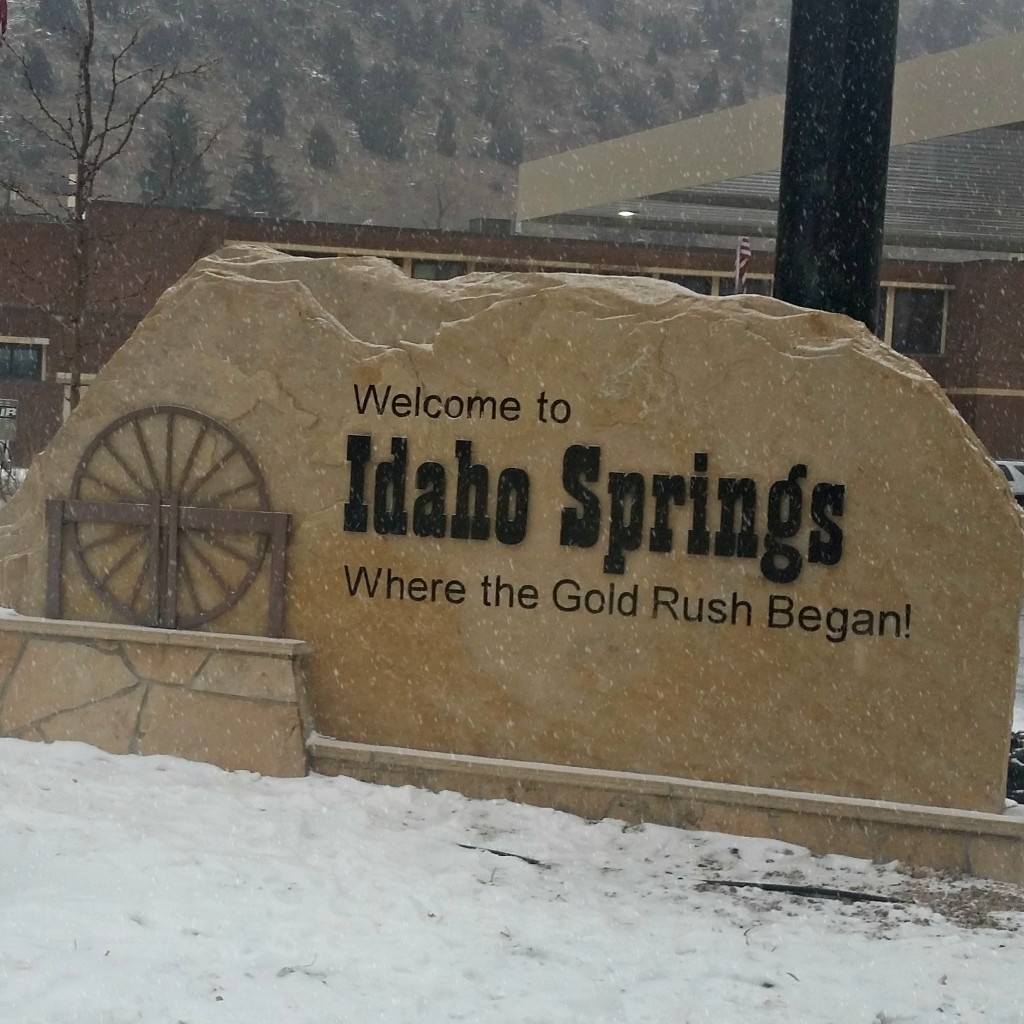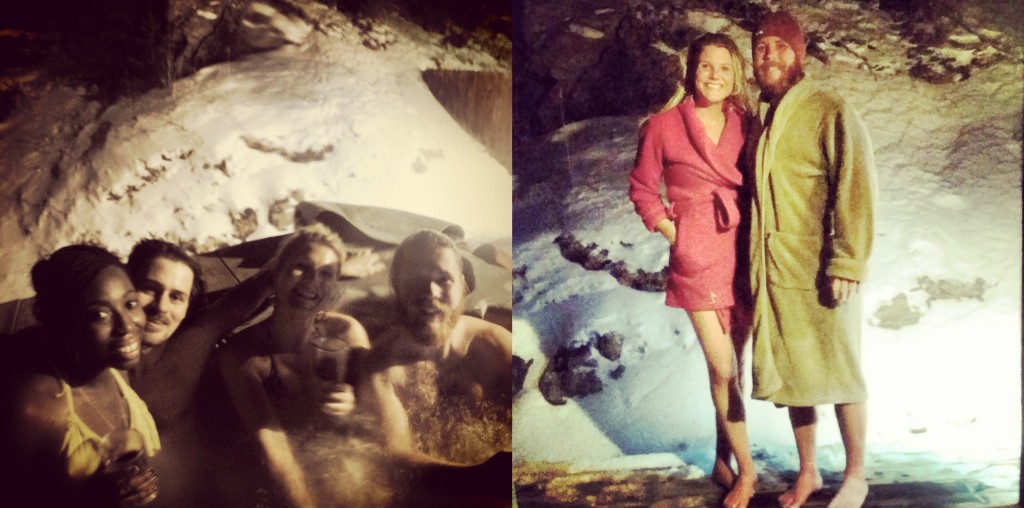 Vail/Beavercreek
Vail is ranked the #3 ski resort in the nation for a reason. The mountain is unreal. The back bowls go on forever. You could honestly hit the mountain for 3 days in a row and still feel like you haven't scratched the surface. The town itself lacks the character and charm of Breckenridge in my opinion. I love all of the locally-owned shops and restaurants, 100+ year old bars, and laid back feel of Breckenridge. In contrast, Vail is your cobblestone village with the occasional person in a in floor-length fur coat walking by. We spent our fair share of time in Vail, however, considering it was right down the road and the riding is amazing.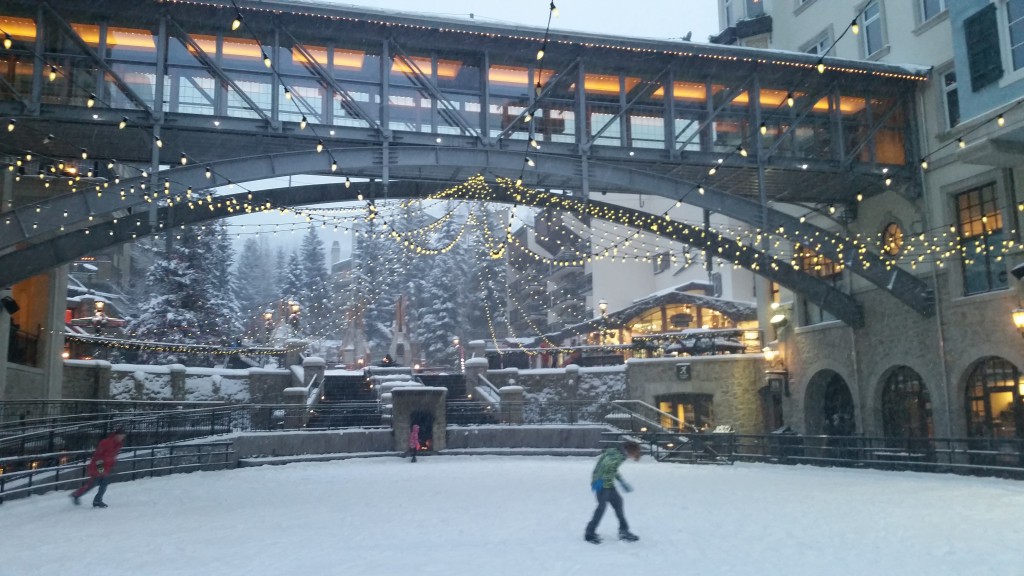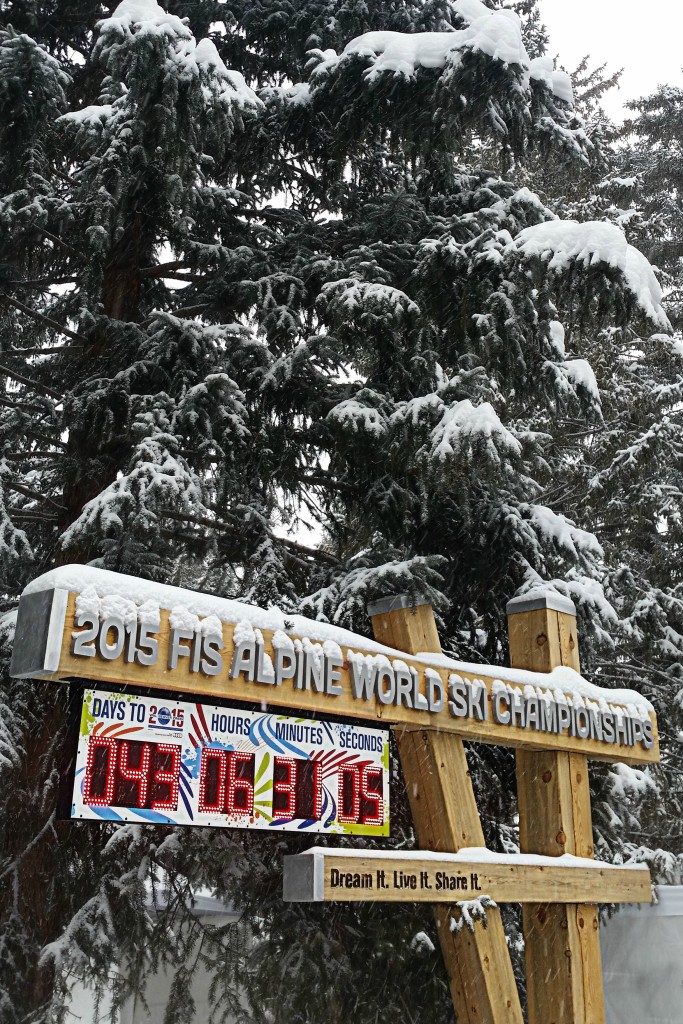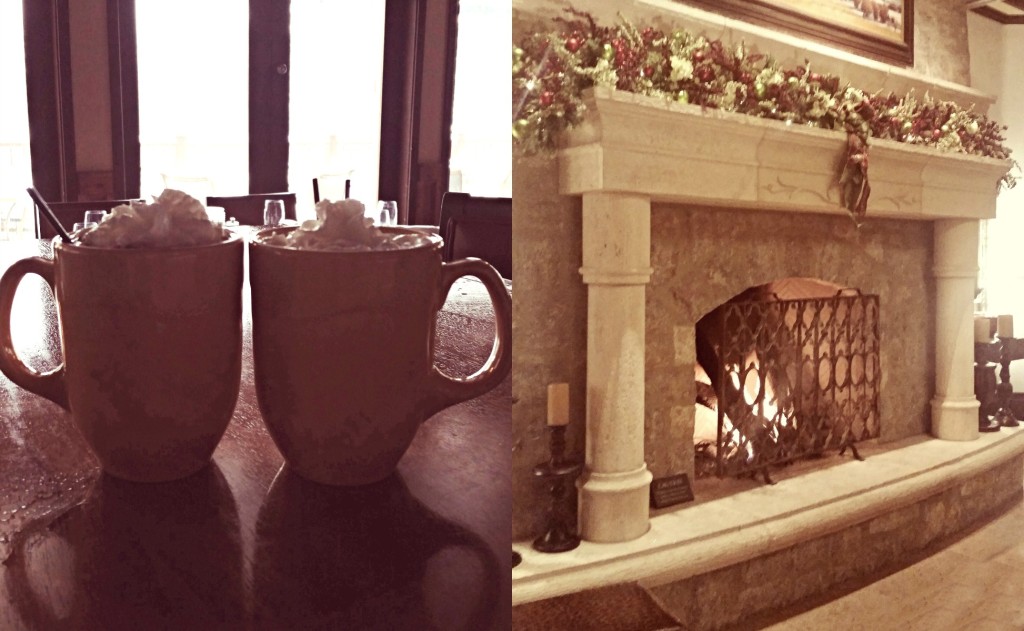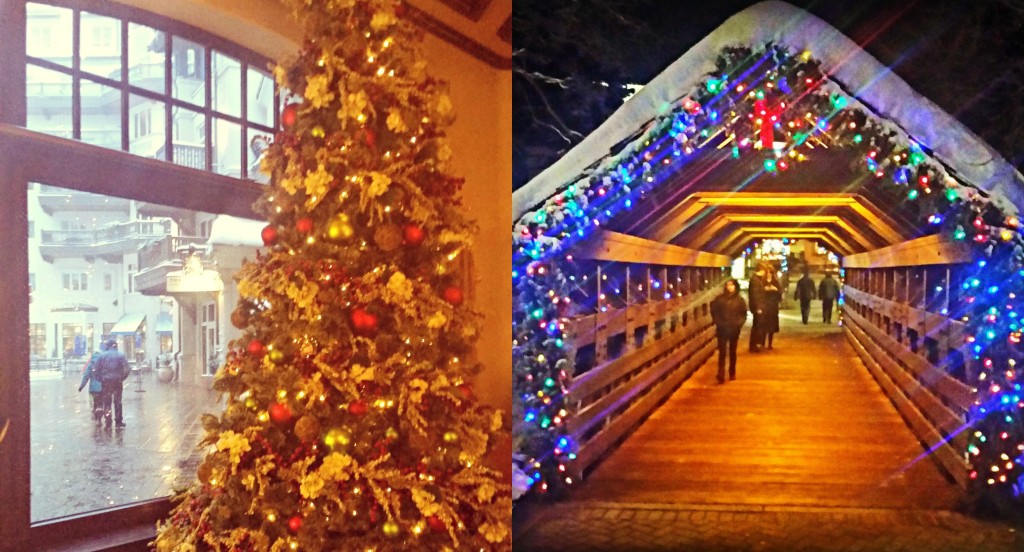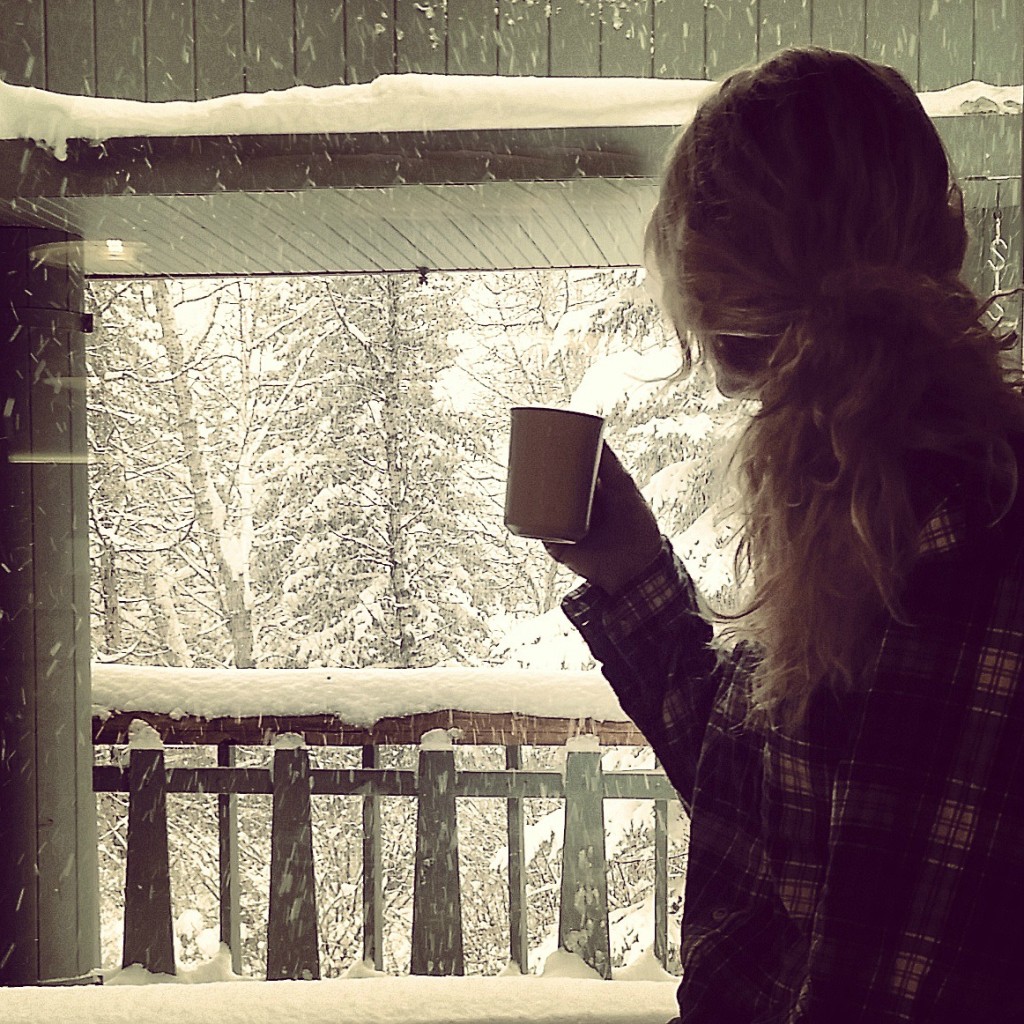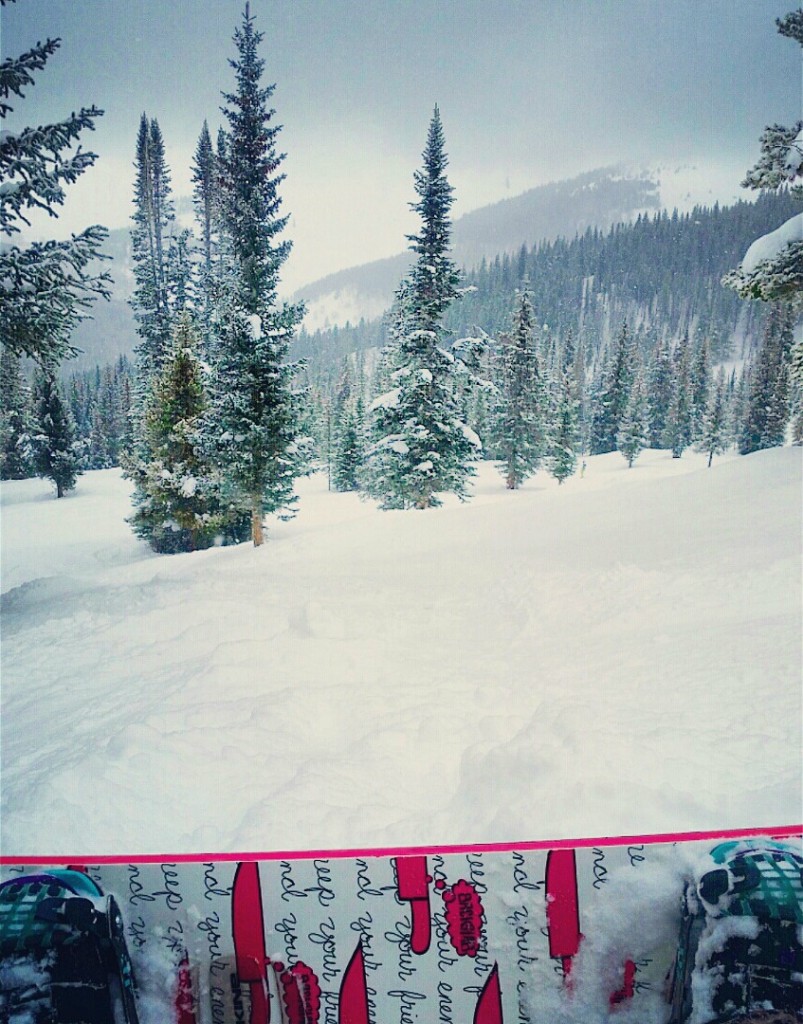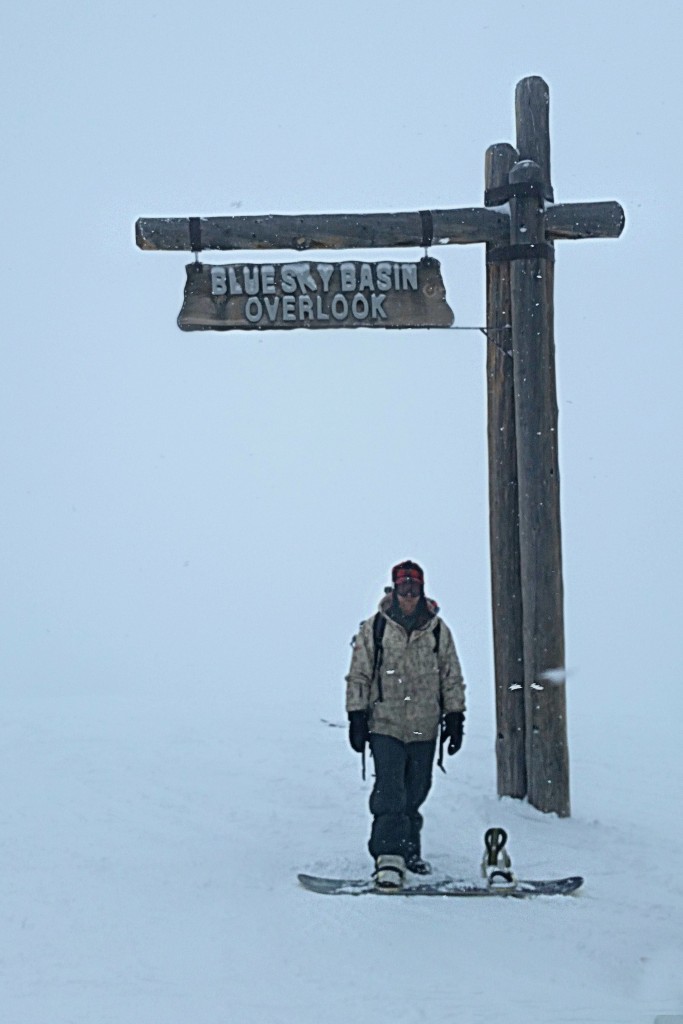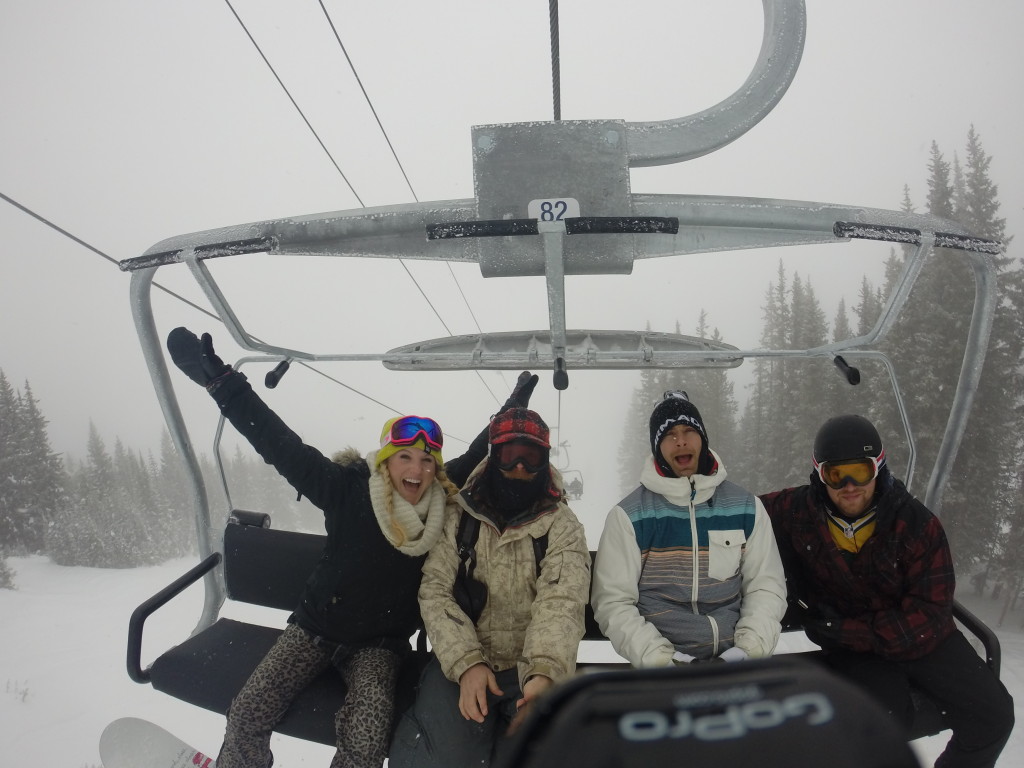 Beavercreek is Vail's neighbor. It's a smaller mountain with a very similar village/vibe. With our epic local pass we got 10 days at Vail and Beavercreek combined so we made the 20  minute drive down the road every once in a while to take in a different mountain.
2 seconds from Beavercreek there was an awesome winter bluegrass festival with the Infamous Stringdusters headlining and breweries from all over the country pouring tasty brews. No matter how cold it is, bluegrass music surrounded by the Rocky Mountains is a good time.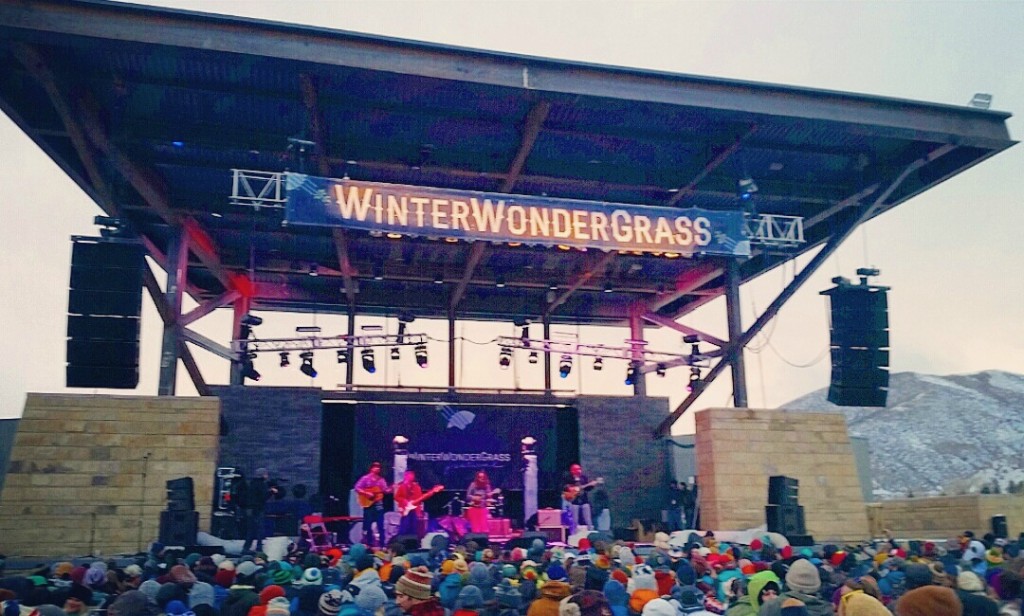 Boreas Pass
Boreas Pass is a high mountain pass at an elevation of 11,481 ft located along the continental divide at the crest of the Front Range. During the winter months, the pass is shut down but you can still hike or cross-country ski along it for the best views of Breckenridge. We went and hiked it at both sunset and sunrise.
Sunset Hike: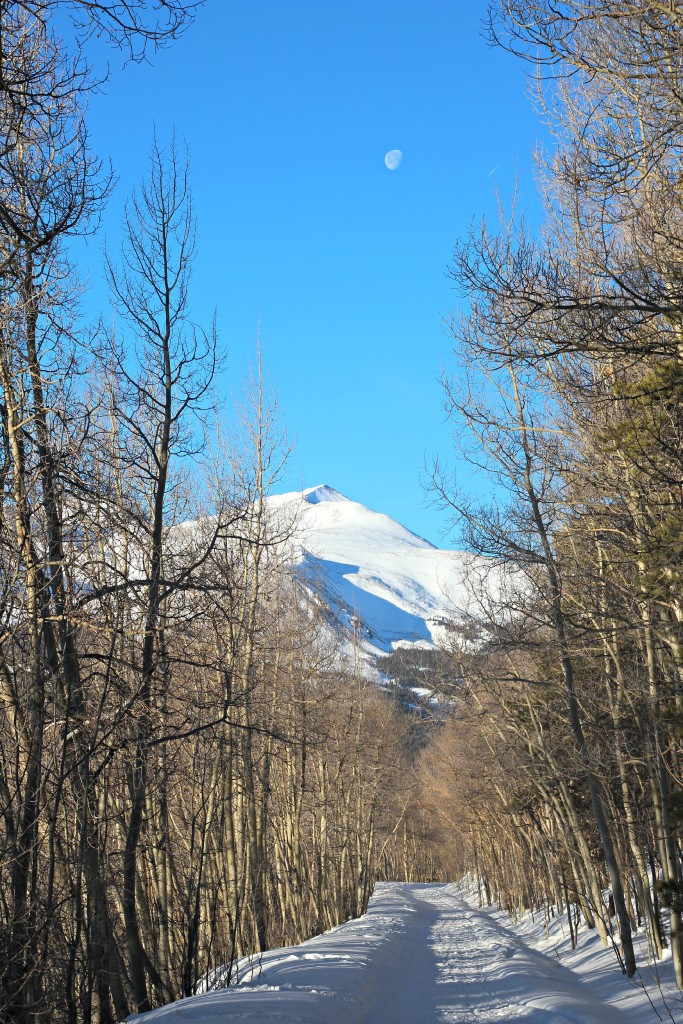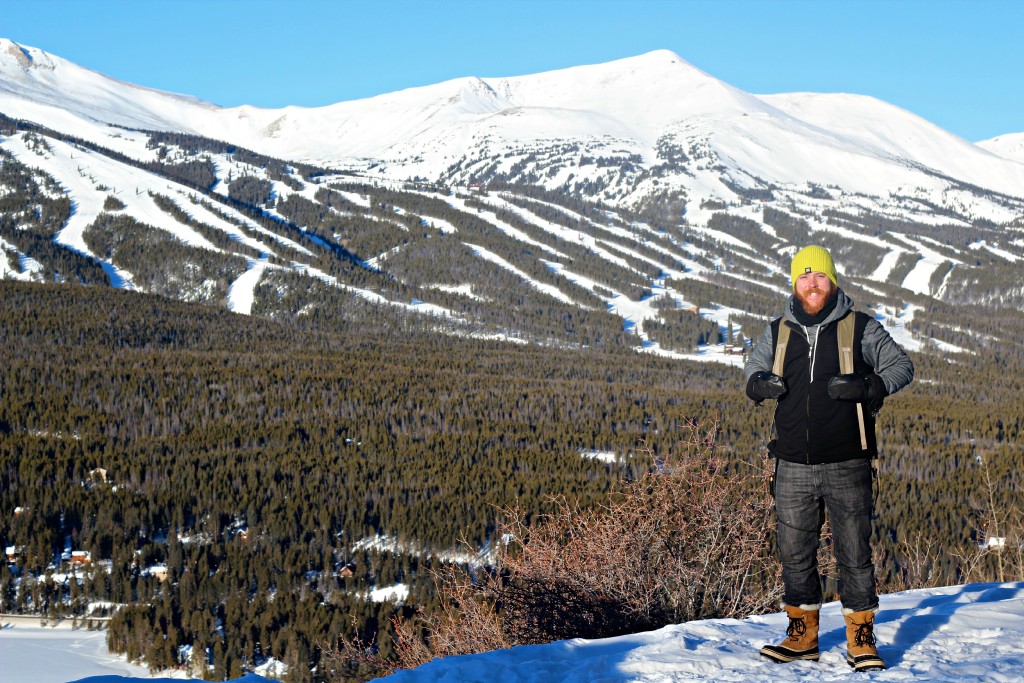 Ullr Fest
Ullr is the Norse God of winter. He was shown frequently with skates or skis on his feet, and because of this he has been hailed as the modern God of Skiing. Breckenridge throws a downright rowdy party each year in his name. The Breckenridge Distillery hosts the world's longest "shotski" down Main Street, there's a ridiculous parade, then an outrageous bonfire, and all-the-while everyone is decked out in viking helmets. It's pretty epic. I can't say I ever thought I would be a part of a 700+ person shotski.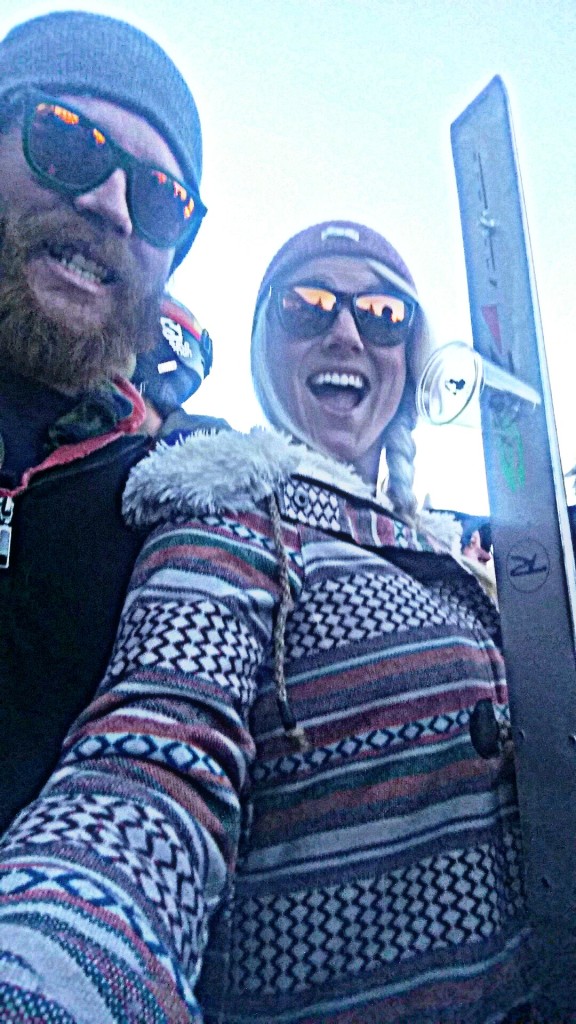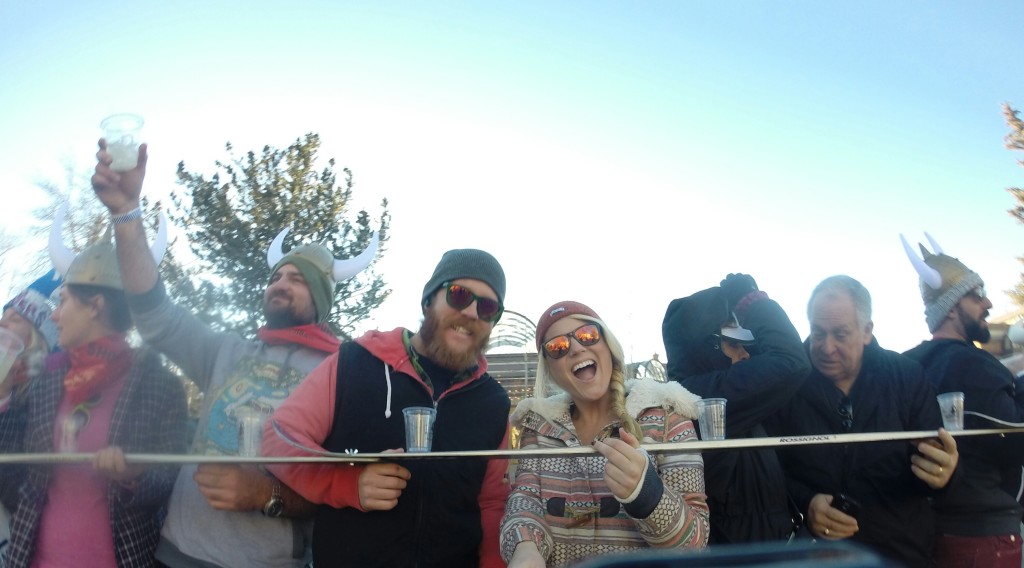 Down the Road to Denver
Being 5 minutes from the base of the mountains but also being only an hour from Denver was the perfect set-up for us all winter long. I turned into a bit of a mountain-momma and felt a little out of place in the "big city" by month 2. But we made it out for good music, New Year's Eve, a Nuggets game, etc.
Glenwood Springs
We did a really good job of taking the Jeep on mini-trips throughout Colorado while we were parked in Breckenridge. We wandered out to see Aspen, Steamboat, and Glenwood Springs.
2 hours to the west of Breckenridge and through Glenwood Canyon is an awesome hike at Hanging Lake. Hanging Lake is a geologic wonder and is one of the most popular hikes in Colorado. Suspended at the edge of Glenwood Canyon's cliffs, the clear turquoise lake and the waterfall that spills into it make it clear that the super vertical and icy hike is worth it.
Yak-Trax are a must for this hike. We saw people trying to hike with Ugg boots on and, for the first time, I felt like the most prepared person in a situation. There is one point where you could actually pretty easily fall to your death through a handrail if you slip on the ice. I know because I watched 5 people ahead of us almost do it.
Hanging Lake Hike: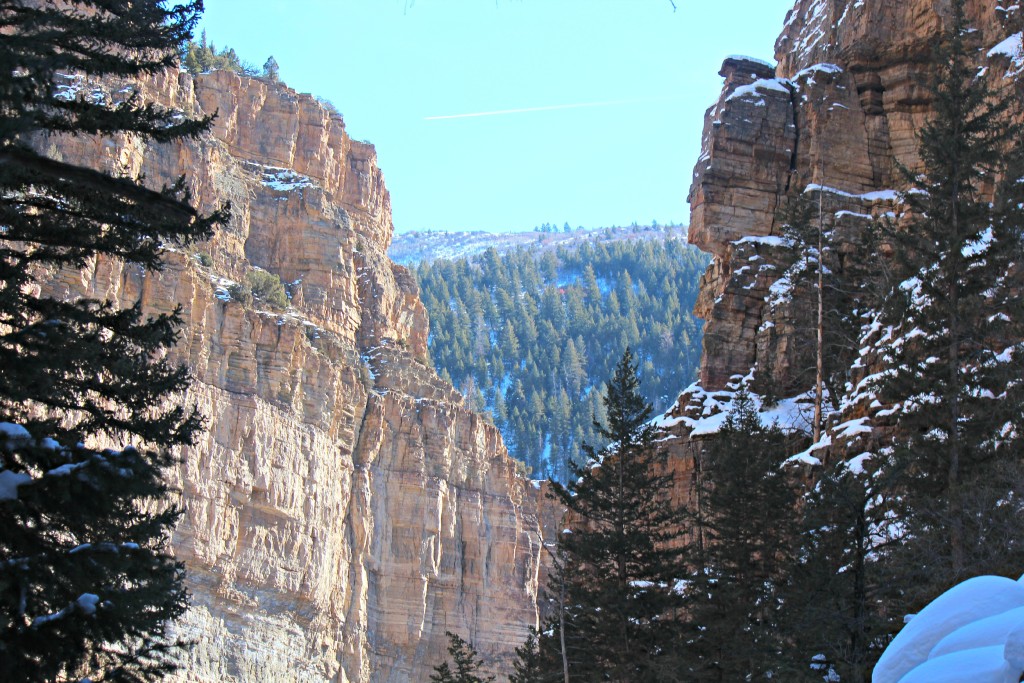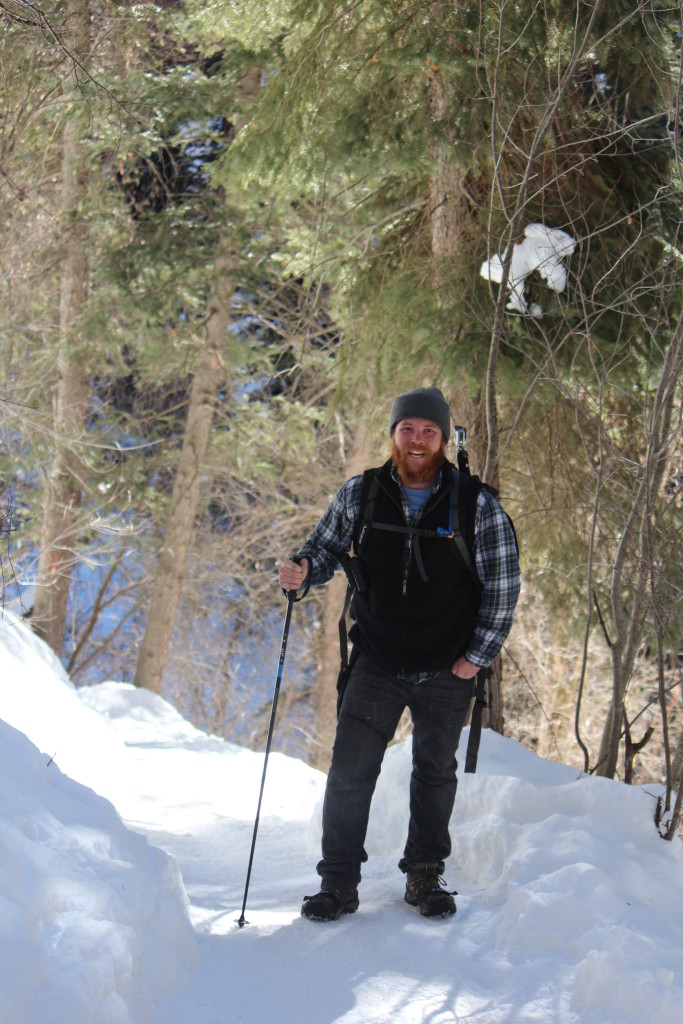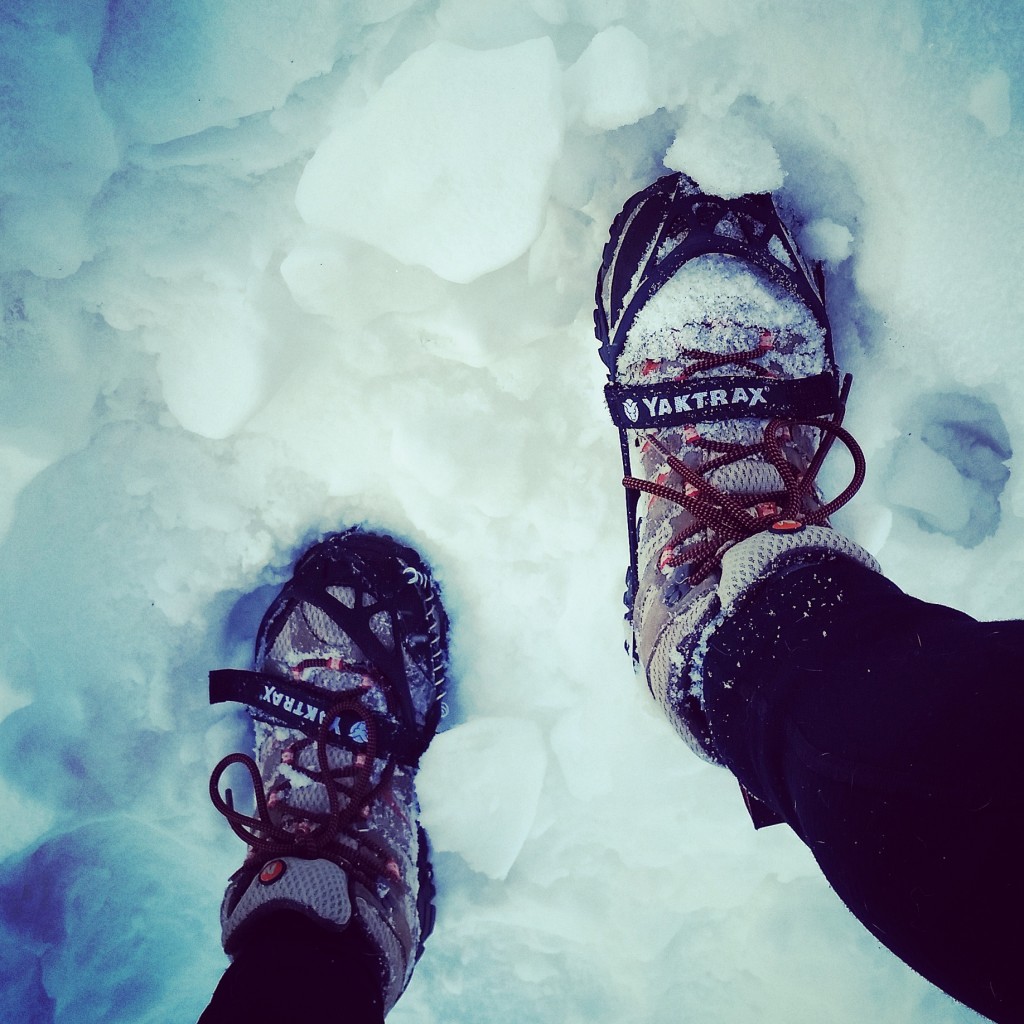 We un-knowingly timed our hike just right. As soon as we got up to Hanging Lake at Noon the sun was shining brightly into the turquoise water and it was breathtaking. Just another 30 minutes later and the sun was too far behind the mountain tops to shine on the lake and bring out the vibrant colors of the lake-bed.
As you can see from the photos, winter is an awesome time to make this hike. The combination of the icecicles hanging over the cliffs, the spray of the falls, and the colors of the lake make it a pretty dramatic sight.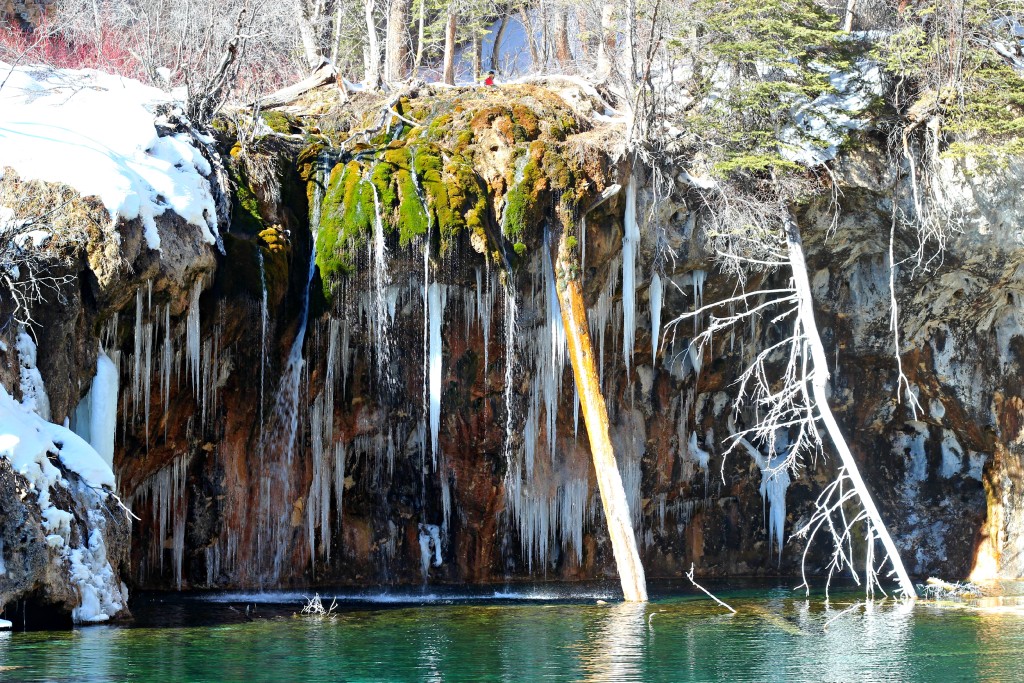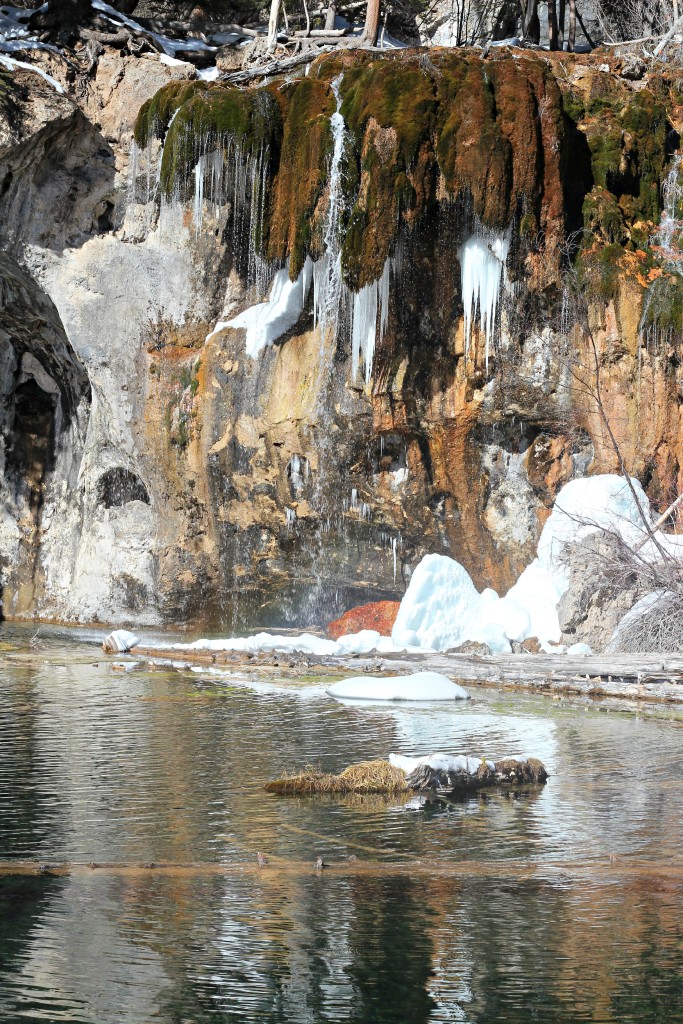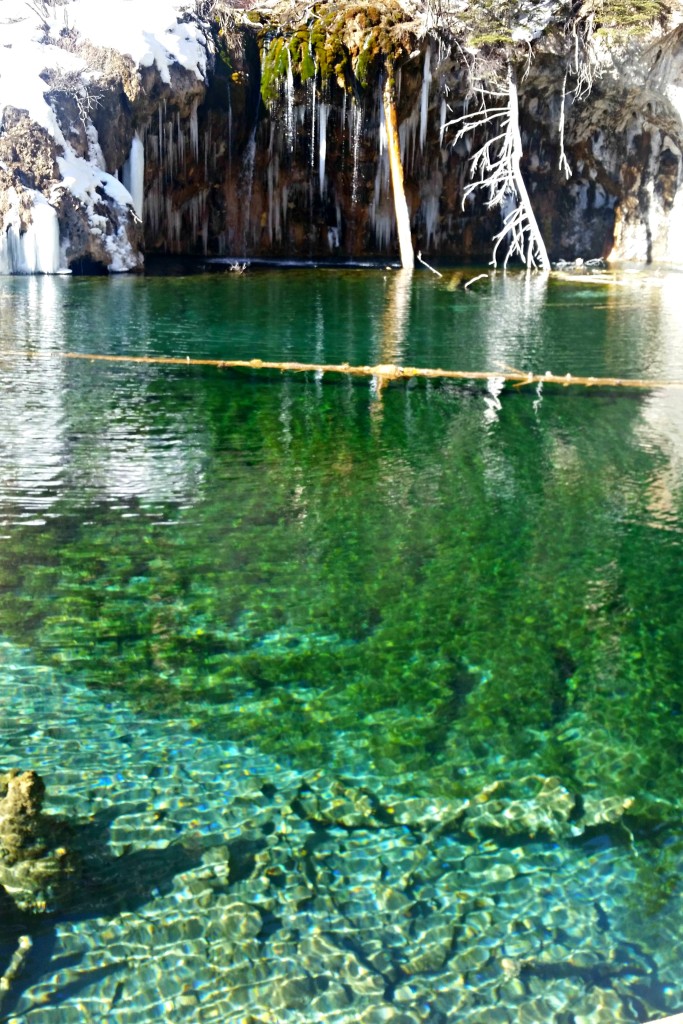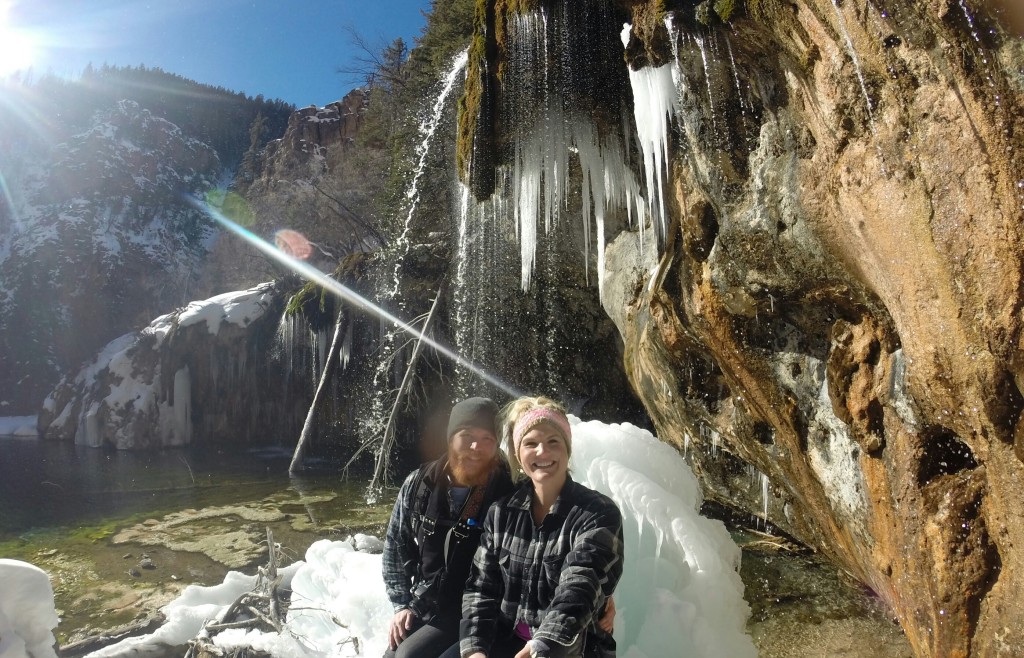 Sprouting Rock:
If you head up past Hanging Lake, you find Sprouting Rock where icy water from snow-melt high atop the Flat Tops sprays through a narrow hole in the limestone rock. Here, you can walk underneath the rock into large opening and look out from underneath hundreds of icecicles through the sprouting water. It's a surreal setting.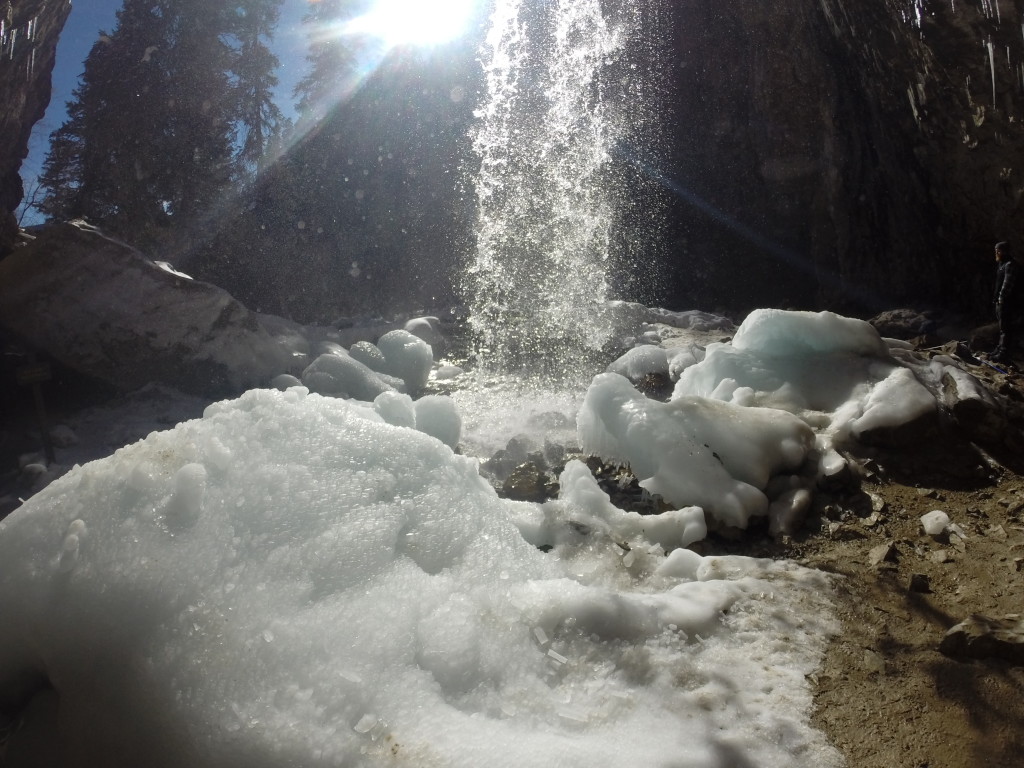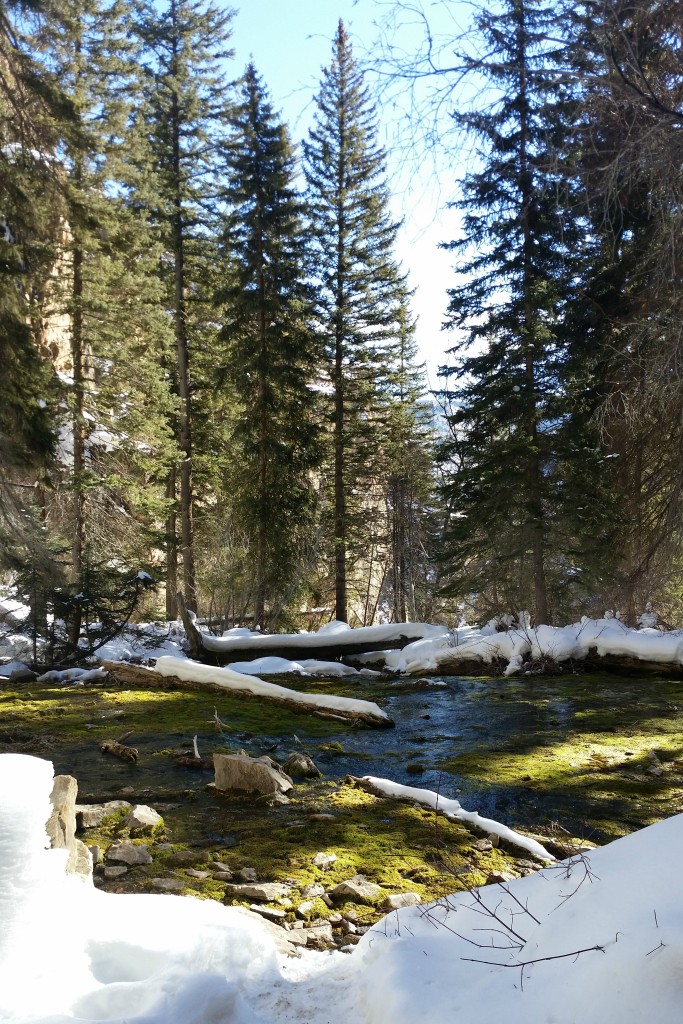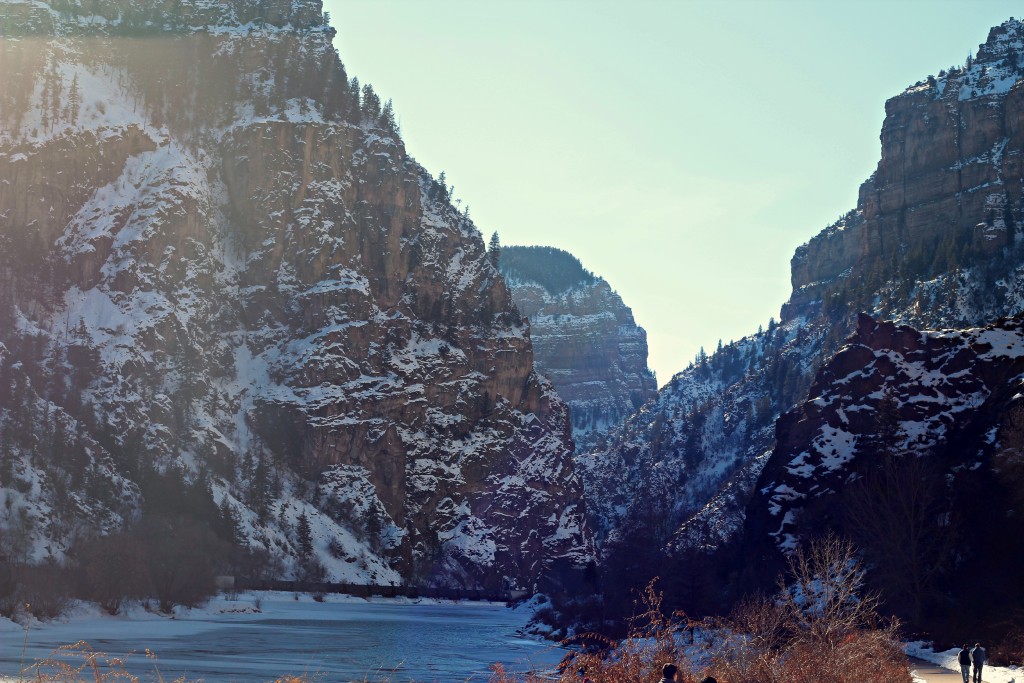 I can honestly say one of the coolest things we have done yet on this trip is visit the Yampah Vapor Caves in Glenwood Springs. The vapor caves are natural underground hot mineral water steam baths that receive their water from the hillside they are built into. The hot mineral water flows through the cave floors at 125 degrees. The caves consist of three adjoining rock chambers located down a flight of stairs and through a stone corridor. You sit back on a slab bench in the dark corner of a rock alcove and sweat out the days toxins. It's extremely quiet, extremely hot, and a pretty unforgettable experience. Most people think of the hot spring pool when they think of Glenwood Springs. Don't go there. It looks like a dingy public pool swarming with kids who are most likely peeing in it. Skip the hot springs, do the Hanging Lake hike, then go relax in the vapor caves, and thank me later.
Yampah Vapor Caves:
Aspen/X Games
I imagined Aspen to be the complete opposite of what it actually is. I was shocked to realize that it's actually a semi-relaxed little neighborhood-like town. I thought Aspen would be Vail x 10 but it's nothing like it. We booked an adorable room at a small privately-owned chalet near the base of the mountain. We were a short neighborhood walk from all of the shops and dining in downtown Aspen and a bus pulled up a block from our chalet to take us to the X-Games events.
Our first night there, we watched Shaun White and Danny Davis flip in front of our faces from 4 feet away atop the Superpipe. Then we stood front row as Danny was awarded his Gold Medal for the 2nd year in a row. The next day we met Sage Kotsenburg moments after he walked away with a 5th place at the Slopestyle competition. We stood on the sidelines, steps away from snow-spray coming off snowmobiles rounding turns during the Snowcross races. We stood in the crowd while Snoop Dogg played Gin 'N Juice, Nothin' but a G Thang, and Eastside Party. We rode Aspen Mountain for free thanks to a friendly vendor with extra lift passes. All-in-all, it was a beyond memorable weekend. The X Games put on an awesome event.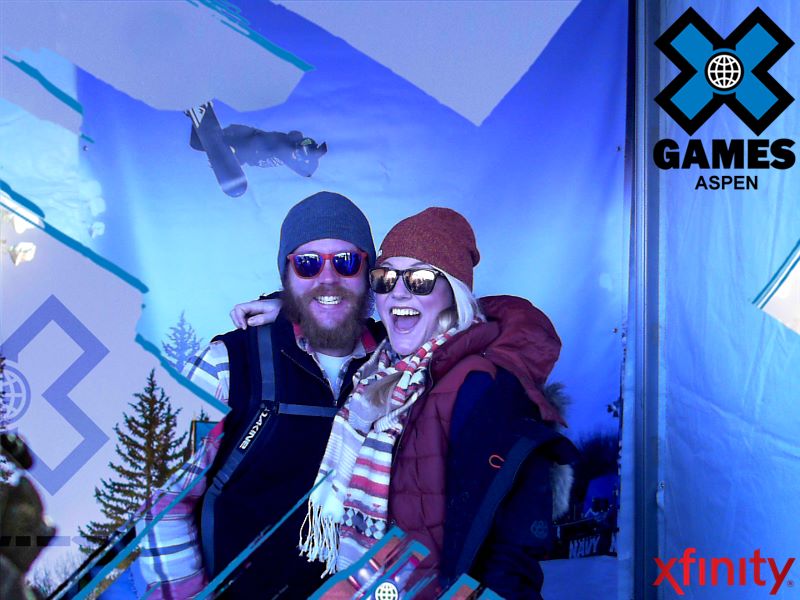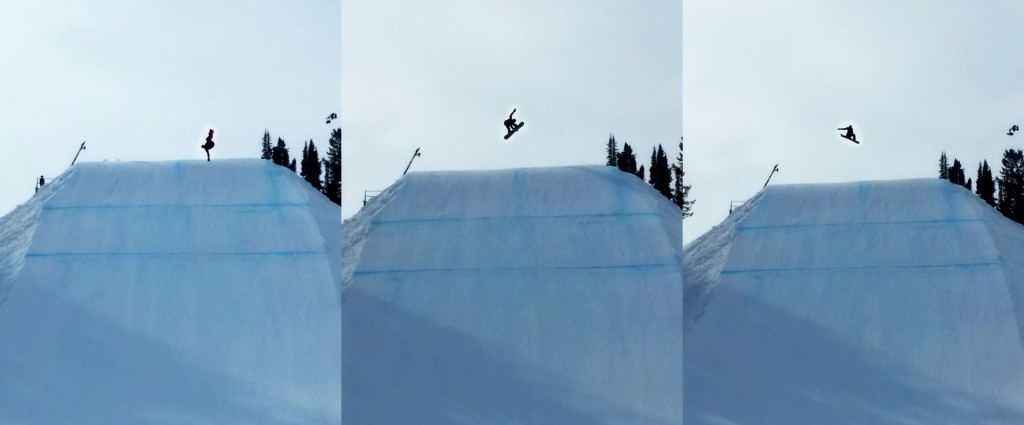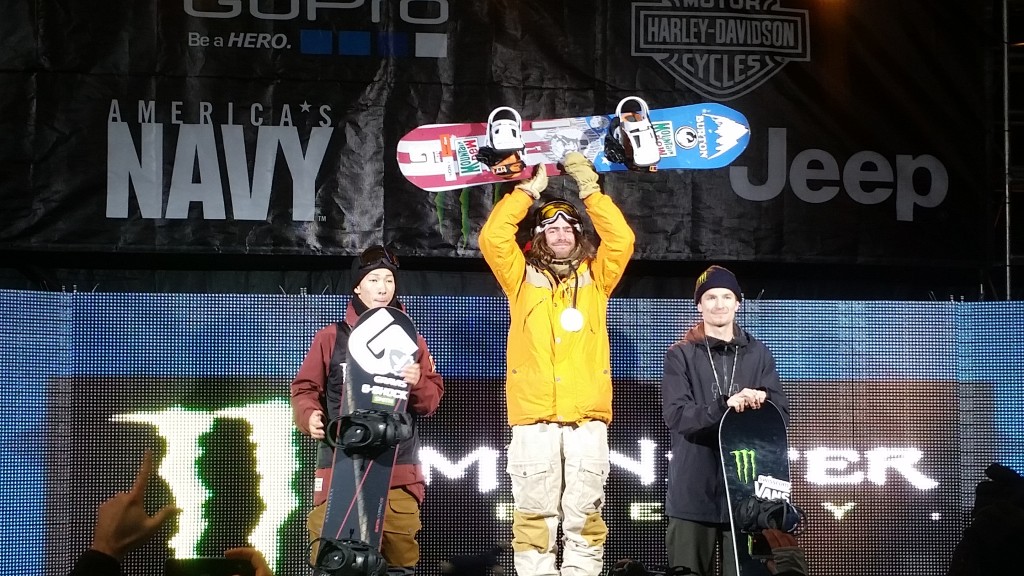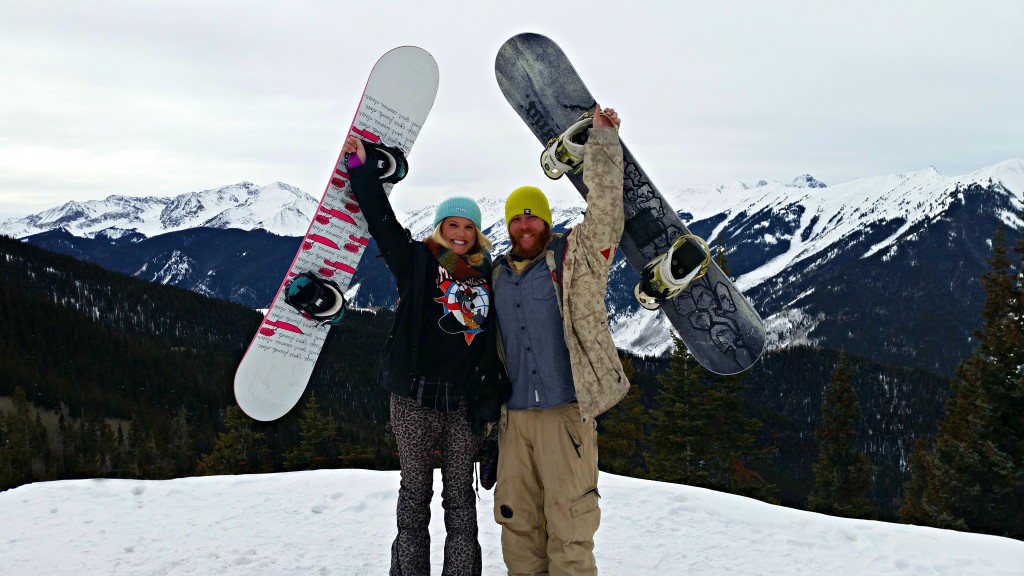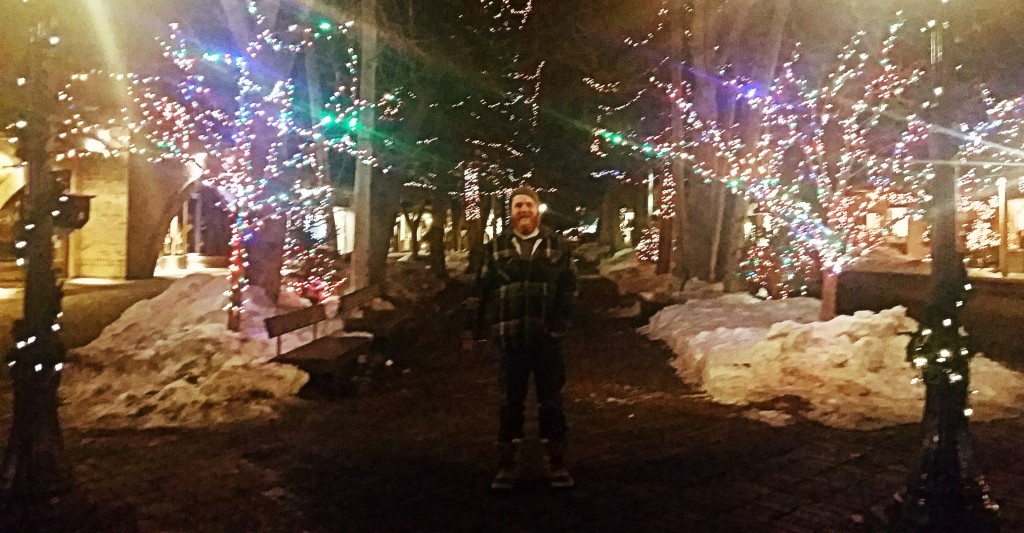 As the snowboarding season comes to an end, I've been on the mountain roughly 40 days, ridden 8 different mountains, and covered over 300,000 vertical feet. It's going to be sad to pack the boards up and put them underneath the RV. Snowboarding has been life since mid-November. I'm feeling so lucky to have ridden such amazing snow all winter long.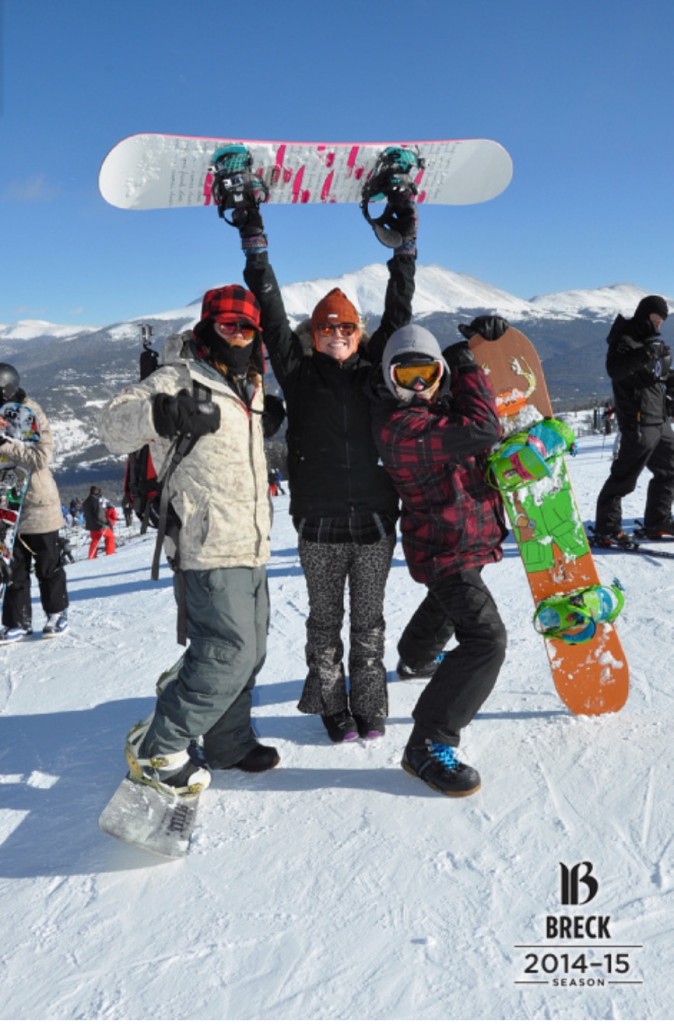 Keystone: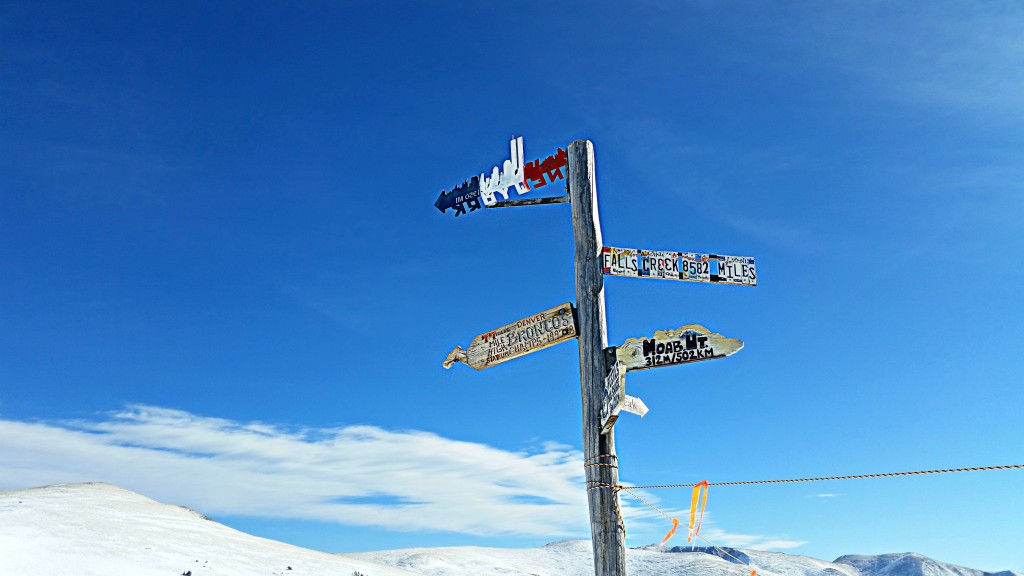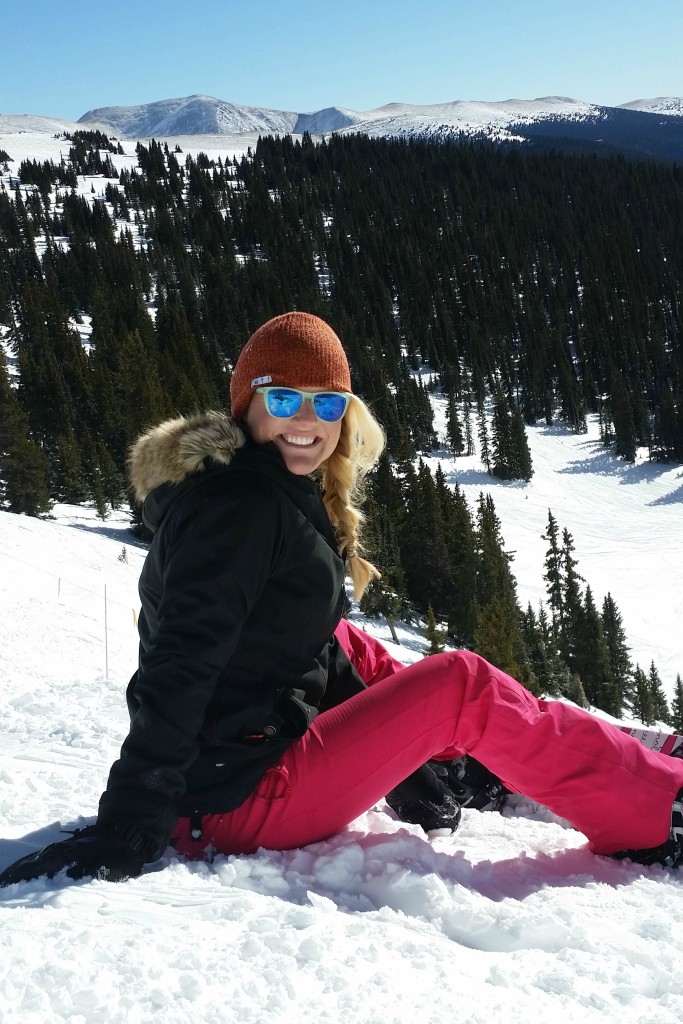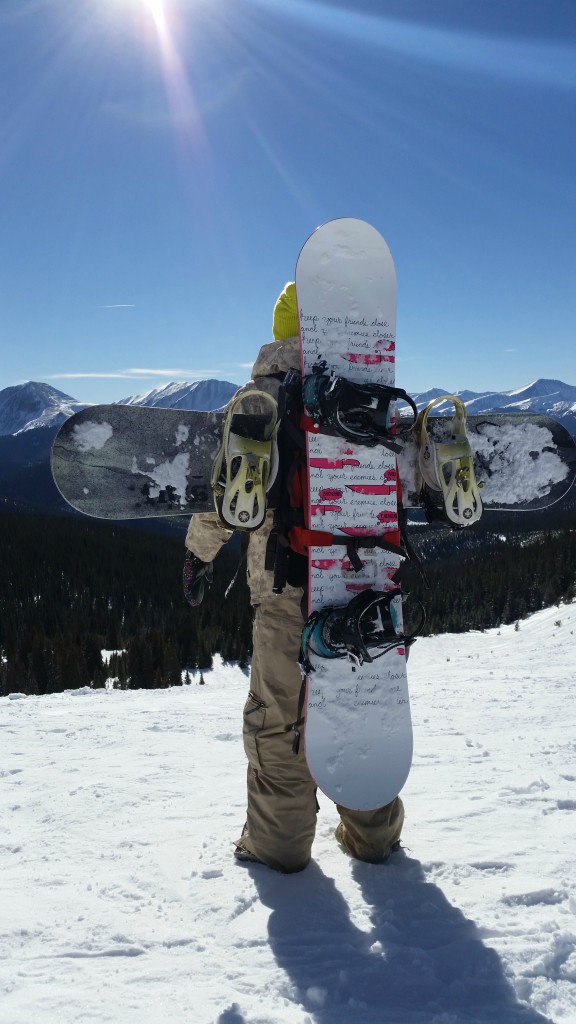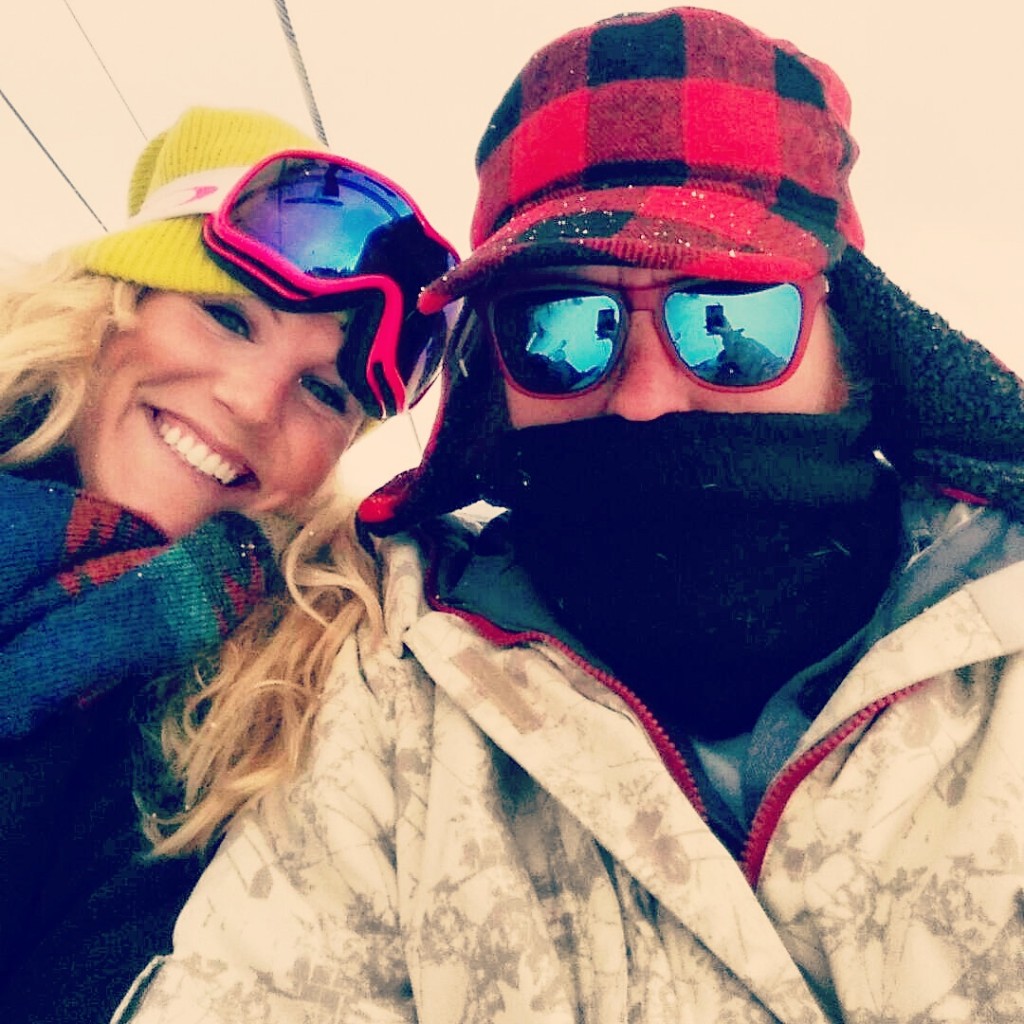 Breckenridge Peak 6:
 Powder days at Breck: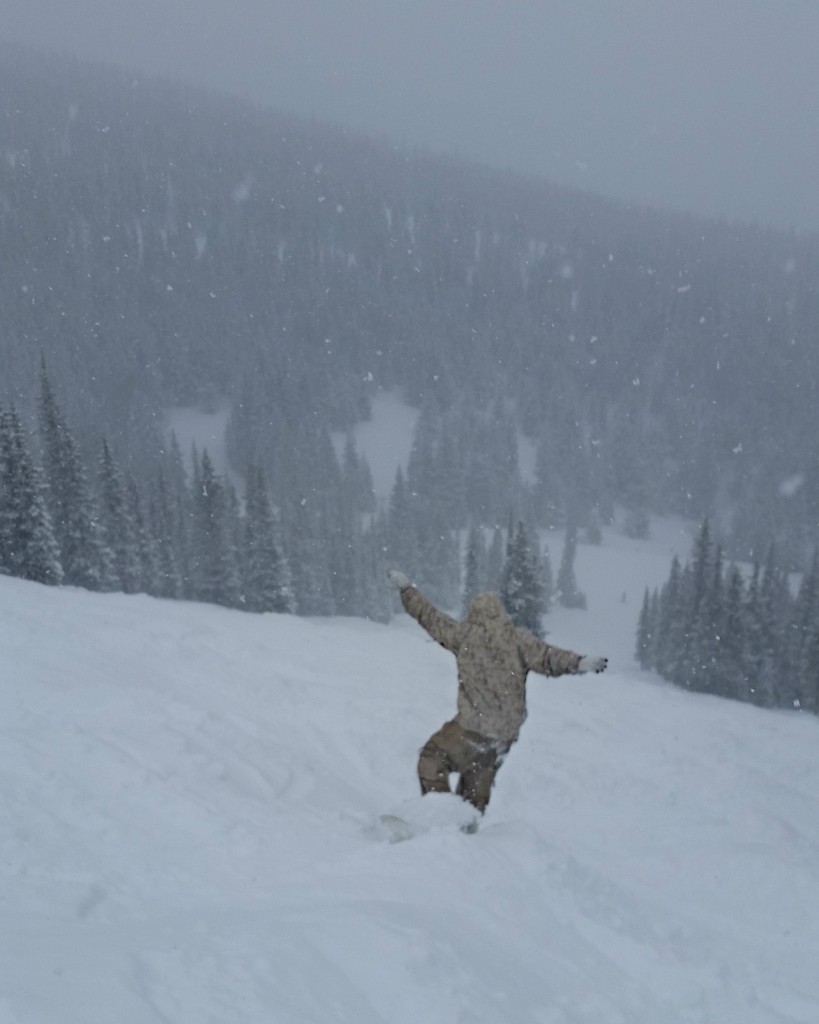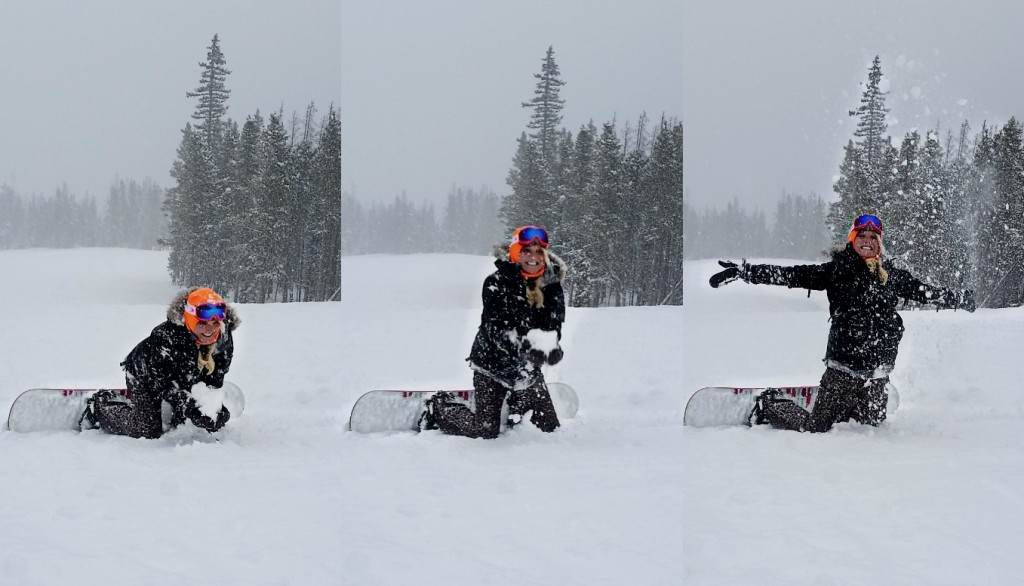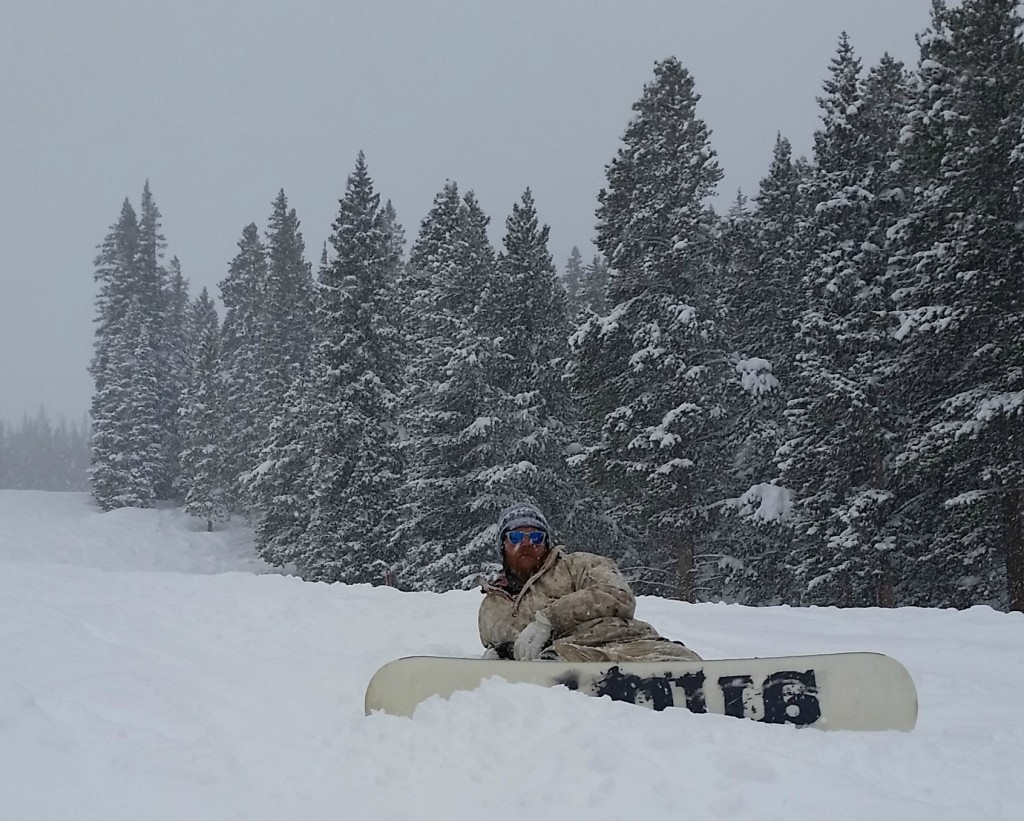 Arapahoe Basin: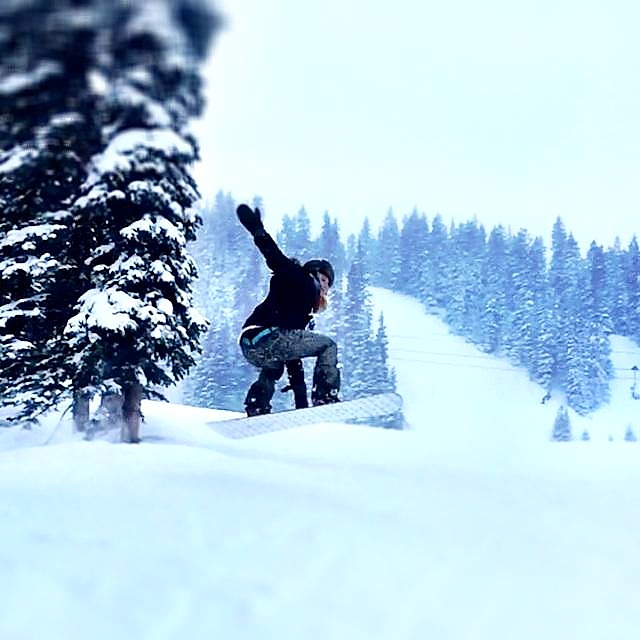 Imperial Bowl & Summit Hike at Breckenridge: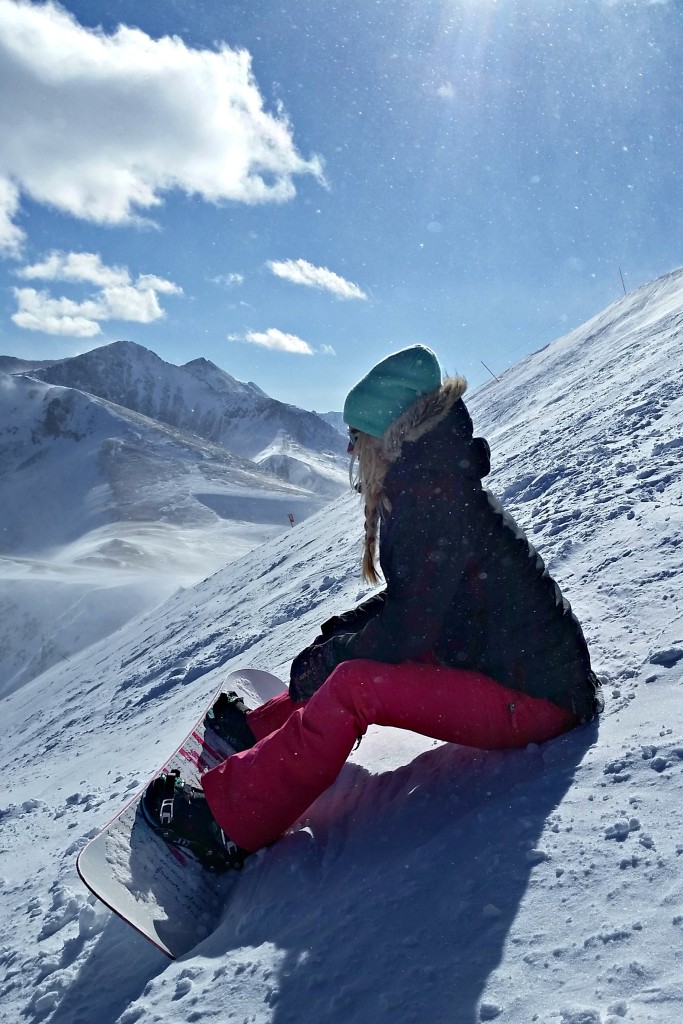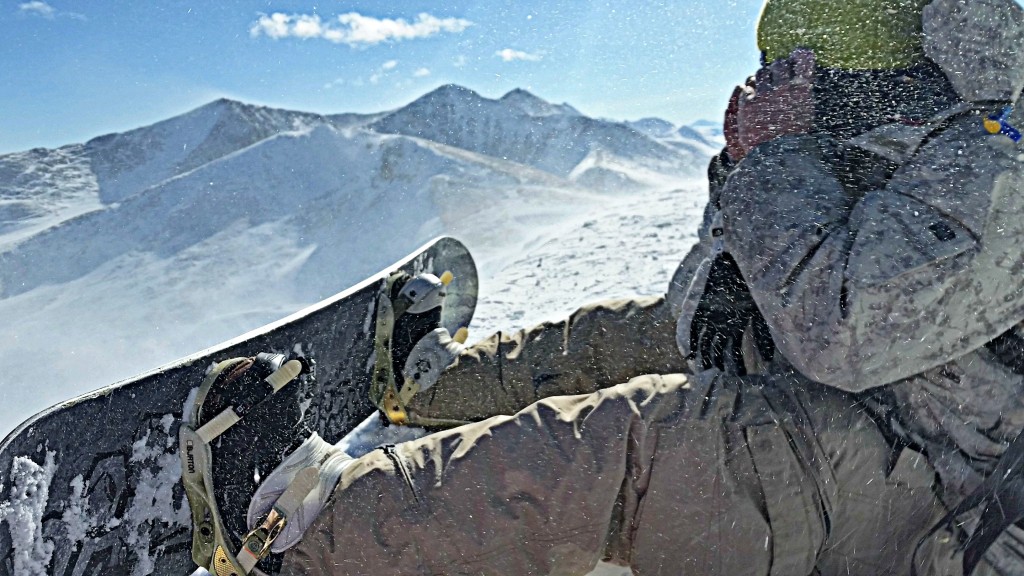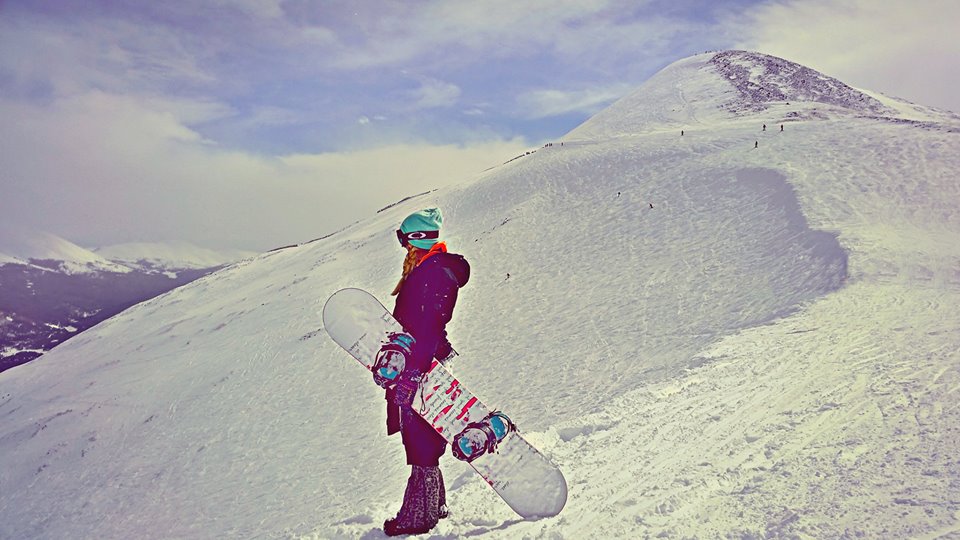 Peak 6 Summit Hike at Breckenridge: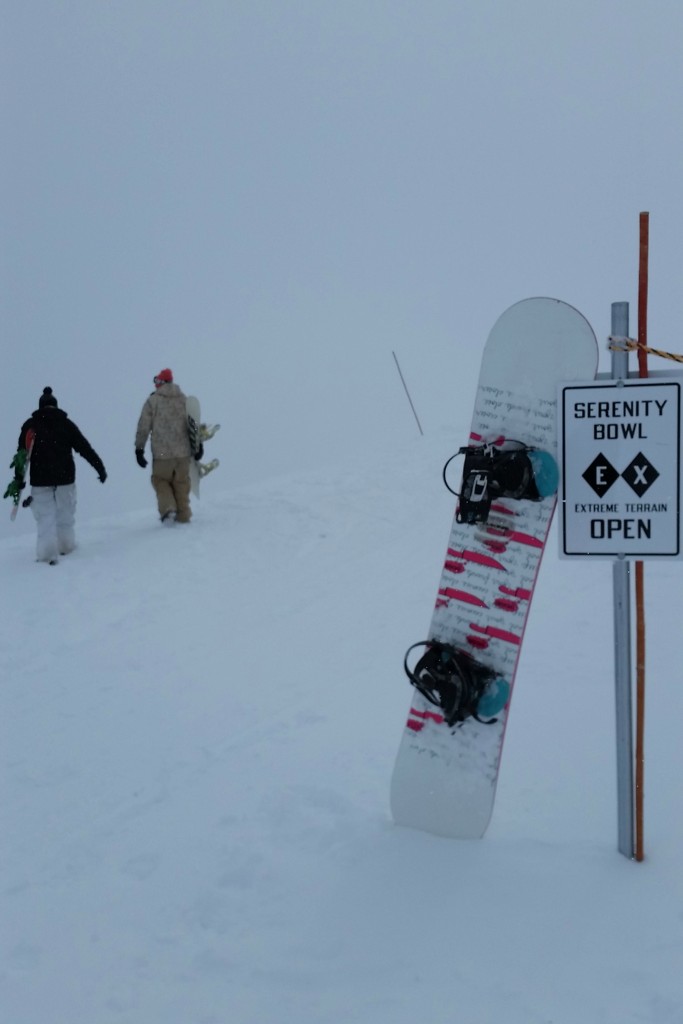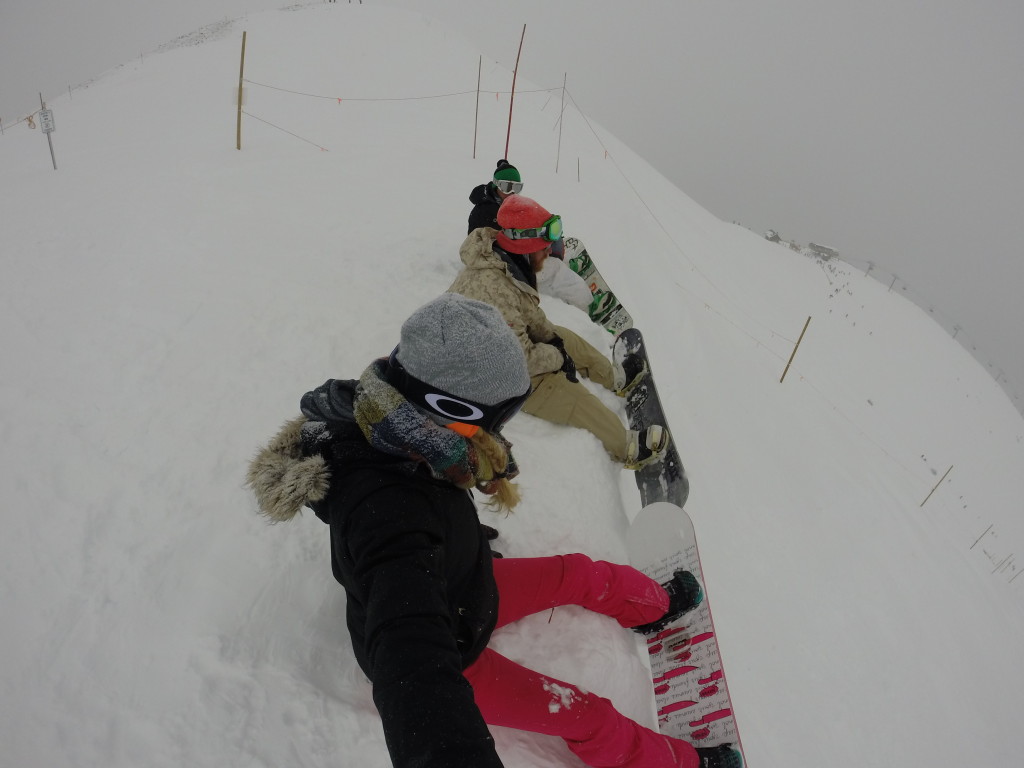 2015 FIS Alpine World Ski Championships
Vail and Beavercreek hosted the 2015 Alpine World Ski Championships this year and brought them back to the U.S. for the first time in 16 years. This is the biggest alpine skiing event other than the Olympics. Over 700 athletes from more than 70 nations came to compete. We checked out as much of the event as we could, attending the Opening Ceremonies, Men's Downhill, Women's Downhill, and Men's Giant Slalom. The free music after the awards ceremonies was an added plus. We got to see Michael Franti at the opening ceremony as well as OAR and Phil Phillips shows.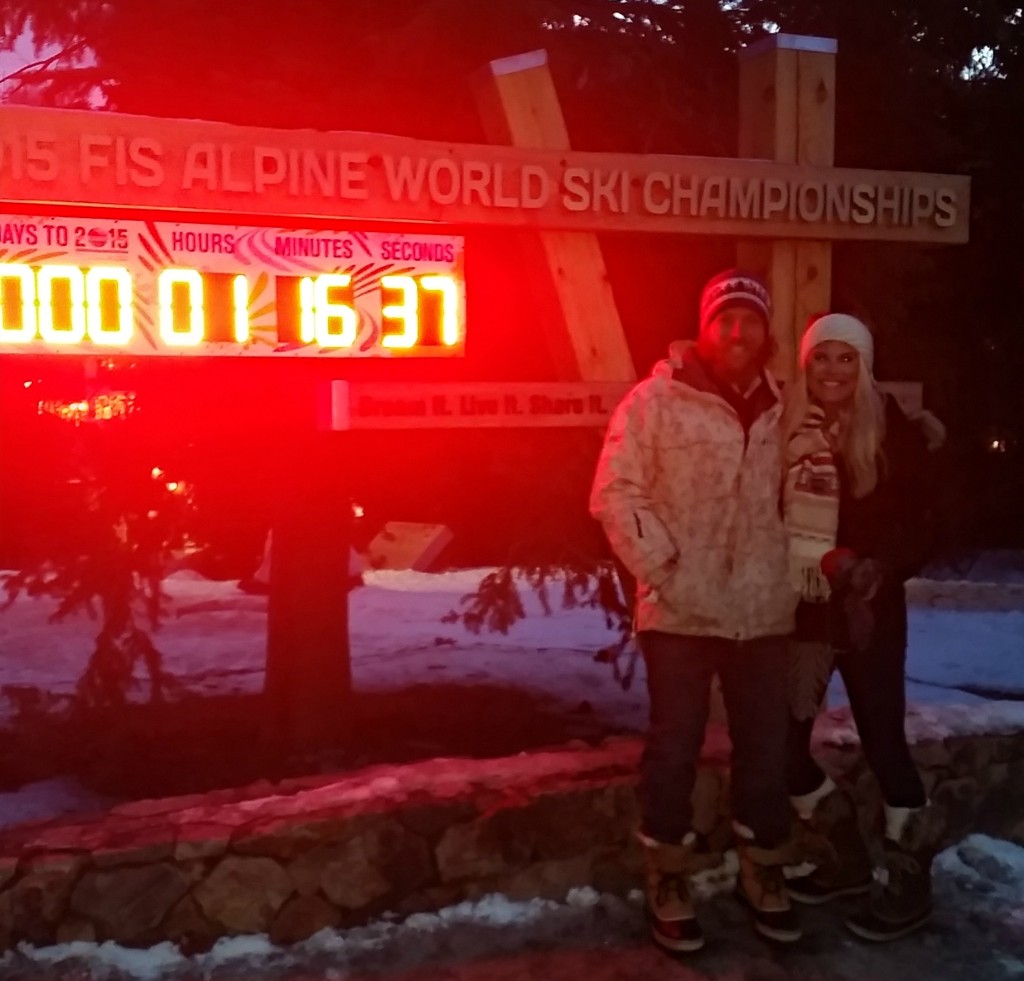 Opening Ceremony: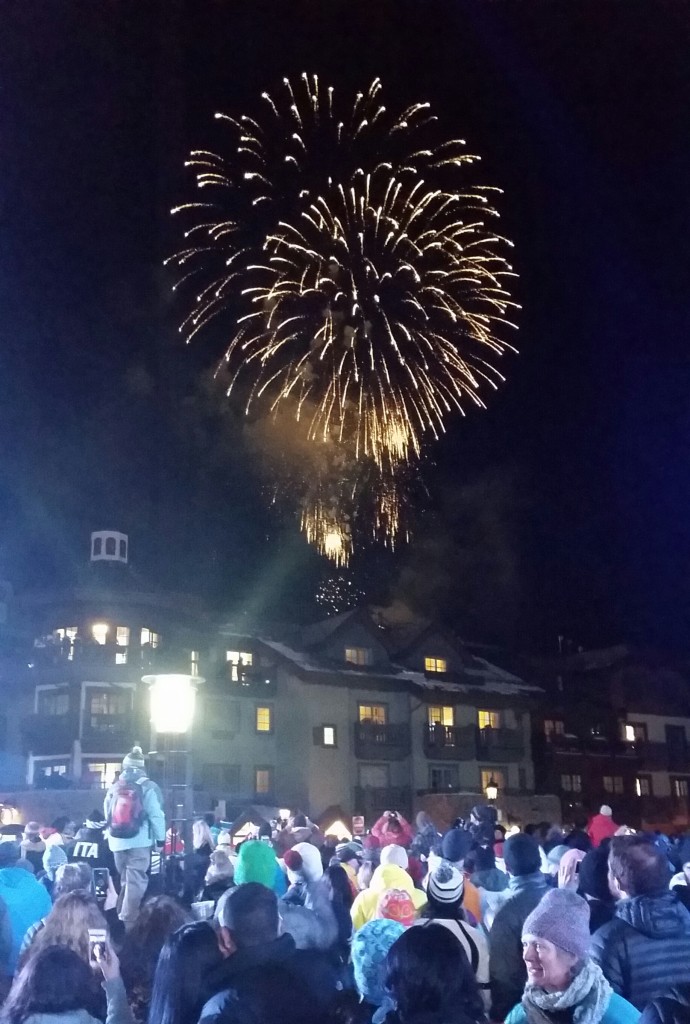 At the stadium overlooking the Birds of Prey course: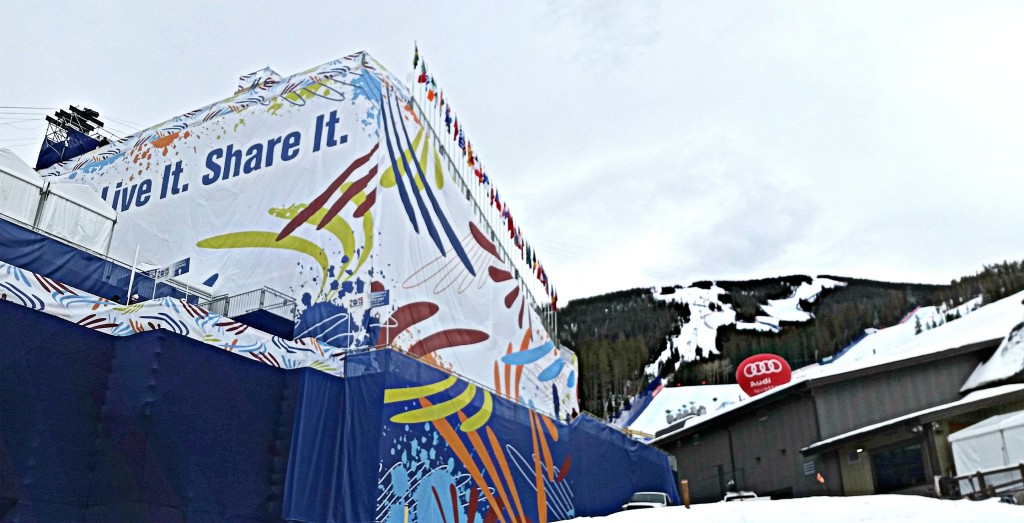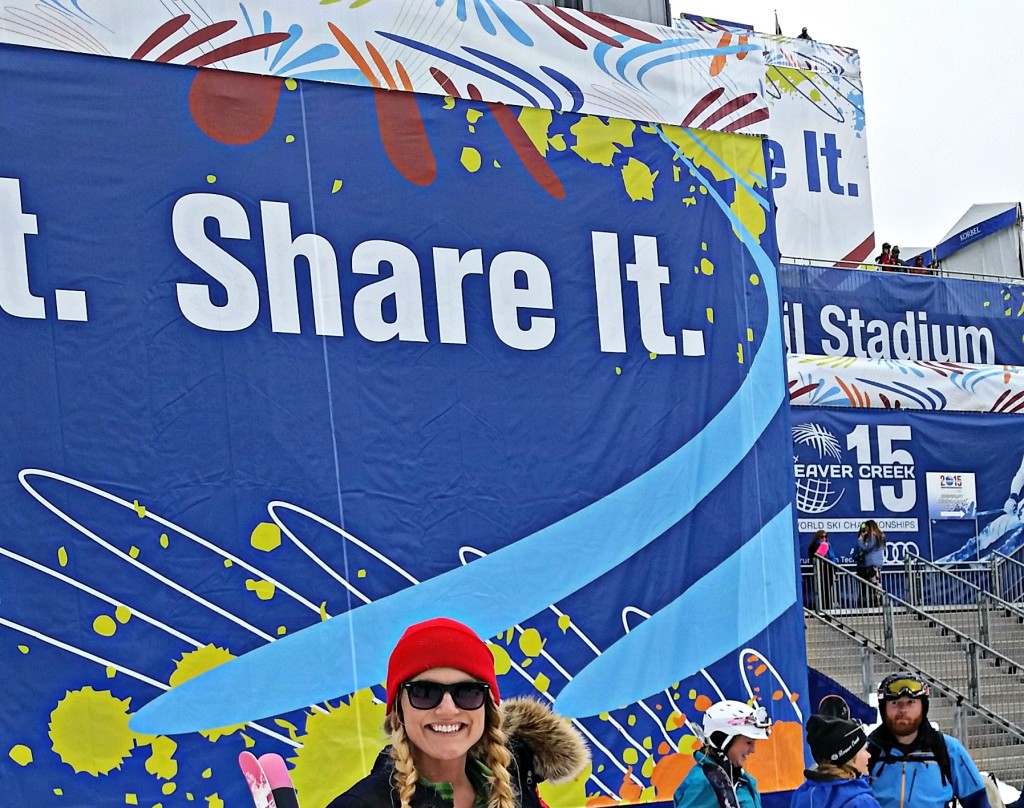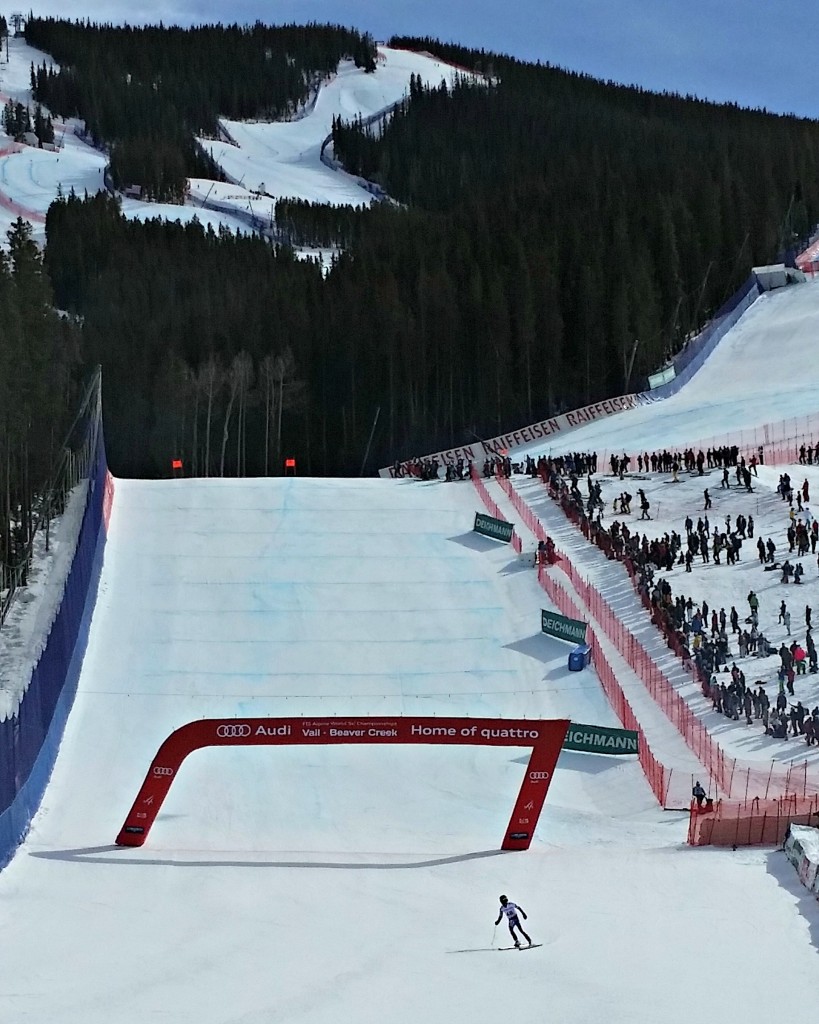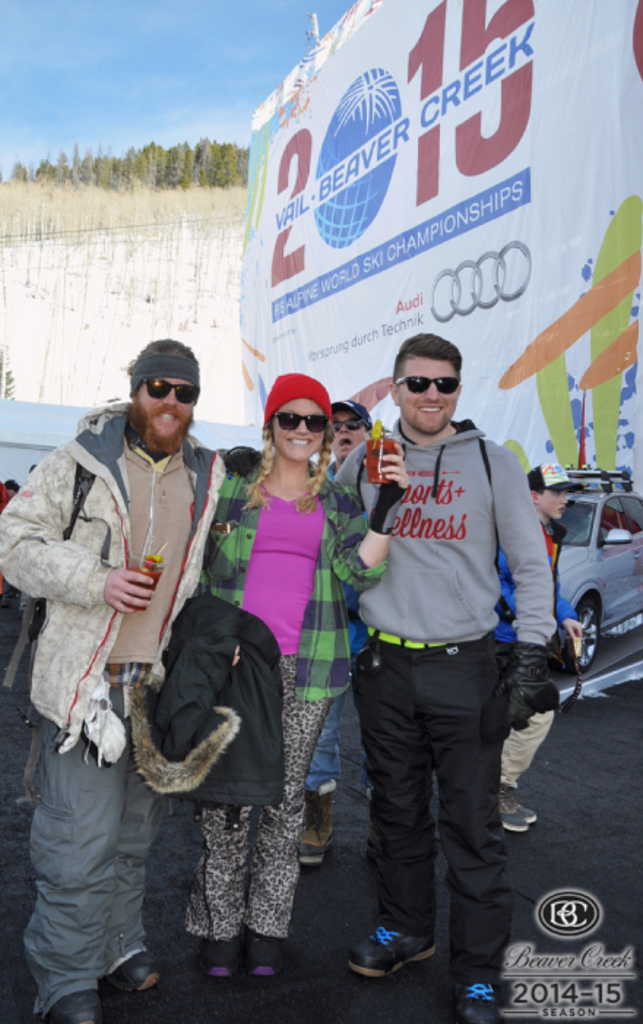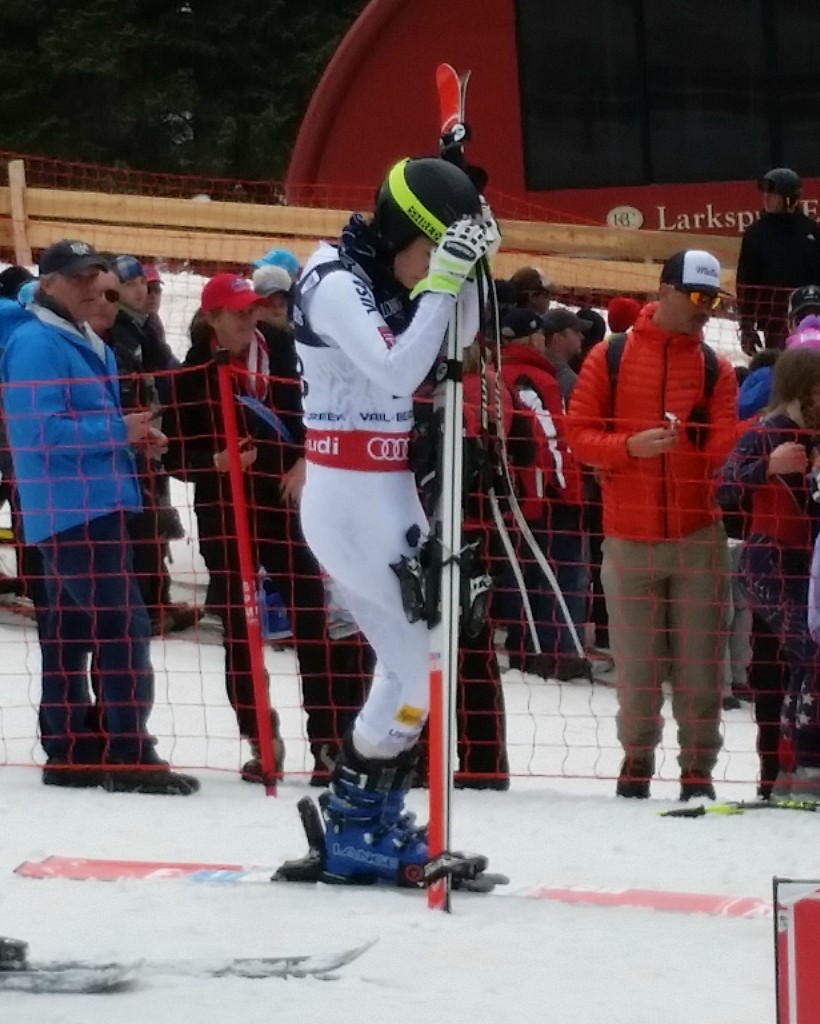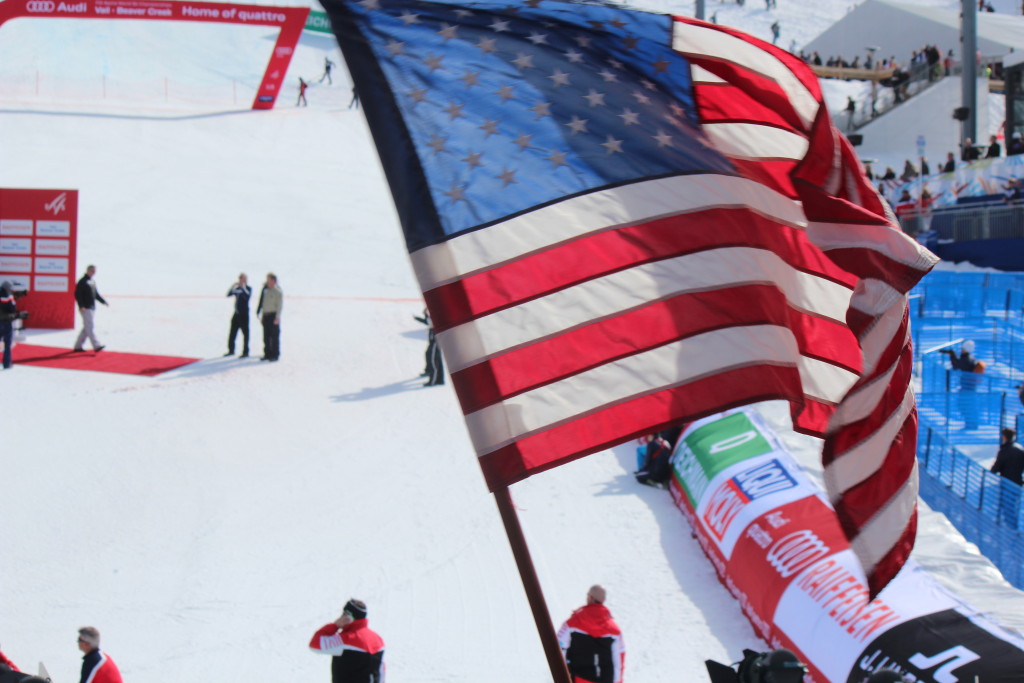 Loveland Pass
If you want to truly see what your lungs are made of, hike Loveland Pass along the Continental Divide. Getting to the top involves hiking straight up (there are no switchbacks) from a beginning elevation of almost 12,000 feet. We decided to hike it at sunrise and watch the sun spill over the Rockies (excellent decision). From the top you are actually looking down at the summits of Arapahoe Basin and Loveland ski resorts which is pretty wild. You're well past the treeline here so this is a hike you wouldn't want to do on a windy day. Our hike wasn't too bad, but you have to be prepared for the wind at the top – there's no escaping it up there. The views are worth it though – you can see mountain tops for hundreds of miles.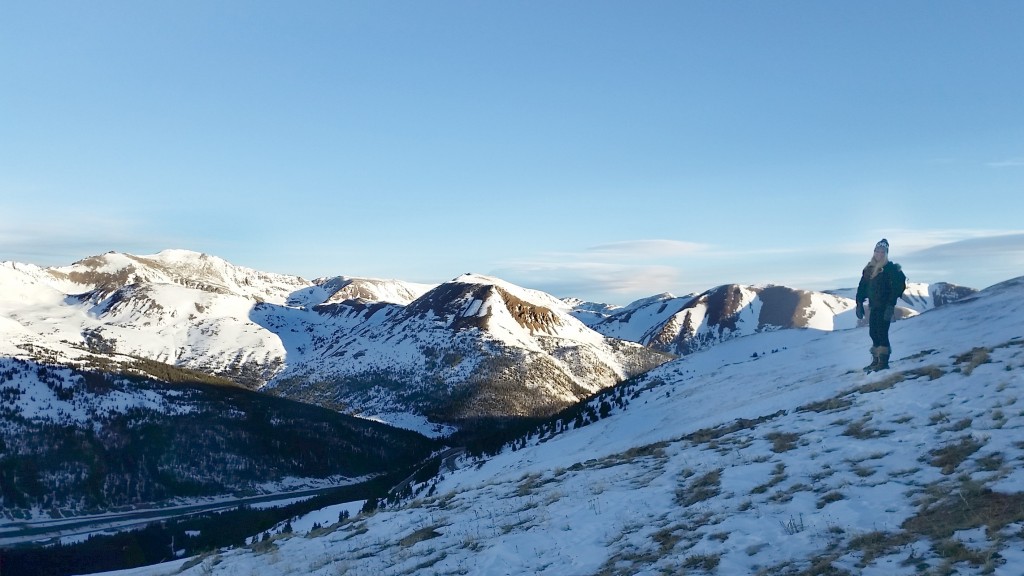 Steamboat Springs
Steamboat Springs is about 2 hours north of Summit County in northwestern Colorado. We took a weekend trip here for the hot springs the town was named after. Unfortunately they just endured the driest winter they've had since 1979 so we didn't waste our time on the mountain. The town is down-home, not glitzy, and has the same western cowboy vibe as Jackson Hole, which I love. We ate at Low Country Kitchen in downtown Steamboat and had the best southern comfort food we've had since we left the south. We hiked Fish Creek Falls in the snow which was beautiful. And most importantly, we visited Strawberry Hot Springs, which are – hands down – the best hot springs we have been to yet.
Steamboat Springs is one of only a handful of ski resorts in the country that is home to ski jumping facilities. People come here from all over to train. While walking down the street you can stop and watch ski-jumpers fly huge distances through the air throughout the day. They have a few bars and restaurants along the water, facing the ski jumps so you can post up and watch while drinking a beer.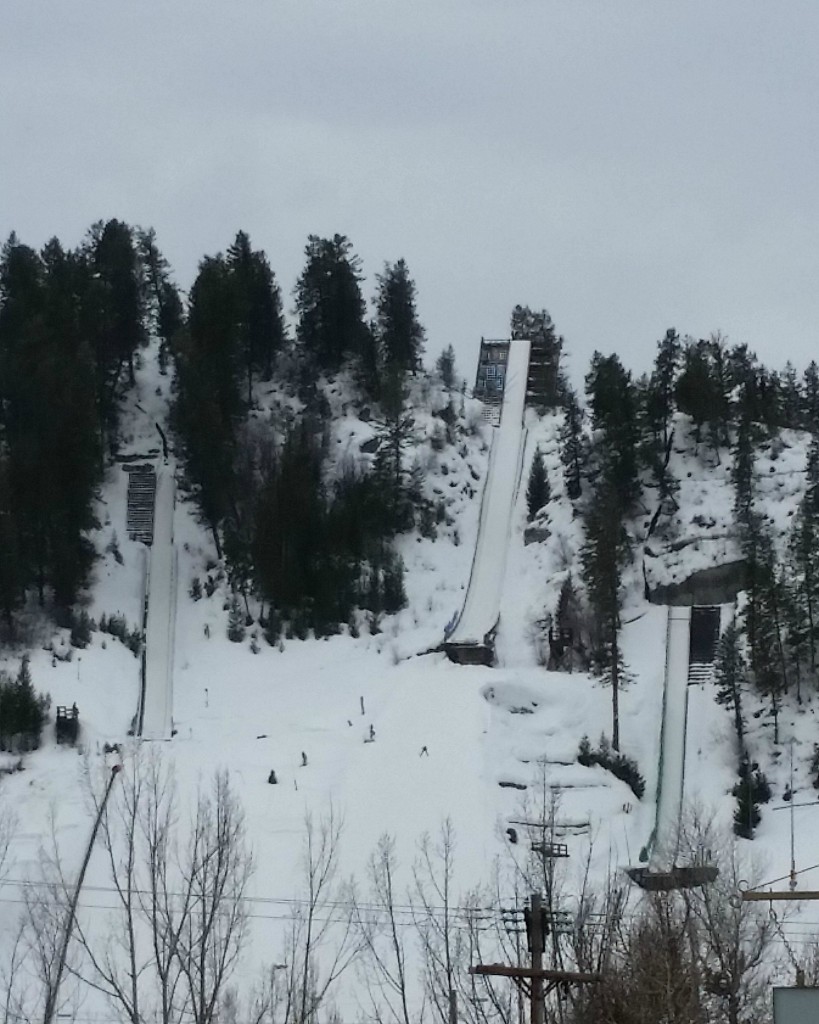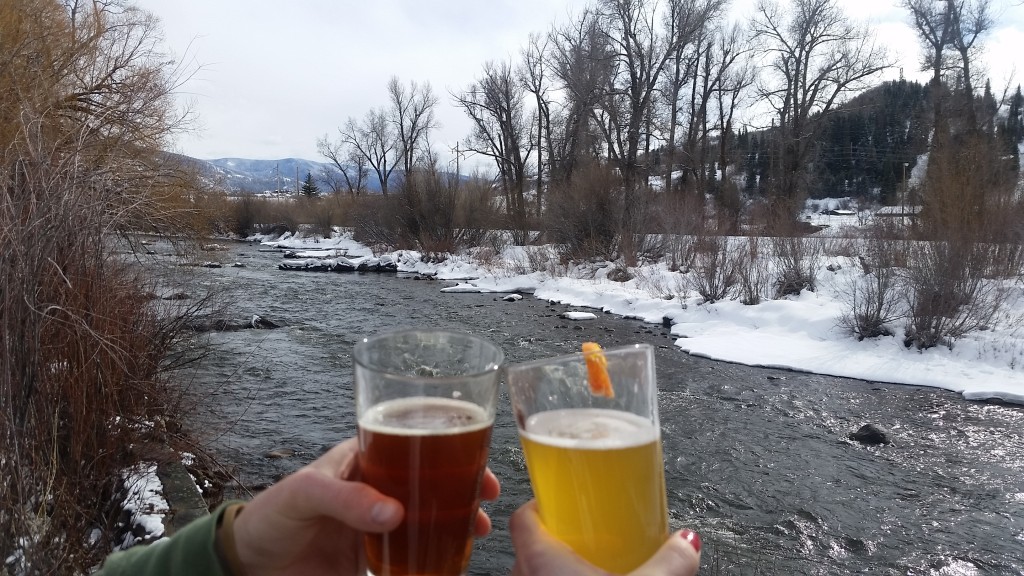 Strawberry Hot Springs:
Strawberry Hot Springs are located just outside of Steamboat Springs alongside Hot Springs Creek. They keep the springs natural with a sand bottom and no lighting for pitch-black night-time soaking. The springs are formed by rocks, and if you get too hot you can actually jump over into the frigid creek next door. There are 3 levels of hot spring with the middle level being the hottest. Sitting in 105 degree mineral water with snow falling around you and collecting on the bows of pines in the forest surrounding the park is pretty relaxing. I love this place.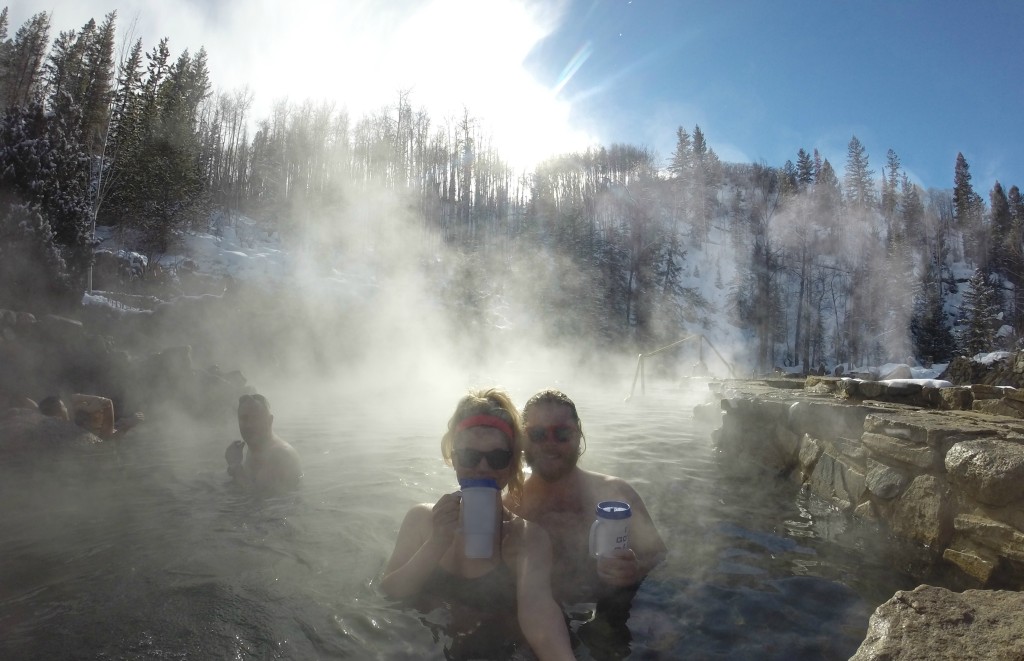 Fish Creek Falls:
Fresh high alpine water flows down Fish Creek Canyon and spills over from 280 feet up forming Fish Creek Falls. This is a popular hike around Steamboat Springs so we checked it out. Fortunately we had gotten a few inches of snow the night before making the views that much prettier.
We got the BEST sunsets on the drive to and from Steamboat. Colorado skies are something else.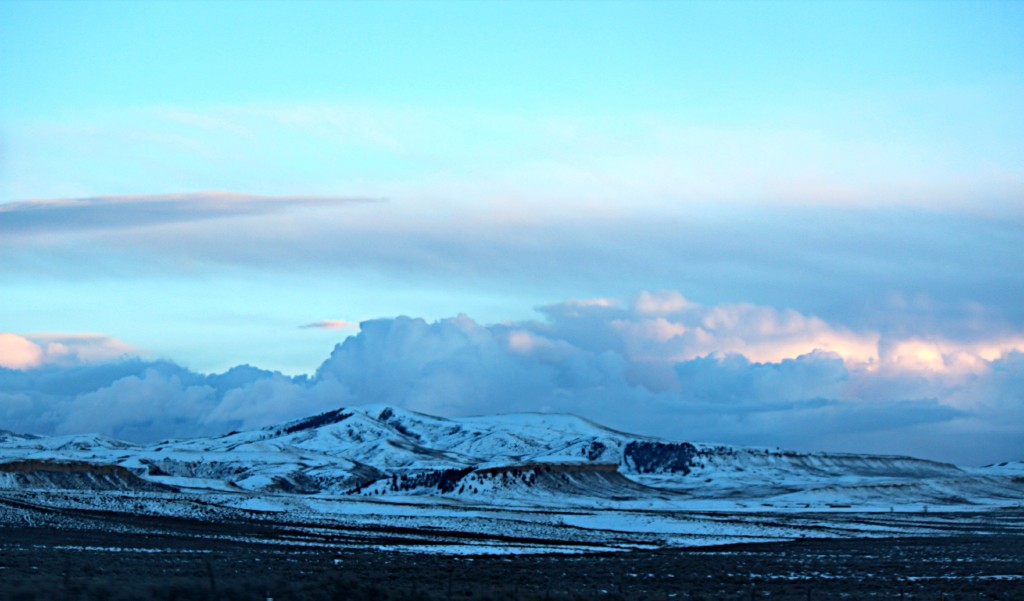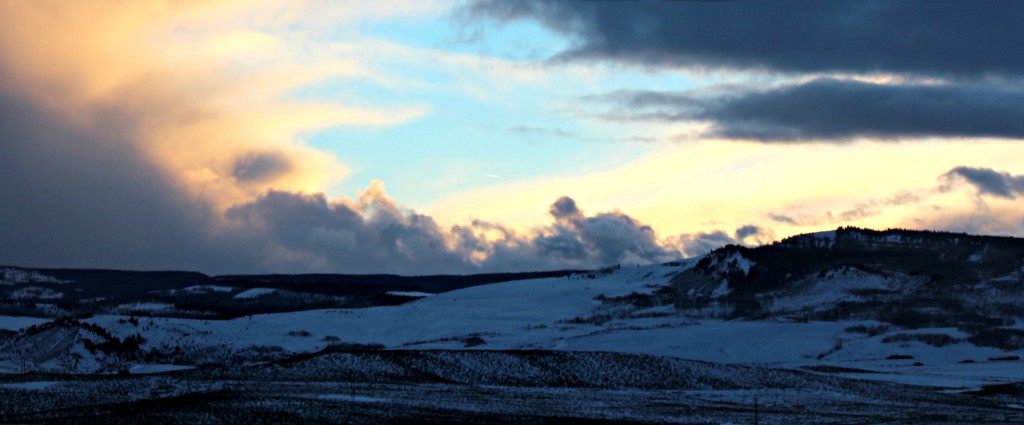 Hoosier Pass
There's so much good hiking around Breckenridge. I feel like I desperately tried to hit every trail but got nowhere close. Hoosier Pass is another point on the Continental Divide with amazing views. Spring Forward was the best gift ever after a long winter. It was so nice to have enough sunlight after work to explore the mountains more. The dogs appreciated it too.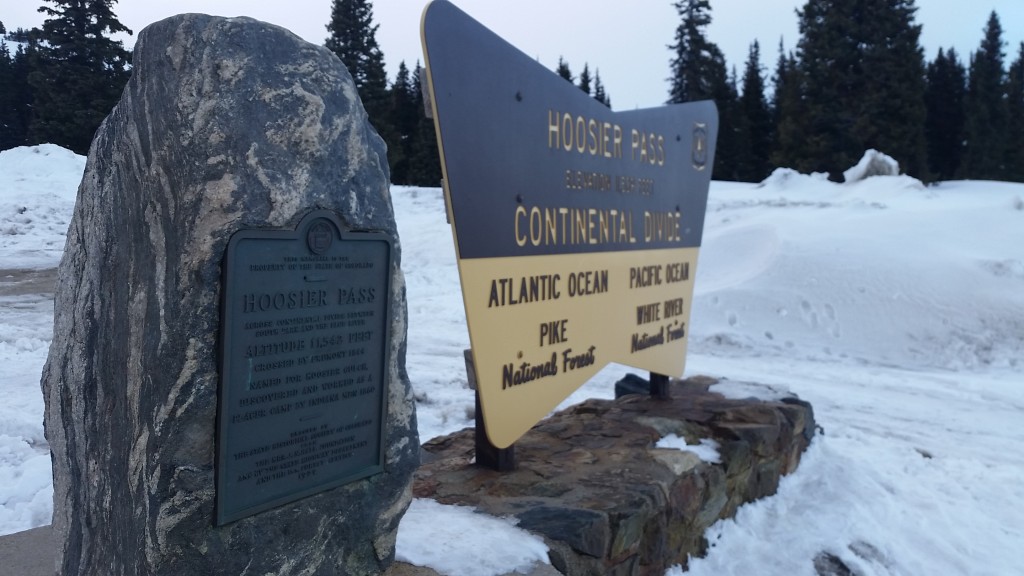 Burton US Open
We went to every other winter sporting event in the state of Colorado this winter so we figured we would stick around for the Burton US Open and ride Vail one last time. Vail really does throw a good party. Edward Sharpe played in Vail Village after Friday's slopestyle competition which made for an awesome last weekend in CO.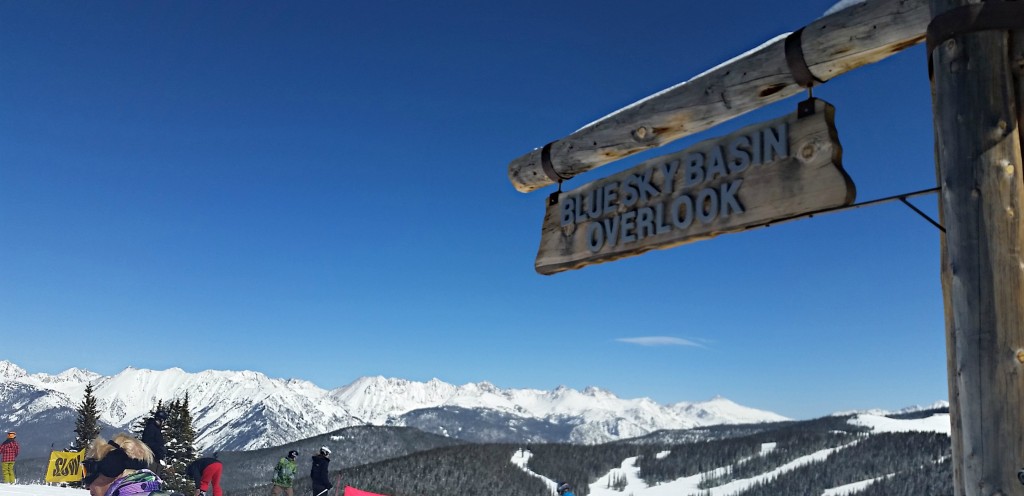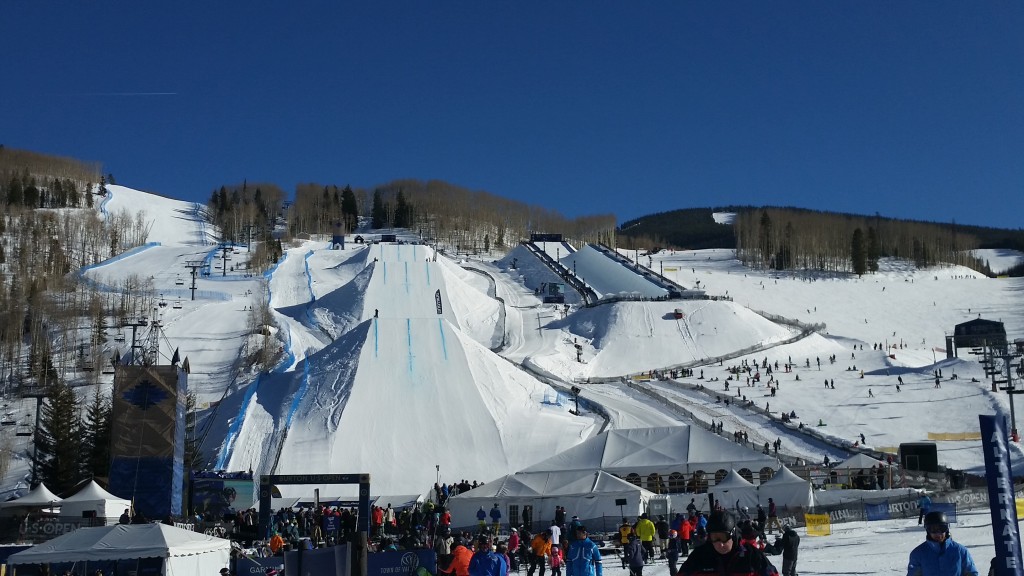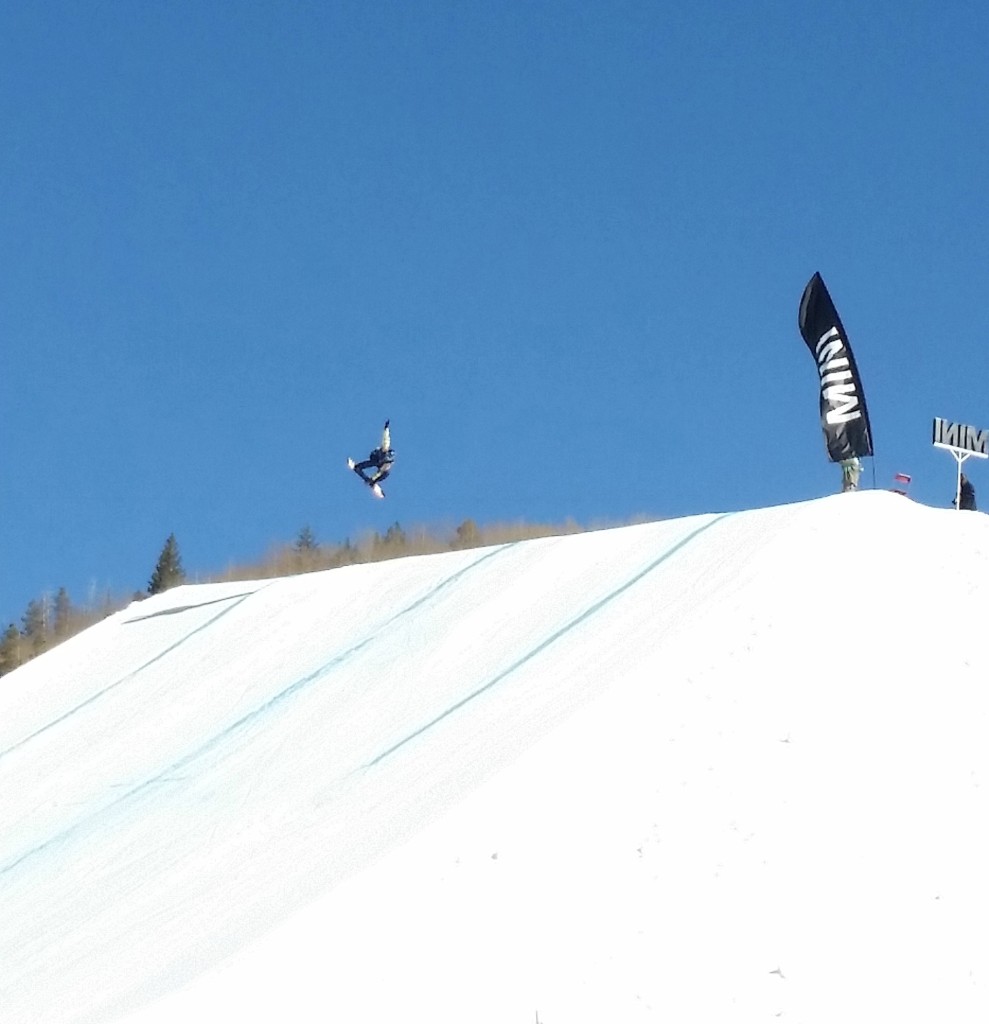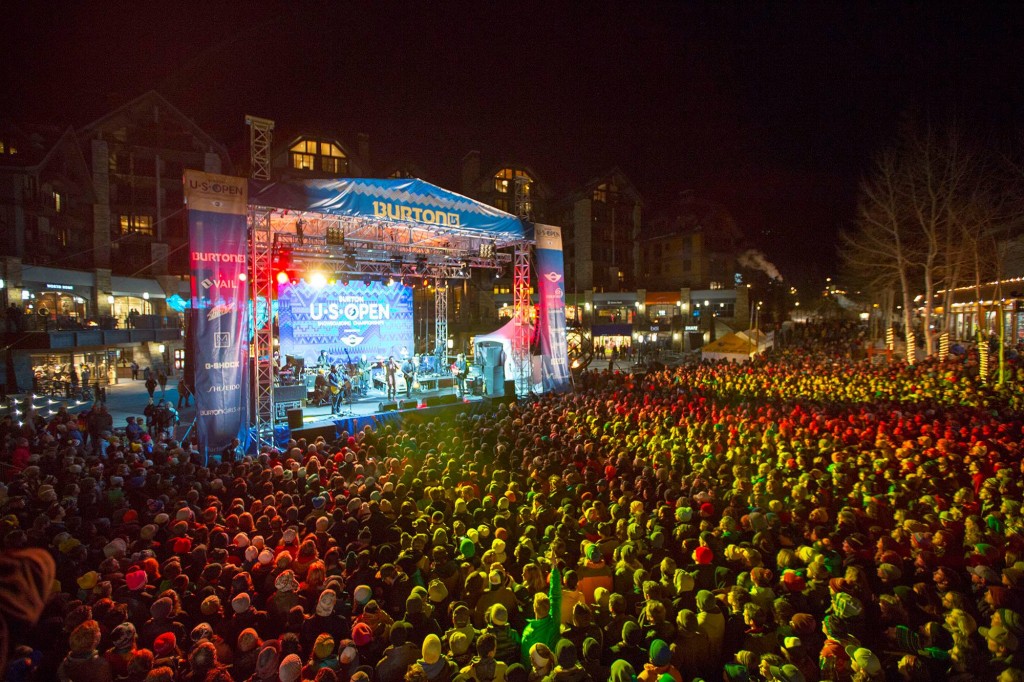 Good Eats
You can't walk down Main Street Breckenridge without witnessing a one-block line at Crepes A La Cart. We were in town for 4 months and there was never not a line. If we saw only three or four people waiting we were in shock. At 9AM or 9PM this place is cranking out the best crepes ever. They have a fire pit and patio furniture and even if it's -10 degrees people are sitting around going to town on these seriously amazing crepes.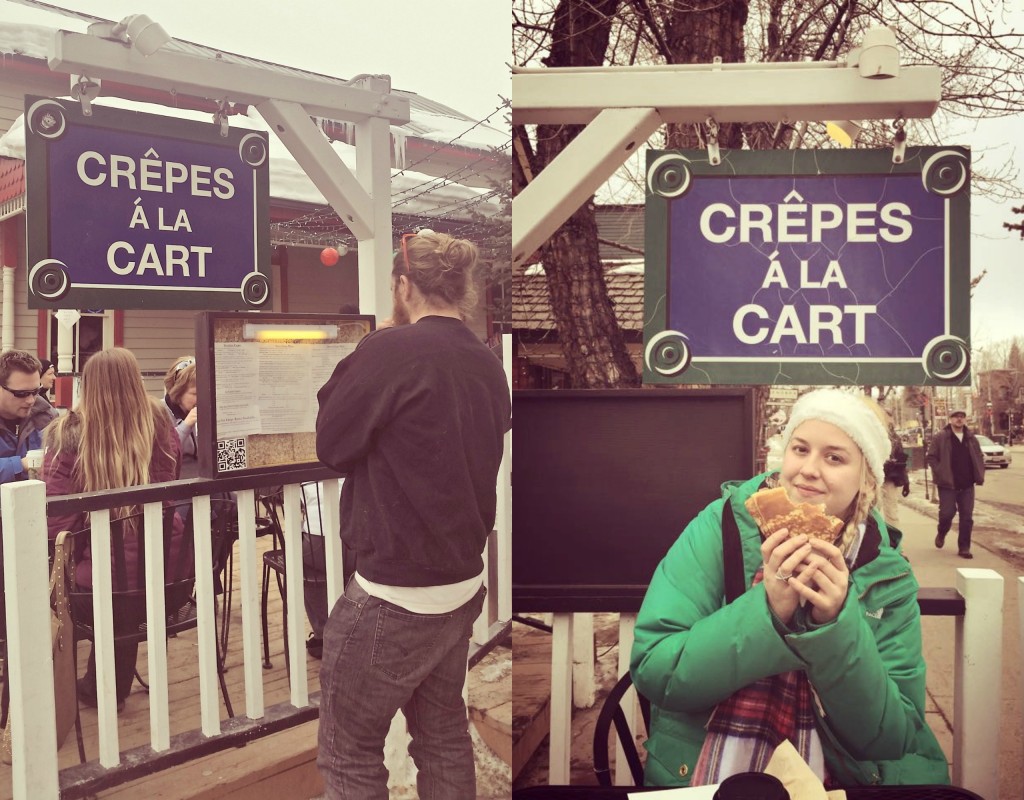 We had been told the best chef in the High Rockies was at Traverse, a new restaurant at The Lodge overlooking Breck. The food is amazing and we're so glad we made our way up here before leaving town. We had elk tartare with truffle "caponata," smoked aioli, and polenta croutons,  carmelized scallops, and housemade pimento cheese dip with bacon jam and grilled bread. This guy seriously kills it and is so worth the 5 minute drive up into the mountain from town.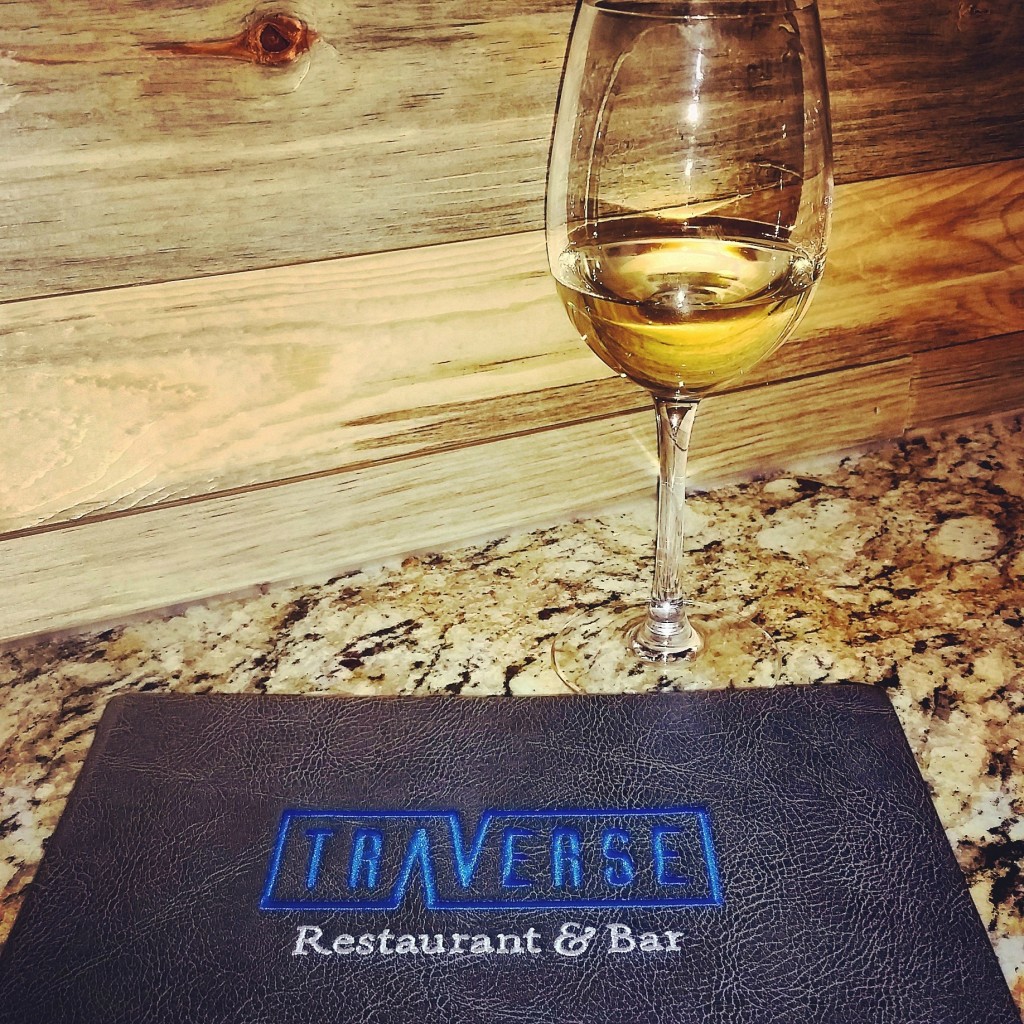 In summary, we belong in the Colorado Rockies. Waking up and looking out at snow falling over the Blue River outside of my window made me feel like the luckiest person alive all winter long. I can't lie when I say I got choked up as we dug Lady Luck out of the snow and hit the road. I will miss this view:
But we continue westward and the journey presses on…