The trip across Arizona is just one oasis after another. – Will Rogers
When we left Albuquerque, we had just changed our plans for Arizona close to 12 times. Do we see the entire state in the scorching summer heat? Do we stick to areas in higher elevation and then circle back when it's cooler? We probably should have planned on visiting Arizona in the spring or fall, but our whitewater rafting trip was booked for July so we had to make it work. Ultimately we decided to get near some water and play it by ear until we had to be in the Grand Canyon. So we hit the road for Lake Powell, to see how much of it's 2,000 miles of shoreline we could explore in 2 weeks.
Our one and only overnight stop on the way to the lake was the Petrified Forest National Park, which is a straight shot from Albuquerque on I-40. The drive takes you through tired, old portions of Rte 66, that are just barely hanging on, with ramshackle motels boasting rooms for $25/night on every block. Some portions of Rte 66 are nostalgic, quirky, and fun…others just kind of give you the creeps about what could possibly going on in those dingy hotel rooms now. (More on "Roadside Americana" in another post).
The Petrified Forest is absolutely worth seeing. You don't need more than a day, but driving through the Painted Desert and walking through the badlands to get an up-close view of one of the brightly colored petrified logs is a must. My suggestion would be to make sure you drive through in early morning or late afternoon so you can really experience the colors.
We always love when a National Park is dog-friendly and this one is. We got in late afternoon and took an evening hike with the dogs through Blue Mesa. It truly looked like the hills were painted the colors of the sunset.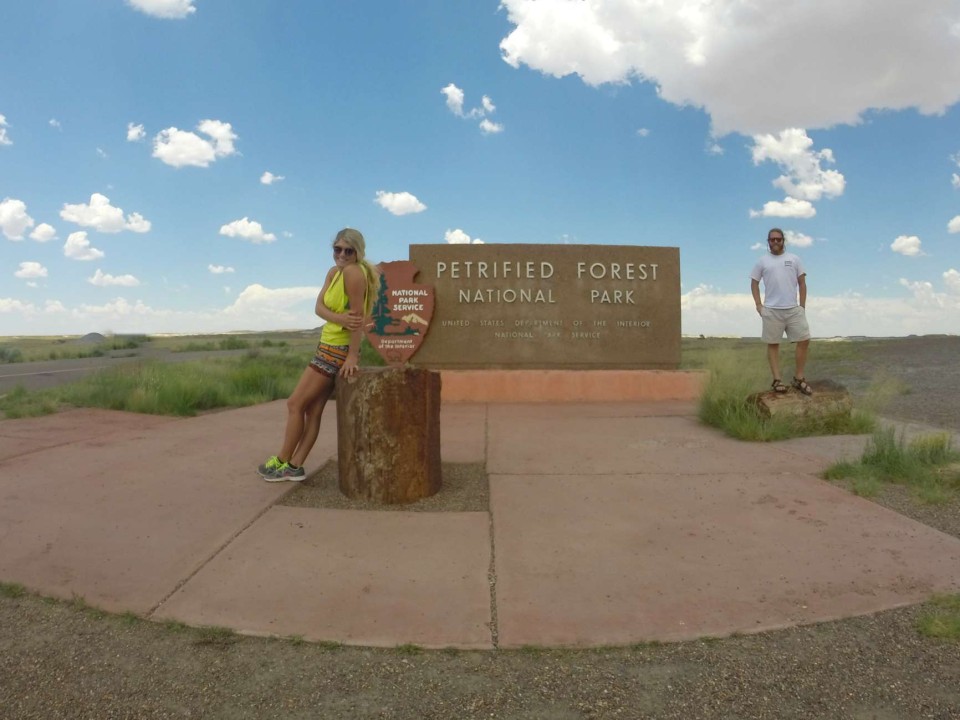 Petrified Forest is the only national park to contain a portion of 'ole Route 66. There's a lot of history from that era here including old road bed and electrical poles, as well as the Painted Desert Inn which has had visitors walking through it's doors since the 1920's .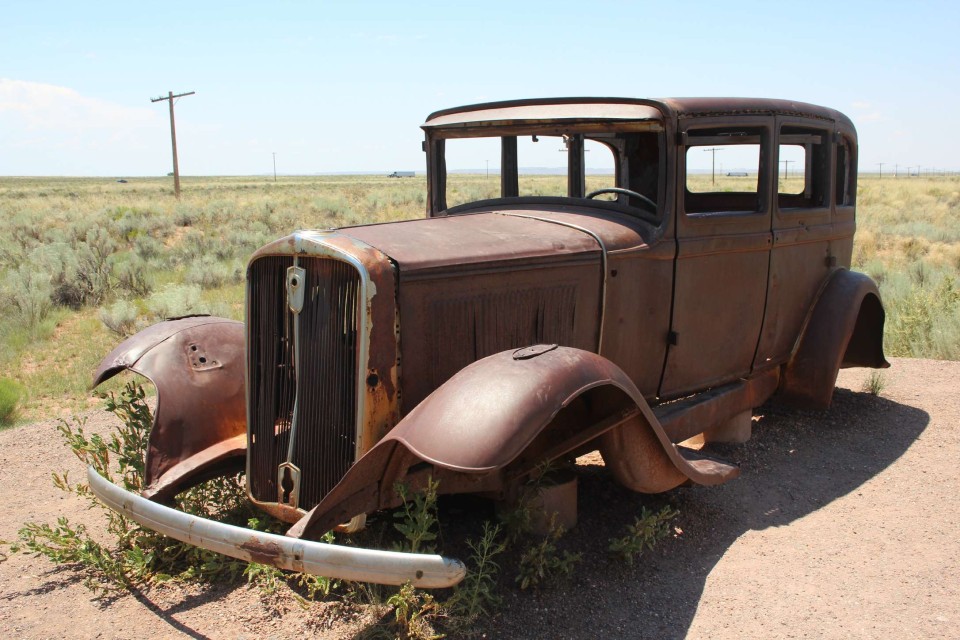 We knew we didn't need much time here but still wanted to see the full park so we stayed the night in the parking lot of a store that charged us $10/night for electrical hookup (not bad when it's late June in the desert and you need AC).
The next morning we drove through the Painted Desert again to witness completely different colors from the night before. The highlight was walking through the Crystal Forest, which has hundreds of petrified logs with crystals in them lying on either side of the trail.
Honestly, there's only so much time you can spend staring at old logs, but up-close they really are beautiful. Also, when you think about it, this is wood-turned-rock from trees that used to stand in 200million-year-old forests…pretty insane.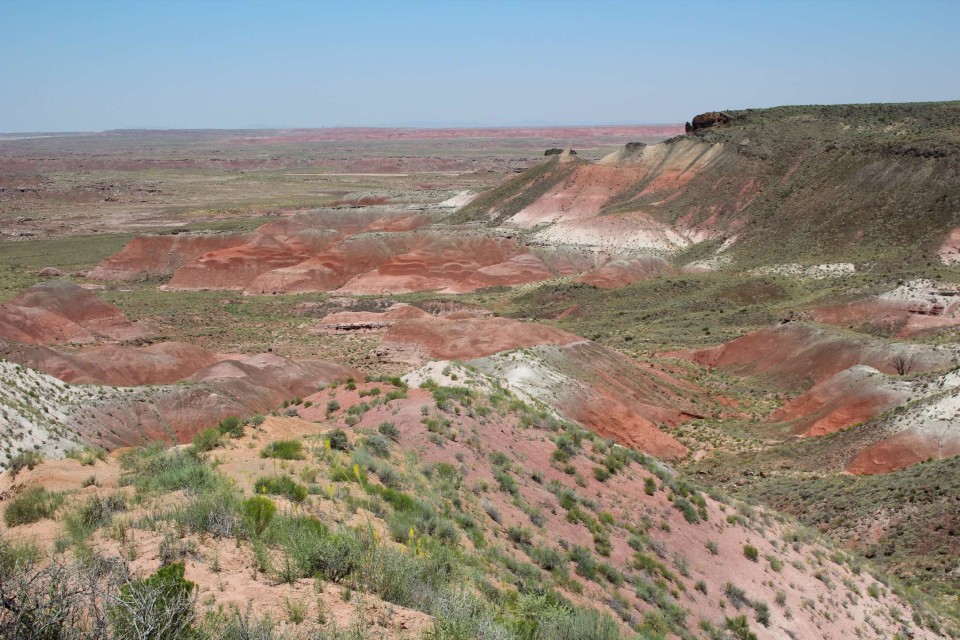 "Teepees" in the Painted Desert: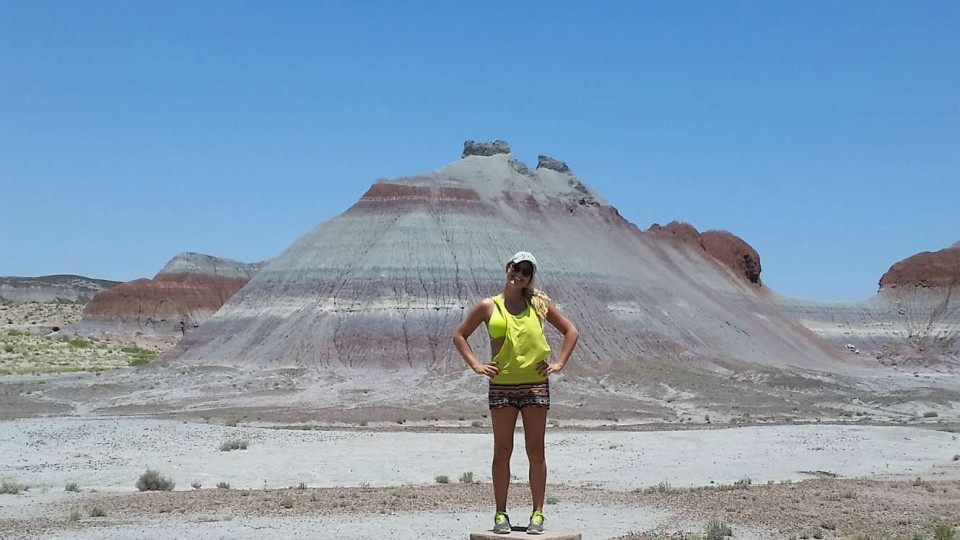 Agate Bridge: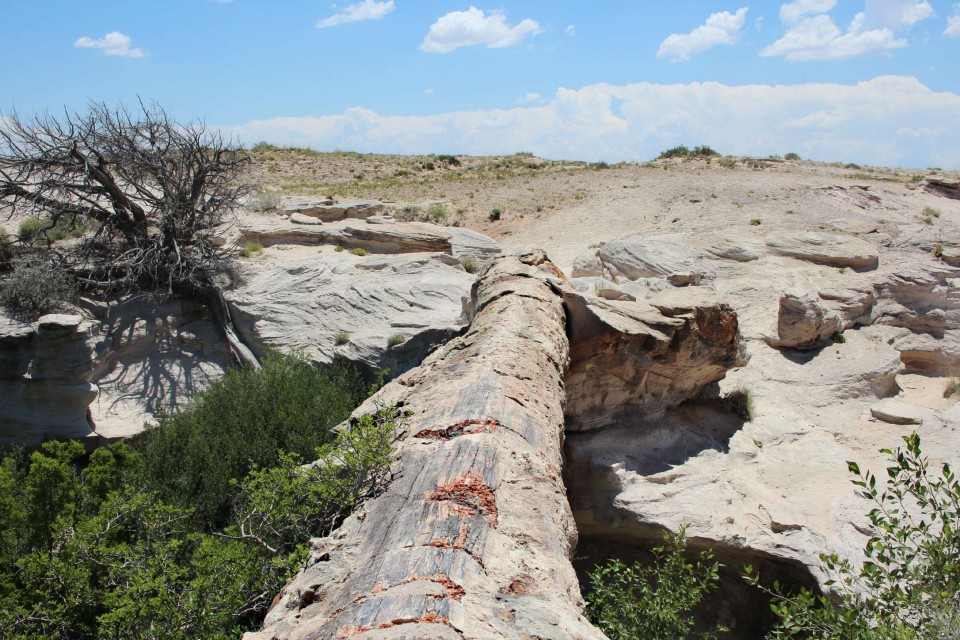 Rainbow Forest:
Desert Sunflowers … always a pleasant surprise:
Crystal Forest:
We hit the road and were water-bound by mid-morning. About 45 minutes outside of Lake Powell, the drive starts to get really beautiful. The red rock starts creeping up on each side of you and little road-side Native American vendors start popping up every few miles.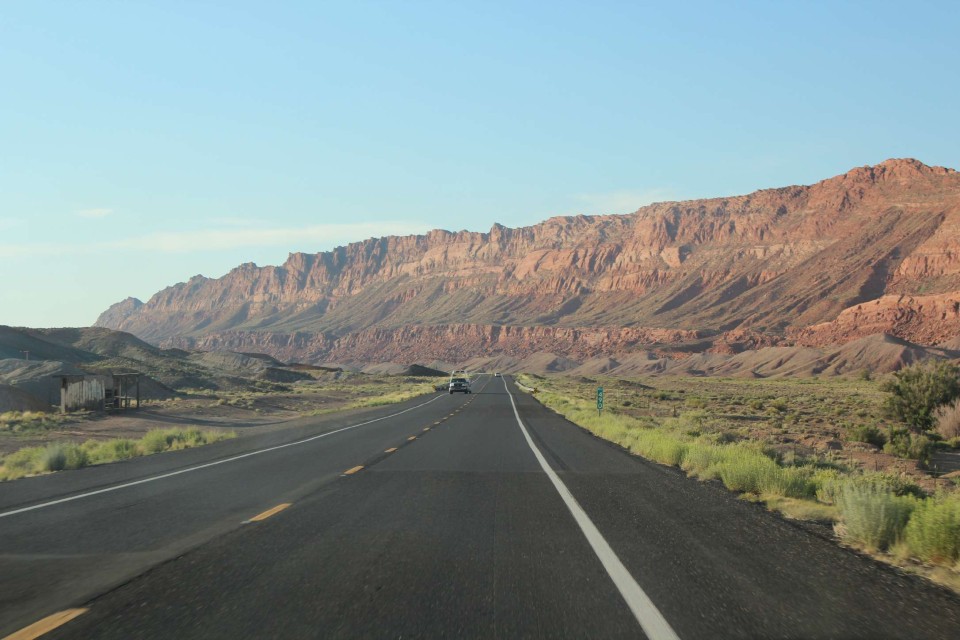 One sits down on a desert sand dune, sees nothing, hears nothing, yet through the silence something throbs and gleams… – Antoine de Saint-Exupéry, The Little Prince 
We posted up in Page, AZ which is really the only proper town near Lake Powell. Glen Canyon Dam sits to the west of Page and Navajo Nation sits to the east. Our favorite spot to hang out was Lone Rock Beach which is right across the Utah border from Arizona. You can pull your RV right up onto the beach and camp. The entire beach is 4WD accessible and you can anchor your boat on shore next to your camping spot. On top of that, there are ATV trails over the dunes behind the beach. This place is pretty much the mecca of all gas-powered toys.
Lone Rock, the beach's namesake:
"Lady Luck –  The WanderLodge" sitting pretty by the water: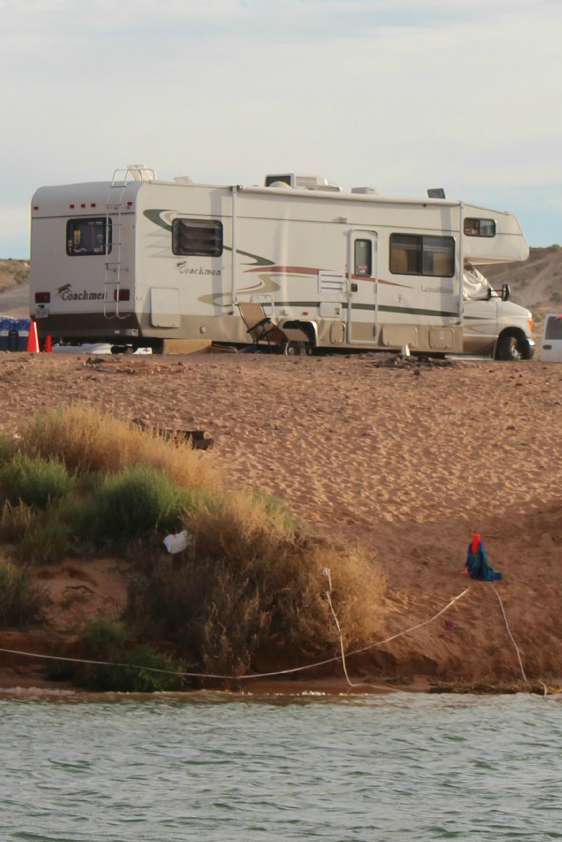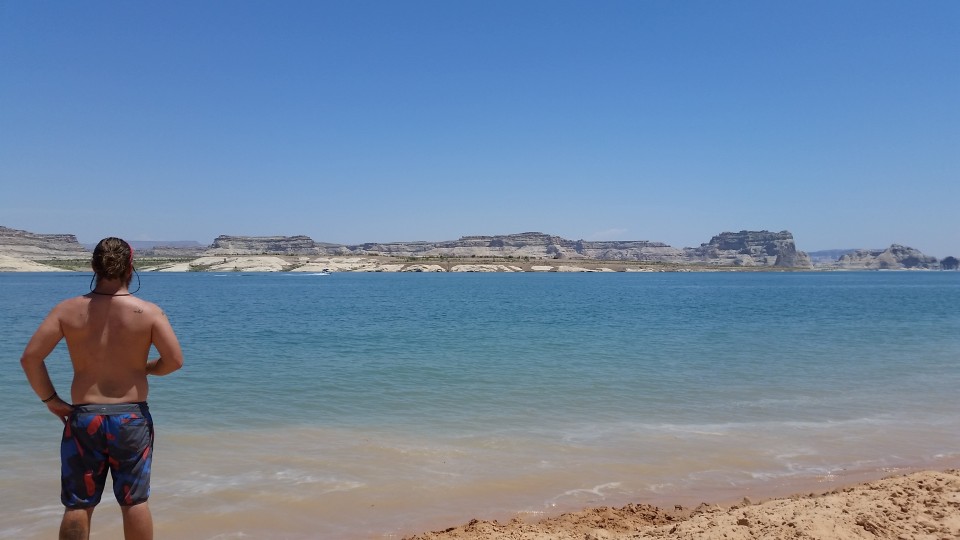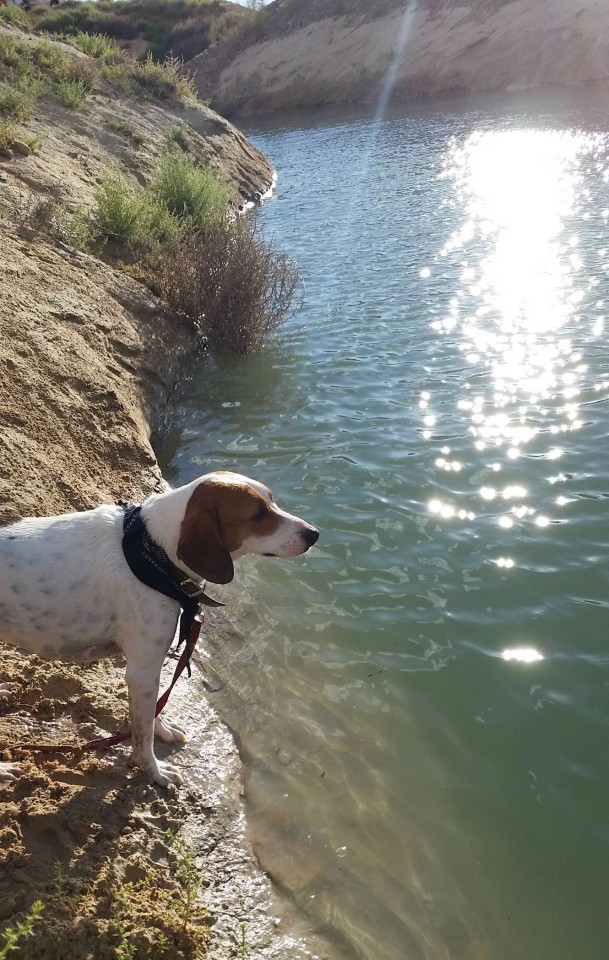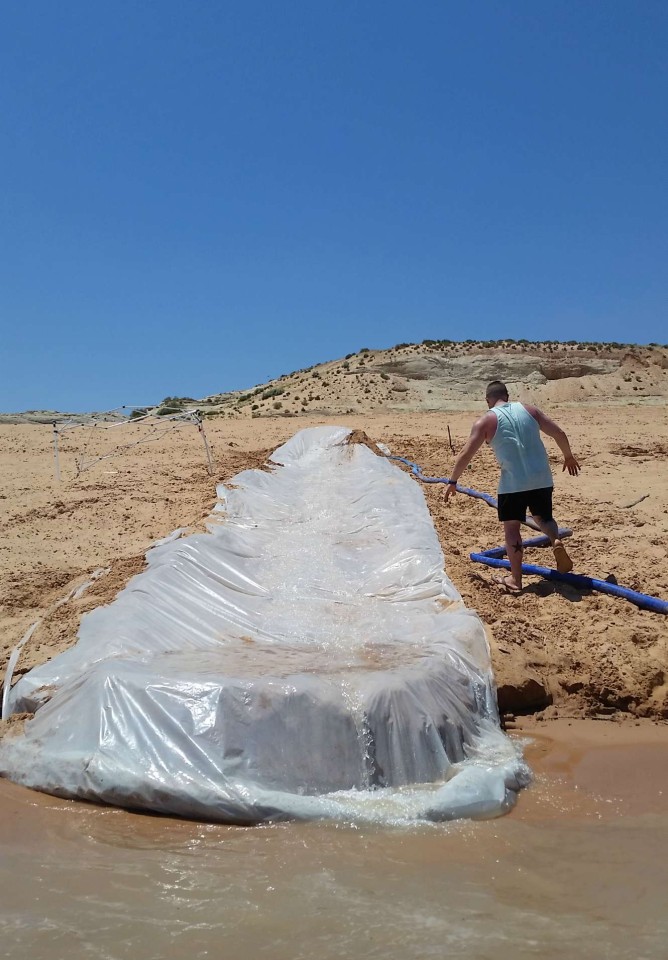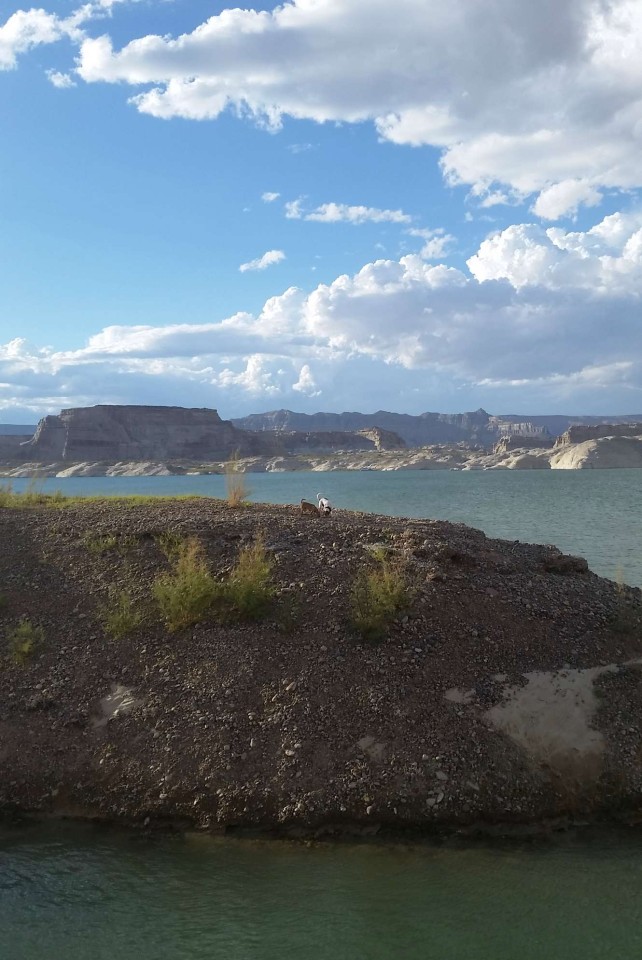 We have experienced a lot of beautiful canyon views into rivers over the past few months, especially in Utah. Horseshoe Bend was not any less spectacular, however. If you're driving through this portion of Arizona, it's worth a stop and it's a quick drive off of the highway, right outside of Page. It's a 15 minute hike down to the bend where you can stand on the sandstone and peak over into the blue-green Colorado River making a 270 degree turn. It's an iconic vista for good reason.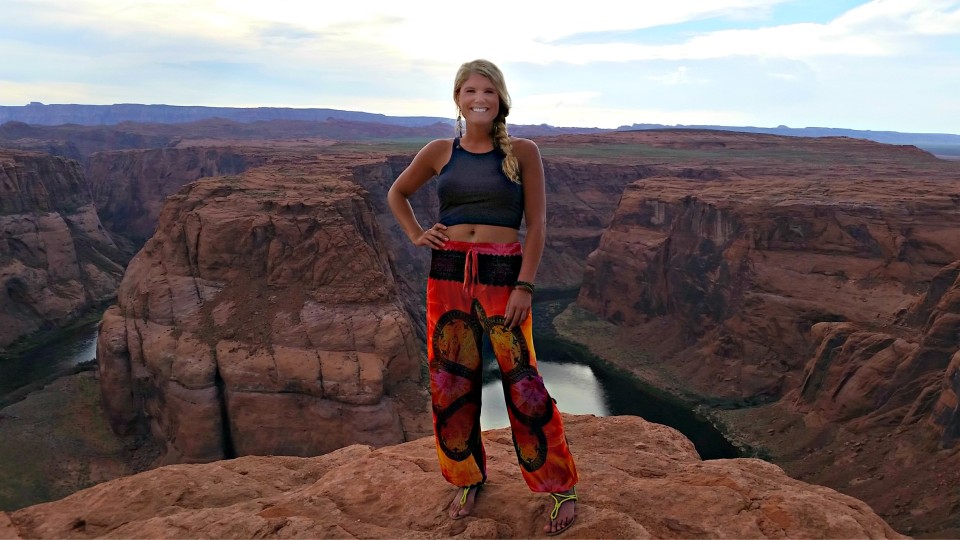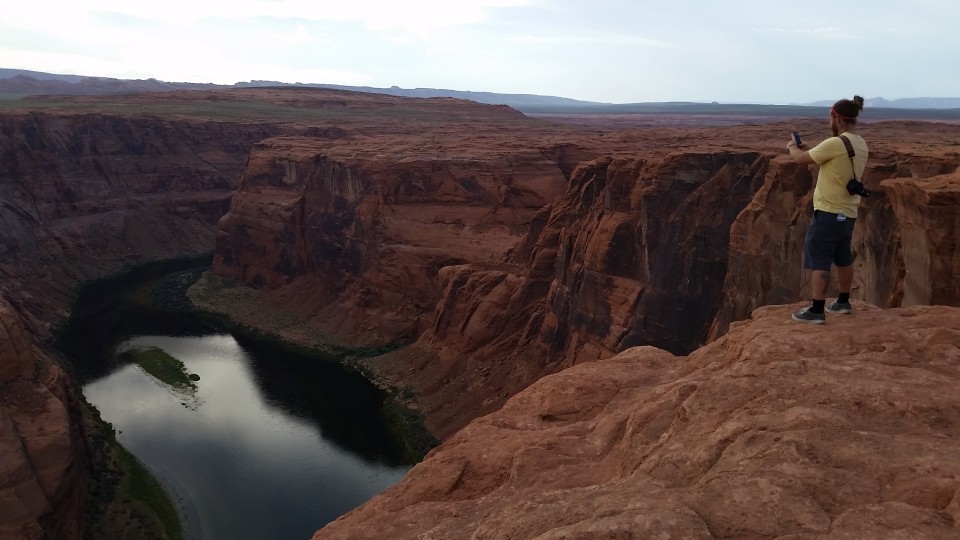 Glen Canyon Dam is the first large dam we have visited…and it is massive. Over 400,000 24-ton buckets of concrete built all 3,700 feet of it. We took a tour of the dam (which was a little excessive, just stopping and walking onto the bridge to look out over it would be enough – but hey, we were here for 2 weeks). We were able to walk out on top and then take an elevator 528 feet deep into the interior of the dam. We got some pretty staggering views of it from above and below. If the engineering of huge structures and the ins-and-outs of electricity generation is interesting to you, you would enjoy the tour. To me, all the concrete and electrical towers are kind of an eye-sore in this vast, beautiful landscape. But I realize without it the lake wouldn't exist and we wouldn't have been there.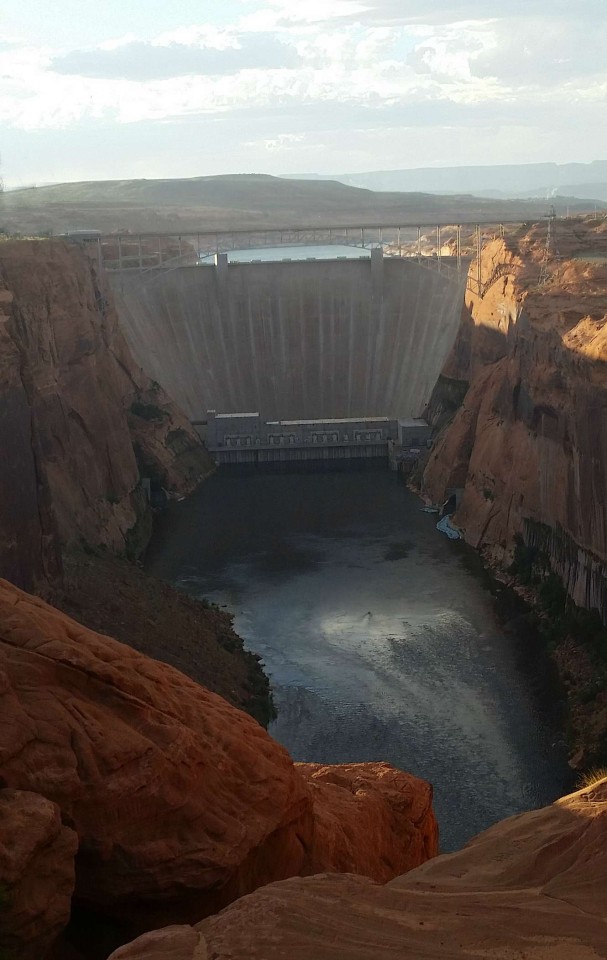 Surprisingly, there aren't a ton of hikes in or around the town of Page that are accessible without a boat. The Hanging Garden was just a few miles from our RV park, however, so we checked it out. It's a short hike with beautiful views of red rock against the sky blue lake that ends in a lush, green hanging garden fed by water leaking through the porous sandstone.
Fully experiencing the insanity that is Lake Powell without a boat just isn't doable. It is unlike any lake I have ever been on. Your typical views from the water aren't of huge lake homes and docks but rather, towering canyon walls and complete remoteness. Lake Powell is 186 miles long and has more shoreline than the entire west coast of the continental U.S. The water is a striking azure blue and there are around 100 side canyons to explore, some of which are miles and miles long. To get from one end of the lake to the other takes an entire day and a few tank-fill-ups.
We rented a 19 footer for a weekend and took our own tour. (You don't need a boater's license in the state of Arizona. Without any boating experience we were able to rent a boat, tow it to a marina, drop in, and pull out when we were done. We were pretty proud of figuring it all out on our own). It takes a little over an hour to get from Lone Rock Beach to the really beautiful areas of the lake around Last Chance Bay. It's all beautiful, but in this area it really starts to get mind-blowing.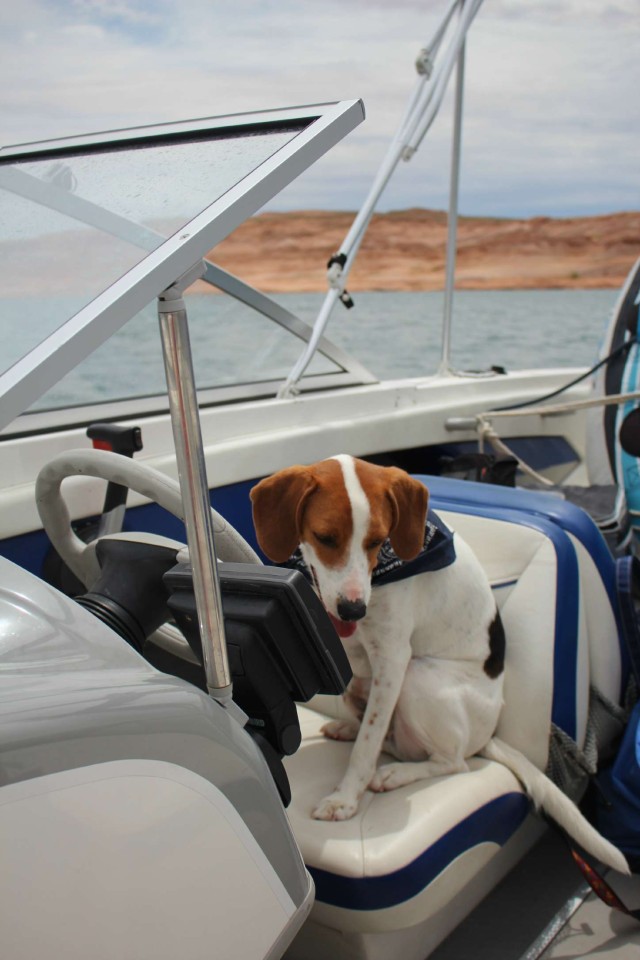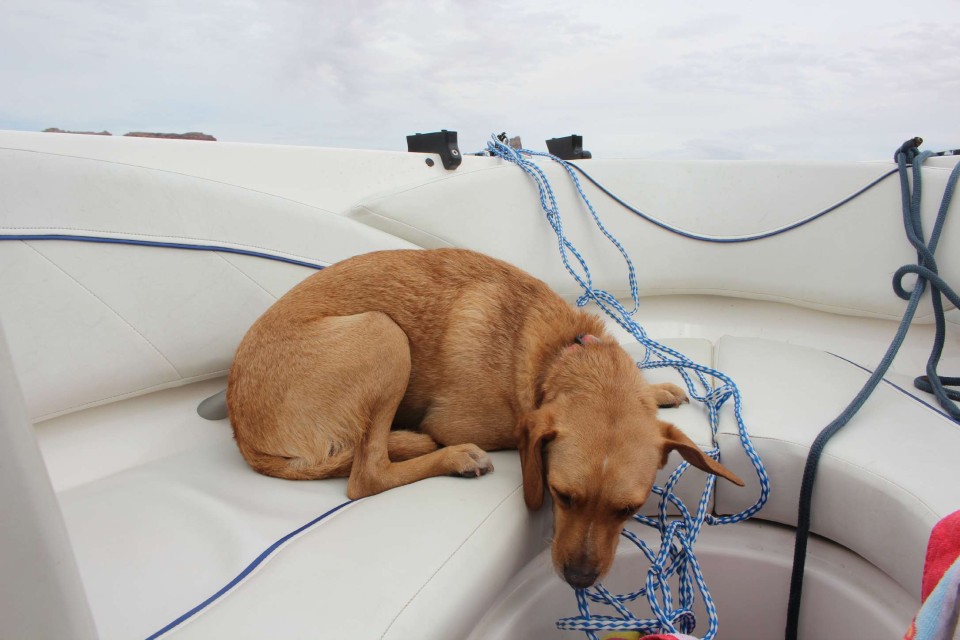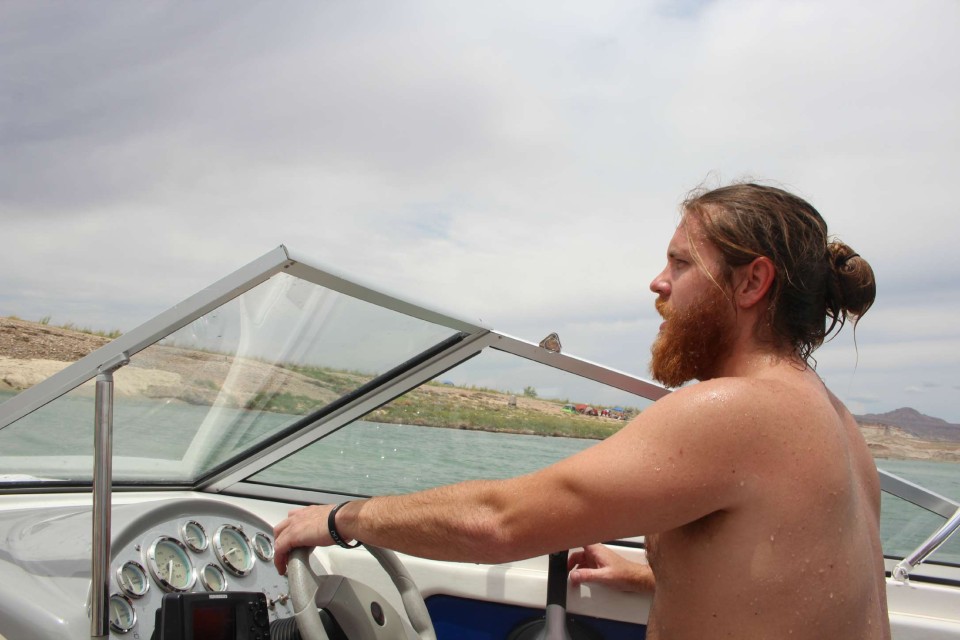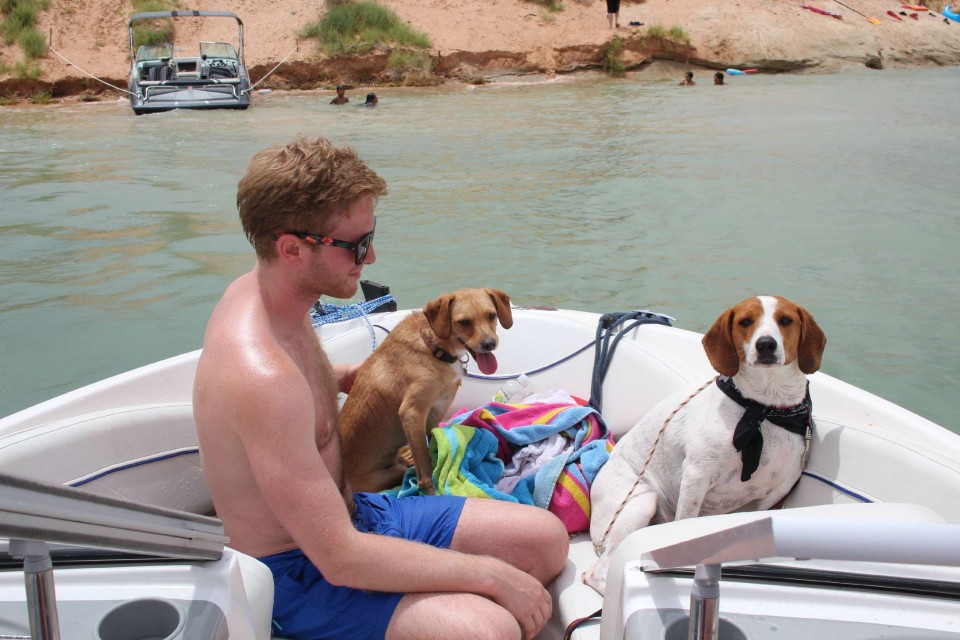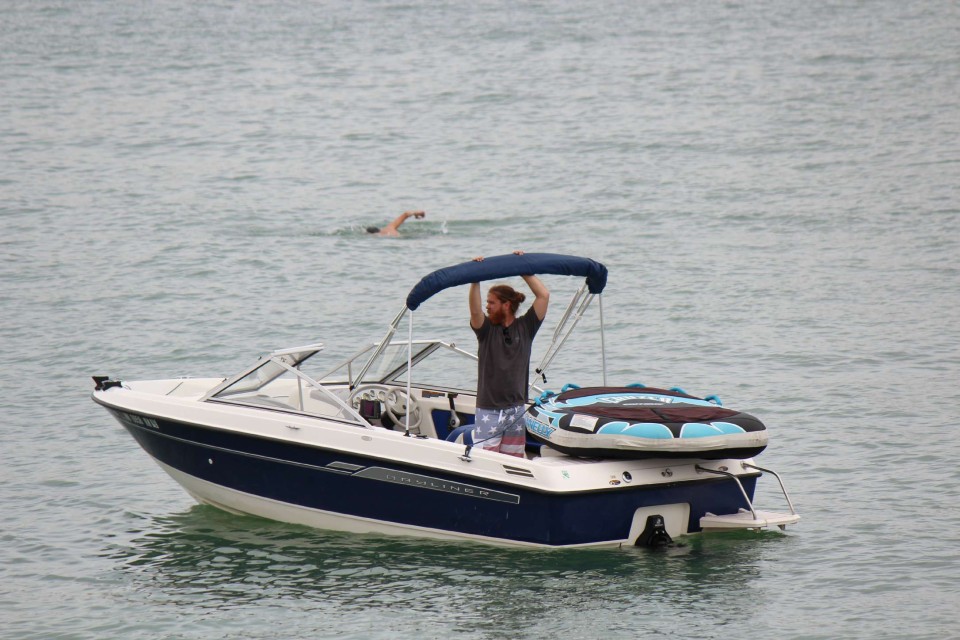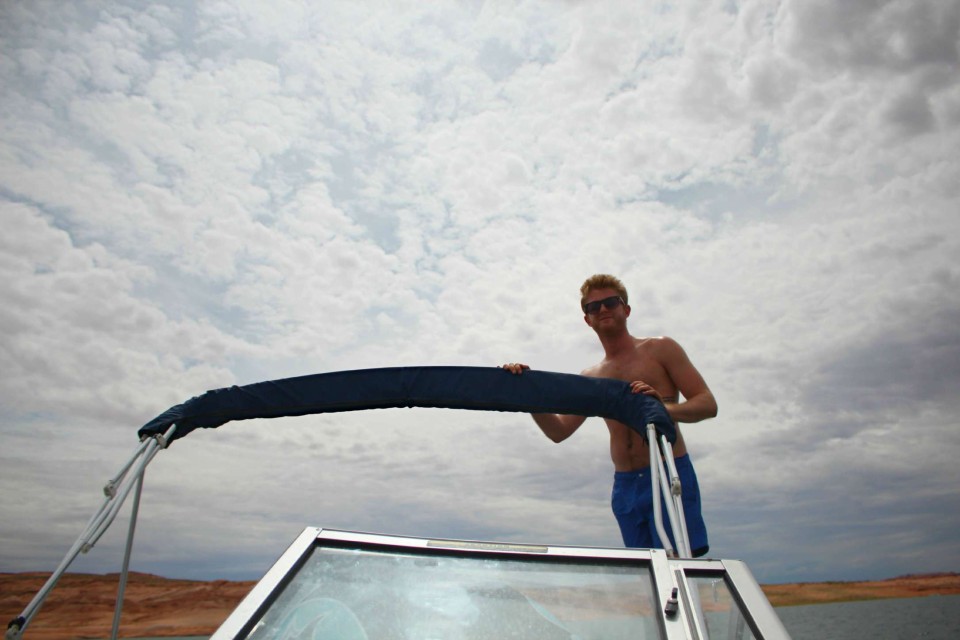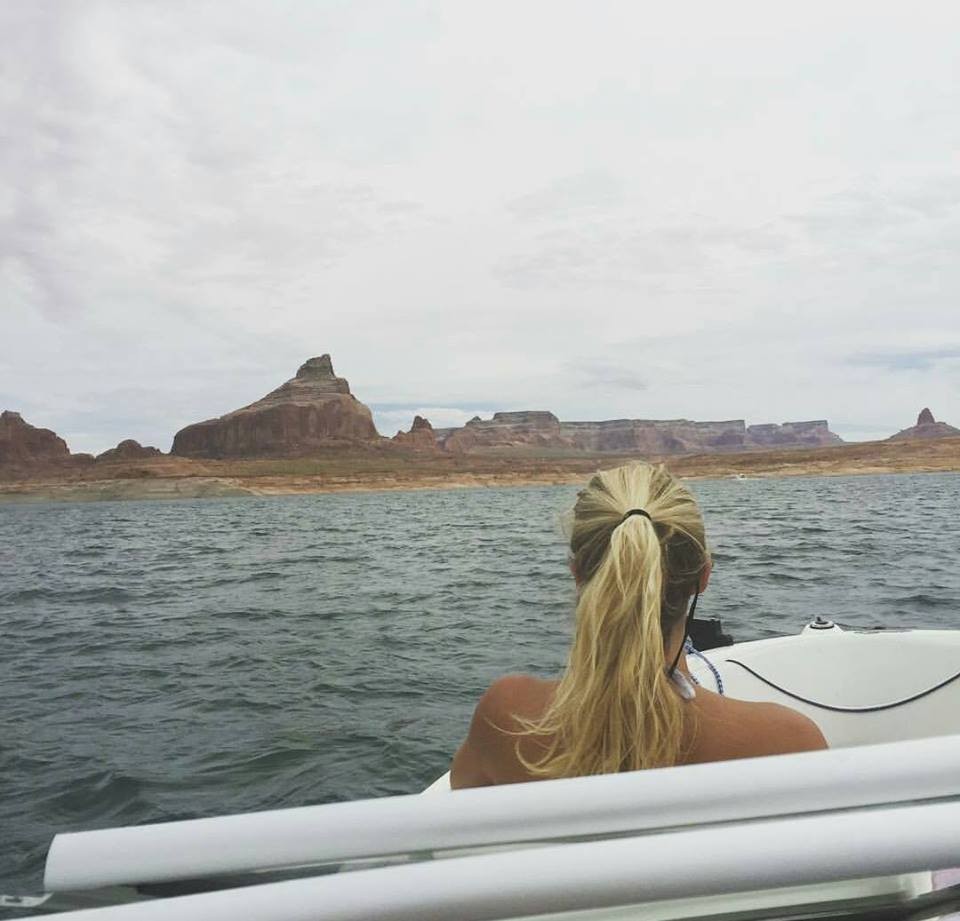 The first canyon we explored was the famous Antelope Canyon. It's hard to put into words how awe-inspiring and tranquil quietly boating through a towering sandstone canyon is. The only thing that broke the tranquility was the tour boat cruising through and beeping. Don't do that. Get your own boat and give yourself the tour.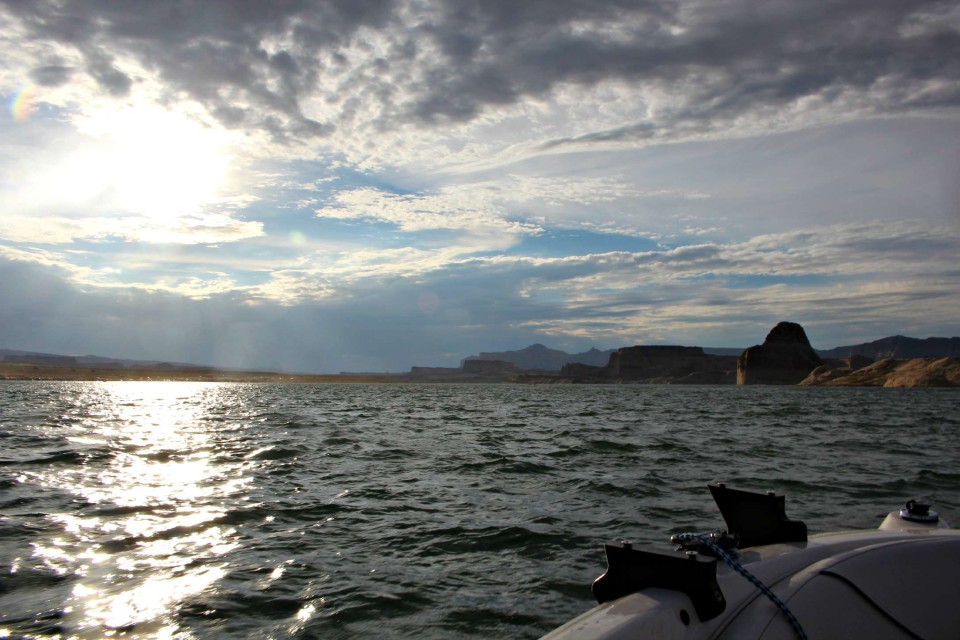 On our second day of being professional boaters (Josh seriously thinks he can drive anything now) we went even further up the lake. Thanks to Josh's driving and my brother, Matt's, excellent map-reading abilities we were able to find West Canyon which was even more beautiful than we could have imagined. I don't know if it was the time of day but the water was almost an emerald green. The canyon went on forever going from 100,000 feet deep to 10 feet deep in different sections. We got pretty deep into the canyon before turning around. What I would of given to have had a kayak at that point to keep going.
We didn't even scratch the surface of this lake. I would love to go back and explore more of the nooks and crannies. House boats are huge here and we would love to rent one for a week, park somewhere remote with a private beach, and explore with a speed boat, jet skiis, and kayaks. That seems to be the thing to do…and you definitely need more than 2 days on the water.
The two marinas closest to Page are Wahweap Bay Marina and Antelope Point Marina. Both have beautiful views of the water, extensive docks, and floating bars/restaurants. We went and had dinner and drinks at both.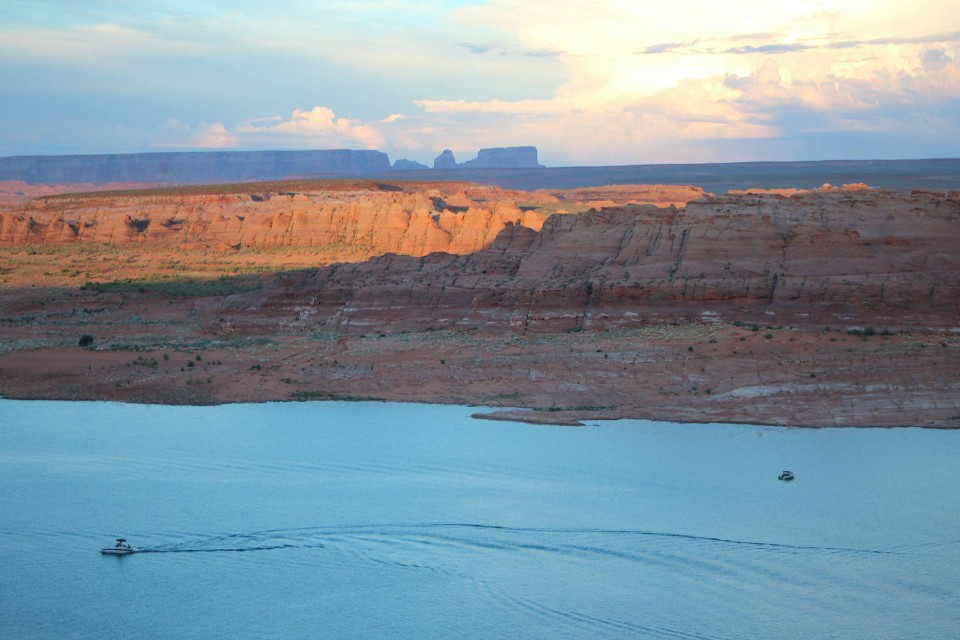 There are canyons to be explored by foot in this area too. Antelope Canyon is a famously photographed slot canyon on Navajo land. It is split into two sections, Upper and Lower. Upper Antelope Canyon is actually ground-level and Lower Antelope Canyon is below-ground. I highly suggest visiting both. I honestly didn't have high hopes, considering you have to go on a tour with a Navajo guide and we are used to hiking to remote slot canyons on our own. But these canyons have visitors from all over the globe for a reason – they are beautiful.
To get to the canyons you have to pay an $8 fee to get into the Navajo Tribal Park. When you enter, to your right is the Upper where you can get on one of the hourly tours. You hop onto the back of a truck and your guide drives you on a long sandy road to the entrance. No one in our truck bed spoke the same language, it was pretty amazing. People from all over come to the Page area to see these sites (likely on their way to the Grand Canyon).
The best time to hit Upper Antelope is between 11am and 1pm. The canyon is known for it's famous beams of light which are best when the sun is highest. We were able to catch a few at the beginning of the canyon on our 1 o'clock tour. There are a ton of people in the canyon at one time but I barely noticed on the way in. I was staring up at the smooth red sandstone while scraping my jaw up off the floor for most of the walk-through.
We wouldn't have had the same experience without our guide so I truly believe the $40 tour was worth it. I would have paid $40 just for him to set my camera up correctly for the canyon lighting (which was the first thing he did for everyone). That was huge…but he also showed us the best places to photograph, shot out interesting facts, and even threw sand into the air so the beams were more visible in our photos. These people know every inch of this canyon.
Upper Antelope Canyon – Tsé bighánílíní, "the place where water runs through rocks":
Across the road, you can join a tour of Lower Antelope Canyon. There are 2 tour companies and it really doesn't matter which one you take. Lower is half the price of Upper (I'm not sure why). This canyon is one-way, you descend into one end and pop out on the other. As I mentioned, it's below-ground, so you climb down a few sets of stairs to get in. The best time for Lower is early in the morning or later in the afternoon. We took a 3pm tour and the coloring was a striking bright orange/rust. The sunlight filtering down these curved sandstone walls makes enchanting, constantly changing patterns and shadows. Our guide played a wooden flute as we walked through which made the experience even more zen.
Lower Antelope Canyon – Hazdistazí, "spiral rock arches":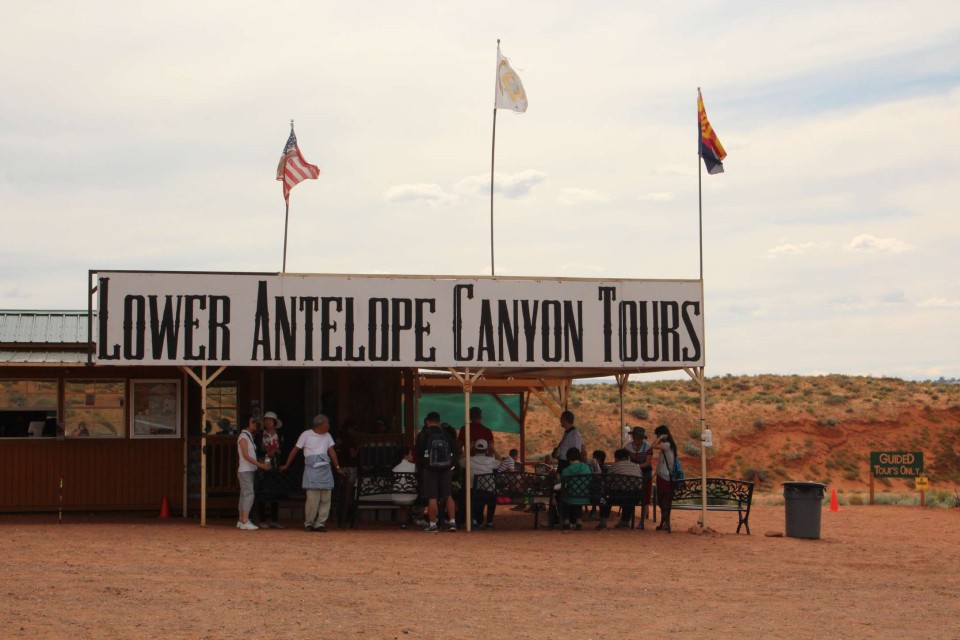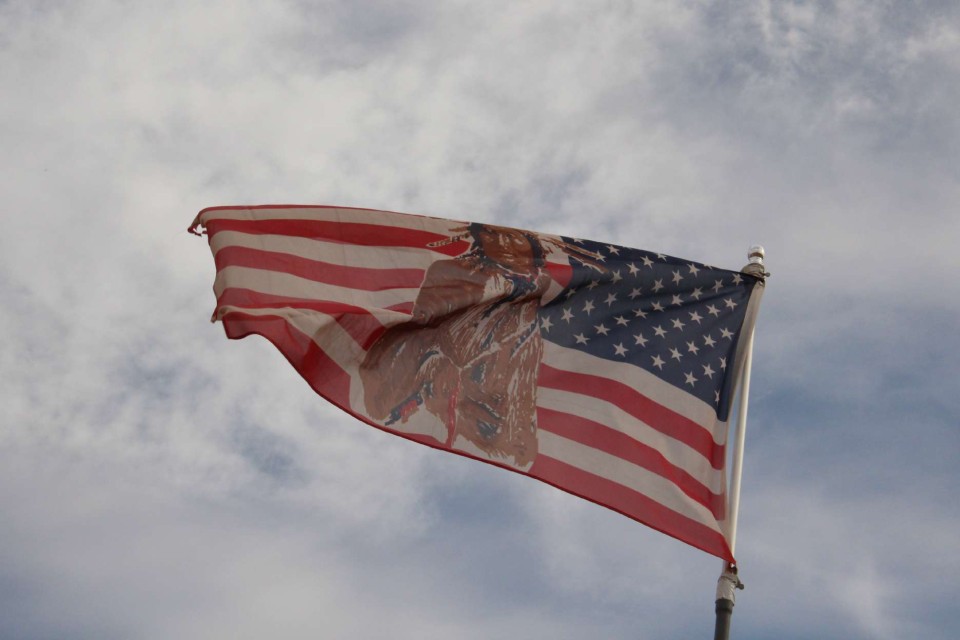 Woman in the Wind:
Good Eats:
Page, Arizona is a small town that's probably mostly based around tourism, boat maintenance, and watercraft rentals… and Big John's BBQ is the true gem at the center of it all. An old gas station/convenience store turned BBQ joint/outdoor diner is the hot spot in town during the summer. They have 2 huge smokers out front, rows of checkered picnic tables, and a stage with local country bands playing every night. The tables are lined with buckets of peanuts and frenzied servers are buzzing around dropping off beer and corn on the cob. When you look around, all of the Europeans on holiday are just truly soaking up the American-ness of it all.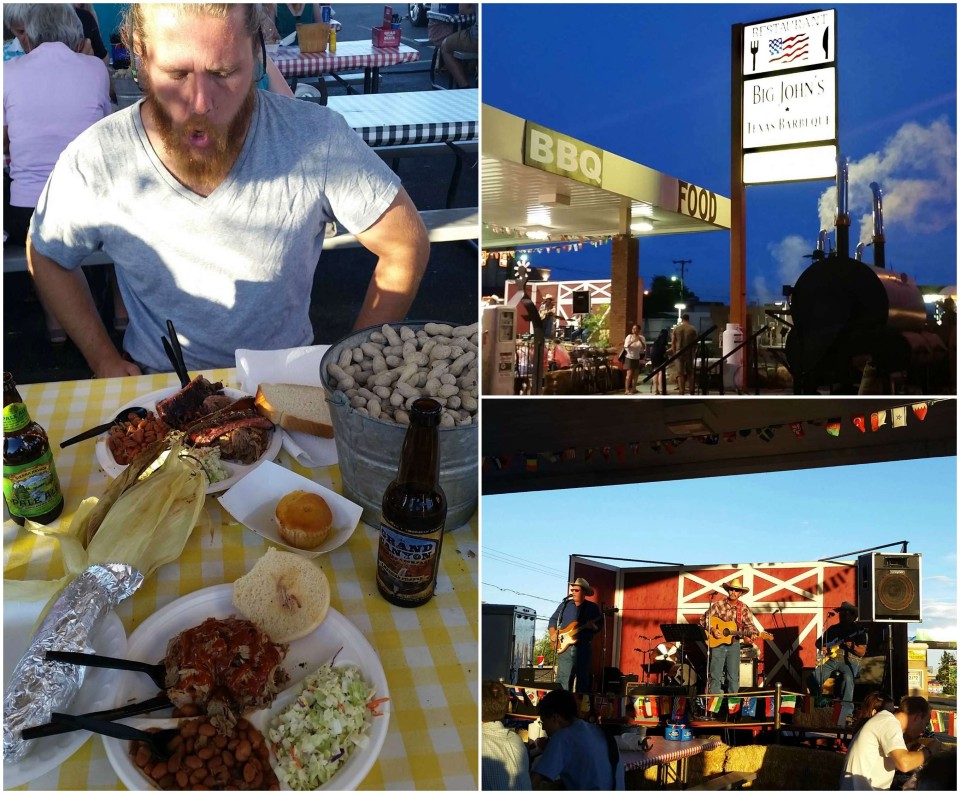 From here we hopped over the Glen Canyon Dam down the Colorado River to the raging waters of the Grand Canyon. I cannot wait to share that experience with you!
Cheers!